Student Spotlight
Shejal Desai
Long before Shejal Desai began her journey to become a Diagnostic Medical Sonographer, she was a business major at Rutgers University. Like many young business students, she wanted a stable career working for a large corporation. After graduating from Rutgers with a Bachelor's degree in Marketing, she saw many of her goals come to fruition as she entered the corporate world.
Shejal's career took her to various corporations. She worked primarily in Human Resources, focusing on Health & Welfare Benefits as well as Retirement Benefits. Eventually, however, she decided to start a family. This forced her to make the difficult decision to leave the corporate work and focus more attention on her family.
After spending 8 wonderful years as a stay-at-home mom, she decided it was finally time to reenter the workforce. Rather than head back to a career in business, Shejal looked toward a different path. She decided to pursue a career in sonography. In addition to the possibility of earning a good salary, she liked the idea of working in the healthcare field and being able to help patients. Having the flexibility to work anywhere in the country was also enticing.
After exploring some of the educational options that existed for ultrasound, Shejal discovered AIMS. The Diagnostic Medical Sonography program's accreditation by CAAHEP played a large part in her decision to attend school here. However, she also liked the fact that many of her instructors would be doctors.
"What I like most about AIMS is the genuine concern and commitment of the instructors in helping students reach their ultimate goal."
Since joining AIMS, Shejal has been an exemplary student and is well on her way to a bright future in the healthcare field. She's hoping that the knowledge and clinical experience she receives will allow her to start a successful career in the field of Diagnostic Medical Sonography.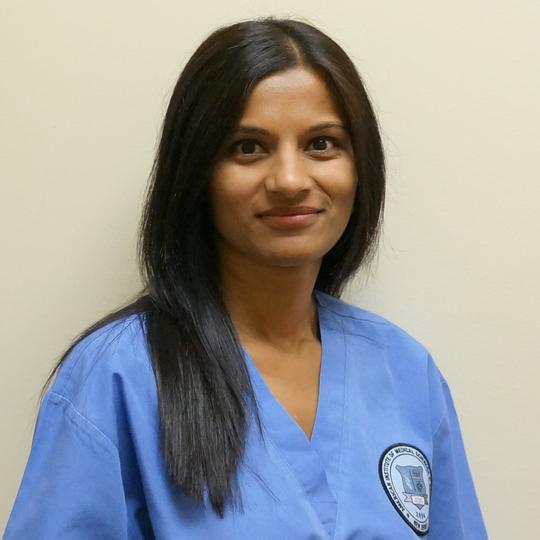 Name: Shejal Desai
Program: Diagnostic Medical Sonography
Graduation Date: April 2015