PCS School Catalog
The policies in this catalog apply to all programs which started in 2023 or earlier.
AIMS Education PCS School Catalog
The PCS School Catalog only applies to clock-hour based programs which started in 2023 or earlier. The policies for all degree and credit-bearing programs, which started in 2024 or later, can be found in the College Catalog.
AIMS Education reserves the right to modify any program, policy, or procedure listed in the catalog. Any updates will be provided in the form of an addendum which will be available below.
Click on the link below to access the current PCS School Catalog.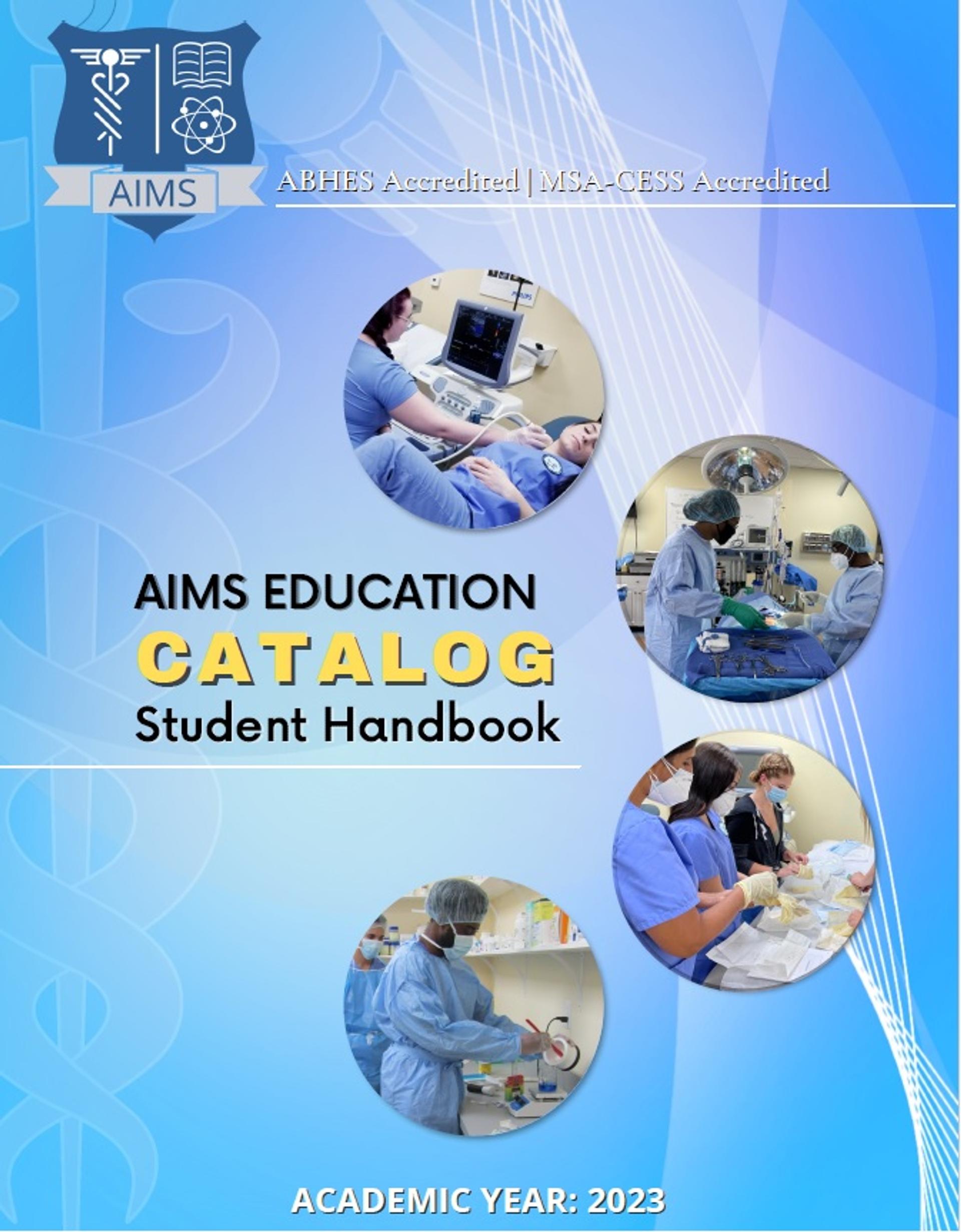 Addendum
Updated Emergency Preparedness Plan
March 6, 2023
The Emergency Preparedness Plan has been updated with new sections and policies for evacuation, lockdowns, sheltering in place, communications, tracking students and employees, and risk assessment.
Clarification on Appeal Process for 3.0 GPA Policy
May 8, 2023
When deciding on appeals related to the 3.0 GPA policy, the academic committee will take into consideration the student's overall performance, transfer coursework, and any extenuating circumstances.
Update to Certification Exam Policies for MBC, CMT, EKG/PHL, and PHL
May 8, 2023
Graduates of the MBC, CMT, EKG/PHL, and PHL programs are no longer required attempt a certification exam upon program completion. Students are eligible to receive their certificate after completing all program requirements.
Additional Clinical Hours Added to Anesthesia Technician Program
May 9, 2023
The lab hours in AT 220 (30 hours) and AT 221 (65 hours) have been converted to clinical hours.
Change to Final Grade Calculation for MRI 261 and MRI 262
May 11, 2023
The final course grades for MRI 261 and MRI 262 will be calculated based on the following breakdown - 80% theory and 20% practical.
Updated COVID-19 Vaccination Requirements
May 25, 2023
Students with 1 dose of the updated (bivalent) COVID-19 vaccine are considered up to date.
Directory Information Updated in FERPA Policy
June 8, 2023
Directory information at AIMS Education now includes address, phone number, email address, student ID number, and photographs.