Student Spotlight
Leslie Perez-Alfaro
Leslie Perez-Alfaro was born in El Salvador before moving to the United States at a young age. She is the oldest of three siblings and has lived in New Jersey since the age of five. She has always known the importance of education. She graduated in the top 10% of her graduating class in high school before attending Raritan Valley Community College. Right now she is taking a break from RVCC to expand her skill set and gain some experience working in the healthcare field.
Despite always having an interest in healthcare, Leslie never quite knew where to begin. She has a passion for knowledge and helping others, and she always envisioned the healthcare field as a way to challenge both areas. While she was studying at RVCC, she decided she needed to get some exposure in the healthcare field and that eventually led her to the Medical Assistant program at AIMS Education.
Leslie saw the Medical Assistant program as the perfect way to enter the healthcare field. She decided to attend AIMS because it was the only school that stood out to her. Thus far she has been very satisfied with her education and even plans to come back in the future to further her education.
"AIMS provided quality and affordable education, and the payment plans were perfect for students paying out of pocket."
The road to get where she is today hasn't been an easy one. She has certainly faced challenges – financial, physical, and emotional – yet she's managed to overcome those challenges with the support of friends and family.
Leslie's overall experience at AIMS has been a very positive one. She excelled in the classroom and performed at a high level during the hands-on training. She found the instructors to be very supportive and have a strong interest in the success of each student. The skills she has learned will no doubt help her in the field and throughout the rest of her life.
"The education and clinical training have been great, and I am confident these skills will serve me well on the job."
Leslie has a bright future in healthcare. After getting some experience as a medical assistant she already plans to return to school to pursue a career in diagnostic medical sonography. Based on her positive attitude and work ethic, it won't be long before Leslie is back at AIMS working towards her future career.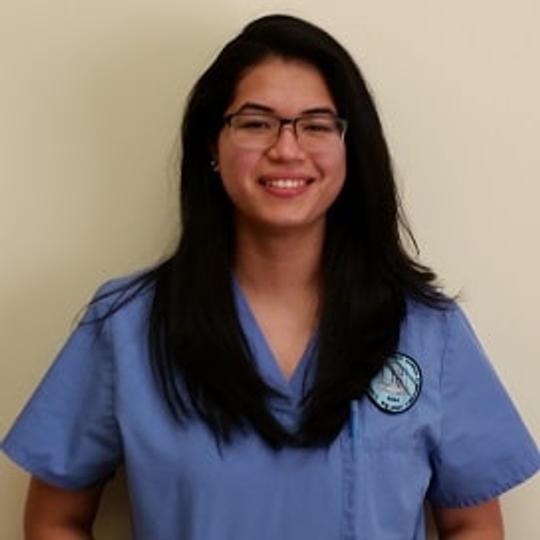 Name: Leslie Perez-Alfaro
Program: Medical Assistant
Graduation Date: July 2016