Student Spotlight
Tommi Hunter
People choose their career paths for a variety of reasons. Some are looking for high salaries and job security while others choose to do something they truly enjoy. For Tommi Hunter, the decision to pursue a career in healthcare was made with a noble intention in mind. She wants to help people.
Before Tommi began her education at AIMS, she was on a very different path. After graduating from high school in upstate New York, she moved to New Jersey in 2008. Moving to a completely new environment was a way for her to challenge herself. Continuing that trend, she made the bold decision to attend a community college and a technical school simultaneously.
Tommi studied cosmetology in the daytime while taking business classes at Raritan Valley Community College in the evening. She successfully graduated from both schools, obtaining an Associate's degree in Business Administration and a cosmetology license. Initially she chose to pursue a career in cosmetology and became a hairstylist. After two years in the field, however, she realized it wasn't her calling.
Rather than remaining stuck in a job she wasn't satisfied with, Tommi decided to make a change. She began researching a number of different career opportunities and eventually set her sights on becoming a surgical technologist. Ultimately it was her love of helping people that guided her to healthcare. According to Tommi, "Knowing that I could take part in saving someone's life, or help make it better is such a great feeling!"
Tommi started the Surgical Technologist program at AIMS in February 2014. Since then she has proven herself to be a standout student. She has excelled in the classroom as well as her clinical training, and her instructors have praised her positive attitude and work ethic. Now, as she prepares to finish her in-school training, she can look forward to a new challenge when she begins her clinical internship. She feels well prepared for internship as she believes "the education and training [she has] received will help [her] profusely in the hospital setting."
Tommi is expected to graduate in December of this year. Initially she would like to find employment as a surgical technologist in a hospital setting. She hopes that will give her the opportunity to learn and grow in the field. As her career progresses, her long-term goal is to become a surgical assistant.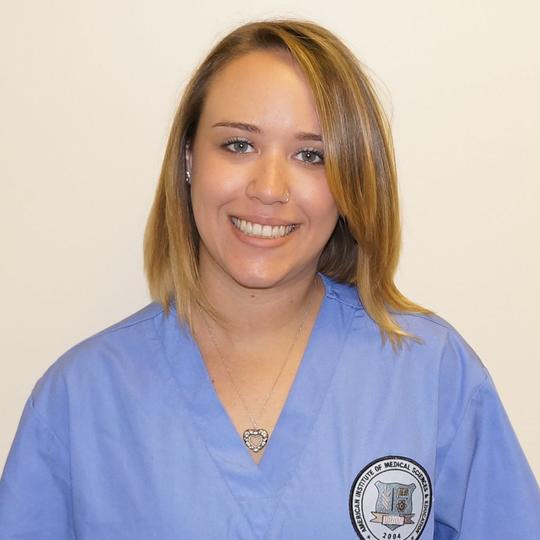 Name: Tommi Hunter
Program: Surgical Technologist
Graduation Date: December 2014