Student Spotlight
Shariyah Gordon
Unlike many of her classmates, Shariyah Gordon already had a strong foundation in healthcare when she enrolled at AIMS. She completed a Psychology degree from Lafayette College in 2014. Immediately after graduating she was hired at LabCorp where she worked for one year. From there she moved on to her current position as a clinical lab assistant at Overlook Medical Center.
When Shariyah was younger, she was diagnosed with diabetes. This inspired her to live a healthy lifestyle and it's also one of the reasons she became so interested in healthcare. Her interest in healthcare and the human brain eventually led her to the Neurodiagnostic Technologist (NDT) program at AIMS. Learning about the brain has been a passion of hers since she was in eighth grade. When she discovered that AIMS offered EEG training, she jumped at the opportunity.
"AIMS had courses that interested me, courses that I thoroughly enjoyed. I was allowed to get reacquainted with my passion."
Going back to school has been no easy task for Shariyah. She is enrolled in the evening NDT program but has continued to work full time at Overlook Medical Center. On top of that, she has also been helping her father recover from kidney replacement surgery. Despite the immense pressure and responsibilities she is facing, Shariyah has thrived at AIMS. Her grades have been excellent and her instructors have commended her on her work ethic. She was also chosen to be a student representative for the NDT program.
Shariyah is now preparing to finish her classroom education and move on to the clinical internship. Thus far, she has had an overwhelmingly positive experience at AIMS. She has enjoyed working with her fellow classmates and the school administration. Her role as a student representative taught her how to "truly work with people and discover ways to find solutions to unforeseen issues." Most importantly, however, she has learned an incredible amount of knowledge regarding neurodiagnostic technology, including epilepsy and its treatments.
"I definitely feel prepared to enter the field with expert knowledge from such great instructors."
As she moves closer to her internship and graduation, Shariyah is already planning her long-term future. She is planning to attend medical school and eventually become a neurosurgeon. Her goal is to specialize in pediatric neurosurgery with a concentration in epilepsy disorders. Her ambition doesn't stop there however. One day she would like to open her own neuroimaging centers. Shariyah clearly has the drive and ambition to achieve all of her goals.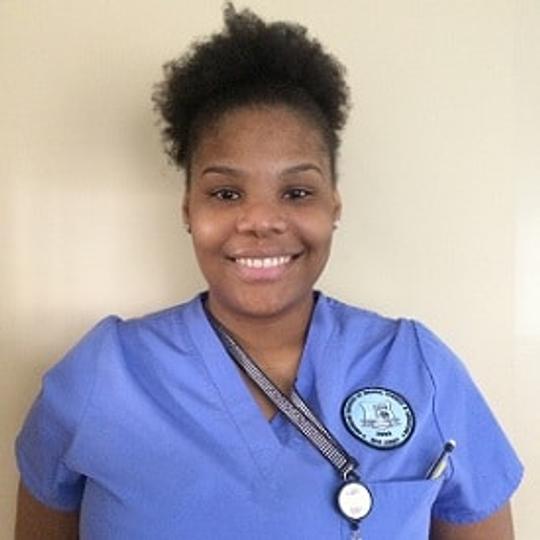 Name: Shariyah Gordon
Program: Neurodiagnostic Technologist
Graduation Date: February 2018