Student Spotlight
Nicholas Robertson
From a young age Nicholas Robertson gained an appreciation for hard work and dedication. He was one of three sons who were raised by a single mother. Nicholas grew up watching his mom put herself through college while working a full-time job to provide for her children. That left a lasting impression on him. It also pushed him to want to start supporting himself as soon as he finished high school.
Nicholas started his professional life in the automotive industry. He had always been passionate about cars, so initially it was a great fit for him. After studying automotive technology at a trade school, he found employment as an automotive technician. It didn't take long before he had earned several professional certifications and worked his way up to master technician. Eight years in the automotive industry, however, began to take its toll. The physical and mental stress resulted in a decision to leave the field and pursue a different path.
After experimenting with several different careers, Nicholas eventually turned to the healthcare field. He knew that finding a career which offered him stability and high salary potential was important, but it was also important that he was proud of the work that he was doing. Healthcare offered a number of opportunities, but it was the MRI Technologist career that really peaked his interest.
"I enjoy working independently in a highly technical manner and medical science truly fascinates me."
When Nicholas made the decision to leave a high-paying job and go back to school, he knew how important finding the right school would be. The MRI Technologist program at AIMS Education offered a direct path into a new career. He liked the fact that the program focused on career training and didn't require classes that were unrelated to his field of study. The small class sizes and the emphasis on hands-on training also played big roles in his decision to enroll at AIMS.
Going back to school full time presented several challenges. The biggest challenge was finding the means to pay for an education and support himself at the same time. To overcome this, he took advantage of modern ride-sharing platforms to earn some extra income. Through hard work and proper time management, as well as support from close friends and family, Nicholas has been able to overcome many of the challenges he's faced. And every time he is faced with a new challenge, he draws strength and inspiration from his mother's example.
From day one at AIMS, Nicholas has been able to develop strong relationships with his instructors and classmates. His first instructor, in particular, left a lasting impression on him.
"[Dr. Arvind Patel] was so engaging and dedicated, even entertaining at times. He truly lit a fire within me and instilled a hunger for knowledge and excellence."
In order to get some healthcare experience and earn additional income, Nicholas took advantage of the Earn While You Learn program at AIMS. Earn While You Learn is a program that tries to help students find part-time work in a healthcare environment. Through the assistance of Career Services Advisor Justine Kimler, he was able to find part-time employment as an MRI Tech Aide at a major hospital.
Nicholas has also proven himself to be an excellent student and already has plans to apply for membership in the National Technical Honor Society (NTHS). After he graduates from AIMS, he plans to pass the MRI certification exam offered by ARMRIT, secure full-time employment in a major hospital or imaging center, and begin working on his associate degree. His long-term plans include taking the MRI certification exam from ARRT and eventually going back to school to study Healthcare Administration. Clearly Nicholas is off to a great start and shows no signs of slowing down.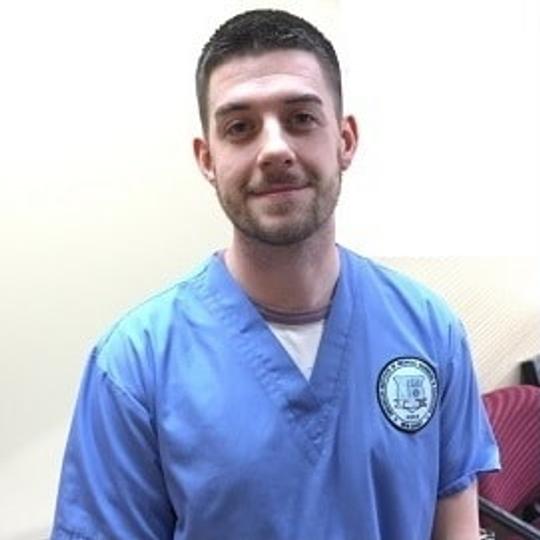 Name: Nicholas Robertson
Program: MRI Technologist
Graduation Date: November 2017