Student Spotlight
KerriLynn Bloodgood
KerriLynn Bloodgood is the older of two sisters. Healthcare clearly runs in the family. Her younger sister has been a registered nurse for the past six years, and KerriLynn has been an EMT for sixteen years. KerriLynn has always had a strong interest in the healthcare field. She joined the Hillsborough Rescue squad when she was 16 years old and then became an EMT just two years later.
Even though she loves working as an EMT, after sixteen years she realized it was time for a change. When she started to search for a new career, she knew that she wanted a job that would allow her to work directly with patients. She has always loved helping people in a time of need and being a face of comfort. As an EMT, she often had the opportunity to help calm the nerves of patients and assure them that they would be okay. She knew she wanted something similar in her new career.
At one point in her life, KerriLynn attempted nursing school. She quickly realized that the broad area of study didn't suit her. She wanted to focus on one specialized area. After conducting more research, she eventually discovered the Diagnostic Cardiac Sonography program at AIMS. She read some positive reviews about the school and liked the curriculum that was being offered, so she quickly made the decision to apply.
Making a career change at 34 years old has certainly presented its challenges. In addition to going to school full time, she works for the Manville First Aid & Rescue Squad. It's been challenging to find the right balance in her life, but having the support of her parents and fiancé has made a big difference.
KerriLynn had struggled with Anatomy and Physiology courses at other schools, but that all changed when she came to AIMS. She was able to understand it more and earn grades she never thought would be possible. Overall she has excelled in the classroom and, as a result, she's now a member of the National Technical Honor Society (NTHS). Her hard work and dedication has paid off, but she also attributes her success to her excellent instructors.
"Dr. Somani is an amazing instructor and takes his time to answer our questions and show us exactly how to use what we learned in the classroom and relate it to real life."
So far she has been very satisfied with her decision to study diagnostic cardiac sonography at AIMS. The education and training she is receiving, including her upcoming clinical internship, will continue to benefit her as she moves closer to graduation.
KerriLynn envisions a career that will be financially rewarding but also allow her to get up every day with a smile on her face. That future is within her grasp. She is expected to graduate in a little more than a year. She plans to immediately sit for the national registry exam offered by ARDMS, and then eventually she wants to relocate down South to continue pursuing her new career.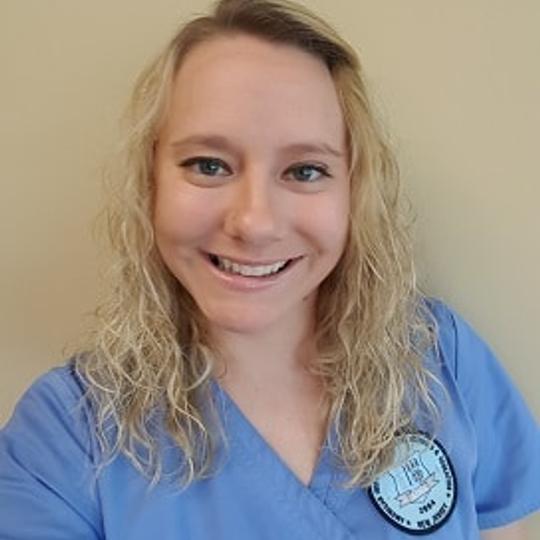 Name: KerriLynn Bloodgood
Program: Diagnostic Cardiac Sonography
Graduation Date: November 2017