Student Spotlight
Janine Granadeiro
Janine Cebulski Granadeiro was not always sure what career direction she wanted to take, but she always knew she wanted to help people.
As a child, she admired her father who worked as a pharmacist because he was able to help those in need. Despite her desire to care for those in need, growing up she didn't know if she would be able to handle the responsibility of doing so. However, one day Janine observed a group of staff members in the hospital where her father was being treated for cancer and she saw the joy caretakers found in helping her loved one in need. It was then she realized that she wanted more than anything to be in the healthcare field.
Janine went on to earn a Bachelor's degree in Physical Education and worked as a teacher in the public school system in Brazil for many years, but she never let go of her true career goal. After many years, she was able to make the career change she had always wanted and decided to pursue an EEG program. She conducted in-depth research when looking for a school and found that AIMS provided an environment that catered to her educational and personal ideals.
When Janine started at AIMS in February 2014, she chose the Neurodiagnostic Technologist program out of a desire to provide the best care possible in her community. She found that the program is both an art and a science consisting of psychological and biological aspects that can improve the healthcare field.
"Being a part of the NDT program at AIMS is an exceptional opportunity for me to contribute to the on-going research in the EEG field, while providing me with a quality education."
For Janine, it was important to bring certain ethics to a career in Neurodiagnostics: focusing on being caring, compassionate, understanding, nonjudgmental, realistic, open-minded, and honest. It was also important to her to find a program that stressed sensitivity to all cultures while providing care.
Since the very first day of class at AIMS, she has felt a continuing mutual respect between the instructors and herself. She has found the education exceptional due to the instructors knowing their curriculum well. She also appreciates their strong support system where she has been able to come in after hours or on the weekends for hands-on training.
"I believe that my future career opportunities in the healthcare field are endless..."
After graduating from AIMS, Janine plans to acquire an EEG Technologist position in the medical field. She wants to work in an environment where she can help her organization reach its goals while still achieving personal growth. She truly believes that the education she is receiving at AIMS will give her the work experience needed to handle the challenges the work force will bring.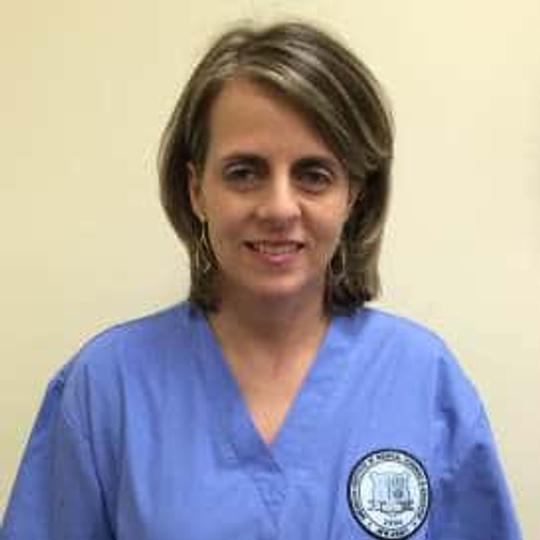 Name: Janine Cebulski Granadeiro
Program: Neurodiagnostic Technologist
Graduation Date: March 2015