Student Spotlight
Helen Margolis
Helen first learned about AIMS Education during a conversation with her own sonographer. The woman had recently graduated from AIMS and had great things to say about the school and the career in general. This encouraged Helen to research what the school had to offer.
After looking at several different allied health institutes that offered ultrasound programs, Helen decided AIMS was the best fit for her. She liked the small class sizes and the friendly atmosphere. It was also very important to her that students had the opportunity to intern at a number of prominent hospitals and imaging centers..
It's been a long journey for Helen to get where she is today. She initially decided to study Finance. She obtained her Associate's Degree in Minsk, Belarus. Shortly after that she immigrated to the United States and began working as a paralegal. She worked in a law office for eight years, but grew tired of paralegal work and finally decided to pursue her dream of working in the healthcare field.
After considering several possibilities, she eventually settled on a career in Sonography and enrolled in the Cardiovascular Technologist program at AIMS. When asked why she chose this field, she explained, "I wanted prestige, stability, and to fulfill my desire to help others."
According to Helen there isn't a day that goes by where she regrets enrolling at AIMS or pursuing her dream of working in healthcare. She's found her instructors to be knowledgeable, patient, and encouraging. Her instructors in turn have praised Helen's hard work and dedication.
Now that she is almost finished with her core coursework, she is getting ready to begin her clinical internship. She has been looking forward to this portion of her education most. It is one of the most valuable parts of her training and it is also the last step before completing the program and starting her career. When asked how she feels as she moves closer to graduation, she stated "I can [now] see myself in a hospital helping others and working side by side with doctors and nurses in the near future."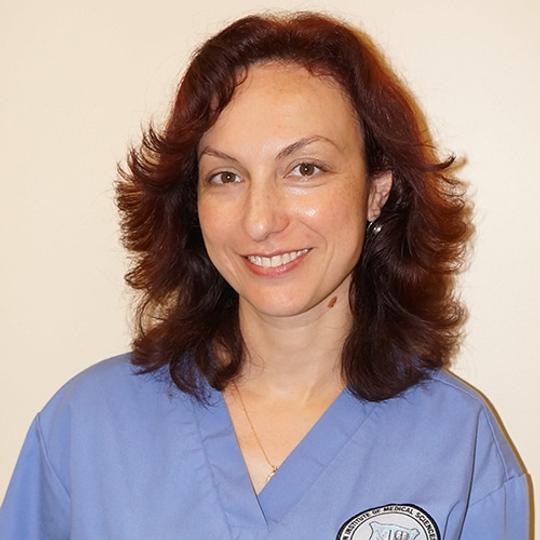 Name: Helen Margolis
Program: Cardiovascular Technologist
Graduation Date: March 2015