Student Spotlight
Gabrielle Corbo
For our student spotlight this month we are profiling Gabrielle Corbo. She is currently enrolled in the Neurodiagnostic Technologist program. After discovering her love of science in high school, she quickly became determined to pursue a career in the medical field. Neurodiagnostic testing was an area that really peaked her interest, but finding a school that offered training in that field was not easy.
Gabrielle enrolled at Brookdale Community College after graduating high school. She knew she still wanted to do something in the medical field, so she decided to pursue a degree in science. Gabrielle graduated as an honors student from Brookdale and earned her associate degree.
Her first job in the healthcare field was in a pharmacy. She began working at CVS as a registered pharmacy technician while she was attending Brookdale. She enjoyed her work as a pharmacy tech, but she knew it wasn't going to be her long-term career. She never lost her desire to work in the field of neurodiagnostic technology. Eventually her determination to become a neurodiagnostic technologist led her to AIMS Education.
Since AIMS is located close to her home, Gabrielle has been able to continue working part-time as a pharmacy technician while she attends school. She has, however, reduced her work hours to allow more time for studying. That was a decision that has benefited her greatly.
Gabrielle has had a great experience at AIMS. She's performed well in the classroom and excelled with the hands-on training in the lab. Her confidence is growing daily as she continues to work toward her ultimate goal of becoming a neurodiagnostic technologist.
"AIMS has provided help for me whenever I needed it and I know they want me to be successful."
The next big step in Gabrielle's training is her clinical internship. After completing the internship, she'll be ready to take the ABRET certification exam and start looking for her first job in the field. As long as Gabrielle continues to demonstrate hard work and dedication, we have no doubt that she will have a long, successful career.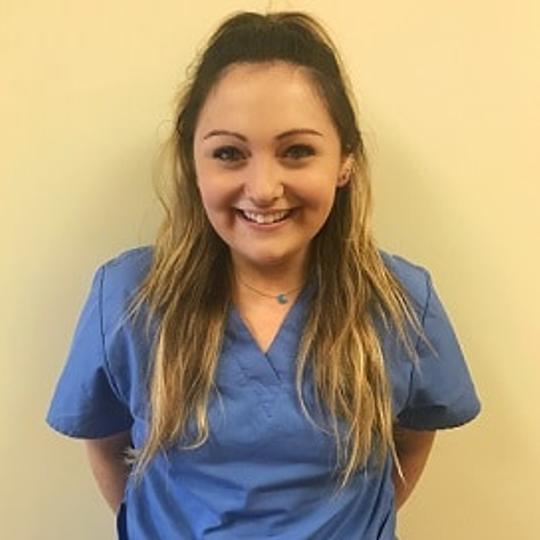 Name: Gabrielle Corbo
Program: Neurodiagnostic Technologist
Graduation Date: April 2018