Student Spotlight
Bavneet Kaur
Bavneet Kaur was born and raised in India, but moved to the United States in 2004. After finishing high school in Vorhees, NJ, she decided to pursue an associate degree in biology at Camden County College. From there, she went on to earn a Bachelor's degree in Biological Sciences from Rutgers University.
Growing up with a family of doctors, pharmacists, and physical therapists meant healthcare was always a big part of Bavneet's life. From a young age she became inspired by her family members and the way they took pride in their professions. That influence played a major role in Bavneet's life.
During high school, while volunteering at hospitals, Bavneet first realized that she wanted to pursue a career in healthcare. Her experience shadowing a cardiologist during her senior year in high school only strengthened her decision. It also opened up her eyes to the cardiovascular field of study.
In 2015, while she was researching different schools and training programs, Bavneet came across AIMS. After a bit of research and a school visit, she quickly decided that she wanted to join the Cardiovascular Technologist (CVT) program at AIMS. She liked the school and its proximity to New Brunswick, but it was the chance of working in the field of cardiology that she jumped at.
The CVT program can be intensive, so it can be a challenge to work and go to school at the same time. Luckily for Bavneet, she was in a position to focus solely on school. Her experience at AIMS thus far has been wonderful. She has enjoyed learning from all of her instructors, and she's found it refreshing how willing they are to pass on their knowledge.
"The instructors encourage students to ask questions in class and keep the learning process interactive."
The hands-on aspect of her education has been very important to Bavneet. Though she understands the importance of theoretical knowledge, it has been the practical education at AIMS that she has really enjoyed. Learning how to actually perform cardiovascular scans is what she feels is preparing her for the real world.
Bavneet envisions a future career that allows her to apply the knowledge and skills that she has gained at AIMS. She's also interested in the business side of sonography. In fact, she would love to one day open her own imaging center.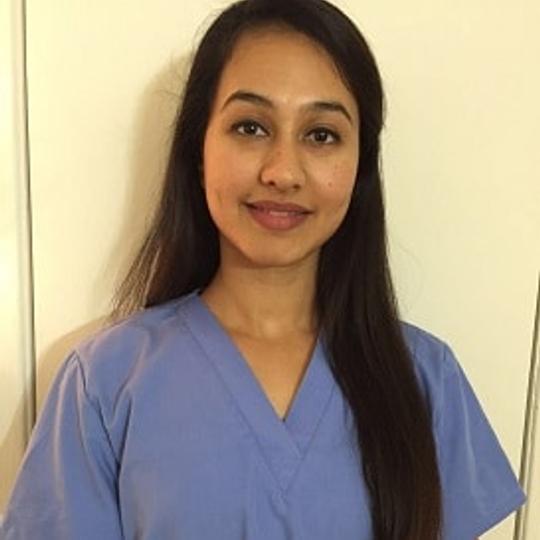 Name: Bavneet Kaur
Program: Cardiovascular Technologist
Graduation Date: September 2017