Student Spotlight
Archita Patel
Background and Experience at AIMS
I am currently enrolled in the Cardiovascular Technologist (CVT) program at AIMS. From a very young age, I wanted to have a career in healthcare. However, after graduating from high school, I decided to study business administration at Middlesex County College. It didn't take long before I realized business wasn't for me.
From that point forward, I began researching the programs offered at AIMS and quickly narrowed my search to the CVT program. I chose the cardiovascular technologist program because heart disease runs in my family and I have congenital heart disease. Being able to investigate more about my heart problems and study other heart related issues is very important to me.
Attending school during the COVID pandemic has been challenging. At first I found it difficult to learn virtually. Dealing with technical issues during class was also a challenge. However, AIMS has done a fantastic job providing extra help and allowing us on campus for hands-on training. It was also very challenging for me as a student to manage my time between work and school. I tried my best to cooperate with the school and instructors, and I utilized all the assistance provided by my instructor.
My experience at AIMS has been great since I started the program. I enrolled at AIMS with no experience in the medical field and I am going to be cardiovascular tech very soon. The instructors were well educated and very friendly. It was hard to learn online during the pandemic, but our instructor did a fantastic job teaching us and guiding us through the program.
In addition to lectures and learning from the textbooks, we were provided an immense amount of hands-on practice with classmates. I have met students from a variety of age groups at AIMS and it was a great opportunity for me to experience different lifestyles. The education and training from AIMS will really benefit me in the future. I cannot wait to apply what I've learned in real life.
My Goals for the Future
I have many goals in mind for the future. One of my biggest goals is to not only strengthen my skills in adult echocardiography, but also learn how to perform pediatric and fetal echos. Another goal is to help patients live longer and healthier lives. I want to feel satisfied after every shift that I work and not regret my decision to become a cardiovascular technologist.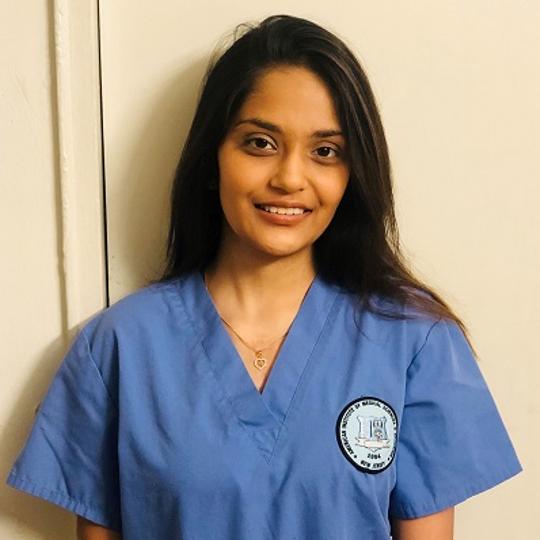 Name: Archita Patel
Program: Cardiovascular Technologist
Graduation Date: May 2021