2021 School Catalog
The School Catalog at AIMS Education serves as a valuable resource for all of our students. It provides important information related to school policies and procedures, and it also serves as a Student Handbook. The catalog, which is published annually, will be posted on this page.
AIMS Education reserves the right to modify any program, policy, or procedure listed in the catalog. Any updates will be provided in the form of an addendum which will be available below.
Click on the link below to access the current School Catalog.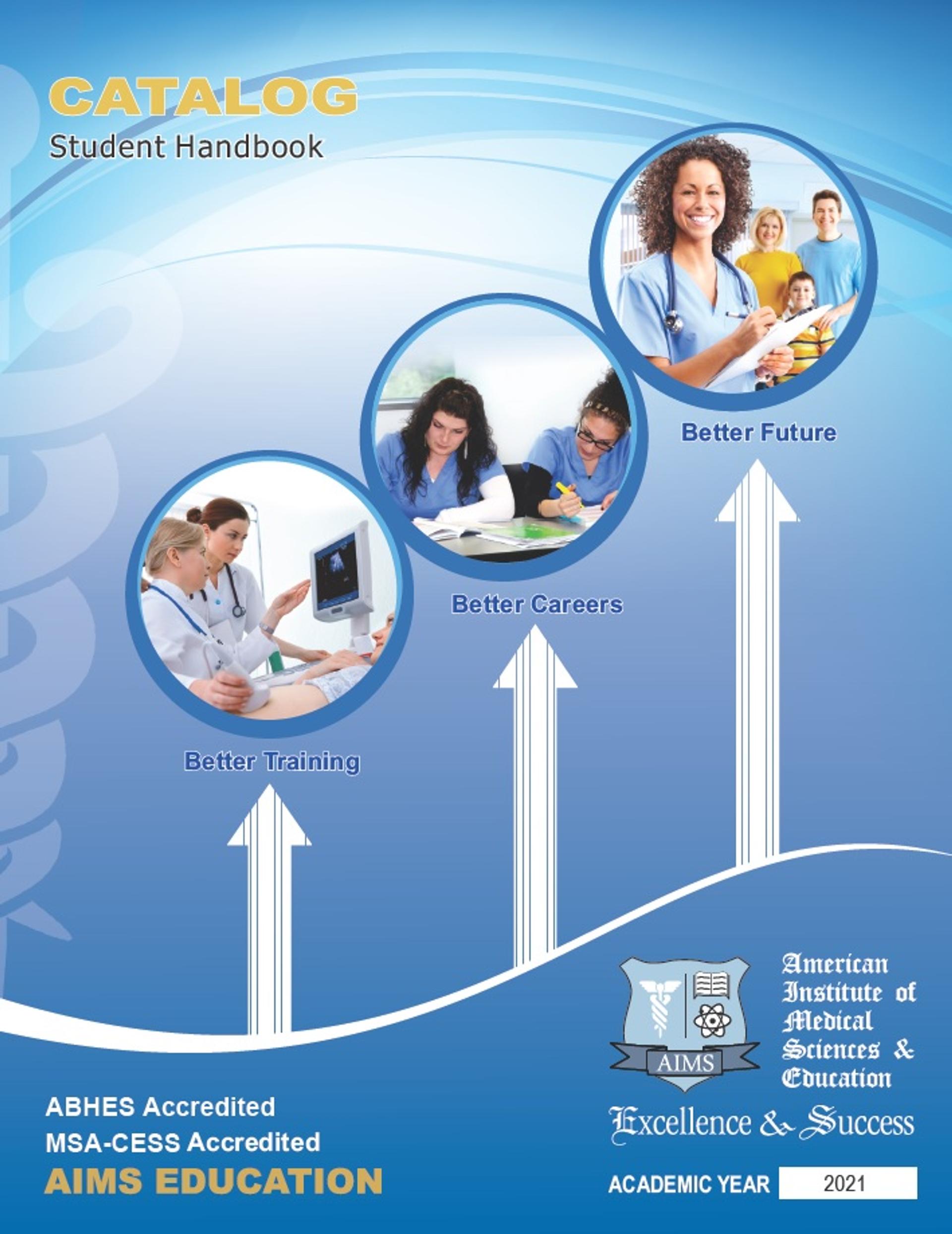 Addendum
New Deadline for DMS Prerequisite
January 18, 2021
The English course (or equivalent) must be completed by the first day of class.
Relocation Policy
January 19, 2021
Students are required to notify the school in writing if their home address changes. Notification must be provided within 14 days of moving.
Transfer Credit Policy Update
March 5, 2021
A challenge exam is now required for all coursework completed more than 5 years prior to the student's start date.
MRI Program Price Increase
March 16, 2021
The cost of the MRI Technologist program has increased. The new price applies to all programs starting in October 2021 or later. It will not impact currently enrolled students or students who start prior to October 2021.
Change in Class Schedule for NDT
April 12, 2021
The class schedule for the Neurodiagnostic Technologist day program will now be Monday to Thursday, from 9am to 2pm.
Complaint Policy Update
May 19, 2021
All complaints and appeals must be submitted in writing to the student affairs department.
Mandatory COVID-19 Vaccination
September 1, 2021
It is mandatory for all new students to get the COVID-19 vaccination.
Approved Vaccines
September 1, 2021
Only vaccines approved by the FDA and WHO will be accepted by AIMS. Clinical sites may have different requirements.
Vaccine Exemption Requests
September 1, 2021
In rare situations, students may be granted a medical or religious exemption from the COVID-19 vaccine. Exemptions approved by AIMS do not apply to the clinical internship. Students must submit a separate exemption request directly to their clinical site.
Change to PhT Curriculum Plan
September 1, 2021
The course hours have changed for PHT 222, PHT 224, and PHT 213.
Change to CVT Curriculum Plan
September 7, 2021
ALH 110 and ALH 130 have been replaced by DCS 120, and the course hours have changed for CVT 240.
Change to DCS Curriculum Plan
September 7, 2021
ALH 110 and ALH 130 have been replaced by DCS 120, and the course hours have changed for CVT 240.
Clinical Exit Exams
September 13, 2021
The DMS, NDT, ST, and MA programs are the only programs that offer stand-alone clinical exit exams prior to starting the clinical internship.
Clinical Exit Exam for CVT and DCS
September 13, 2021
CVT and DCS students will be required to complete a clinical exit exam as part of the CVT 240 course. The course grade will be based solely on the clinical exit exam.
Updated Program Costs
September 13, 2021
The program costs for MRI, DMS, CVT, DCS, NDT, ST, and ENDO have increased. The new program costs will be effective for all cohorts starting after January 1, 2022.
Physical Location Requirement for Admissions
September 13, 2021
Students must live in NJ, NY, PA, or a state in which AIMS is authorized to provide distance education courses.
Change in Tuition Refund Policy
September 29, 2021
Students who withdraw prior to the fifth day of class will receive a full refund, excluding the administrative fee and any costs for used supplies or books.
Associate Degree Required for Surgical Technologist Program
September 30, 2021
Applicants for the Surgical Technologist program must have a minimum of an associate degree or equivalent to be eligible for enrollment.
Full Reimbursement for NDT Registry Exam
October 26, 2021
Beginning with 2022 cohorts, Neurodiagnostic Technologist graduates will be reimbursed for the full cost of the ABRET EEG registry exam if they meet the eligibility requirements.
Course Modifications for MRI Program
October 26, 2021
The total course hours and lab hours were modified for MRI 261 and MRI 262.
Updated Drug & Alcohol Policy
November 15, 2021
A new Drug & Alcohol Policy for students has been implemented.