News
Sonography Guest Speaker - Dail DeSouza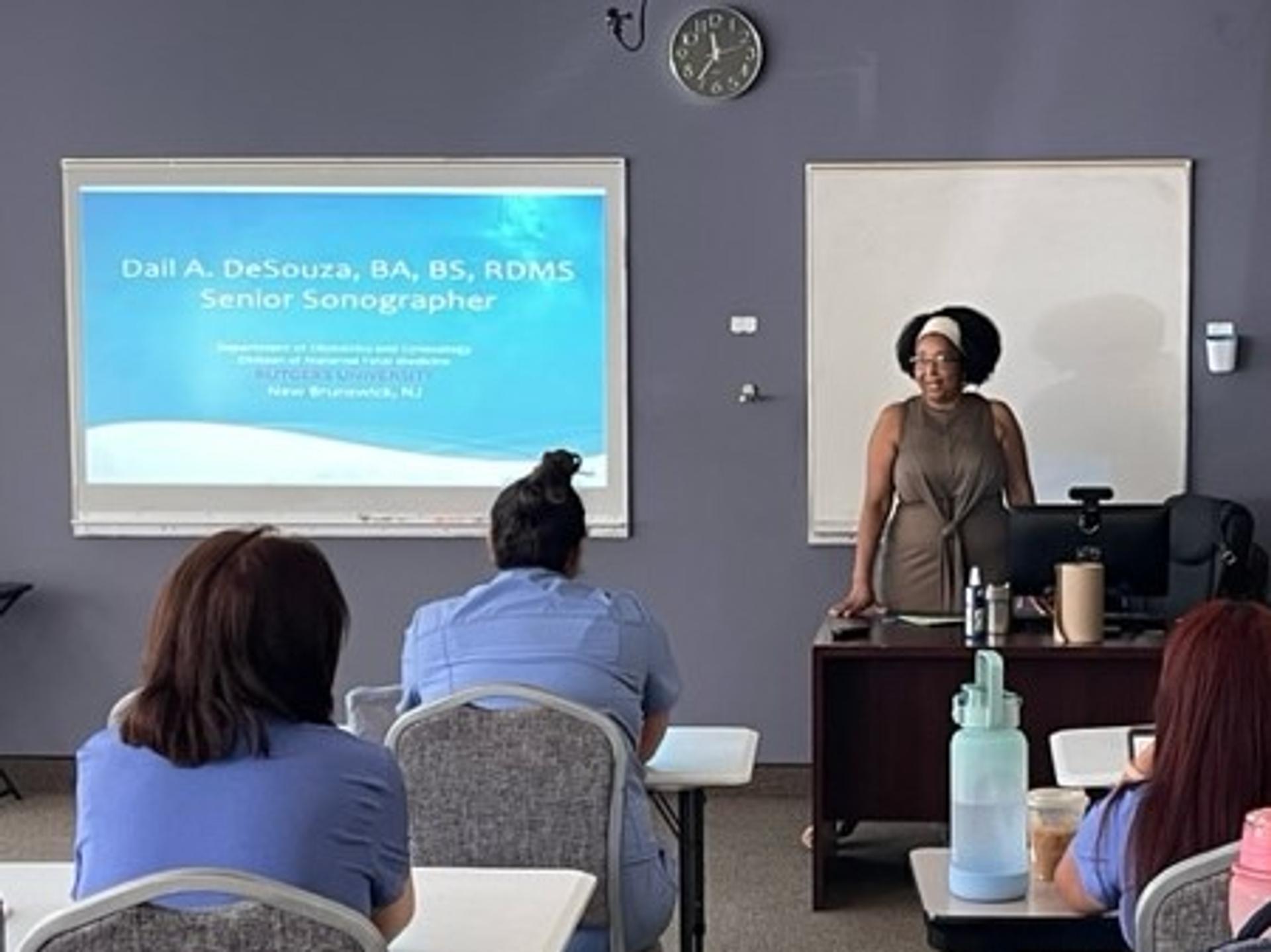 Guest Speaker Dail DeSouza
On July 25, 2023, the Diagnostic Medical Sonography (DMS) class at AIMS Education was privileged to attend a 2-hour guest lecture by Dail DeSouza. Dail Desouza is a senior perinatal sonographer at the Division of Maternal Fetal Medicine at Rutgers University in New Jersey. It was an insightful session that went into topics such as the intricacies of perinatal sonography and the importance of the various types of scans that are performed at Maternal Fetal Medicine (MFM) sites. DeSouza is also scheduled to deliver a similar lecture for the evening DMS class on August 2, 2023.
This lecture was a comprehensive exploration of the various types of scans performed at MFM sites. These scans are not limited to fetal anatomy but range from dating pregnancy, viability, non-invasive prenatal screening (NIPS), biophysical profile (BBP), cervical length, and more. She also went over a detailed walkthrough of a complete fetal anatomy scan, with both normal and abnormal findings, offering students an opportunity to grasp a practical understanding of the subject. This lecture was more than DeSouza discussing the scanning in detail. It was a very interactive session as she emphasized not only the technical affairs but also the importance of patient care skills. She emphasized the significance of empathy, communication, and respect in the patient-sonographer relationship and many other technical skills in the field.
To engage the students in her lecture, DeSouza incorporated fun activities such as role-playing exercises where students alternated between the roles of patient and sonographer. This approach allowed her to help underline the importance of the real-world skills required to be successful in patient care focused careers. She went on with some advice to students on how to make the most of their clinical experiences offering a three-step approach:
Observation: Check out the dynamics of the unit
Contribution: Contribute to helping with chores
Participation: Capitalize on every opportunity to actively develop scanning skills
Having DeSouza share her insights and her 30+ years of experience as a sonographer was a pleasure for the DMS students. Her lecture was informative and inspiring, reminding students of the nobility of their choice of profession and the impact they will have on the lives of others in their future careers. We at AIMS Education look forward to her next lecture and are reminded of the invaluable role that such guest lectures play in shaping the future professionals of the healthcare industry.