14 Hospital Jobs That Don't Require a Degree
December 5, 2019
Updated February 15, 2022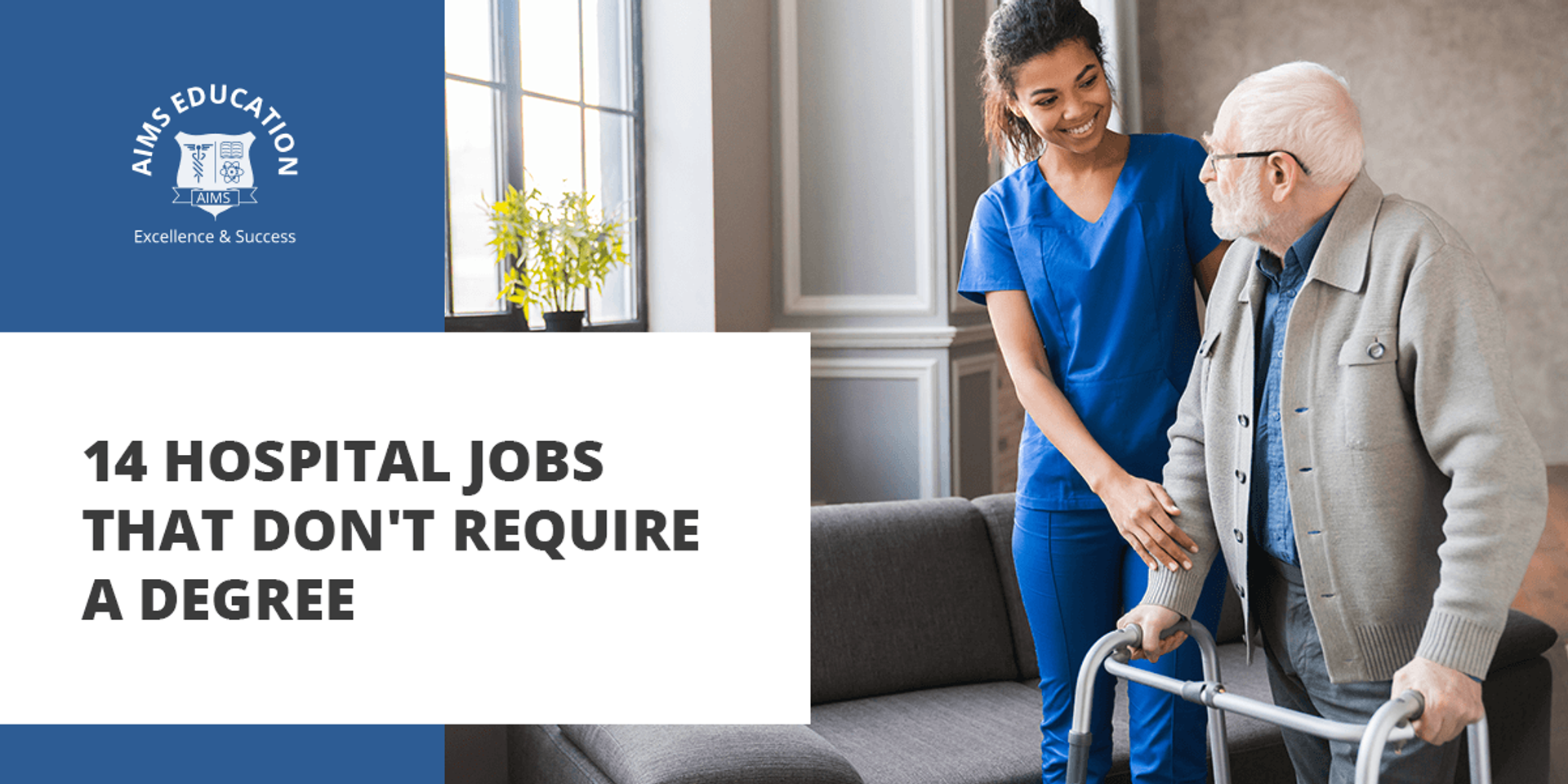 Let's face it: With crazy student loans and long training times, medical school simply isn't for everyone.
From short certifications that pay well, reliably strong job markets, and ample room for upward mobility, there are countless reasons to seek allied health jobs.
The allied health sector is growing by leaps and bounds, so to get the ball rolling, we've compiled 12 hospital jobs that don't require a degree.
What Is Allied Healthcare?
Allied health careers
encompass everything from medical billers to phlebotomists to surgical technologists, and there are careers in every single healthcare sector. These professionals are responsible for supporting medical professionals like doctors, nurses, dentists, and pharmacists.
Though some allied health jobs (like occupational therapists or MRI technologists) require advanced degrees, most require certifications that quickly get people into healthcare careers.

Why Allied Healthcare Is More Popular Than Ever
Massive student loans
just aren't appealing to most people, so it's no wonder that more students are choosing to enter healthcare careers without a degree.
According to the Bureau of Labor Statistics, the healthcare sector growth rate is projected to be 14% between 2018 and 2028. This makes it the fastest-growing sector in the US. What's more, as Baby Boomers reach retirement age, the reliance on these health professionals will only grow.
Let's take a look at some of the most popular healthcare jobs without degree requirements.

1. Cardiovascular Technologists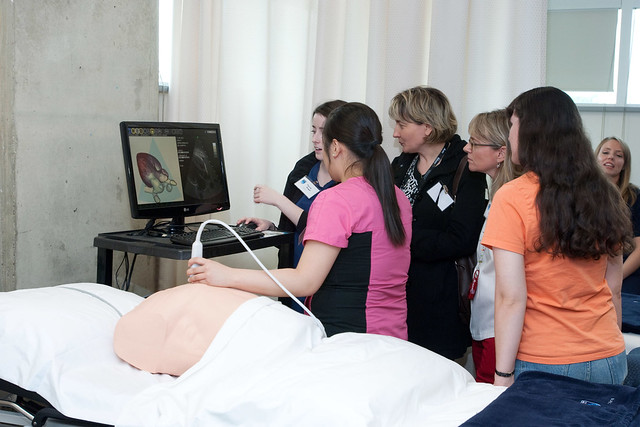 N A I T /
Flickr
/
CC BY-ND
Cardiovascular technologists work with ultrasound imaging, testing, and surgical procedures involving the heart and vascular system. Technologists usually work in hospitals or clinics, where they work closely with surgeons and doctors. They may also assist with catheterization and other treatments for patients with heart problems.
Cardiovascular technologist training includes both classroom and hands-on study. Graduates eligible for additional certification and registry exams can earn extra credentials.
With the average cardiovascular technologist salary falling just under $57,000, this is an allied health career that pays well.

2. Dental Hygienists
Dental hygienists support dentists by cleaning teeth, taking x-rays, and checking for signs of oral disease. They play a crucial role in preventative dental care and work closely with patients to educate them on dental health.
Most dental hygienists work in dentists' offices, and 2018 earnings averaged more than $74,000. Dental hygienists often start as dental assistants, later obtaining an associate degree (which can 2-3 years of study).
3. Ultrasound Technicians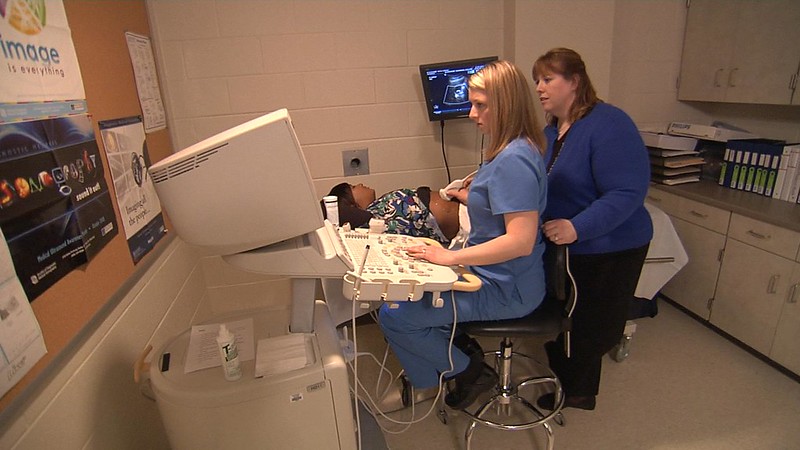 wistechcolleges /
Flickr
/
CC BY-NC-ND
You might know ultrasound techs as diagnostic medical sonographers (DMS). These professionals prepare patients for appointments, use sonography equipment, and review test results with physicians.
Ultrasound tech training normally requires a certificate and/or associate degree program (which takes around 2-3 years to complete). After passing their professional certification exams, an average ultrasound tech salary falls around $72,500. This is a hospital job that pays well without a degree (one of the best-paid, in fact).

4. EMTs and Paramedics
If you consider yourself an adrenaline junkie and love medical TV shows, a career as an EMT or paramedic might be for you.
As the first people on the scene of an accident, EMTs and paramedics provide emergency treatment before patients are admitted to the hospital. EMTs can complete 3-month certificate programs and are licensed by their state. American EMTs earned an average $34,320 in 2018.
Becoming a paramedic requires a lengthier 2-year training period, but annual incomes fall just under the $59,000 mark.

5. Massage Therapists
They might seem like they're all about relaxation, but
massage therapy
helps to treat injuries and relieve chronic pain. Registered massage therapists (RMTs) receive hands-on training, as well as instruction in anatomy and kinesiology.
Training can take from several weeks to up to two years of study, depending on your certification program and state requirements.
Registered massage therapist salaries average approximately $41,000, and they can work in clinics, doctor's offices, spas, and other locations.

6. Medical Assistants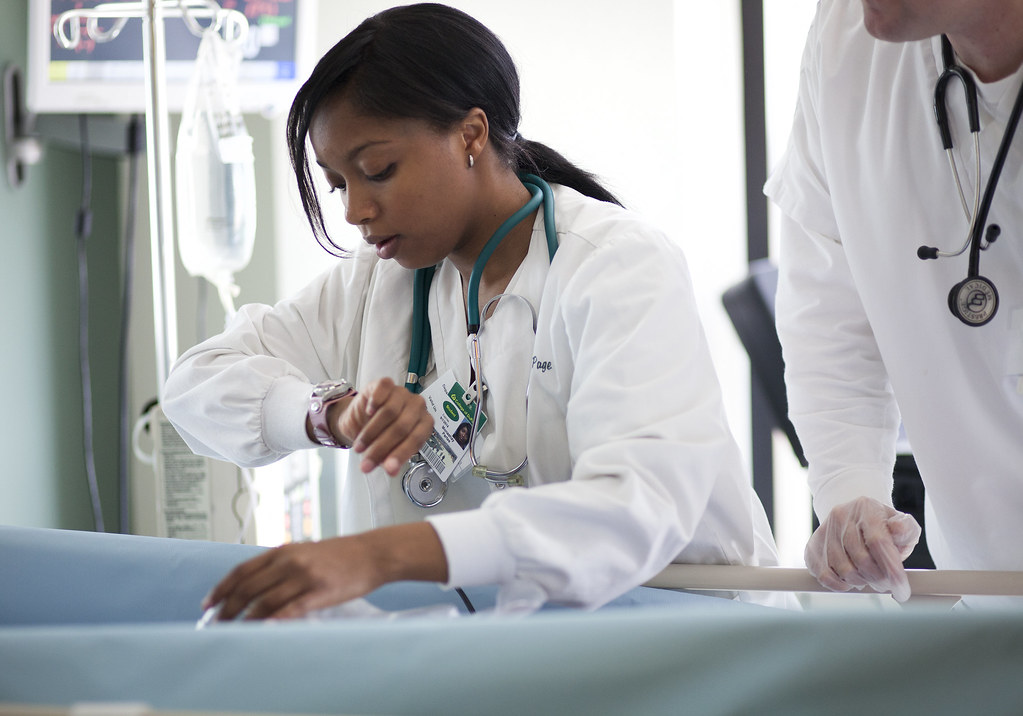 COD Newsroom /
Flickr
/
CC BY
Medical assistants are an integral part of the allied health team and are trained to work in clinical and administrative sectors. In medical assistant training, students study lab techniques, first aid, clinical and diagnostic procedures, billing, and other skills.
For anyone who loves variety, this is a flexible role that exposes you to many areas of healthcare. Most medical assistants complete a certificate program that takes around a year to complete.
In 2018, the average medical assistant salary was $33,600.

7. Medical Billing and Coding Specialists
If you're interested in the administrative side of healthcare,
medical billing experts
provide an important bridge between healthcare providers, patients, and insurance companies.
This is a great path toward finding hospital jobs that don't require a degree or certificate (although completing some form of medical coding education is highly recommended).
You may find yourself working in a hospital, clinic, billing company, or even remotely from home. Working in this sector may also provide a stepping stone to management positions.
Billing and coding specialists earn a median pay of about $40,000.

8. Neurodiagnostic Technologists
Neurodiagnostic technologists focus on the electrical activity in the brain and the body's nervous system. These technologists record electrical patterns of the body and interpret what results mean to best diagnose a patient. Individuals who have trouble sleeping or experience seizures may see a neurodiagnostic technologist routinely.
A medical degree is not necessary to become a neurodiagnostic technologist. Workers may assist patients of all ages in hospitals, sleep clinics, research facilities and other locations. Neurodiagnostic technologists frequently use electroencephalogram (EEG) tests to note brain damage and the presence of neurological disorders like epilepsy.
A neurodiagnostic technologist training program can typically be completed in about 17 months. The average salary of a neurodiagnostic technologist is $58,447, making the path an excellent option for career changers.
9. Phlebotomists
You'll encounter phlebotomy every time you need to get blood taken. Phlebotomists take blood samples for testing and transfusions, assist patients, and handle samples.
This is one of the fastest routes into healthcare careers (certification can take from a few weeks to a few months) and can get you to work in hospitals, laboratories, private practices, and mobile healthcare services.
The average phlebotomist earned $34,000 in 2018.

10. Occupational Therapy and Physical Therapist Assistants
If rehabilitative medicine appeals to you, occupational and physical therapy are exciting fields to get into.
Occupational therapy assists patients with skills required for work and everyday life. Using specialized equipment, you might work with people recovering from injuries, managing disabilities, and suffering from long-term illnesses.
Physical therapist assistants work with patients recovering from injuries and illnesses related to movement. They assist patients with exercises and stretching, and observe patients in order to report to the physical therapist.
You can start a career as an occupational therapy assistant or physical therapist assistant with a 2-year associate's degree (though the competitive field may necessitate going back to school for a 4-year degree).
In 2018, occupational therapy assistants earned an average of $60,000 while physical therapy assistants earned a median of $58,000.

11. Pharmacy Technicians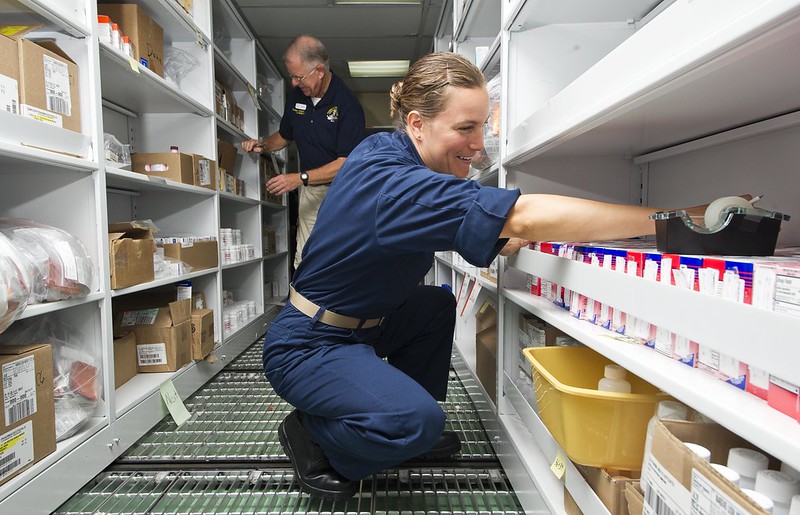 U.S. Pacific Fleet /
Flickr
/
CC BY-NC
With student debt for pharmacists rising to over $120,000, becoming a pharmacy technician is a substantially cheaper and faster route into the field of pharmacy. Pharmacy techs prepare and dispense prescription medications, process insurance information, and work closely with pharmacists and patients.
It's possible to learn through on-the-job training, but many employers are looking for job candidates with formal training. Getting your pharmacy technician certification is a smart move and only takes a couple months to complete.
Pharmacy technicians earn a median salary of $32,700.

12. Endoscopy Technicians
The main goal of an endoscopy technician is to help doctors perform endoscopic operations. An endoscopy technician is typically the person responsible for sanitizing and positioning the instruments handled during an endoscopic procedure. Some healthcare facilities have endoscopy technicians take specimens from the patient before surgery begins. A primary focus for an endoscopy technician is infection control.
You can find these healthcare workers reporting to endoscopy or gastroenterology units in hospitals or emergency rooms. This position is a fast-paced career path that requires professionals to juggle multiple patients. Patients checking into a medical facility may look to endoscopy technicians for support, so a large part of the job is keeping patients calm prior to a procedure and answering their questions.
As an endoscopy technician, you're an integral part of a surgical team. You could be placed on a facility's on-call list in case your department handles endoscopic procedures 24/7/365.
Most people think that to become an endoscopy technician, you must complete years of medical school. However, this career path can save you from building up student loans. Most of the time, you can complete an endoscopy technician training program in under a year (about 10 months). The vast majority of endoscopy technicians earn a median salary of $44,391 per year.
13. Patient Technicians
A patient care technician focuses on providing individuals with the assistance they need to stay healthy and comfortable. These professionals communicate with patient doctors and nurses to stay in the know about a person's well-being. Patient care technician duties involve
basic care procedures
, like CPR and assessing vital signs.
Patient care technicians work in all types of environments. It's possible for workers to assist patients within nursing homes, hospitals and other locations where people live 24 hours a day, seven days a week. Every day on the job is different for a patient care technician, even if they work with the same group of people. Those in this role may find themselves helping patients with exercise, moving patients between rooms and taking blood samples.
If you want to become a patient care technician, a high school diploma or GED is usually required to enroll in a one-year training program. Passing an exam for certification is necessary. Patient care technicians make roughly $30,830 per year.
14. Patient Technicians
Ideally, a physician will focus their undivided attention on a patient. However, this focus is hard to maintain when there's an ongoing need for electronic health records (EHR) and other patient documents.
A medical scribe oversees clerical duties required during and after a patient visit. You can think of medical scribes almost as personal assistants for physicians. People working in this position must be able to type quickly, as they interact with electronic health record software daily. While all hospitals have medical scribes, the intent behind these positions is to improve efficiency so doctors can spend more time with their patients rather than looking at screens.
Those with a high school diploma can become medical scribes. It also helps to have experience as an office assistant or receptionist since you'll be expected to move at a steady pace. Medical scribes earn an average salary of $35,270 in the U.S.
Ready to Jump Into an Allied Health Career?
While healthcare jobs without certification certainly do exist, completing an accredited certification course will set you apart from the competition and result in better salary offers. If you're in the New Jersey area,
contact an AIMS Education representative
to get the ball rolling on your future career!