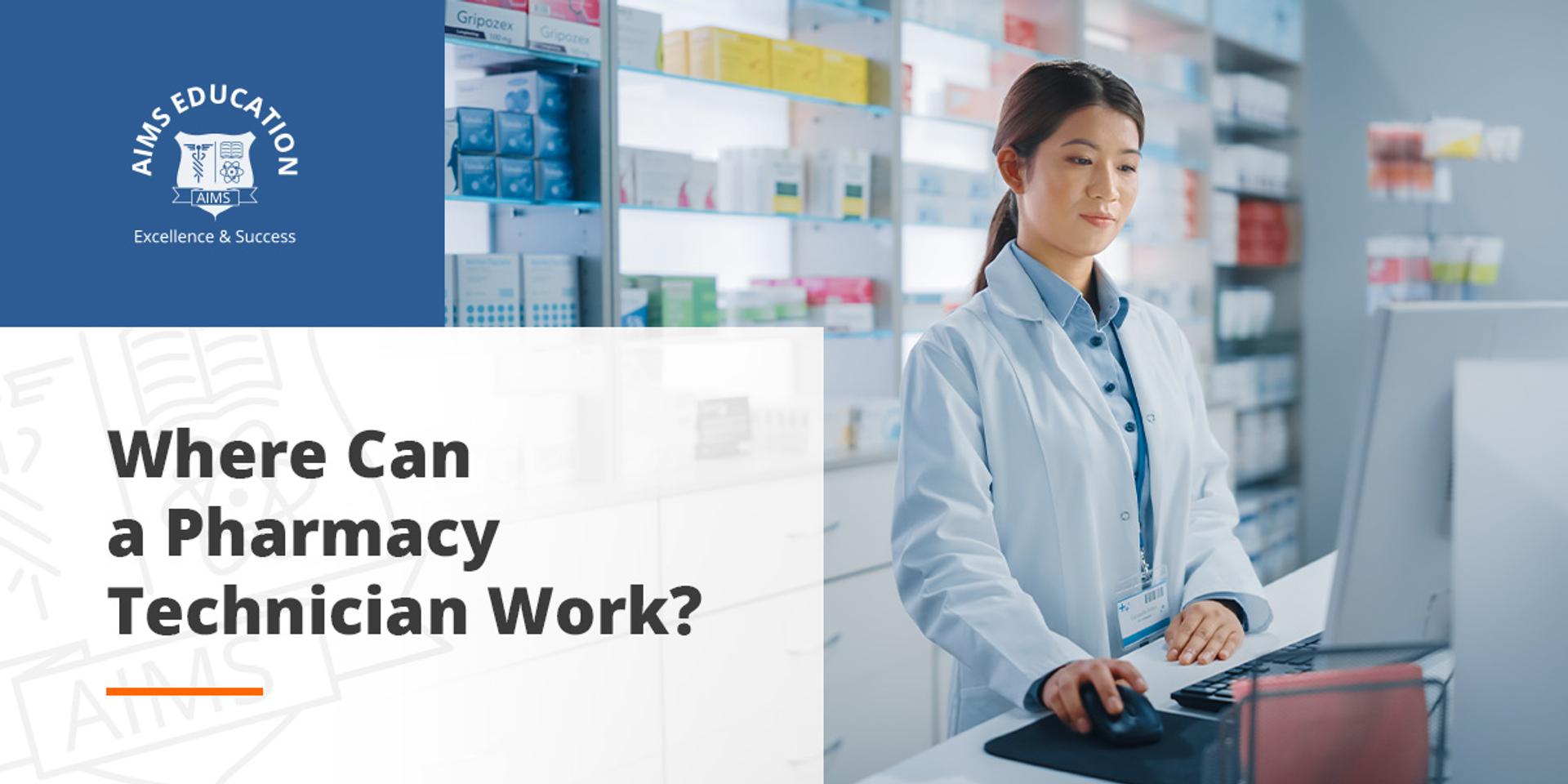 When you visit or call the pharmacy, have you ever wondered who that person is standing behind the counter or picking up the phone. Well, I bet you didn't know that person is a highly educated pharmacy technician who knows all about the pharmacology, medication safety, contraindications, and side effects of your medication. Pharmacy technician responsibilities go way beyond "hello" or "your insurance blah blah blah." Not only are they an integral part of the pharmacy department, but oftentimes they are the point of contact between you, the pharmacist, and your physician.
If you're considering entering the pharmacy technician field, you're making a solid decision. In this article, learn about your career options when working as a pharmacy technician!
What Is a Pharmacy Technician?
A pharmacy technician is a healthcare worker whose primary responsibility is to help pharmacists process prescription requests. As such, they ensure pharmacy operations proceed safely and efficiently. Pharmacy technician duties are divided into customer service and various technical skills for handling prescriptions. As they perform their responsibilities, pharmacy technicians are directly supervised by a licensed pharmacist. The pharmacist oversees their responsibilities and overall performance.
Unlike pharmacy assistants or clerks, pharmacy technicians are required to be licensed in most states. Some specific duties of a licensed pharmacy technician include:
Receiving and deciphering prescription orders through written or electronic means; or verbally over the phone from a physician's office.
Preparing prescriptions - calculating dosages, verifying patient demographics, and filling the prescription.
Interacting with customers and answering their questions.
Ensuring prescriptions are filled correctly and the proper medication gets to the patient.
Managing inventory, organizing data, and ensuring medication records are current.
Answering patient questions, and consulting with the pharmacist when a customer has specific questions about their medications.
Some pharmacy technicians may also gain training in specialized areas like compounding medications and other advanced duties. This training can lead to advanced certifications through the Pharmacy Technician Certification Board (PTCB) or the National Pharmacy Technician Association (NPTA).
From Entry- to Advanced-Level Pharmacy Technicians
Ranking pharmacy technicians from level 1-3 is common in many hospital (institutional) pharmacies, but job titles and ranking systems vary per employer. Below is an example of the career advancement opportunities for pharmacy techs within a hospital (institutional) setting.
Pharmacy Technician Level I
Level I pharmacy technicians are entry-level workers who perform basic functions in pharmacy settings. Most pharmacy technicians who are just starting are at this level. To become a Level I pharmacy tech, a high-school diploma and formal training are required. Some facilities may offer on-the-job training, but most require training from a recognized pharmacy tech training program.
Depending on the state you work in, certification, state registration, and/or state licensure may be required as well. For example, pharmacy technicians in New Jersey are required to register with the New Jersey State Board of Pharmacy under the Division of Consumer Affairs. Many employers in NJ also require national certification from the Pharmacy Technician Certification Board (PTCB). Upon successful completion of a certification exam, the pharmacy technician will earn the Certified Pharmacy Technician credential and can add CPhT to their name.
Pharmacy Technician Level II
Level II pharmacy technicians perform more advanced duties than Level I technicians. They may also need more education or training. Some of the advanced tasks may involve:
Preparing complex medications.
Gathering pharmacy statistics.
Training level I technicians.
Updating patient profiles.
Level II technicians typically have a couple of years of experience working as a level I technician.
Pharmacy Technician Level III
Level III is typically the highest level a pharmacy technician can reach. Becoming a level III pharmacy technician often requires years of experience as a Level II technician. In addition to performing managerial duties in a pharmacy facility, level III pharmacy technicians may be responsible for the following:
Classify unlabeled medications.
Ensure the pharmaceutical team meets performance expectations.
Prepare daily work reports.
Manage inventory.
Prepare prescriptions.
Conduct performance evaluations.
Train level I and level II pharmacy technicians.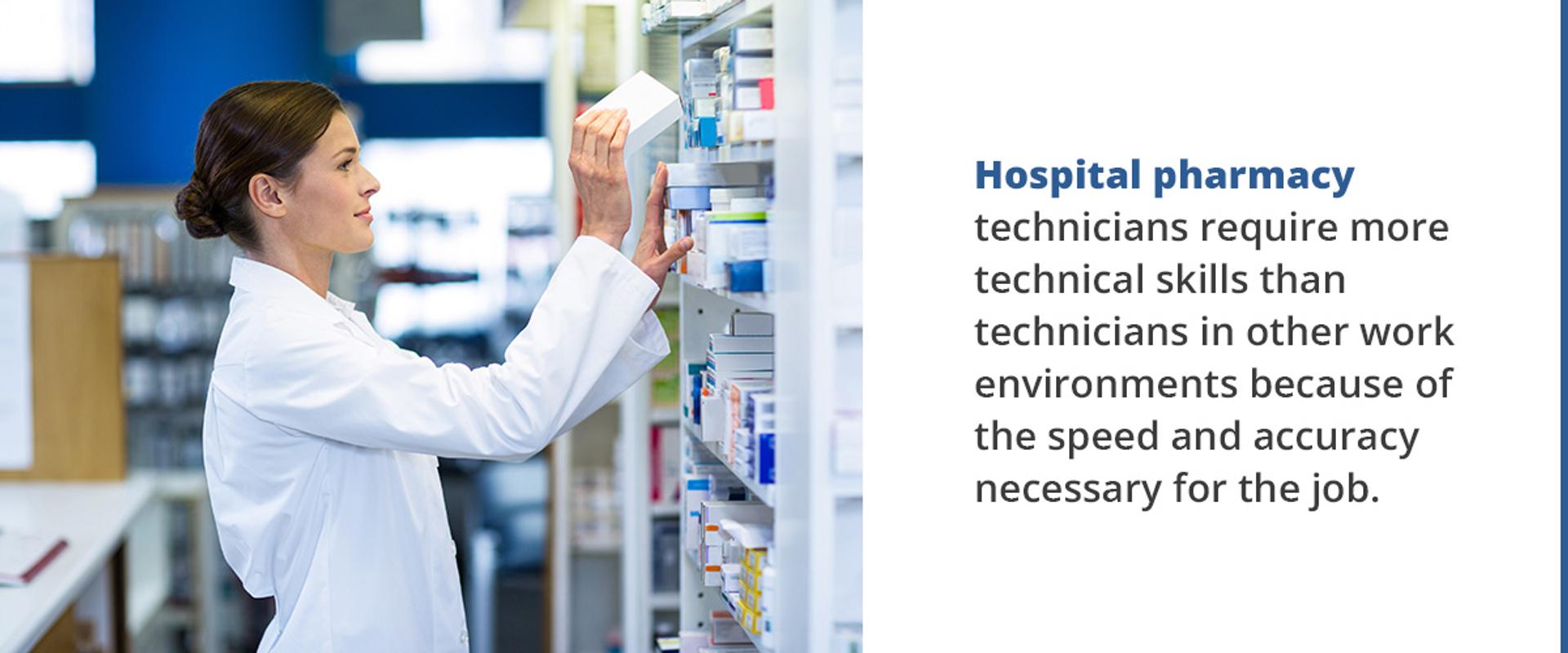 Career Options for Pharmacy Technicians
You may be surprised at the variety of career options there are for pharmacy technicians! Maybe retail pharmacy workers come to mind first when you hear about pharmacy technicians. That said, there are many alternative careers for pharmacy techs. Here are a few of the best places to work as a pharmacy technician.
Hospital Pharmacy
Hospital pharmacy technicians require more technical skills than technicians in other work environments because of the speed and accuracy necessary for the job. Hospital patients often need medication at a moment's notice in hospitals, sometimes for life-threatening conditions. In that light, hospital pharmacy technicians must be ready to provide the proper medication for patients immediately upon request.
Hospital pharmacy technicians have fewer customer service responsibilities due to their heightened responsibility. In contrast, they're involved in all areas of medication preparation and delivery. To provide proper care to patients in the operating room, emergency department, or intensive care unit, hospital pharmacy technicians work in shifts around the clock. Other unique responsibilities of hospital pharmacy technicians include:
Preparation of IV medicines
Filling syringes
Maintaining drug-dispensary machines for nurses
Retail Pharmacy
One of the most common career options for pharmacy technicians is working in a retail environment. Common examples of retail pharmacies include independently owned pharmacies, chains such as CVS and Walgreens, grocery stores, and bulk suppliers like Costco, Walmart, and Target. Since these settings are open to the public, they see more customers than other pharmacies. As a result, pharmacy technicians who work in retail environments often have increased customer service responsibilities.
Retail pharmacy technicians commonly speak with patients who need medication or advice. They can answer questions about dosage and timing when taking medications. They defer to the supervising pharmacist for any question they aren't qualified to answer. Unlike hospital pharmacy technicians, those working in retail typically work 9-to-5 shifts or whenever the pharmacy opens and closes.
Compound Pharmacy
A compound pharmacy is ideal if you're looking for a workplace other than a hospital, or an environment with fewer customer interactions than a retail pharmacy. Compound pharmacies create medications tailored to individuals with unique needs that commercial drugs fail to address.
They're called compound pharmacies because they mix — or compound — different medicines to meet patients' needs. Thus, pharmacy technicians need advanced technical skills and training in science and mathematics to perform their job well. Direct customer interaction is limited with compound pharmacy technician responsibilities.
Private Pharmacy
Private pharmacies deliver prescription medications to particular facilities, such as long-term care homes, hospice care facilities, online medication companies, nuclear pharmacies, or prisons. Pharmacy technicians working in these environments have limited customer service duties. They also need an increased understanding of the medications they prepare, as pharmacy technicians in these environments may prepare unique medications and medications for vulnerable populations.
For example, nuclear pharmacies prepare radioactive medications, which aren't present in other types of pharmacy facilities. Moreover, long-term care residents are often vulnerable and take several medications simultaneously. Pharmacy technicians must know how the different medications interact and can affect vulnerable individuals since they're partly responsible for preparing the medications.
Other private pharmacies, like mail-order or online pharmacies, operate in an office- or factory-like environment, fulfilling prescription requests from a workstation. Many of these facilities are fully automated. The pharmacy technicians' primary responsibility is to ensure the prescription filling process goes smoothly without error. Pharmacy technicians working for a mail-order or online pharmacy must have technical knowledge of machinery operations and transferring procedures — as the prescriptions are sent via mail.
Other private pharmacies include those on university campuses, military bases, or veterinary practices.
Become a Pharmacy Technician With AIMS Education
If the career prospects of a pharmacy technician interest you, we invite you to learn more about the pharmacy technician program at AIMS Education! Visit our program description page or contact us to request more information about becoming a certified pharmacy technician.