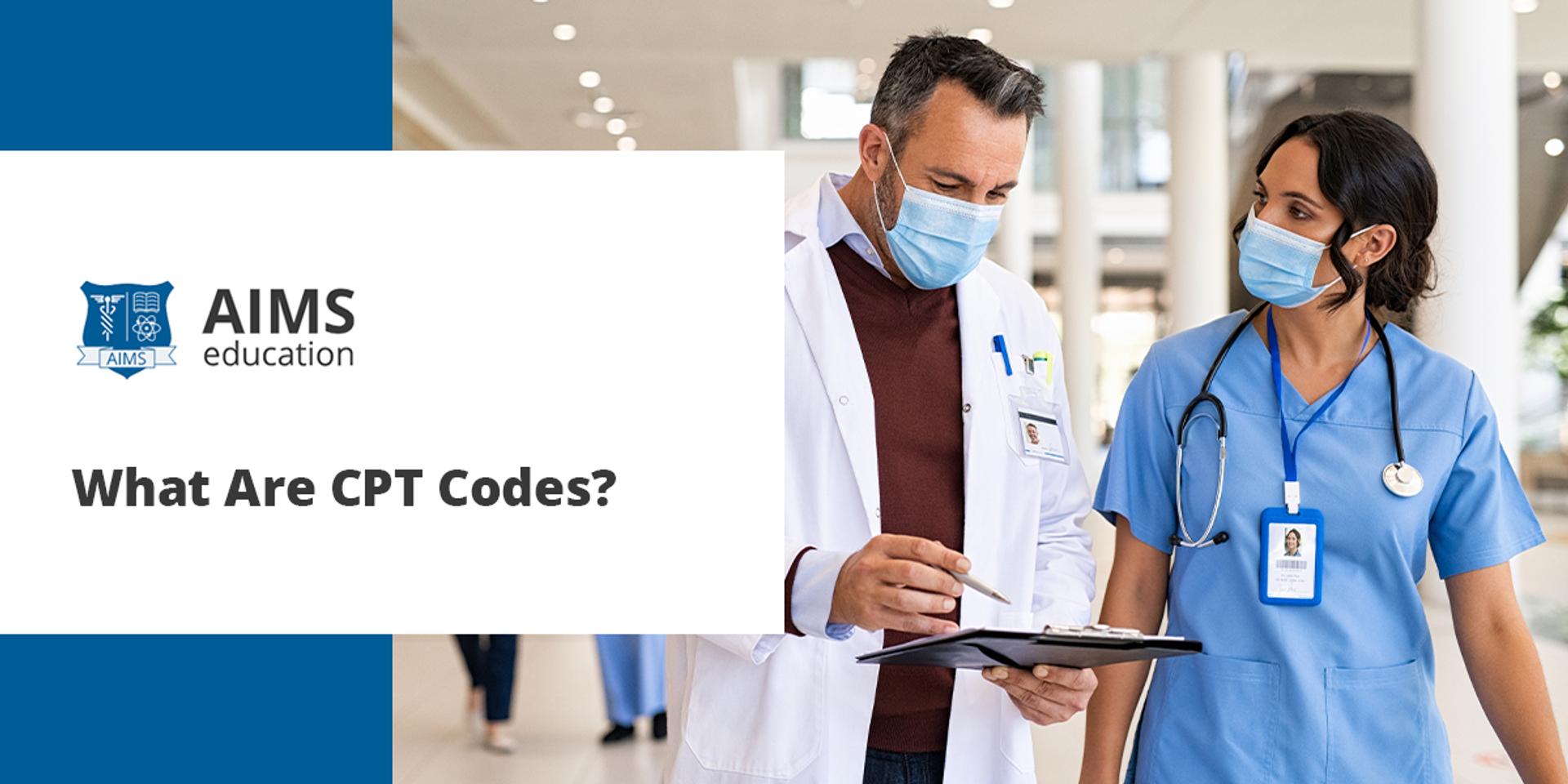 Current procedural terminology (CPT) codes are an essential aspect of the medical field that help determine the amount of reimbursement medical professionals will receive after offering a procedure or service to patients. There are numerous sections of these codes, including radiology CPT codes, ultrasound CPT codes and more. Learn more about CPT codes in 2022 and their importance in the medical field.

How Are CPT Codes Used?
CPT codes are assigned numbers to each service and task that medical professionals provide a patient, including surgical, medical and diagnostic services. CPT codes are used to determine the level of reimbursement a medical professional will receive from an insurer for the provided service. Medical professionals and healthcare facilities use the same CPT codes, ensuring uniformity for many purposes, including billing and tracking.
CPT codes are similar to the Healthcare Common Procedure Coding System (HCPCS). For healthcare facilities using Medicare, you will see HCPCS codes in paperwork rather than CPT codes. CPT codes are five-digit numeric codes without decimal points. Certain CPT codes may have one letter and four numbers instead of five numbers.
CPT codes are uniquely assigned to different services and healthcare tasks. The American Medical Association (AMA) develops, maintains and creates copyrights for all CPT codes. As healthcare facilities and services evolve, the AMA creates new codes for these unique services. Additionally, old or unused codes are also discarded if no longer needed.
There are thousands of codes in use, and the AMA updates these codes annually. The contracts between insurers and medical providers amount will determine a healthcare provider will be reimbursed. Hospitals, facilities, and medical offices are strict about how coding is performed as CPT codes directly influence the amount a patient pays for medical services.
Many healthcare facilities employ professional coding services or medical coders to correctly code procedures. Some of the most common uses of CPT codes include:
Initial coding: A medical professional or office staff member typically begins the coding process. The CPT codes that apply to the visit will be manually noted with paper encounter forms. If an electronic health record (EHR) is being used, the CPT code can be indicated in the system. In most cases, electronic systems allow the staff to quickly and efficiently refer to codes based on the name of the service provided.
Verification and submission: A medical coder and biller will assess a patient's records to assign the applicable codes. Following this, the billing department submits a list of products and services produced to the payer or insurer. Most healthcare providers typically use electronic means to transfer or store this information. In some cases, a facility may still use fax or standard mailing services.
Claim processing: The payer will use CPT codes to process a claim and determine the level of reimbursement a healthcare provider needs and how much the patient may owe.
Research: Government statisticians and health insurance companies use coding statistics and data to determine future trends in healthcare costs for patients. Additionally, federal and state government analysts use coding data to analyze trends in healthcare to determine a proper budget for Medicaid and Medicare.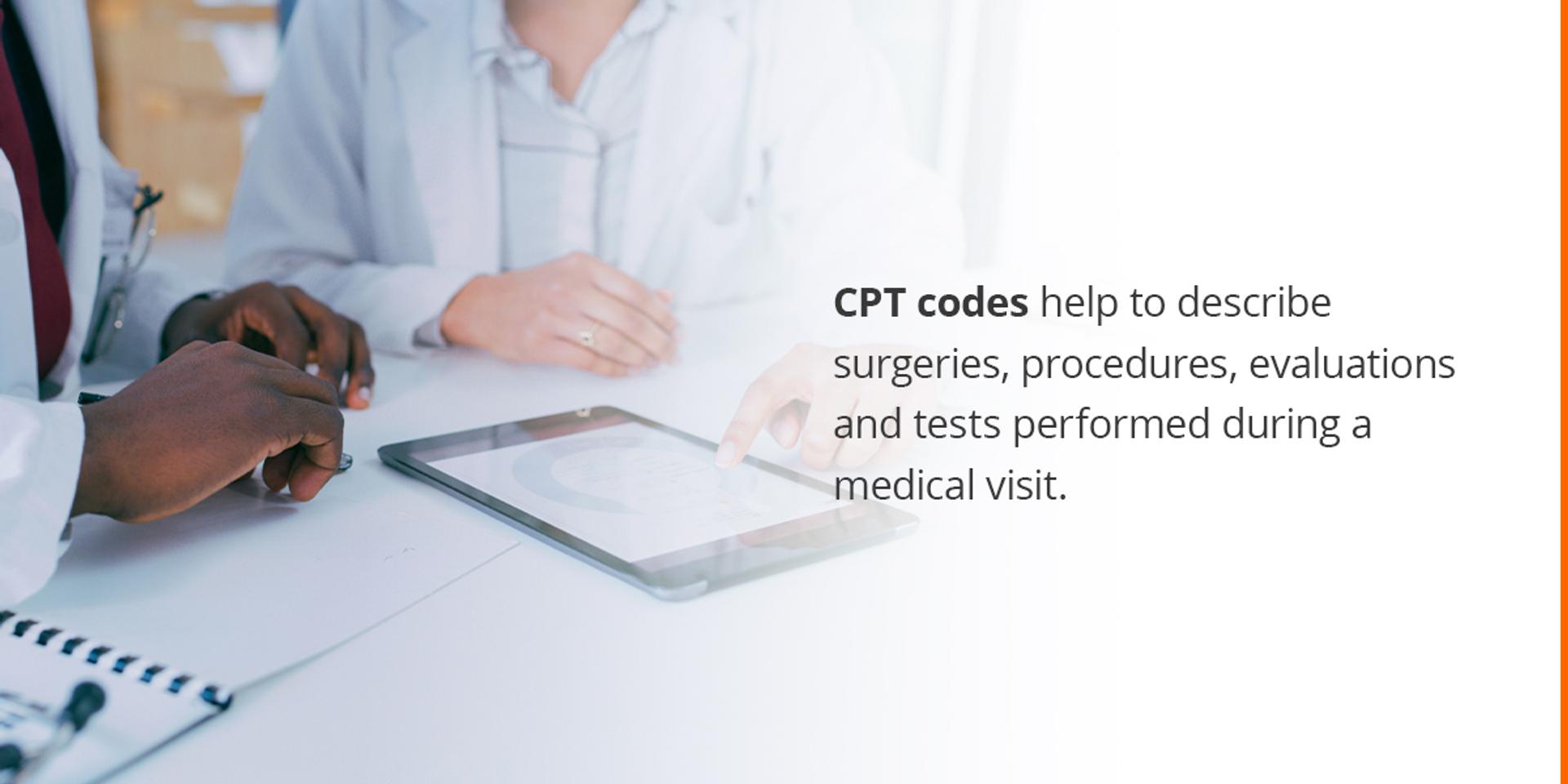 Categories of CPT Codes
CPT codes help to describe surgeries, procedures, evaluations and tests performed during a medical visit. Because there are so many procedures and medical techniques, the entire code set is vast and includes thousands of procedures and techniques. CPT codes are a vital aspect of the billing process and help notify the insurance company what procedures a healthcare provider needs to be reimbursed for. There are three main categories of CPT codes, including categories one, two and three.
Category One
Most medical coders typically work with category one CPT codes, divided into six sections based on which field of medicine they relate to. The six sections of the current procedural terminology (CPT) codebook include evaluation and management, anesthesiology, surgery, radiology, pathology and laboratory, and medicine. CPT codes are primarily grouped numerically, including codes 10021 to 69990. The only exception to being listed numerically is codes that are under the evaluation and management section. These codes, also known as E&M codes, are listed at the front of the codebook.

Many physicians use these codes for reporting various services. For example, code 99214 is for general checkups. It is essential to note some codes may appear out of numerical order but near similar procedures. Having these code groups near similar procedures can help reduce the need for deleting and resequencing codes. In each code field, some subfields correspond to the topic. For example, the surgery's body organizes the surgery section. Additionally, the radiology section is divided into appropriate sections on bone and joint studies, diagnostic ultrasound, radiation oncology and other related fields.

All fields contain their own set of guidelines. There is a guideline for reporting extra materials and how to report follow-up healthcare for surgical procedures effectively within the surgery section. Many CPT codes are arranged with indentation. If a procedure is indented below a CPT code, the procedure features a significant variation from the above and would replace the original code. It is beneficial to look at a CPT code in two parts, including the part before the semicolon, the general procedure and the part after the semicolon, which provides more specific information.

CPT codes also feature modifiers, which are two-digit additions to the original CPT code that help describe essential aspects of a procedure, such as if one of many procedures were performed simultaneously or if the procedure was bilateral. Fortunately, CPT modifiers are often straightforward. It is important to pay close attention to these modifiers to ensure you perform all coding correctly. CPT codes also often feature additional instructions, located in parentheses beneath the code, which may inform the reader that another code may be more suitable than the original code.

You should also always code to the highest level of detail and specificity. A miscoded procedure or simple error related to a CPT code can cause a claim to be rejected. The CPT code set helps coders understand when to use codes in tandem as add-on codes, multiple codes or which codes made be qualified as modifier exempt.
Category Two
Category two codes are alphanumeric codes that are five characters long that provide additional context to category one codes. Category two is formatted to have four digits and the character F. These codes are optional but help provide further information that you can use for future patient care and performance management. For example, if a physician requires the body mass index (BMI) of a patient during a routine visit, a coder would use the category two code 3008F. Category two codes never replace category one or three codes but are designed to provide more information for these codes. Category two codes are divided into numerical fields that correspond with a particular element of healthcare.

Category two CPT codes serve as supplemental tracking codes that can help with performance measurement, decreasing the need for chart review and record abstraction. CPT category two codes also help reduce overall administrative issues for medical professionals. These codes are designed to help gather data about the overall quality of care.
Some codes in category two may relate to compliance by the medical professional with federal or state law. While using these codes is optional, they can be beneficial for correct coding but you should not use them as a substitute for category one codes.

Category two codes can be billed how category one codes are billed in the procedure code field. While these codes are billed the same, category two codes are billed with a $0 charge amount because they are not reimbursable. Using category two codes performed in a facility, lab, or office visit will help provide more accurate and detailed medical data and decrease members' record review requests. When a more specific CPT code is used, the code helps to determine and close gaps more effectively and efficiently.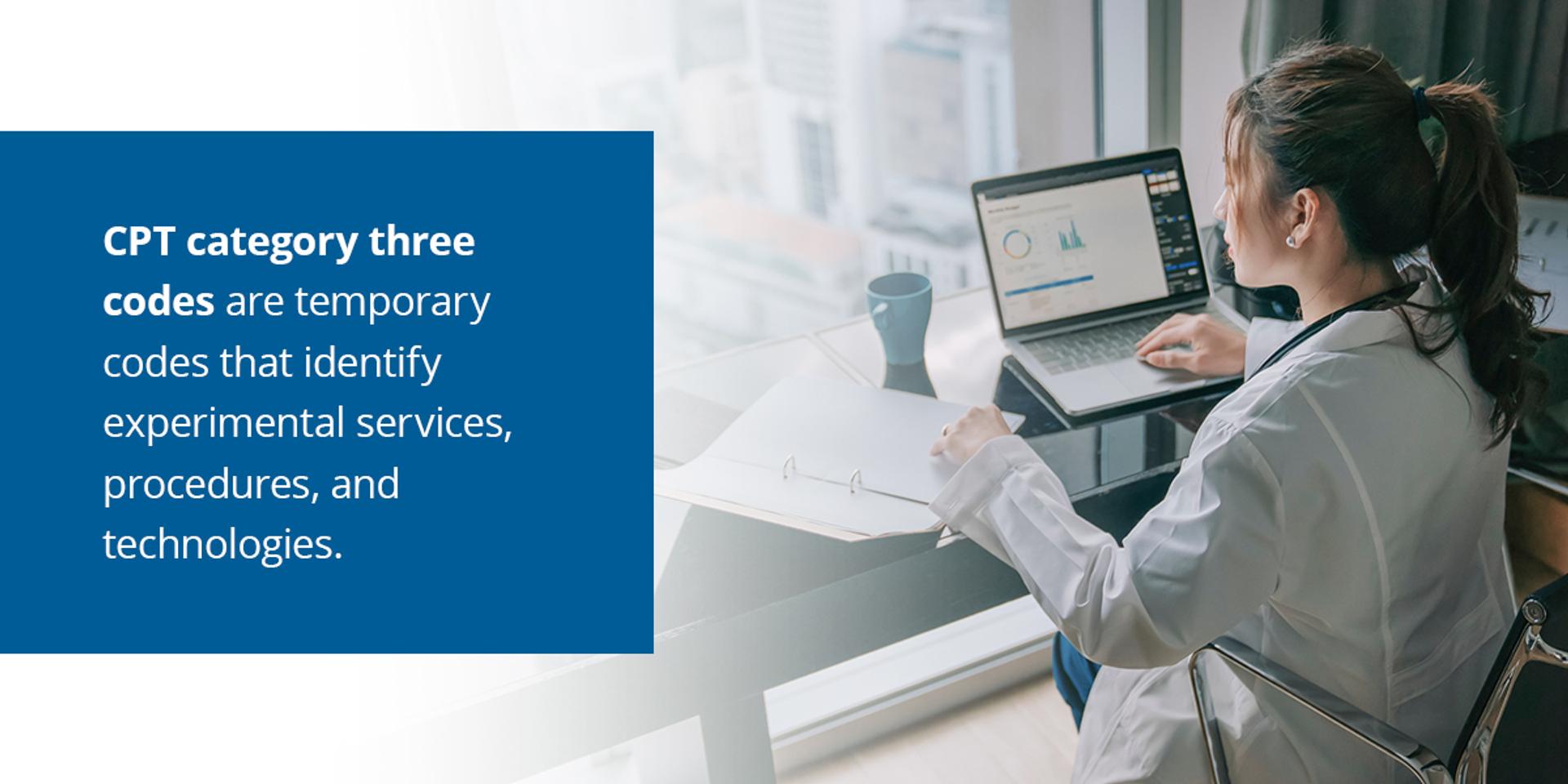 Category Three
CPT category three codes are temporary codes that identify experimental services, procedures, and technologies. For example, a newer procedure may not have an applicable category one code. While there are codes in category one for unlisted procedures, you will need to use the category three code if the technology, procedure or service is in category three.
Category three CPT codes allow for more specificity in coding and help government agencies and healthcare systems track the efficacy and safety of emerging medical technologies and procedures. You can think of category three codes that may become category one codes as the efficacy of a new medical technique is determined.
To become a category one code, all CPT codes must be reviewed and approved by the CPT editorial panel, which mandates that new techniques or procedures must be performed at a certain number of facilities in different locations. The procedure must also be approved by the Food and Drug Administration (FBA) before being eligible to become a category one code.
Because of these requirements, it is possible an emerging procedure may not be able to meet all these criteria, especially during its earliest stages, meaning it cannot become a category one code at that time. All category three CPT codes are archived after five years in the CPT manual. After five years, if the procedure code still has not been converted to a category one code, then this procedure will be marked with a category one unspecified procedure code.
Each code in the category three section has a sunset date beneath it, which can be viewed somewhat like an expiration date for the code. Like category two codes, category three codes are five characters long and comprise one terminal letter and four digits. While category two codes use F, category three codes use the letter, T.
Where to Find CPT Codes
CPT codes are used in various documents, including medical bills, discharge paperwork and explanation of benefits (EOB). Because there are numerous CPT codes, understanding where and how these codes will be used is essential. Some of the most common places you may notice CPT codes include:
Medical bills: When a patient receives a bill from their medical provider before or after it is sent to the payer, a list of services will be provided. For each service a physician offers, there will be a five-digit code next to it, which is its CPT code. The CPT code helps identify what procedure or treatment was offered.
Discharge paperwork: Following a medical appointment or a stay at a hospital or other healthcare facility, patients will receive paperwork summarizing the services provided to the patient during their stay. The five-character codes in discharge paperwork are often the related CPT codes. It is important to note that there may be other codes, including international classification of diseases (ICD) codes. ICD codes may feature letters or numbers and typically have a decimal point.
Explanation of benefits: A payer will send a patient an explanation of benefits, detailing the cost of each service and procedure and how much was paid on the patient's behalf. Each service explaining benefits will be paired with a CPT code.
How Many CPT Codes Are There?
As medical treatments and procedures continue to advance, the number of CPT codes has grown steadily. There are over 10,000 CPT codes, one of the most widely accepted and regularly used types of code for medical terminology and nomenclature. CPT codes help report various medical services and procedures to health insurers.
The original CPT codebook was 175 pages and featured approximately 3,500 codes at its inception. The original code set was created because there was a demand for computers in statistical analysis and claims administration. Hundreds of revisions or adjustments are made to the CPT codebook every year.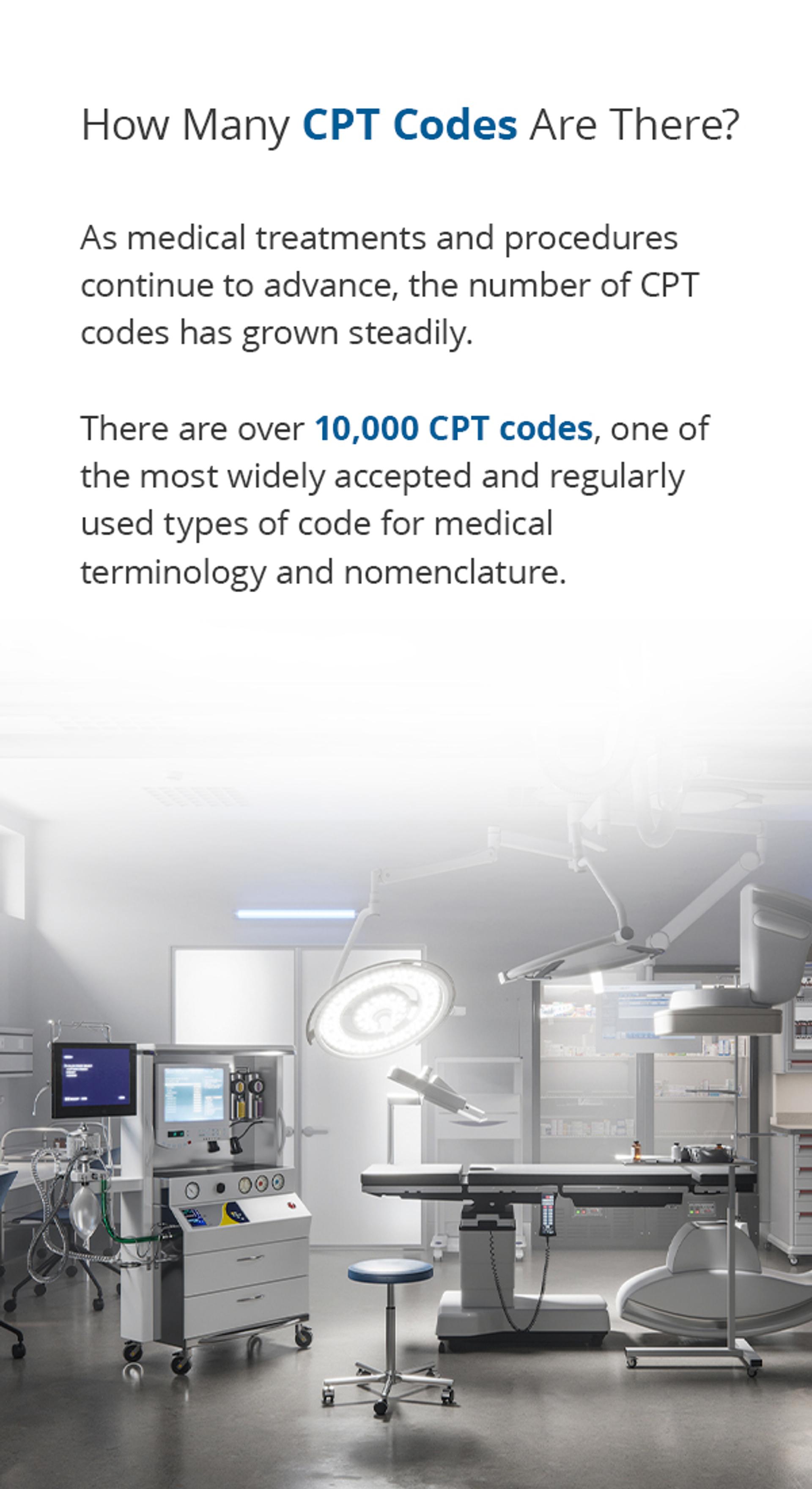 How Often Are CPT Codes Updated?
One of the most critical aspects is updating the CPT codebook to reflect new procedures and techniques. Under the Health Insurance Portability and Accountability Act (HIPAA), CPT codes are updated once a year, effective starting January 1. The AMA helps prepare for the annual update, ensuring all CPT books will be available during the fall of the year preceding the new codes' effective date, allowing time for training and implementation.

The CPT Editorial Panel meets three times throughout the year to discuss numerous topics. The AMA staff prepares meeting materials and provides the meeting agenda to all panel members at least 30 days before each meeting. During this time, panel members can review the material and confer with experts to prepare effectively.

The panel addresses over 300 important topics each year, averaging around 3,000 votes on individual items. Because there is a multistep process, deadlines are essential to these processes.
Medical Billing & Coding Certificate Program
At AIMS Education, we offer a premium medical billing and coding certificate program designed to help our students get the most out of their education through an immersive learning environment. We strive to provide students with the tools and foundational knowledge they need to succeed throughout their healthcare careers. After completing one of our training programs, our students are ready to step into their own careers as healthcare professionals.
Schedule a visit online today to learn more about the AIMS Education experience.