Surgical Technologist vs. Scrub Nurse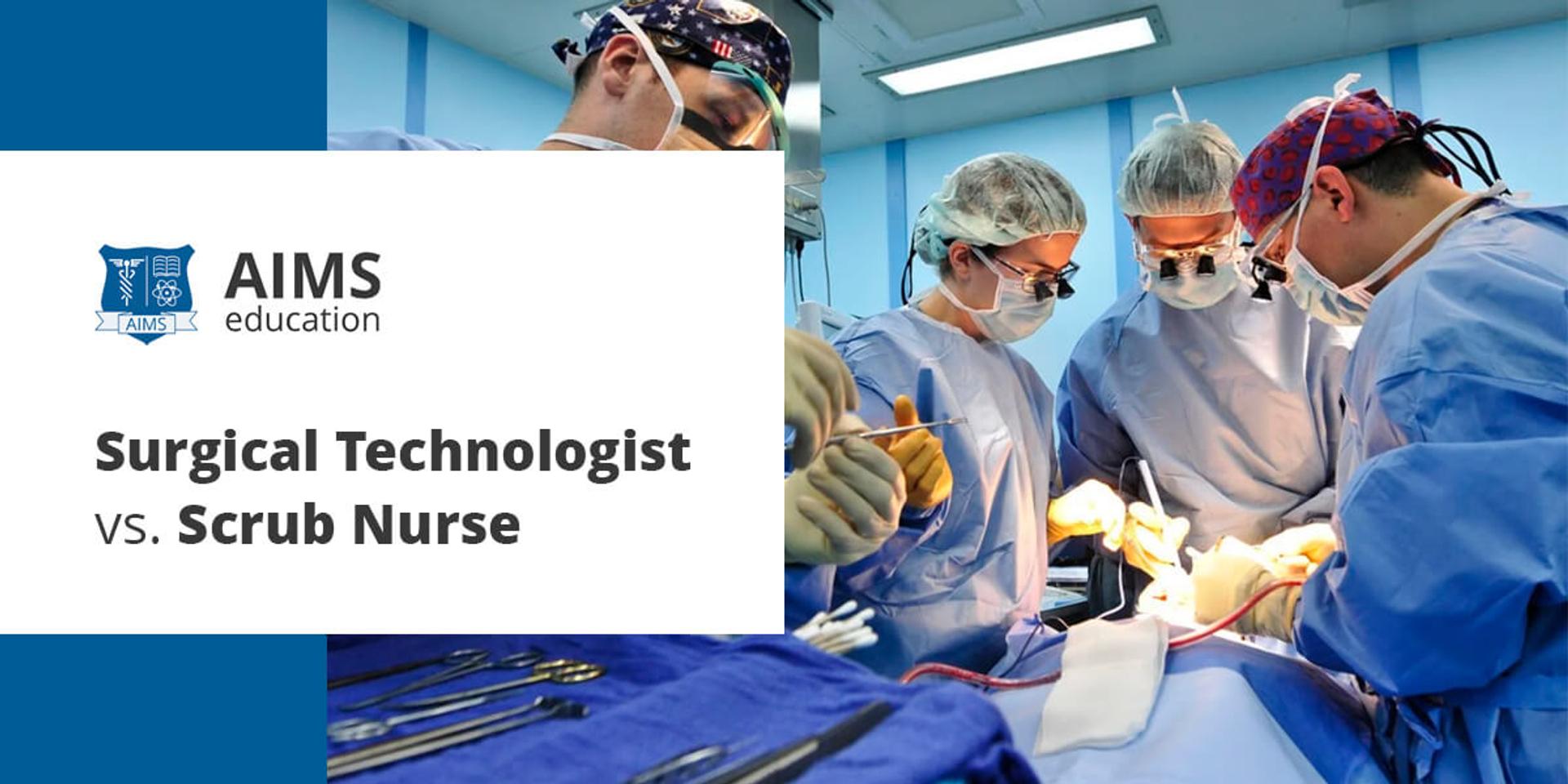 A surgical team comprises various healthcare professionals who work collaboratively to ensure an operation goes smoothly while protecting patient safety. Scrub nurses and surgical technologists serve crucial functions in the operating room. While these roles share similar duties, they also have unique distinctions. Learn more about how these positions differ and their specific responsibilities.


What Is a Surgical Technologist?
A surgical technologist is a member of the operating room team who works under the surgeon's supervision. Surgical technologists primarily fulfill the scrub role, but they can also serve as circulators. Before an operation, a surgical technologist in the circulator role will prepare the operating room and set up sterile surgical instruments, gloves, suction tubing, and other essential supplies.
In addition to assembling the sterile equipment, a surgical technologist checks to ensure all equipment functions properly and makes any necessary adjustments. A surgical technologist may also set up the back table and mayo stand, count the instruments, and help the surgeon put sterile gloves on. Another vital aspect is to place drapes on the patient to create a sterile field.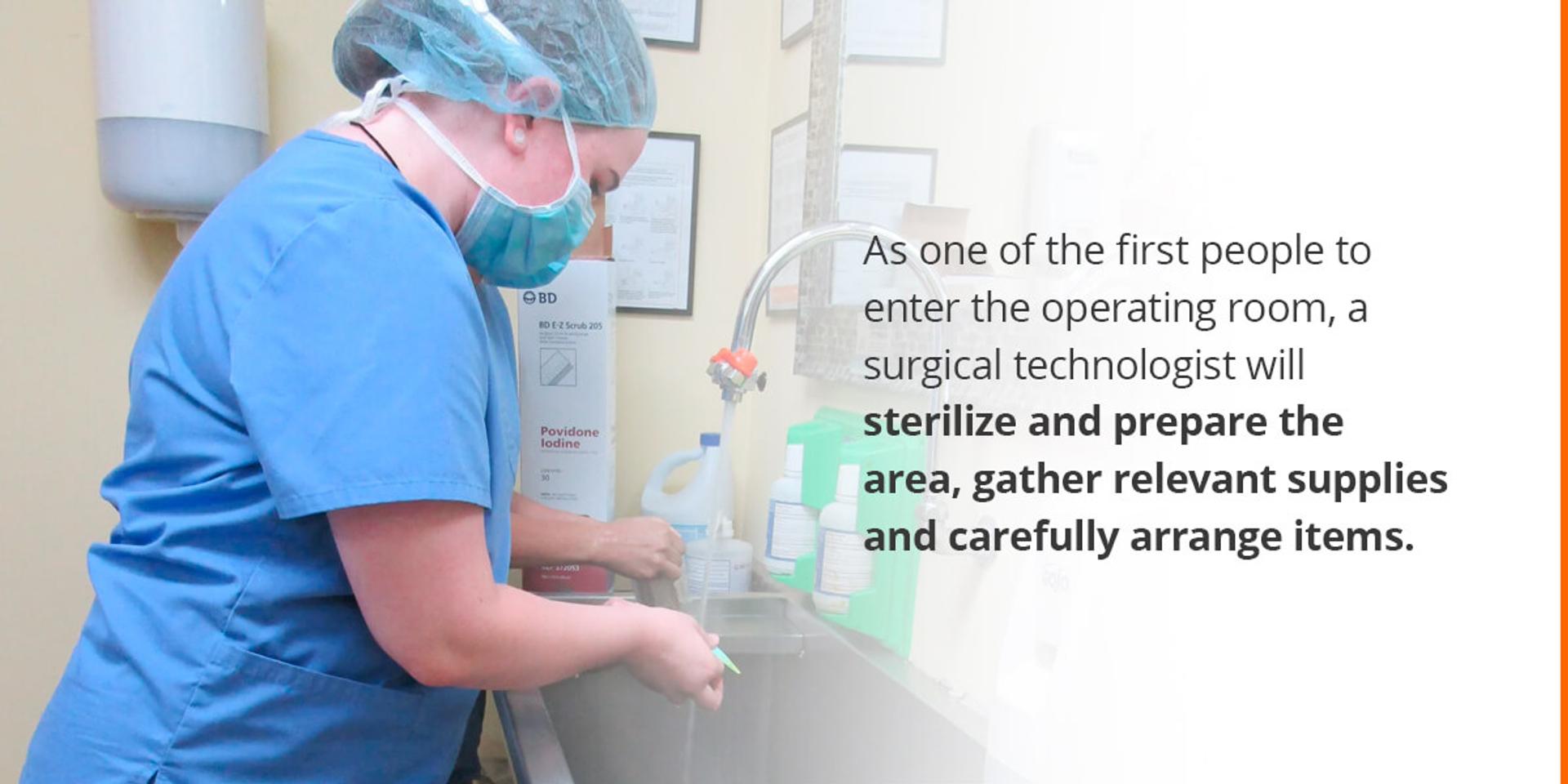 What Does a Surgical Technologist Do?
A surgical technologist assists with various aspects of surgery, including preoperative, intraoperative, and postoperative duties. As one of the first people to enter the operating room, a surgical technologist will sterilize and prepare the area, gather relevant supplies, and carefully arrange items.
During surgery, surgical technologists remain responsible for keeping the operating theater organized and sterile. A surgical technologist also acts as a third hand to the surgeon throughout the procedure and can assist in retracting tissues, preparing medications, and passing various tools to the surgeon and surgical assistant.
At the end of an operation, a surgical tech is responsible for assuring all instruments and tools from the surgery are present and accounted for. Surgical technologists can cut sutures, prepare dressings, and dispose of any items that are no longer necessary, including gauze and used needles. At every stage of surgery, a surgical tech is responsible for maintaining a sterile operating room.


Education Required to Become a Surgical Technologist
After completing high school, it can take one to two years to work toward becoming a surgical technologist. Many surgical techs choose to receive a certificate or associate degree from a technical school or college. A specialized certificate program or a two-year degree program with a concentration in surgical technology provide a robust foundation for a career as a surgical technologist.
Most programs offer hands-on training and a clinical internship experience to prepare you for your future career. When considering a surgical technologist training program, ensure its accreditation is programmatic and not just institutional.


What Is a Scrub Nurse?
A scrub nurse works alongside the surgical staff and prepares the operating room for the patient. They set up the room and ensure necessary tools are sanitary and easily available to the surgeon and surgical staff during an operation.
Scrub nursing — also known as operating room or perioperative nursing — is an operating room career. These medical professionals must understand everything involving surgical instruments and when to use them. They need to be available for emergency operations and know how to monitor patients as they stabilize after surgery. Scrub nurses typically work in emergency rooms, recovery rooms, and outpatient surgical centers.
In many cases, a scrub nurse and surgical technologist may fulfill complementary functions and even work together to prep the operating room. While there are many similarities, a scrub nurse performs additional duties during and after a surgical procedure.


What Does a Scrub Nurse Do?
Scrub nurses and surgical technologists both take on the task of sterilizing the operating room and prepping it for surgery. Besides fulfilling scrub duties and preparing surgical tools, a scrub nurse can also assist the surgeon in more technical procedures and aspects of surgery.
Additionally, a scrub nurse can administer medication and monitor vital signs throughout the surgery. A scrub nurse communicates with surgeons and the surgical staff to ensure a safe, successful procedure. Sometimes, a scrub nurse may need to consider potential complications and create contingency plans for the team to ensure the patient's safety.


How to Become a Scrub Nurse
To become a scrub nurse, you will need to follow a few steps:
1. Seek a Nursing Degree
After graduating from high school, potential candidates can choose from two tracks to earn a nursing degree. First, you may receive your associate degree in nursing by enrolling in an accredited two-year program. On the other hand, some people choose to earn a Bachelor of Science in nursing (BSN) by completing a four-year program.
Two- and four-year programs provide the foundational knowledge and clinical experience needed to take the licensure examination and begin your career. The primary difference is that a (BSN) is a more in-depth option that offers instruction into various nursing specialties.
2. Pass the NCLEX-RN Exam
After earning a degree, you must take the National Council Licensure Examination for Registered Nurses (NCLEX-RN), offered by the National Council of State Boards of Nursing.
Once you pass the NCLEX-RN exam and meet the requirements set by your state's board of nursing, you will become an officially licensed registered nurse in your state.
3. Gain Experience
Once you've received your degree and passed your exam, you will want to gain relevant work experience to expand and strengthen your skill set. A range of work opportunities can help you learn valuable skills and prepare you for a future as a scrub nurse.
A proven track record of working in high-stress environments is essential. A successful scrub nurse candidate must demonstrate their ability to remain calm and level-headed, regardless of the circumstances. To gain this experience, many scrub nurses work as registered nurses in critical care units or an emergency room.
4. Consider Further Learning
To help you deepen your expertise and gain more experience, you may want to seek out other training programs or certifications. As you search to understand and master your profession, you can expand your future career opportunities, improve your communication skills, and increase your knowledge.


Scrub Nurse vs. Surgical Tech
Scrub nurses and surgical techs are vital components of a successful surgical team. While both roles may share similar or overlapping duties, unique differences set them apart. When considering these positions for your career, it is essential to learn their differences, including the following.
Job responsibilities: While a scrub nurse and surgical technologist may both fulfill tasks such as scrubbing or circulating, a scrub nurse has specific tasks only they can fulfill. For example, a scrub nurse can assist the surgeon during more technical aspects of surgery and administer medication to the patient if necessary. Because a scrub nurse is a registered nurse, they may even change specializations more frequently, leading to other responsibilities outside the operating room.
Education: Becoming a surgical technologist typically requires a high school diploma and completing an accredited certificate or degree program. While many surgical technologists choose to earn an associate degree, this may be optional depending on your state. On the other hand, becoming a scrub nurse involves earning a bachelor's degree and completing additional examinations to receive a license.
Licenses and certifications: Surgical technologists must abide by the regulations and licensing requirements that apply to surgical tech employment in each state. To be eligible for employment in New Jersey, surgical technologists must have successfully completed an accredited training program or be certified from a nationally recognized credentialing organization. A scrub nurse must fulfill their nursing licensing prerequisites in the state where they want to work. Scrub nursing's licensing requirements often include completing clinical training and earning a bachelor's degree. All scrub nurses must also abide by state guidelines and qualifications to apply for an RN license.