Surgical Tech Salary and Career Opportunities in the US
June 1, 2019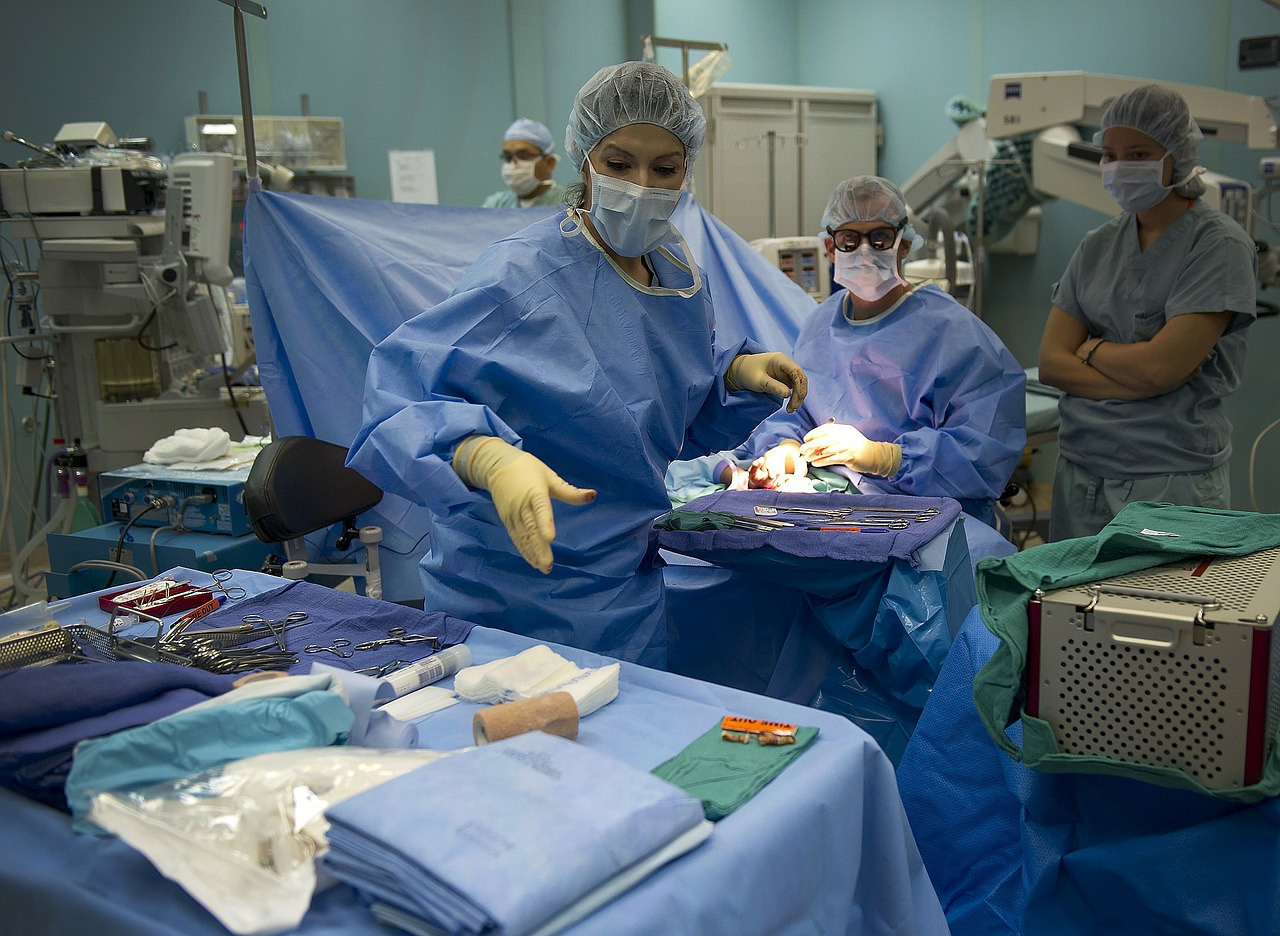 Choosing a career shouldn't be brain surgery (okay, sometimes it is brain surgery). An interest in this area, however, doesn't require a decade of med school to become a surgeon.
The surgical tech career path is a booming area in allied healthcare careers – all without the years of studying, student debt, and responsibility of being a surgeon. What's more, average surgical technologist salaries and job prospects are both on the rise, especially for entry-level positions.
If the world of surgery excites you – but med school simply isn't an option – keep reading to learn why and how to become a surgical tech.

What Does a Surgical Tech Do?

Surgical technologists (
also known as operating room technicians and scrub techs
) work alongside surgeons and nurses in the operating room. During an operation, the surgical tech
passes tools to the surgeon
and senior assistants as needed.
Other main duties include preparing the operating room before surgery, assembling and disinfecting equipment for the surgical team, and handling specimens for analysis. They may also be involved in pre- and post-operative care by transporting patients to and from the operating room, disinfecting and bandaging incision areas, and positioning patients on the operating table.
Surgical technology is a career for those who can't stand sitting around and don't mind being on their feet all day. If you're looking for a job where you're paid to sit at a desk all day, this isn't the career for you. But if you're more of an adrenaline junkie, you'll likely thrive in these high-stakes situations.

Where Can Surgical Techs Work?
The majority of these allied health professionals (70%) work in hospitals, but certified surgical techs may find positions in clinics, outpatient surgical centers, and private practices.
Because they're trained to help with everything from routine operations to life-saving surgery, many surgical techs work in ERs, which allows them to be an important part of emergency services.
If you work at a hospital, surgical tech jobs are often scheduled on rotation. This might mean that you'll spend some of your shift working in the ER, while you might assist during a hip replacement the next hour. On-call work schedules might mean going from a dead sleep to the operating room in under a minute for a major emergency.

How Much Does a Surgical Tech Make?
Most people choose a career that can provide a lucrative income, and they won't be disappointed by average surgical tech salaries. Given the nature of the work – which sometimes requires long hours – overtime may also be an option, especially if you work at a hospital.
According to a 2018 Bureau of Labor Statistics report, the median annual pay for a surgical tech was more than $47,000. Note that surgical tech pay definitely varies between cities and states. In New Jersey, surgical tech salaries averaged slightly less than $54,000. In Alaska and California (the two highest-paying states), techs earned more than $60,000.
Since surgeries occur in every hospital across the country, you'll have much more flexibility when it comes to relocating to a new city.

Is There Room for Surgical Tech Career Advancement?
Due to the ever-growing surgical tech career ladder, you can expect your salary to continue to grow over time. Seventy-five percent of surgical techs earned a healthy average salary of between $33,000 and $58,000. This means that it's one of the
highest-paid allied health careers
out there!
The top 10% of earners in 2018, however, pulled in more than $69,000. Not too shabby for a position that doesn't require medical school!

What Are the Prospects for Surgical Tech Jobs?
With constant, continuous advances in surgical technology – and a rising demand for surgery –
surgical tech job outlook is looking great
.

Over the next decade, the projected job growth rate is 12%, much faster than any other American job sector. Continued growth and developments in specialized branches of medicine also mean a rising demand and plenty of surgical tech advancement.
Much of this has to do with a rising population of senior citizens. Since older patients tend to require more operations, the demand for routine surgery is expected to rise as baby boomers hit retirement age. What's more, the baby boomer population is far more likely to undergo surgery than any generation before them.
Job prospects are better for those who have completed formal surgical tech education programs and gained their certification(s). Just like any other career, the better your education and experience, the better your job prospects and salary prospects.

How Do You Become a Surgical Tech?
Surgical technologist training programs typically range from around one to two years. You'd be eligible to take your certification exam(s) after completing your certification course. For two-year surgical tech programs, you'd be granted an associate degree upon graduation.
Surgical tech programs require a high school diploma (or GED) for entry. Program tuition costs can range from $6,000 to more than $25,000. Some programs offer evening courses, and while these generally take longer to complete, they allow students greater schedule flexibility (especially if they hold full-time positions or have a family).
Some states formally regulate the profession and require surgical techs to obtain a nationally-recognized certification. The following states also require these allied health professionals to pursue continuous education throughout their career: Idaho, Indiana, Massachusetts, New Jersey, New York, South Carolina, Tennessee, and Texas.
Recognized certifications in the US include the Certified Surgical Technologist (CST) credential from The National Board of Surgical Technology and Surgical Assisting and the Tech in Surgery Certified (TS-C) credential from the National Center for Competency Testing.

What Does a Surgical Tech Education Typically Entail?
Your accredited surgical tech program should consist of both classroom instruction and clinical (hands-on) training. Classroom education normally includes anatomy, biology,
medical terminology
, and pharmacology. Education includes lab training and mock operations, as well as hands-on practice with sterilizing and using surgical instruments.
You won't sit behind a desk every day though: Many students spend nearly half of their program in a clinical internship. Before completing your education, you'll participate in supervised surgical procedures.
For tech lovers, certain surgical tech programs may also include training in robotic surgical procedures. For those seeking surgical tech specialties (for example, in OBGYN, ENT, or urology fields) this is an area that promises incredible growth in the coming years.

What Other Jobs Can a Surgical Tech Do?
Being certified as a surgical tech requires continuing education courses – to develop existing or introduce new skills – to keep your certification current. If you're interested in moving up the surgical tech career ladder, you might advance to being a
surgical assistant
(which can happen after on-the-job training or additional education). Advancement to administration is another possibility, which includes managing surgical teams.
What's Great About Being a Certified Surgical Technologist?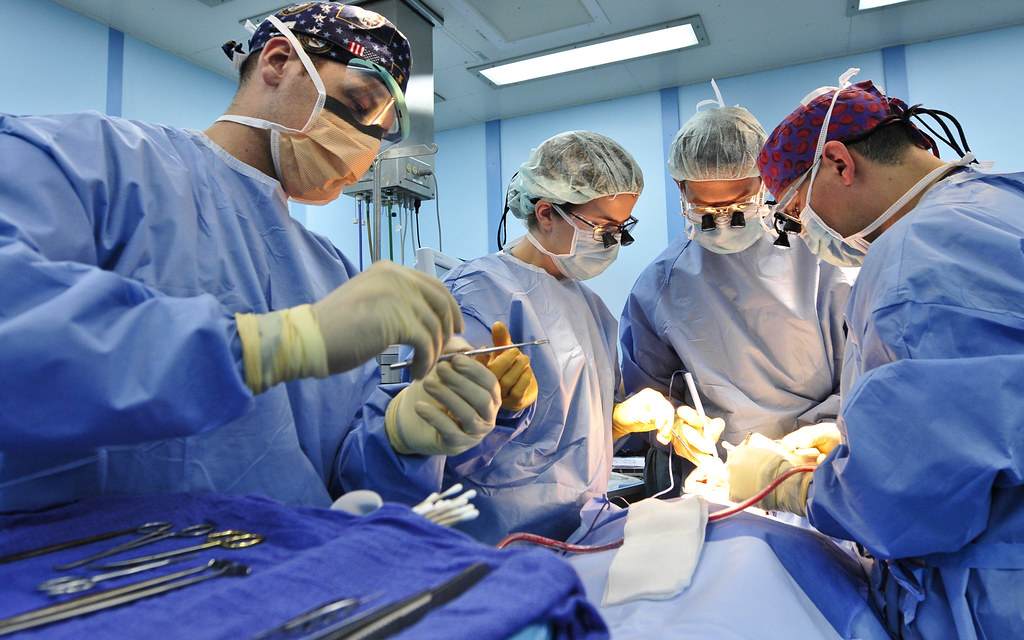 Commander, U.S. 7th Fleet /
Flickr
/
CC BY-SA
Surgery encompasses many different areas and it's not uncommon for a surgical tech to find a specific area they love working in. Some may love orthopedics while others may thrive under high-pressure situations in emergency rooms. Some surgical techs specialize, while others prefer the variety of working in multiple areas. There's not a one-size-fits-all approach for this field, which makes it a unique and personalizable sector.
Combined with great salaries, excellent job growth rates, and upward mobility, there's no shortage of reasons why this position is so popular!

Take the Next Step – Apply to a Surgical Tech Program Today!
Being a surgical tech isn't always easy, but for America's 100,000 surgical techs, it's a chance to make a difference every day. If being part of the surgical team and saving lives sounds thrilling, take the next step by considering all of your
surgical technologist program options
with AIMS Education!