Sterile Processing Technician Salary & Career Opportunities in NJ
January 30, 2019
Do your friends call you the "clean freak" of the group? Do you enjoying making others lives easier, but don't always like to be in the spotlight? If you've answered yes to these questions, a career as a sterile processing technician (SPT) could be right for you.
AIMS currently offers a 9-11 month sterile processing tech program that provides all the tools you need for an entry level job in this profession. Continue reading to find out more about what a sterile processing tech does, average salaries, and what sorts of job opportunities and career growth you can expect.
What Exactly Is a Sterilization Technician?
Do you ever go to the doctor's or dentist's office, glance at the tools they are about to use, and wonder, "Are those clean?" If you're a sterilization technician, it's your job to make sure that they are. Sterilization techs can also have a few different titles within the allied healthcare field, including (but not limited to):
Sterile processing technician (SPT)
Sterilization technician
Medical equipment preparer
Processing technician
Central service technician
What Does a Sterile Processing Tech Do?
Sterile processing techs get to use a cool sterilizing machine (called an autoclave) to ensure that medical equipment is completely sterile.
Many medical professionals head into work each morning with the peace of mind that all of their instruments are clean and ready to use. Patients also have a similar peace of mind, knowing they won't contract any diseases or other viruses from these tools.
Other job duties of a sterile processing tech include:
Scrutinizing all medical tools to check for any sort of defects
Keeping a detailed log of all of the medical instruments that are checked
Packaging tools once they are sterilized
Restocking supply rooms
Ensuring that operating rooms are ready for surgery
Places Besides Hospitals That Techs Can Work
If you can think of a place that uses medical tools, you'll probably find a medical equipment preparer working there. Hospitals, outpatient clinics, dental surgery offices, and surgical centers are just a few places that techs can work. If you're employed at a hospital, you'll likely be assigned to specific departments (e.g. processing, central supply, sterile supply departments).
What Are the Working Hours for a Sterilization Technician?
As you've probably seen on TV or in real life, hospitals are incredibly busy, active places. If you're a sterilization tech who works at a hospital, you may have to work the day, evening, or night shift. Those who find a career in private offices or clinics are more likely to work a standard daytime schedule.
What Is the Projected Job Growth for Sterilization Techs?
When you finish your sterilization technician program or certification, it's important to know that job openings will be waiting for you. As of 2016, there were 54,000 sterilization techs employed in the United States. This number is expected to grow anywhere from 10-14% over the next decade, which means plenty of opportunities as you enter this growing allied healthcare field.
What Are Job Opportunities in New Jersey Like?
From 2016 to 2026, a 12% increase in job growth for NJ techs is expected. With a general need for more technicians – and with experienced sterilization techs advancing to supervisor positions – there will definitely be entry-level job opportunities available, especially in New Jersey.
The States With the Best Job Outlook for Medical Equipment Preparers
Some states project massive job growth for SPTs, especially Utah (36%), Colorado (34%), and Arizona (33%). Perhaps people are looking for a big sky and fresh air, but whatever the reason, sterilization techs should consider a move out West to chase job opportunities.
The States with the Smallest Job Growth
Although sterile processing tech jobs are still in need in all US states, Rhode Island's projected job growth rate is 3%, whereas Connecticut's is 5%. The numbers in the Great Lakes Region are not so promising either. Michigan and Illinois have 2% projected job growth, while Wisconsin (7%) doesn't fare much better.
That said, sterile processing tech jobs are still growing in these areas, just not at the same rate as other states.
What Does a Sterile Processing Technician Salary Look Like?
Sterile processing techs work hard for their salaries and are a valued part of the allied health community. So what's the average income in the United States for a sterilization tech? Techs earn an average income of $35,370, or a $17.00 hourly wage. After completing their education in a year or less, sterile processing techs are able to make impressive salaries.
In the US, the top 10% of sterile processing techs earn $52,240 (or about $25.00 per hour). A tech in the bottom 10% earns about $24,600 (or just under $12 per hour).
Considering pay raises and promotion opportunities, however, it might not take long for you to reach the top 10% income bracket.
What Do Sterilization Techs Earn in New Jersey?
The Garden State is a great place to get your sterile proessing career started. The average income for a medical equipment preparer here is just under $38,000, higher than the US average. The top 10% of earners bring in $51,610, while the lowest 10% earn $26,040.
Which States Do Sterile Processing Techs Earn the Highest Salaries?
Medical equipment preparers earn the most out west. As of 2017, the average income for Nevada was $49,270, California's was $45,770, and techs in Alaska earned a cool $45,210. It's not a huge surprise that techs earn more in those states, considering the higher cost of living.
Since many goods are imported, Alaskan residents have to pay extra, therefore needing a higher wage to offset the balance. California's cost of living is known for being extremely high, due to their ever-increasing real estate prices and competition within the housing market.
Where Do Sterile Processing Techs Earn the Least?
The states where techs earn the least tend to also have a lower cost of living. The median salary for sterile processing techs (as of 2017) was the lowest in Oklahoma, Montana, and Alabama. An average salary for a tech in Oklahoma was $29,040. Techs in Montana earned $28,830 and techs in Alabama earned $25,860.
These states might have lower wages due to a variety of factors – smaller populations, less-concentrated cities, and more rural communities – but that doesn't mean these states won't see job growth though.
From 2016-2026, Oklahoma expects to see 6% growth, Montana ranks high with 19%, and job opportunities in Alabama's market will expand by 9%. These numbers clearly show that sterile processing technicians are needed across the country, solid salaries exist, and job growth rates are on the rise.
Are There Any Opportunities for Growth in This Field?
After you complete your sterile processing tech program and get certified, you will be prepared to immediately start working in the field. What if you want to challenge yourself further? Healthcare administration and management is a path that many healthcare techs take for career growth. Management and supervisory roles are often available to those who show initiative and have the right experience. Healthcare administration is a great path as well, but often requires additional education. Regardless, more responsibility typically results in a higher salary, with hospital supervisors earning an average $52,000.
As with many allied health careers, certification really makes you stand out. It demonstrates that you have the knowledge and skills that are required for the profession. Most employers prefer to hire certified technicians. In addition, some states (New Jersey, Connecticut, and New York) require certification as well.
Join the Growing Sterile Processing Technician Field Today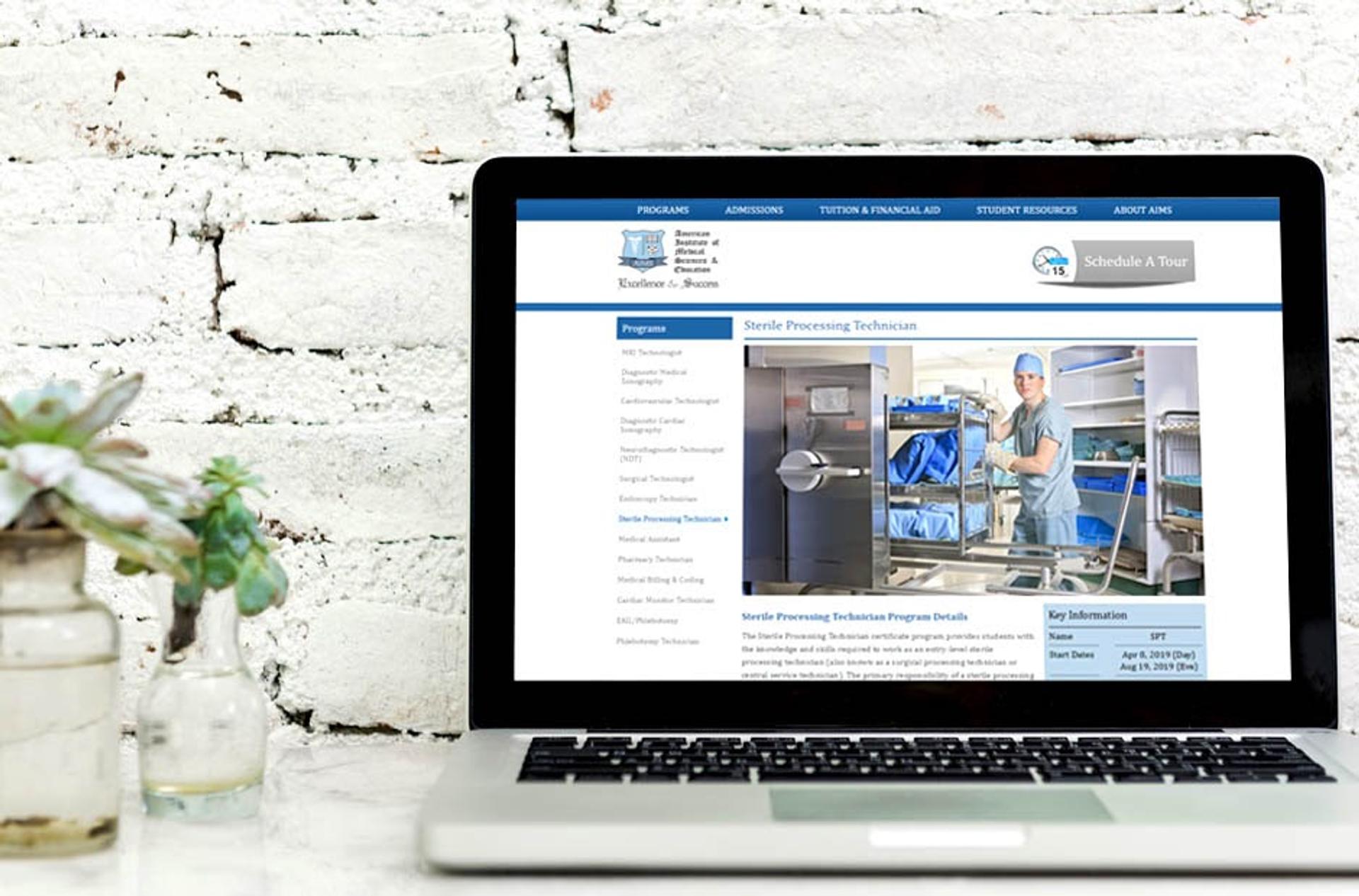 As a steadily growing allied healthcare career, you can see that it's a great time to become a sterile processing technician. No matter how big or small, job growth is projected to increase in every state, and entry-level salaries are excellent.
If you're looking for a hands-on job, rewarding work, and great opportunities for upward mobility, look into the AIMS Sterile Processing Tech program in New Jersey to see if it's right for you!