Steps to Becoming a Medical Assistant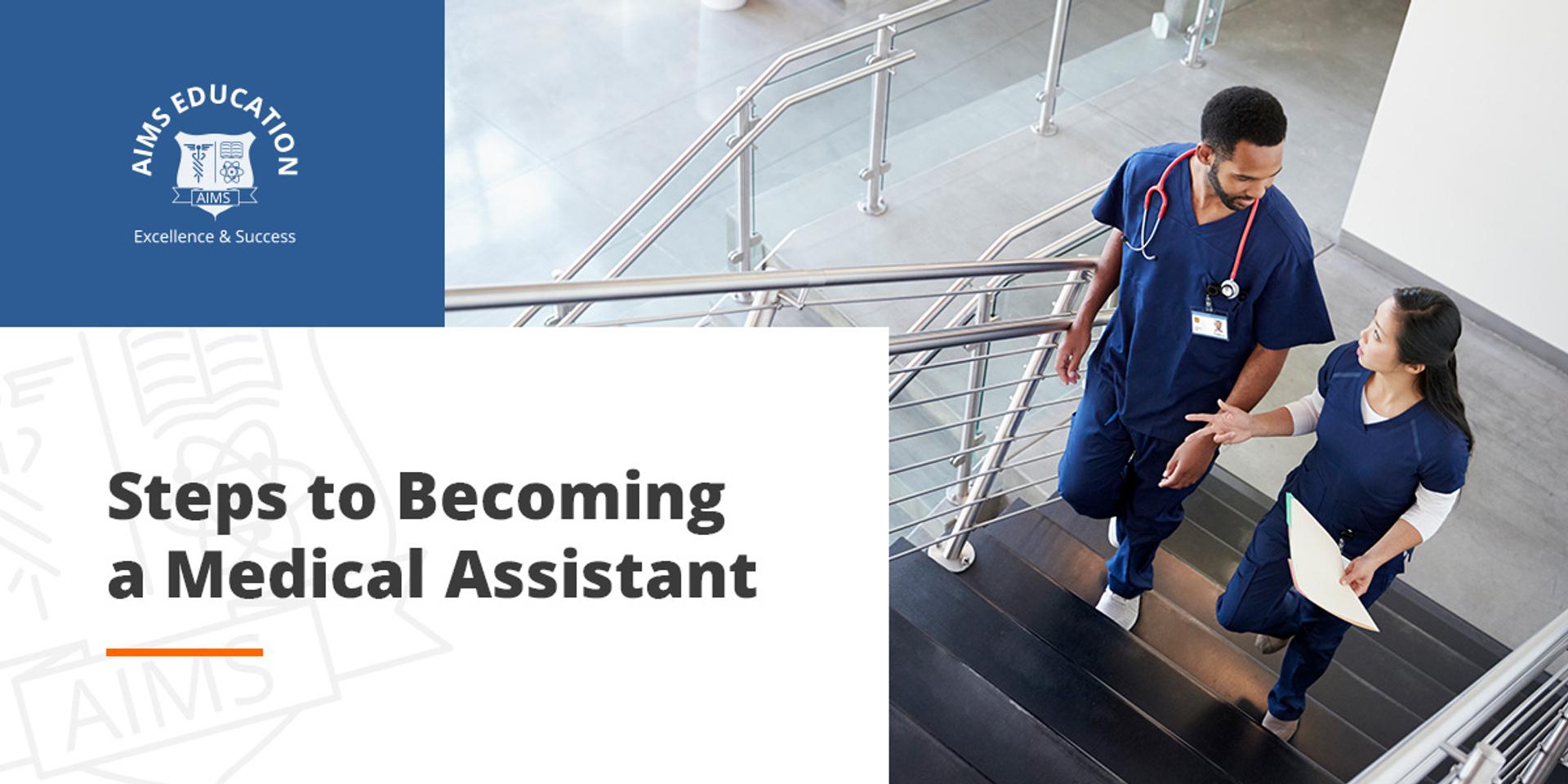 Medical assistants are often unsung heroes of the doctor's office. They're essential to the day-to-day operations of any medical facility, delivering patient care efficiently and correctly. Besides being integral to the functioning of various clinics, there are many other reasons to pursue a career as a medical assistant.
For one, the Bureau of Labor Statistics projects an 16% growth in medical assistant employment over the next decade. That figure is much faster than the national average. With such growth, you're much more likely to find work as a medical assistant than in most other industries. The median annual pay for this profession is $37,190, and some medical assistants earn over $48, 170 per year. If you're interested in becoming a medical assistant, here are some steps to follow and other helpful information.


What Does a Medical Assistant Do?
As the name implies, medical assistants aid doctors and nurses in hospitals, clinics, and medical offices. They perform various essential duties in those facilities, helping streamline daily operations. These responsibilities include various clinical and administrative tasks. Medical assistants also have regular correspondence with patients and other health professionals.
As far as administrative tasks go, medical assistants perform duties like:
Booking, canceling, confirming, and rescheduling appointments
Sending prescriptions to the pharmacy
Taking and processing payments
Corresponding with patients' insurance providers
Taking inventory of and restocking medical supplies
Organizing files
Answering phone calls and emails and checking voicemails
Entering patient information into electronic records
With clinical duties, here are some of the tasks medical assistants perform:
Greeting patients and showing them to the exam room
Taking and recording patient vital signs, such as blood pressure and heart rate
Checking patients' weight and height
Asking patients about their symptoms and health concerns to pass along to their doctor
Screening patients
Sterilizing medical instruments
Collecting and preparing blood samples and other specimens for lab tests
Performing basic lab tests, such as drawing blood or performing electrocardiograms
Cleaning and sanitizing treatment rooms
Discarding used medical supplies
Updating electronic health records and medical histories
Arranging hospital visits and lab test appointments
Assisting doctors during physical examinations
How Long Does It Take to Become a Medical Assistant?
Medical assistant programs take anywhere from 10 months to two years to complete. Ten-month programs lead to a medical assistant certificate or diploma. In contrast, two-year programs usually result in an associate degree. Though the level of education is different, there isn't much practical difference between a medical assistant certificate and an associate degree. The training you receive in both programs will usually qualify you for the same positions.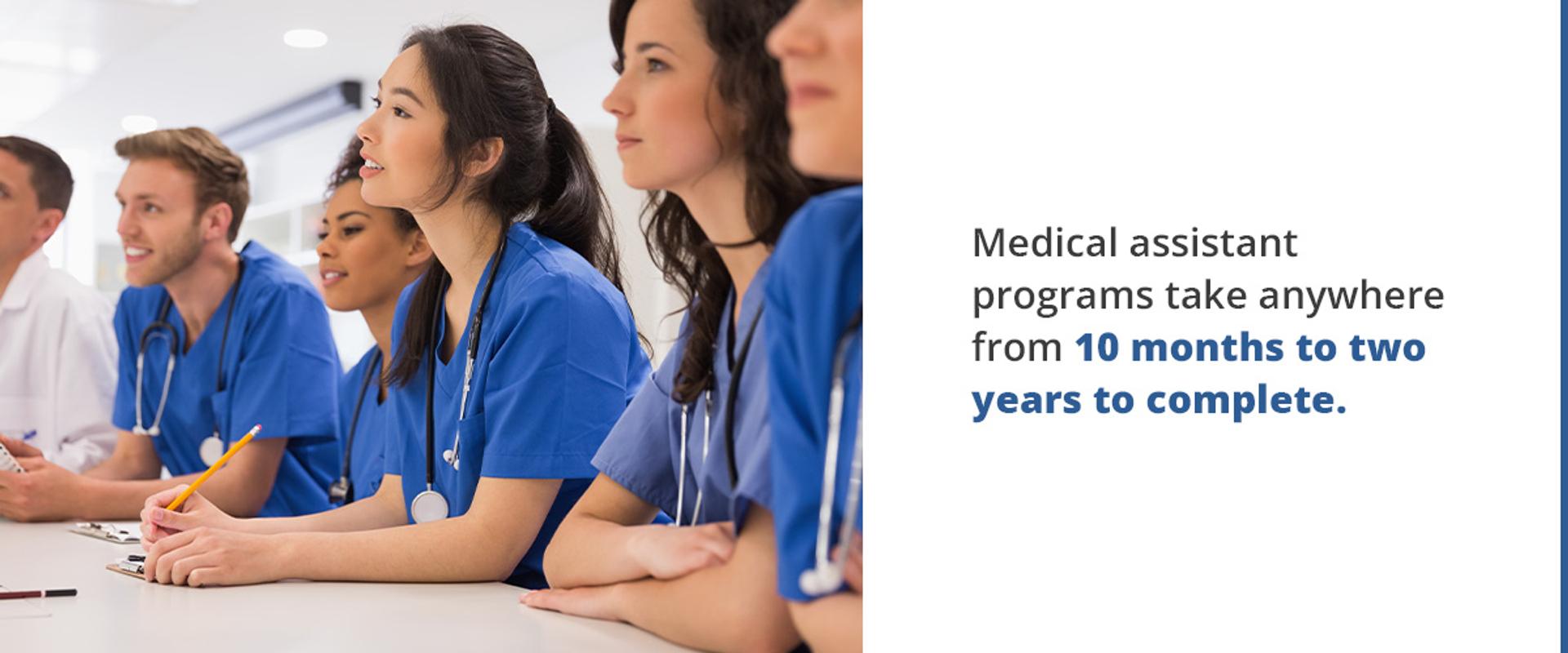 How to Become a Medical Assistant After High School
Here is a step-by-step guide to becoming a medical assistant after high school. This journey will take you from high school through training and end with the beginning of your career as a medical assistant.


Earn a High School Diploma
While becoming a medical assistant without a college degree is common, you can't do so without your GED or high school diploma. So, if you're reading this article while you're still in high school, finish strong. Graduating is the first step to becoming a medical assistant after high school. The next step is to consider postsecondary training.
While you're taking high school classes, you can still set yourself up for success on the path to becoming a medical assistant. As you focus on your high school studies and prepare for medical assistant training, you should consider taking courses in anatomy, biology, and computer science. When you start medical assistant school, these classes will give you a firm foundation.


Compare Medical Assistant Programs
This step may occur as you finish high school and consider your options after graduation. Many different colleges and schools offer medical assistant programs, so you'll want to find one that works for you and has a reputation for producing successful medical assistants.
A good place to start finding schools with reputable medical assistant programs is to look at those accredited by the Accrediting Bureau of Health Education Schools or the Commission on Accreditation of Allied Health Education Programs. It's also helpful to consider program outcomes for each school's medical assistant program.
If you have budget limitations, ask prospective schools about financial aid and payment plan options. The least expensive route is on-the-job training, but you significantly lower your chances of getting hired without a medical assistant diploma or certificate.
Once you compile a list of different programs you're interested in, weigh the pros and cons of each. Your evaluation will depend on several factors.
Your learning style: Do you prefer to learn in a classroom setting or focus better on online work? Online, in-person, and hybrid program options exist for medical assistant programs. Online options allow more flexibility but require more discipline. In-person programs will enable you to meet new people and provide more structure but have less flexibility. Hybrid options can give the best of both worlds.
The school's location: You may want to stay close to home, or perhaps you're willing to travel for the right school. Either way, the school's location can play a significant role in which medical assistant program you choose to enroll in.
Your timeline: One of the quickest routes to becoming a medical assistant is finding an accredited school that provides a 10-12 month medical assistant program. Conversely, if you prefer a degree-level program and are willing to put in the extra time, you may prefer a college that offers a two-year medical assistant associate degree program.


Choose and Enroll in a Program
After hours, days, or weeks of comparing programs, one has emerged as the obvious decision. Or, perhaps you've had to make a difficult choice between two or three outstanding options. Either way, once you've chosen a program, the time to enroll has come.
The enrollment process for a medical assistant program varies with each school. Generally, this process involves an entrance exam and an interview with a school official. The school will also want to know how you will be funding your education, so you may want to explore your financial aid options at this point.


Earn Your Medical Assistant Diploma or Certificate
The bulk of your medical assistant program will consist of classroom and lab learning and a clinical internship, sometimes called an externship. Each school specifies the number of hours you'll need to complete to meet their requirements in the program description. The coursework and lab training come first, and the internship is the final stage in your medical assistant training.
Your internship provides an opportunity for you to gain practical experience in a fast-paced environment. With this experience, you'll apply the skills you've learned in the classroom and lab to real-world situations.
Once you complete the program requirements and earn a passing grade, you'll be ready to receive your diploma.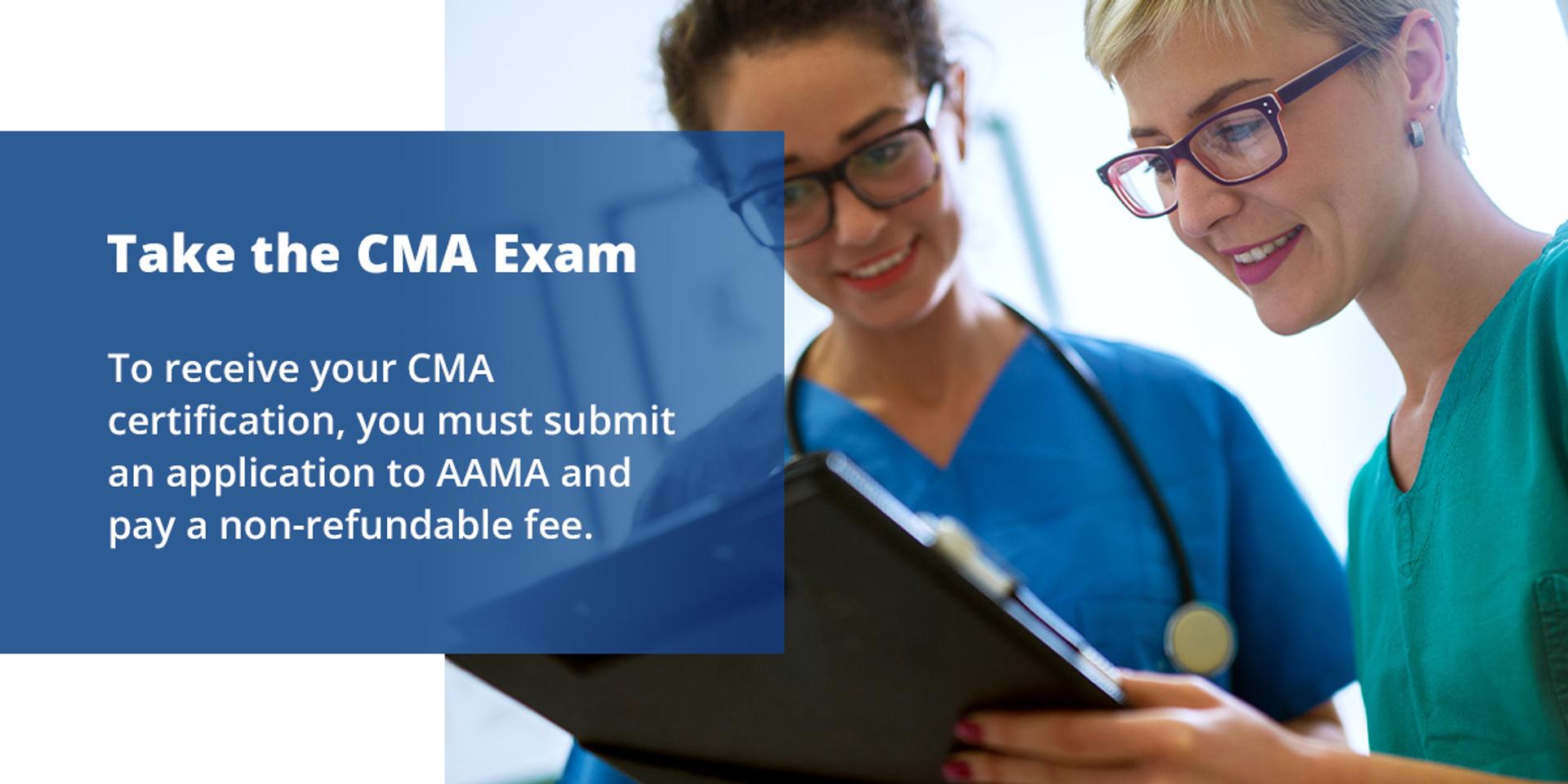 Take a Certification Exam
After graduating with a medical assistant diploma, certificate, or degree, there's still one more step you should take before applying for an official medical assistant position. Some states require medical assistants to pass a certification exam, but most do not have exam requirements. Still, a certification will hold significant weight for employers, increasing your chances of standing out in a stack of resumes. You can choose from the following certification options:
CMA - Certified Medical Assistant
To receive your CMA certification, you must submit an application to AAMA, pay a non-refundable fee, and pass a certification exam. You may also be required to provide an official transcript to the AAMA to verify your eligibility for the exam.
The exam consists of 200 multiple-choice questions that cover topics like these:
Adaptive and therapeutic approaches to diverse populations
Anatomy
Data collection
Death and dying stages
Human behavior, development and growth
Interpersonal and professional skills
Medical law and regulations
Medical terminology
Nonverbal communication
Physiology
Safety
Applicants can take the exam up to three times. Each attempt requires a new application and fee. Most medical assistant programs will cover the majority of the content on the CMA exam, but additional preparation may be required. Before selecting a medical assistant school, it's always a good idea to ask if they provide certification exam review classes for their students.
RMA - Registered Medical Assistant
The Registered Medical Assistant exam created by American Medical Technologists is another certification option. To take this exam, AMT will need to see your official final transcripts. After you apply and pay the non-refundable fee, you can choose to prepare for the exam by purchasing a practice exam and a review course. The exam covers the following topics:
Administrative medical assisting
Clinical patient interaction
Anatomy and physiology
Clinical medical assisting
If you need to retake the exam, you can do so 45 days following your first exam with an additional non-refundable fee, and you can retake the exam up to four times.
CCMA - Certified Clinical Medical Assistant
You can also choose to take the Certified Clinical Medical Assistant exam created by the National Healthcareer Association. After NHA verifies your eligibility to take the exam, you can register for the exam while enrolled in your medical assistant program or after you complete your program.
The NHA also provides preparation materials if you want to improve your exam performance. The CCMA exam may cover any of the following topics:
Basic science and foundational knowledge
Clinical patient care
Patient care coordination and education
Administrative assisting
Communication and customer service
Ethics and medical law
Core skills and knowledge
Consider Your Skills
Once you pass the medical assistant certification exam with flying colors, congratulations are in order. The next step is to take stock of your skills and craft an incredible resume that no medical assistant employer can ignore. You'll develop various technical and soft skills during your training and internship experience. These skills will look attractive to employers and help you progress throughout your career.
A firm grasp of medical terminology
How to use and update electronic health records
How to perform various administrative tasks
Proper etiquette with patients, including professionalism and empathy
Strong oral and written communication skills
The ability to multitask
Construct your resume in a way that highlights your strengths. When you first graduate, it can be daunting to craft a compelling resume without significant experience. By focusing on your strengths and what you've learned, you show the hiring manager why they should hire you rather than highlighting reasons they shouldn't.
Apply and Interview
All your hard work is about to pay off! You've reached the stage where you officially embark on your career as a medical assistant. There's only one more thing to do before you can call yourself a bona fide medical assistant — you'll need to apply and interview for a position at a medical facility.
If you completed an internship, you might find it comes in handy with this stage. From your experience, you will probably have valuable contacts in the medical field. Reach out to them to find out if there are any openings at their clinic. Even if they aren't hiring now, they may be able to put you in touch with another clinic that is. At the very least, they will serve as excellent references.
Besides the contacts you've made, your school may also be able to help you connect with local employers or alumni. Graduates from your program may know of job openings and can get you in touch with the right person to land you the job.
While you may have your heart set on a particular type of medical facility, casting a wide net with your applications is a good idea. Gaining experience in the industry is the top priority after receiving your certificate and MA certification. By doing so, you'll give yourself more leverage to move to a different position in the future. You may also enjoy a particular clinical environment more than you expected.
If the job search takes longer than you'd like, you may want to volunteer at a local hospital to add more healthcare experience to your resume. When that inevitable interview comes, remember to be confident and smile. The interview is your chance to show the employer why you are the best person for the job.
What to Do After Becoming a Medical Assistant
If you've landed a medical assistant position, congratulations! You should feel proud of yourself. As you remind your employers why you were the right person for the job each day, you'll need to make sure you maintain your certification. Each medical assistant certification will have its own renewal requirements, so make sure you check with your certifying organization.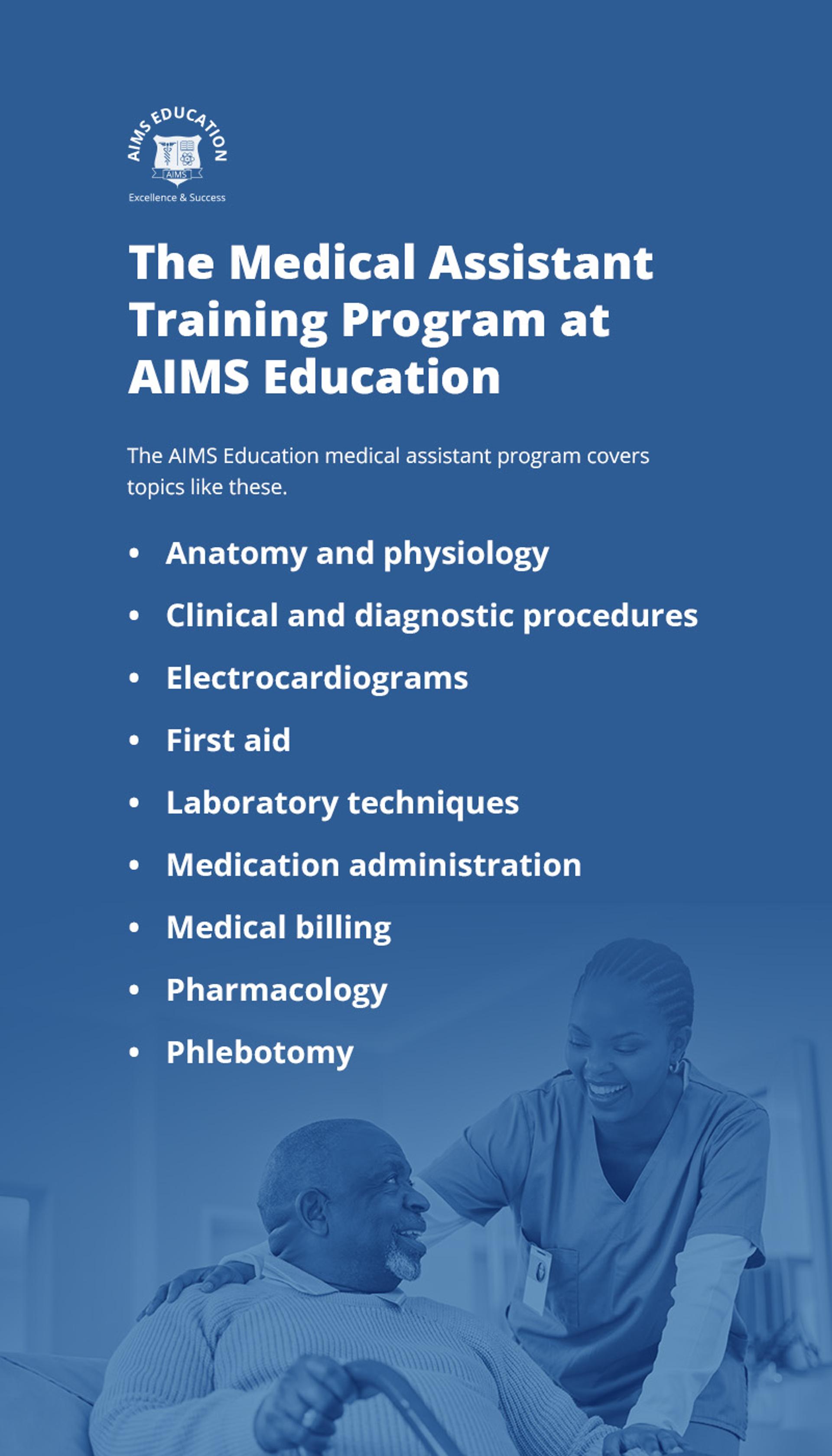 The Medical Assistant Training Program at AIMS Education
The medical assistant training program at AIMS Education is a 10-month hybrid program (12 months for evening classes). The hybrid program gives you a blended experience of online learning and in-person instruction and lab training. Moreover, you can complete your education requirements in under one year. The AIMS Education medical assistant program covers topics like these.
Anatomy and physiology
Clinical and diagnostic procedures
Electrocardiograms
First aid
Laboratory techniques
Medication administration
Medical billing
Pharmacology
Phlebotomy
A unique aspect of our medical assistant program is that we also train students to thrive in specialty clinics like pediatric or obstetrics and gynecology practices.
Each student who enrolls in our medical assistant program undergoes 635 hours of classroom and lab instruction. Once you have completed those hours, the next phase is a 200-hour clinical internship required for graduation. AIMS Education has numerous clinical affiliations where students can complete their clinical internships. Of the 34 students who graduated from our program between July 1, 2020 and June 30, 2021, 88% found jobs as medical assistants.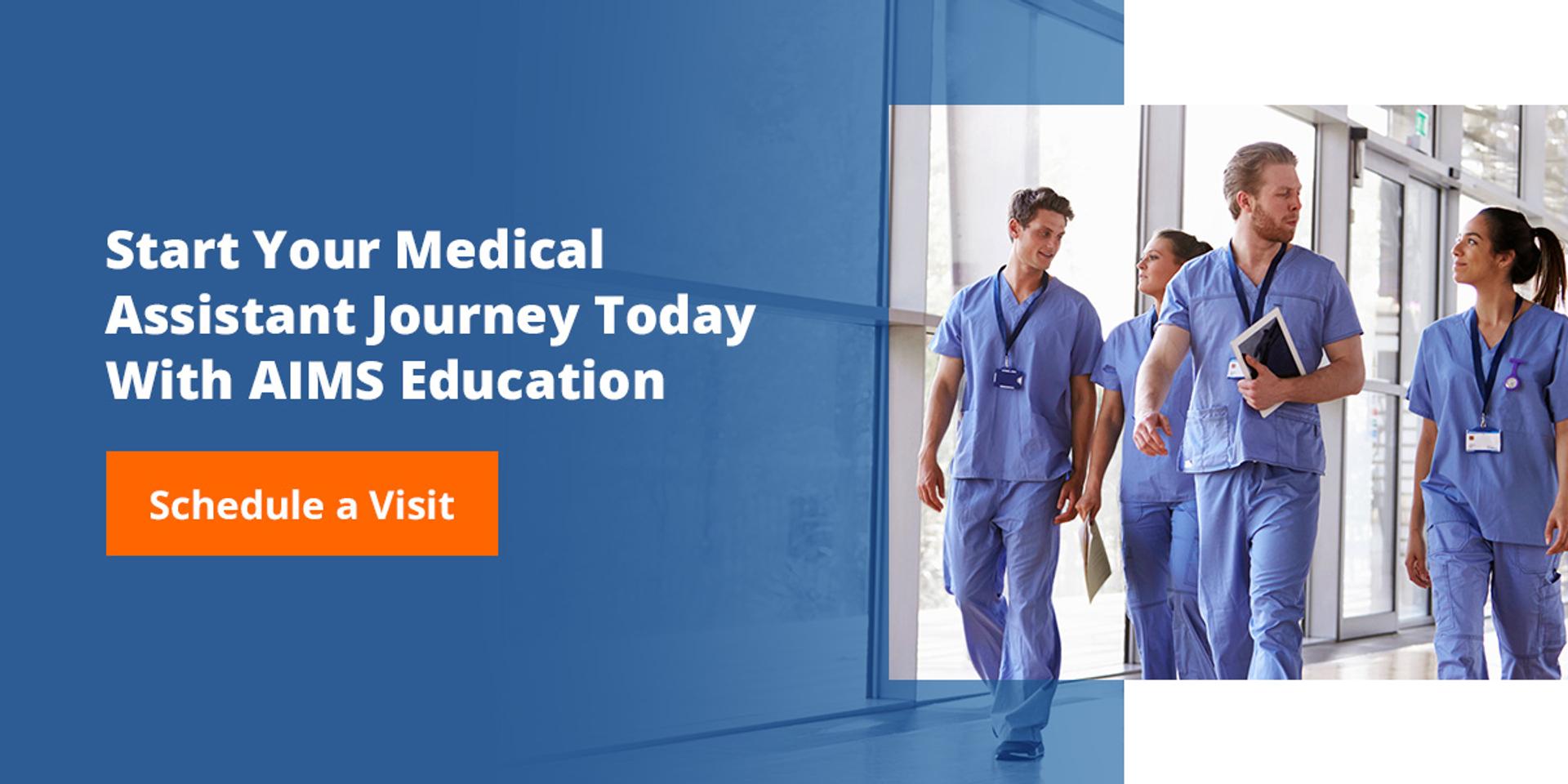 Start Your Medical Assistant Journey Today With AIMS Education
AIMS Education has provided high-quality allied health training to individuals of diverse backgrounds since 2004. Our locations are in Piscataway and Edison, N.J. If you'd like to learn more about the medical assistant program at AIMS Education or want to check out our campus, we welcome you to schedule a visit.