Radiology Technologist vs. MRI Technologist: What's the Difference
Reviewed by Ron Barrett, ARMRIT, R.T. (MR)(ARRT), MRSO
August 9, 2022
Radiology techs and MRI techs are in-demand jobs with promising career prospects and many employment opportunities. Although both professions are major specialties in radiology, there are quite a few differences between them. Let's explore them together.
The MRI Technologist and the Radiology Technologist Job

The Bureau of Labor Statistics (BLS) lists Radiologic and MRI technologists under the same category. While some of their job responsibilities may be similar, there are some significant distinctions that differentiate these specialists.
What Is a Radiology Technologist?
Radiologic technologists, also known as radiology technologists, radiographers, or rad techs, have varied work duties. In addition to performing diagnostic imaging examinations, they also prepare patients for procedures and take X-rays and CT scans for diagnostic purposes. Rad techs might also specialize in mammography, where they use low-dose X-ray systems to produce images of the breast.
How Long Does It Take to Become a Radiologic Technologist?
Radiologic technologist programs usually take anywhere from two to four years. Depending on the program, you may be able to complete these programs as part of an associate or bachelor's degree.
What Does a Radiology Tech Do?
Rad techs are responsible for various tasks involved in conducting X-ray scans, which produce images of the inside of the body using radiation. As the name would suggest, the radiologic tech has to understand this process very well to keep patients and themselves safe.
Some of a radiology technician's responsibilities might include:
Preparing the patient for the scan: Technologists may need to provide a clean medical gown and position the patient properly.
Ensuring the patient is protected from unnecessary radiation: The radiology tech provides the patient with a lead-lined gown to cover vital organs and reproductive areas.
Operating, maintaining, and calibrating the scanner: Operating the machine falls to the radiology tech, who will initiate the scan with a computerized program.
Reviewing the images for accuracy: If the images are inadequate or the physician needs a different angle, the radiology tech might need to redo a scan.
What Is an MRI Tech?
MRI techs specialize in magnetic resonance imaging scanners, also known as MRI. Studying to become an MRI tech includes getting to know how to operate MRI machines as well as interpreting their results. These technologists create diagnostic images used by physicians to identify medical problems and refer patients to other specialists.
How Long Does It Take to Become an MRI Tech?
Completing an MRI technologist education takes about two years. You'll need to complete your coursework through an associate degree or certificate program, and then take an MRI technologist certification exam.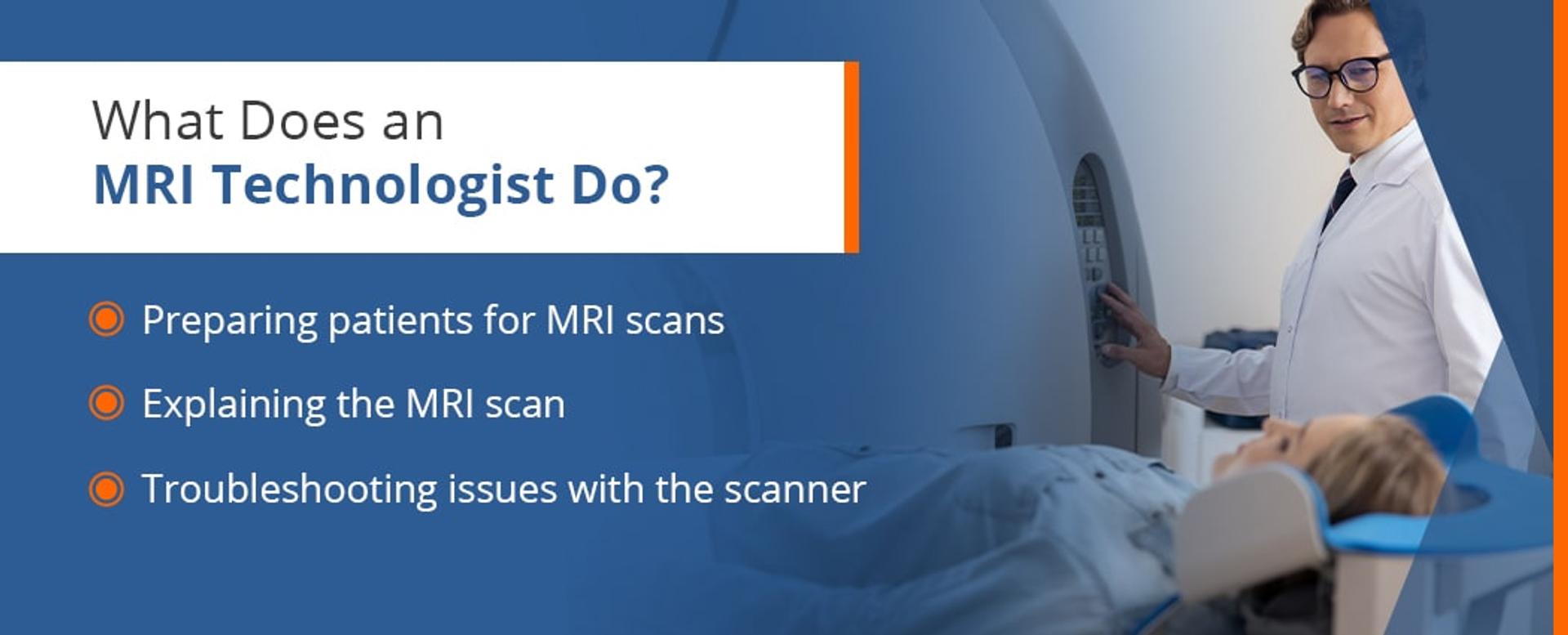 What Does an MRI Technologist Do?
While an MRI technologist's responsibilities are similar to a radiology technologist, they operate an MRI scanner rather than taking X-rays or CT scans. MRI technologists calibrate, set up, and operate an MRI scanner to take images of the patient's body tissue and help the physician diagnose problems. Their day might also involve:
Preparing patients for MRI scans: MRI techs need to screen patients to ensure they don't have any contraindications, such as implanted or worn metal objects, pregnancy or pacemakers.
Explaining the MRI scan: An MRI tech explains the procedures and tells patients what to expect.
Troubleshooting issues with the scanner: If technical problems arise, the MRI tech may be responsible for troubleshooting the scanner or scheduling repairs.
Job Outlooks for MRI Techs and Rad Techs
According to the latest BLS report, the employment of radiologic technologists will grow 9% between now and 2030. The same report projects 8% employment growth of MRI technologists. However, New Jersey is projected to see a much higher growth rate of 13% for MRI technologists. MRI opportunities in NJ are increasing much faster than the average due to the aging baby boom generation. This results in more medical conditions that require diagnosing via imaging tools.
MRI Tech and Rad Tech Salaries Compared
Are you interested in finding how the Radiology tech and MRI tech salaries compare in the US? Even though both careers come with promising outlooks, the data shows higher values for those pursuing a job as an MRI technologist.
In May 2020, BLS reported an average annual wage of $74,690 for magnetic resonance imaging technologists. In comparison, their radiologic tech colleagues were only paid $61,900. Of course, these figures vary across different industries and states.
For example, MRI professionals working in New Jersey receive a mean wage of $88,140 per year, while those in Massachusetts are close behind at $88,040. This is significantly above the average across all states. Still, both Rad tech and MRI tech salaries are lucrative, and there is a lot of opportunity for growth.
How to Become the Tech You Want
There are different routes you can take to pursue a career and specialize in the field of your choice. Most of them will require you to obtain a license or certification to meet the criteria for entry-level jobs. Here are the steps you need to take if you want to become an MRI tech or radiology tech.
MRI Tech Requirements and Programs
To enter the market as an MRI Tech, you will typically need to undergo specialized education. Students should only enroll in programs that are approved by The American Registry of Radiologic Technologists (ARRT) and/or accredited by the American Registry of Magnetic Resonance Imaging Technologists (ARMRIT) or the Joint Review Committee on Education in Radiologic Technology (JRCERT). This could be a degree program or MRI Technologist training that will both give you the necessary knowledge and skills to kick start your career.
Candidates whose priority is achieving work-study balance, often go for MRI tech training. Its flexible schedule, duration, and affordable cost make it an attractive path for both people making a mid-life career change and those just stepping out of high school. It only takes about 26 months to complete your MRI training. During this time, you will go through the necessary classroom and lab hours, followed by a clinical internship to make you ready for the actual job.
The enrollment requirements vary across different programs, states, and institutions. While some would only need you to present a high school diploma, other admission criteria might include an associate degree. Either way, MRI tech training will prepare you for the technical aspects of your future job, alongside some valuable skills related to MRI risk management and patient care.
Radiology Technologist Degrees and Eligibility
Becoming a Radiology Technologist can be achieved at different time scales that largely depend on your long-term goals and schedule. The two primary training options include an associate degree or a bachelor's degree. Each of them has pros and cons that you need to consider before making a choice.
An associate degree can take anywhere from 18 months to 2 years and opens different opportunities for building a career in radiography. This is the most common path of entry for new techs. A bachelor's degree, on the other hand, requires a 4-year commitment to more advanced medical training. You will leave prepared for a number of jobs higher up the ladder. The extensive training and additional specialties sometimes result in better growth opportunities.
Additionally, radiologic technologists must be licensed or certified in most states. Certification is often preferred by the majority of employers. It increases your chances of getting hired and progressing in your career over time. A combination of formal training, certification, and hands-on experience is a rewarding route to take.
If you are interested in this career field, explore the reasons for many radiology technologists to further specialize in MRI.