Phlebotomy Education, Career, & Salary
October 14, 2016

This is an all-too-basic career question that rarely gets answered. Ultimately, we'll experience any career as a day-to-day part of our lives. For a phlebotomy technician, your day can begin at any time. If you're working in a smaller clinic, you can likely expect fairly standard (think 9-5) working hours, but larger hospitals may have a certified phlebotomy technician on call 24/7.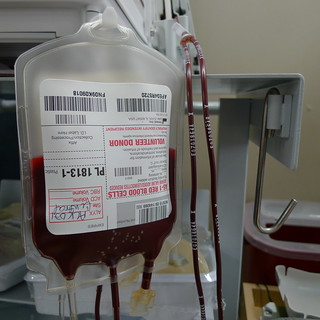 Thirteen Of Clubs / Flickr / CC BY-SA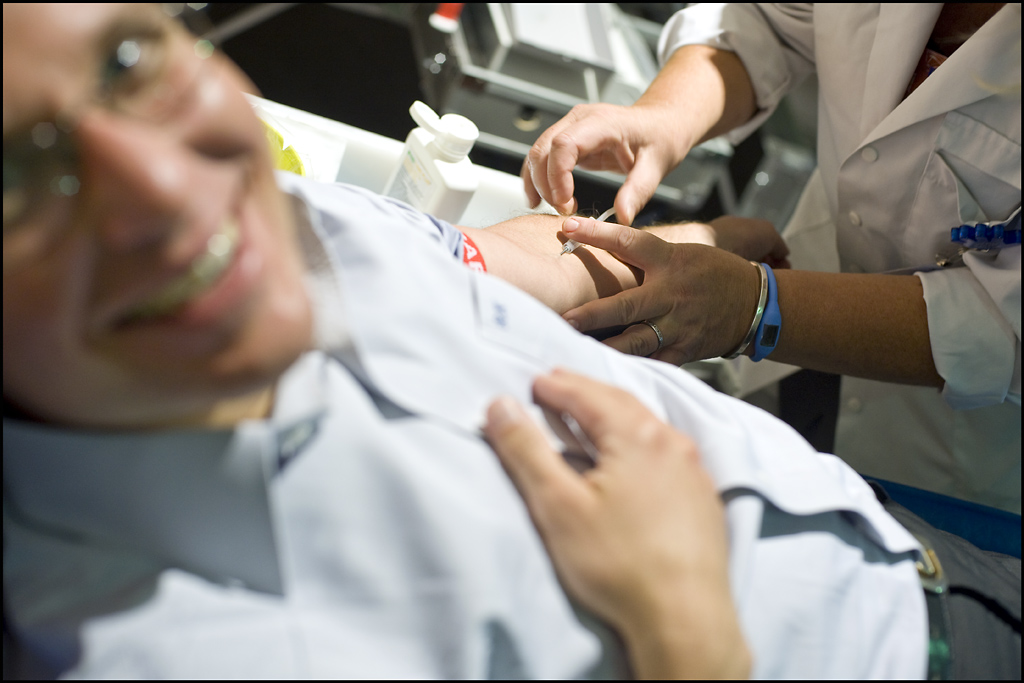 European Parliament / Flickr / CC BY-NC-ND
In 2015, the median income for a certified phlebotomy technician was $31,630 per year according to the US Bureau of Labor Statistics (BLS). The full range, depending on location, experience, and other factors is between $21,140 and $38,387.
Undoubtedly, one of the top reasons to consider pursuing phlebotomist education and training is the well-above-average growth of the field. Currently, the BLS projects that between 2014 and 2024, the number of positions open for phlebotomists will increase by 25%. That translates to 28,100 jobs. To put that in perspective, the average for all US careers is less than a third of that, at just 7%.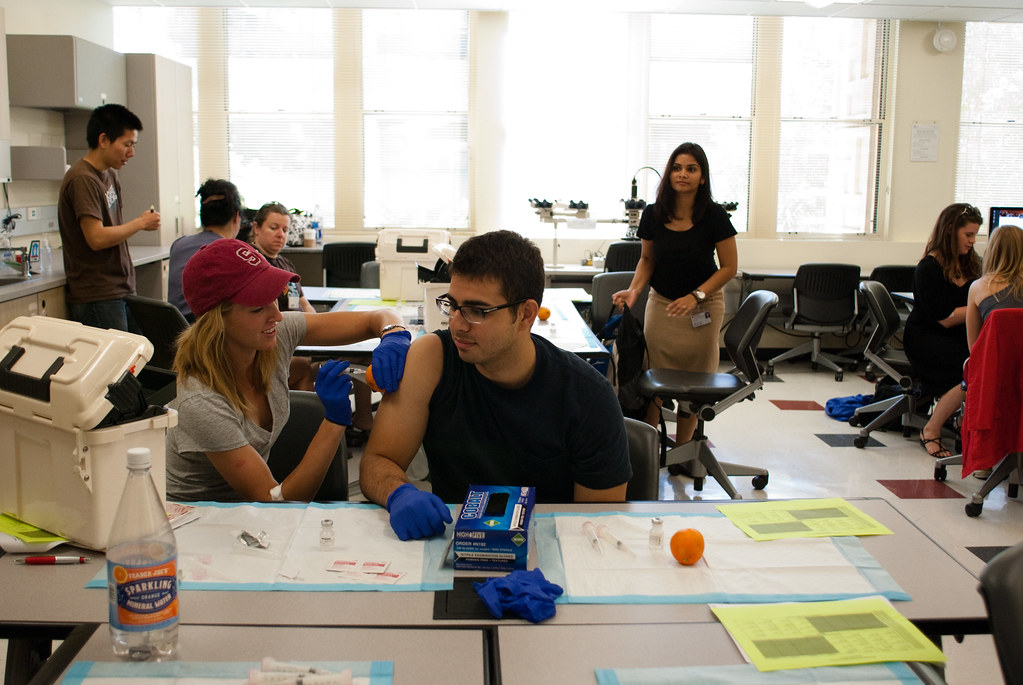 madichan / Flickr / CC BY-NC
This option can still allow you to get certified in about three months. Compared to obtaining an associate or bachelor's degree (which generally take 2-4 years of full time study), this is a far faster and less expensive way of receiving training for a new career.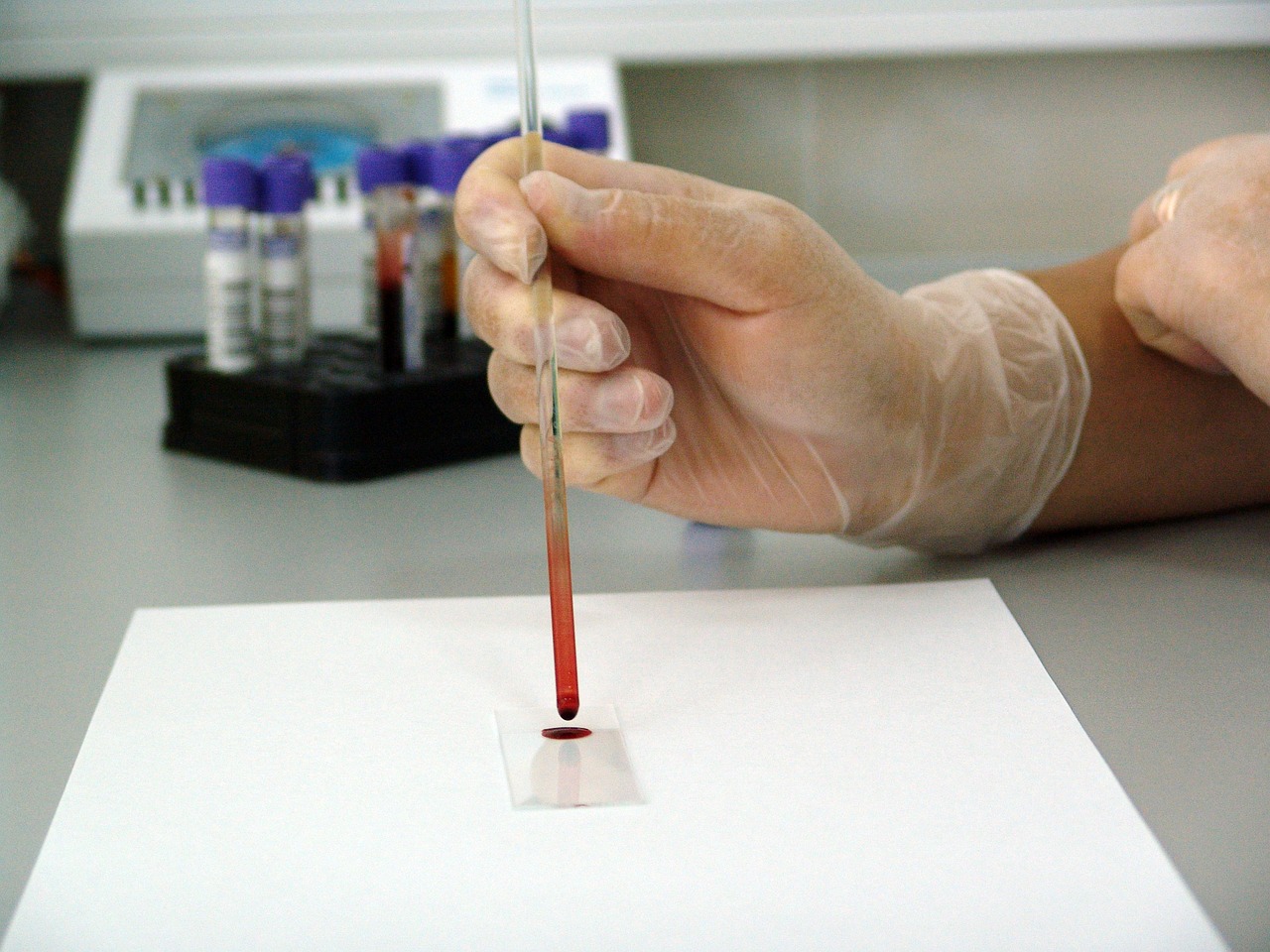 If you're fascinated by medicine and would love to start a career in allied healthcare, be sure to check out our Phlebotomy Technician Program Page.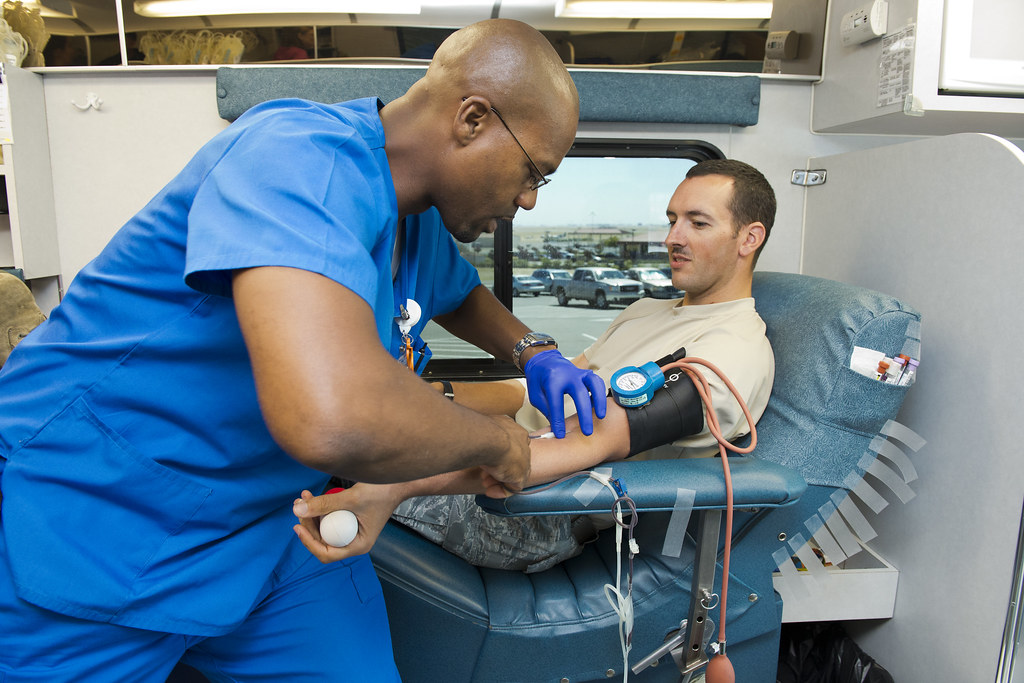 Official Travis AFB, Calif. / Flickr / CC BY-NC
Two of the most consistent desires most Americans have from their jobs today are flexibility and stability: the flexibility to work the hours that are most convenient for you and to use a position as a springboard for career advancement, along with stability throughout your career.
With this in mind, it's no surprise that more and more people are considering careers in allied health. One perfect example is phlebotomy. With a straightforward certification process, a variety of ways to advance your career, and solid demand for more workers, it's worth considering for someone just entering the job market or looking to find a new career.

What Does a Day as a Phlebotomy Technician Look Like?
That means, as mentioned above, you have options. You can work night shifts or day shifts, aim for the same schedule every day, or insert some variety. If you're a working parent or simply prefer a work schedule that varies, this kind of flexibility makes all the difference. As an added benefit, this kind of schedule flexibility contributes to more equal pay rates for men and women.

Helping Patients and Saving Lives
After getting to work for the start of your shift, you'll spend most of your day drawing blood from patients and preparing it for lab testing. If a patient has an adverse reaction, you'll be right there to help them deal with it appropriately.
The key thing here is that you'll spend your days largely working with patients. As you no doubt know, many people find having blood drawn very stressful.
That's where good phlebotomy training comes into play, calming patients and ensuring that having blood drawn is as pleasant a process as is possible.
You may also do blood transfusions, a procedure which saves thousands of lives every year, as well as taking your skills on the road to participate in blood drives. What this adds up to is flexible work that can take you to a large variety of places, depending on what kind of career you have in mind for yourself.

Phlebotomy Technicians Making a Difference
One patient told us about how a well-trained and personable phlebotomist can make all the difference. This patient would lose blood pressure rapidly when encountering needles, leading to nausea and fainting. It made having blood drawn a terrible experience, until a phlebotomy technician taught them a technique to help keep blood in the head by lying down and keeping their legs above their head to reduce these symptoms dramatically.
They've been grateful to that phlebotomist ever since. By showing care for the patient's well being and thinking of ways to help them deal with this problem in the long run, the phlebotomist really improved the patient's quality of life. This is just one example of how you, as a phlebotomist can really make a difference for your patients every day.

What's a Typical Phlebotomy Technician Salary?
While this is on the lower end of the healthcare field as a whole, fast training, high demand in the field, and the potential to advance within a hospital or clinic make this career an attractive option for getting started in healthcare.

Excellent Hiring Trends
The kinds of employers who are generally looking to hire certified phlebotomy technicians include hospitals, research labs, private clinics, nursing homes, and pathology labs. This variety makes it more likely you can find the right kind of position for you, in terms of salary, geographic area, and working environment.
Phlebotomy is in the top range of all US careers in terms of job growth. If you're looking to change careers and have concerns about spending a large amount of your time job-hunting after completing training, you can consider phlebotomy a relatively safe bet to get into the job market quickly. On that note, phlebotomy training is another important consideration for anyone looking for a quick career change.

How to Become a Phlebotomist
Beyond the large number of job openings in the field, another definite advantage to becoming a phlebotomist is the relatively quick and straightforward training requirements.
If you're able to attend day and night classes (studying as a full-time student), you can become a certified phlebotomy technician in about a month. In addition, only a high school diploma or GED is required to enroll in such training.
If, on the other hand, you've got more on your plate and would like to attend training courses while also spending your days working or parenting, you can attend classes on the weekends.

The Certification Process
After completing your training, you'll have the chance to take the Phlebotomy Technician Certification exam offered by the National Healthcareer Association (NHA) or the National Phlebotomy Technician Certification Exam from the National Center for Competency Testing (NCCT).
By passing either of these exams, you'll receive the certified phlebotomy technician credential - CPT (NHA) or NCPT (NCCT). Either certification will benefit you when you conduct your job search.
In going through these steps, you not only learn the basics of drawing blood and handling patients, but how to ensure your environment is sterile. You're ultimately the first step in the lab results that will determine future treatment for your patients. Doing your job well means creating an environment that produces high-quality and reliable results, as well as happy patients.

Opportunities for Career Advancement
One of the benefits we alluded to above is that becoming a phlebotomy technician can allow you to have a fine career as a phlebotomist, but, if you prefer, you can use it as a springboard for further career advancement in healthcare. Because of how quickly you can obtain certification, becoming a phlebotomist gets your foot in the door and exposes you to a variety of other potential healthcare careers.
For this reason, phlebotomists may choose to further their education and move on to careers as medical assistants, surgical technologists, neurodiagnostic technologists, and more. The experience you'll obtain as a phlebotomist helps improve your ability to find a well-paying position in your new field.
Plus, having worked in the field, you can be more certain that your next career move is the perfect one to fit your needs.
Once again, that comes down to flexibility. A career as a phlebotomy technician gives you options and puts you in charge of where you'd like to take yourself next. In today's fast-paced work environment, that's an all-too-rare blessing.

Interested in Learning More About a Phlebotomy Career?