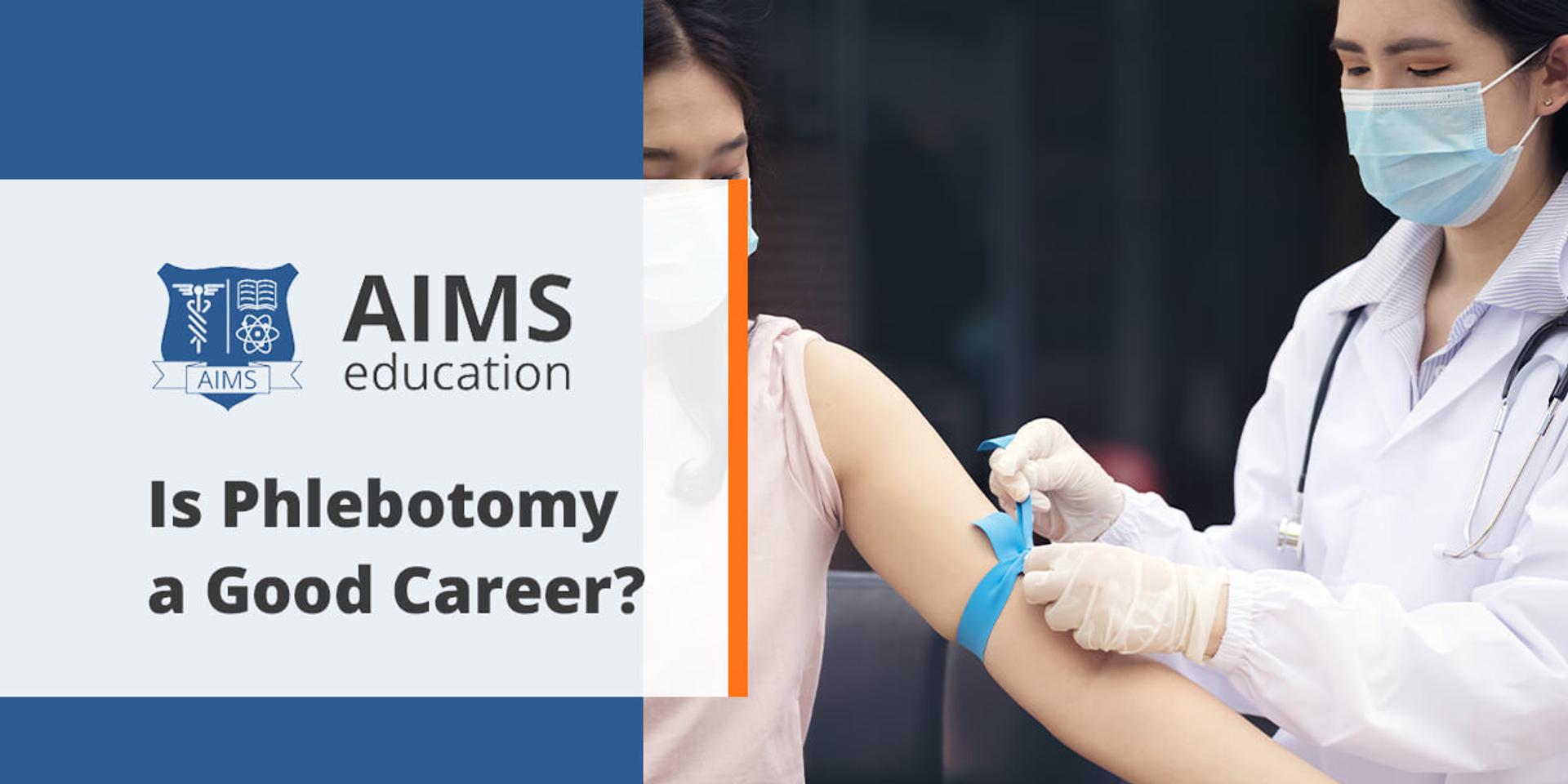 Odds are, you've come across a phlebotomist before, even if you did not realize it at the time. If you have ever had blood drawn for routine blood work, a diagnostic test, or a donation, a phlebotomist was involved. Phlebotomists are the professionals responsible for collecting, handling, and sometimes processing blood samples or donations.
Becoming a phlebotomist is relatively simple — you can complete the training and certification process in only a few months. Once you've done so, you'll be able to begin a career as a phlebotomist, which may open doors for other medical field opportunities. Phlebotomists are always in high demand — patients require blood-based diagnostic testing and transfusions every day. Learn more about what phlebotomy is, what these professionals do and how you can become one.
Phlebotomy is the process of drawing blood from a patient. It often involves creating a puncture in a vein and using a vacuum tube to remove blood. In other cases, phlebotomy can involve drawing blood from a capillary, such as a finger, ear lobe, or heel. The word "phlebotomy" comes from the Greek words "phleps," meaning vein and "tomia," meaning cutting.
Why Is Phlebotomy Necessary?
Blood drawing is useful for a variety of reasons. It allows for diagnostic testing, learning about a patient, and medical research. In addition, blood donations are necessary for life-saving transfusions. Some patients may need blood drawn to remove excess iron or red blood cells. In the medical world, phlebotomy serves many different purposes. It's an integral part of daily operations at any doctor's office or hospital.
What Does a Phlebotomist Do?
While phlebotomy may seem simple, proper knowledge and techniques are vital for the professionals in this role. A phlebotomist's duties will depend on the reason for the blood draw, the patient at hand and other factors. They may work in doctor's offices, specialized clinics, hospitals or even home settings. Here are some of the things a phlebotomist must do: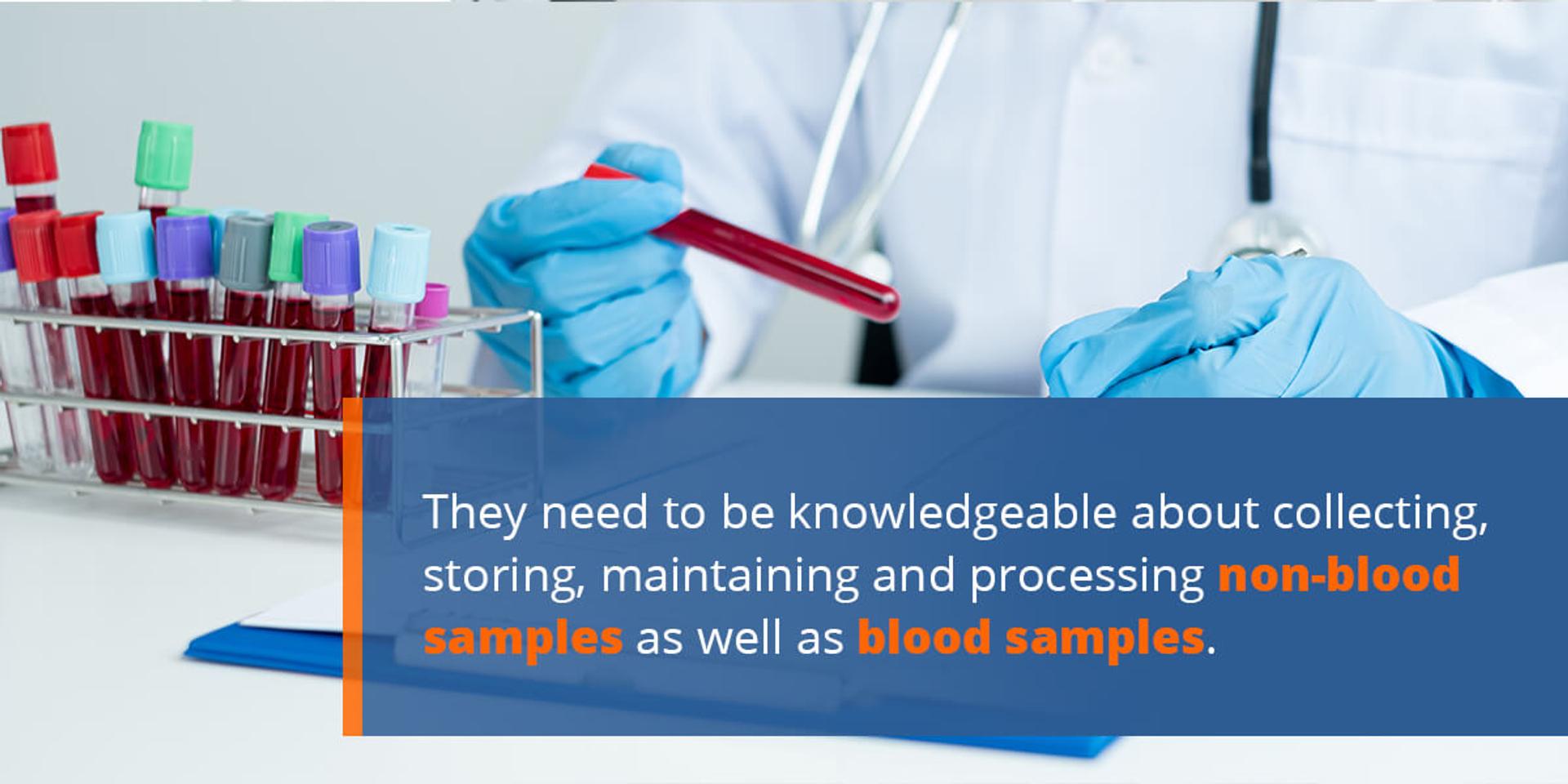 1. Employ Various Blood Collection Techniques
Phlebotomists must know how to employ various methods for blood sample collection. A few of the methods they'll need to know include:
Venipuncture sampling: Venipuncture is the most common method for adult blood collection. It's used for donations and routine blood work. In most cases, the phlebotomist will collect from a superficial arm vein, but other draw sites may be necessary.
Fingerstick sampling: A fingerstick sample is a popular method when only a small amount of blood is necessary.
Heelstick sampling: A heelstick sample is most useful for drawing blood from newborn infants. It protects the infant from putting the injection site in their mouth since newborns are not able to reach their feet. It allows for mandatory screening for genetic disorders or diseases.
2. Work With Other Specimen
A phlebotomist may also need to collect or work with other specimen types, such as urine, stool, or hair. They need to be knowledgeable about collecting, storing, maintaining, and processing non-blood samples as well as blood samples.
3. Screen Patients for Blood Donations
Screening patients for blood donations is vital for both donor and recipient safety. A phlebotomist or an assistant must ensure patients are eligible to donate blood. They'll ask the donor if they are in good health and whether or not they have any known bloodborne diseases. They'll also ask for the donor's blood type to mark the donation.
4. Store Blood for Testing or Transfusion
Phlebotomists are also responsible for the proper storing and labeling of blood for testing or transfusion. They must be well-organized to ensure accuracy throughout this process, as it's vital for patient safety. Storage requires the proper temperature and appropriate tubes or containers to ensure the specimen's integrity.
5. Ensure Patient Safety
Like any medical professional, a phlebotomist is responsible for ensuring patient safety. Keeping patients safe includes the following practices:
Verifying patient identities
Preparing patients for a blood draw
Providing accurate labels for collection vials
Monitoring patients for adverse reactions
Responding to adverse reactions as needed
Ensuring clean, sanitized blood draw instruments
Practicing proper hygiene
Disinfecting the draw site
Using proper technique for drawing blood
6. Work With Patients
Phlebotomists must be skilled at working with patients, including nervous patients. They should explain the reason for the blood draw and guide the patient through the process. Many patients are anxious about needles or become queasy at the sight of blood. For that reason, thoughtful patient care is a top priority for any phlebotomist.
7. Process Blood Specimens
In some settings, a phlebotomist must also process the specimen they collect. Processing might include centrifugation, which involves spinning blood samples to separate their various particles. Successful centrifugation depends on the sample's placement, temperature, timing, and other factors. Donated blood specimens require centrifugation to separate red blood cells, platelets and plasma.
Preparing donated blood for a transfusion also involves removing white blood cells to protect recipients from adverse reactions. In some cases, a phlebotomist may need to aliquot blood, which involves removing the plasma. Processing blood also requires testing, storage, and transportation.
8. Follow All Best Practices
In general, a phlebotomist must follow all best practices for planning, quality control, and patient care. They have to work in quiet, clean, and well-lit locations, ensure their equipment is sanitary, and provide clear information to the patient. It's vital for a phlebotomist to know and implement all best practices as they work.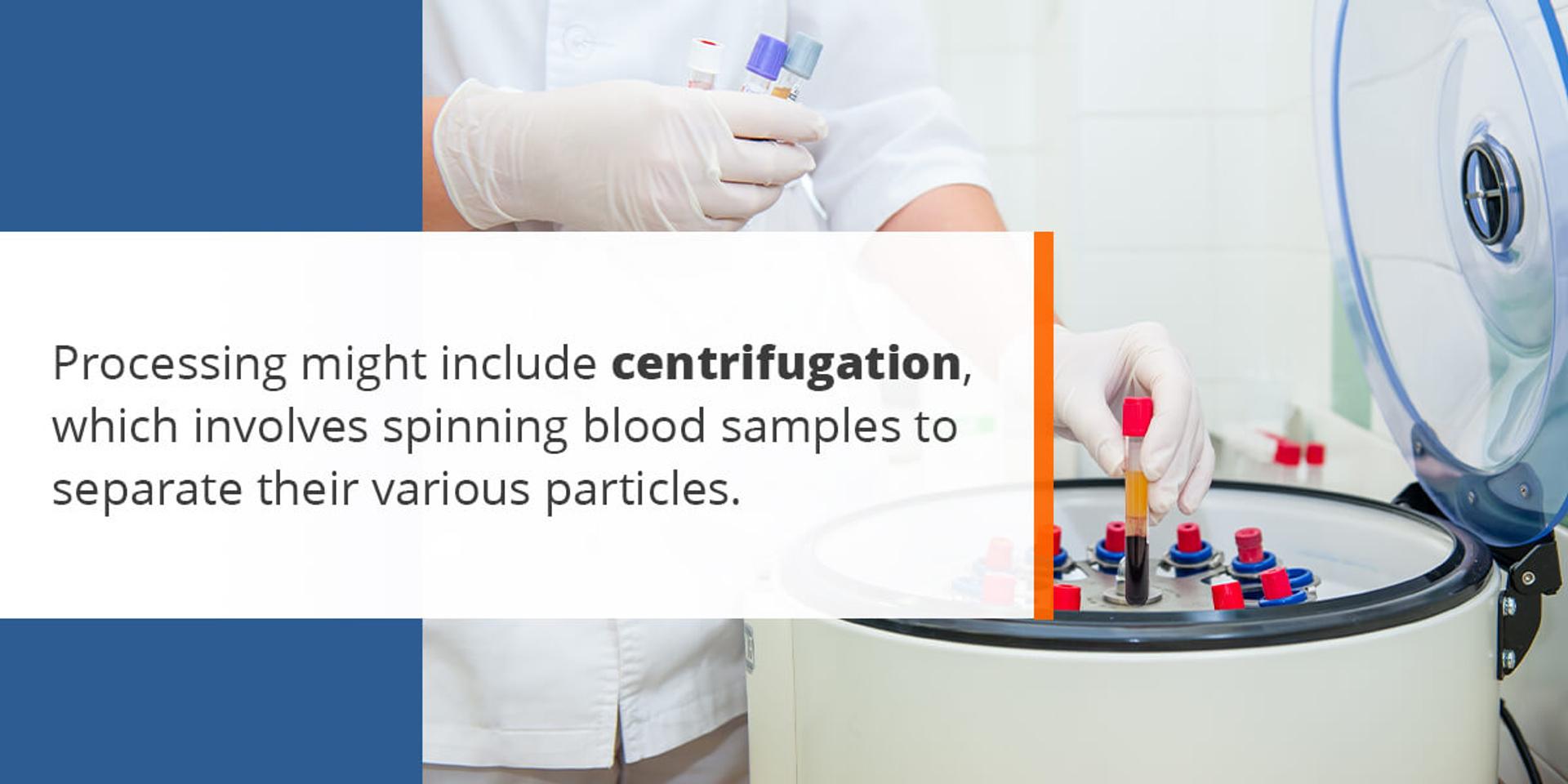 How to Become a Phlebotomist
A phlebotomist is a medical professional, so proper education and training are necessary. Phlebotomy training programs are relatively short, taking only a matter of weeks or months. No previous college experience is necessary to enroll in a program. Here are the basic steps to becoming a phlebotomist:
1. Complete High School
While a college degree is not necessary for phlebotomy training, you will need a high school diploma or equivalent. You can enter a training program right after you finish high school. You might take classes focused on healthcare, science, anatomy, and physiology to prepare you for a career in the medical field.
2. Meet Training Program Entry Requirements
Once you have your high school diploma or equivalent, you'll need to make sure you meet all other minimum admission requirements for your desired training program. You may need to take a cognitive ability test such as the Wonderlic Scholastic Level Exam. The exam takes 12 minutes or less to complete and tests your problem-solving and critical thinking abilities. A passing score shows you have the cognitive strength to begin phlebotomy training.
3. Complete a Training Program at an Accredited School
After meeting minimum requirements, you can then enter a phlebotomy training program. A phlebotomy and specimen processing training program will allow you to learn processing skills in addition to blood drawing skills. During the training program, you'll learn about:
The entire training program takes place over the course of one to three months, depending on your availability. Day and evening training usually takes about one month to complete, while weekend training takes longer. Training will take place in both a classroom and laboratory setting.
4. Earn a Certification
Once you've finished your training program, you may be eligible for certification testing. Most employers will only consider candidates with some form of professional certification. Several certification agencies are available, and eligibility requirements vary for each. One of the top certification agencies is the National Healthcareer Association (NHA).
You can take the NHA's Certified Phlebotomy Technician (CPT) exam to earn certification. The exam determines whether or not you have the knowledge necessary to be an entry-level phlebotomy technician. It includes a collection of multiple-choice questions about:
Safety and compliance
Patient preparation
Blood collection practices
Special collections
Specimen processing
Other certifying bodies for phlebotomy include NCCT, AMT, and ASCP.
5. Keep up With Certification Requirements
Once you've earned your certification, you'll need to maintain it. Depending on the agency, maintaining ongoing certification may include an annual fee or further education. Keeping your certification will demonstrate commitment and improve your job prospects. Many workplaces will require you to maintain certification.
Skills Required for Phlebotomists
You need certain skills to do phlebotomist work, some professional and some interpersonal. In addition to the practical skills you'll learn in training, you should have the following characteristics to succeed in this career:
1. Attention to Detail
Like any medical professional, phlebotomists must pay careful attention to detail. Labeling, storing, and accessing blood samples or donations leaves no room for error, as even small mistakes could have serious consequences. For that reason, phlebotomists must be detail-oriented.
2. Compassion and Patience
Since phlebotomists work closely with patients, they must have strong interpersonal skills. Many patients are anxious before a blood draw. They might have questions and may need calming or distracting throughout the process. A phlebotomist should always be compassionate and patient. They should also pay close attention to their patients, watching for changes in their condition.
3. Communication
Along the same lines, communication is a key skill for any phlebotomist. They should be able to share important information with patients in a clear, understandable way. They should also be able to elicit accurate information from patients and others. In addition, phlebotomists have to communicate with doctors and understand a patient's medical records, which means they need to be able to interpret medical terminology.
4. Hand-Eye Coordination
Drawing blood can be complicated. It's essential for a phlebotomist to have good hand-eye coordination. For instance, finding a patient's vein on the first attempt avoids unnecessary discomfort and helps the patient feel safe.
5. Physical and Mental Strength
Phlebotomists must have adequate physical abilities and mental strength. They often need to stand for long periods of time, transfer patients with limited mobility, and perform other physical tasks. Physical requirements also include the ability to distinguish colors and textures. In addition, they must have the mental strength needed to handle stressful situations and provide patients with emotional support.
6. Ability to Multitask
Phlebotomists may have to work with dozens of patients on a given day, sometimes in a crowded or hectic environment. It's important for these professionals to be able to multitask without getting overwhelmed or confused.
7. Ability to Work on a Team
Phlebotomists are one member of a larger team, which may include nurses, doctors, faculty, and other professionals. You have to be a good team player to succeed as a phlebotomist. Communication and collaboration skills are a must.
Phlebotomist Career Outlook
Many individuals enjoy long-term, successful careers as phlebotomists. Others use their training as a phlebotomist to kickstart a different medical career. Here is some information about the job market for certified phlebotomists:
Number of Jobs and Job Market Outlook
There were 129,600 phlebotomy jobs in 2020, which means there's plenty of opportunities for phlebotomy professionals. Hospitals, clinics, and blood donation facilities all require phlebotomists. Diagnostic centers and laboratories also require phlebotomists with specimen processing training.
The job market for phlebotomists should grow by 22% by 2030, which is much greater than average. The average growth rate is only 8%, so phlebotomists will be in much higher demand than other professionals.
Multi-skilled Phlebotomists
Learning how to process specimens in addition to collecting them will give you a competitive advantage in the job market — most employers are happy to find multi-skilled professionals. It's best to find a training program that touches on both aspects of phlebotomy.
Future Opportunities
Many healthcare workers use phlebotomy training as a stepping stone in their career path. With additional training, they may become medical assistants or technicians. Training in phlebotomy can open doors for your professional career.
Phlebotomist Salaries
The average annual salary for a phlebotomist is $36,320, which comes out to about $17.46 per hour. This rate is competitive for entry-level jobs not requiring a postsecondary degree. Phlebotomy training can lead to higher-paying career opportunities, as well.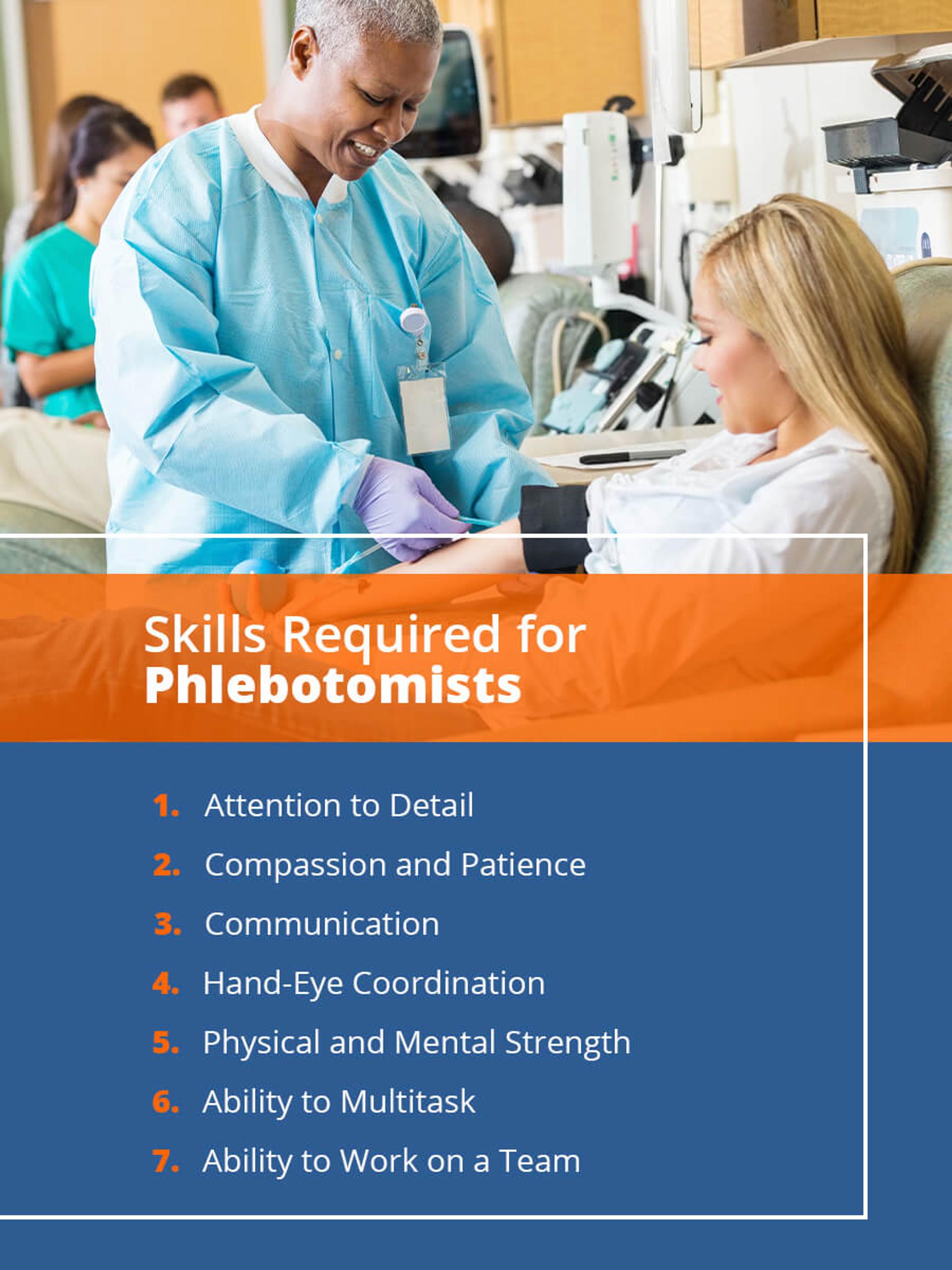 Phlebotomy Training in New Jersey
Phlebotomists are a necessary part of many different healthcare settings. They use various techniques to draw patients' blood for treatment, diagnostic, or donation purposes. Phlebotomists are often in high demand, so becoming one may be the right move for your career. You can receive all of the necessary training in as little as one month, which will make you eligible to take the certification exam. Once you've entered the field, you might use your phlebotomy training as a stepping stone into medicine.
If you're looking for phlebotomy training in New Jersey, consider the phlebotomy and specimen processing training program through AIMS Education. In as little as one to three months, you'll have learned all of the technical and professional skills needed for an entry-level position as a phlebotomist. You'll also learn about specimen processing, which will make you a more competitive candidate in the job market.
Here at AIMS Education, we've designed our programs to prepare students for a career in their chosen fields. We'll get you on the right track to take — and pass — a recognized phlebotomy certification exam. We offer a variety of non-degree certificate programs, which help students break into various career fields. To learn more about phlebotomy training or other program opportunities, contact us at AIMS Education today.