Patient Care Technician Career Paths and Job Outlook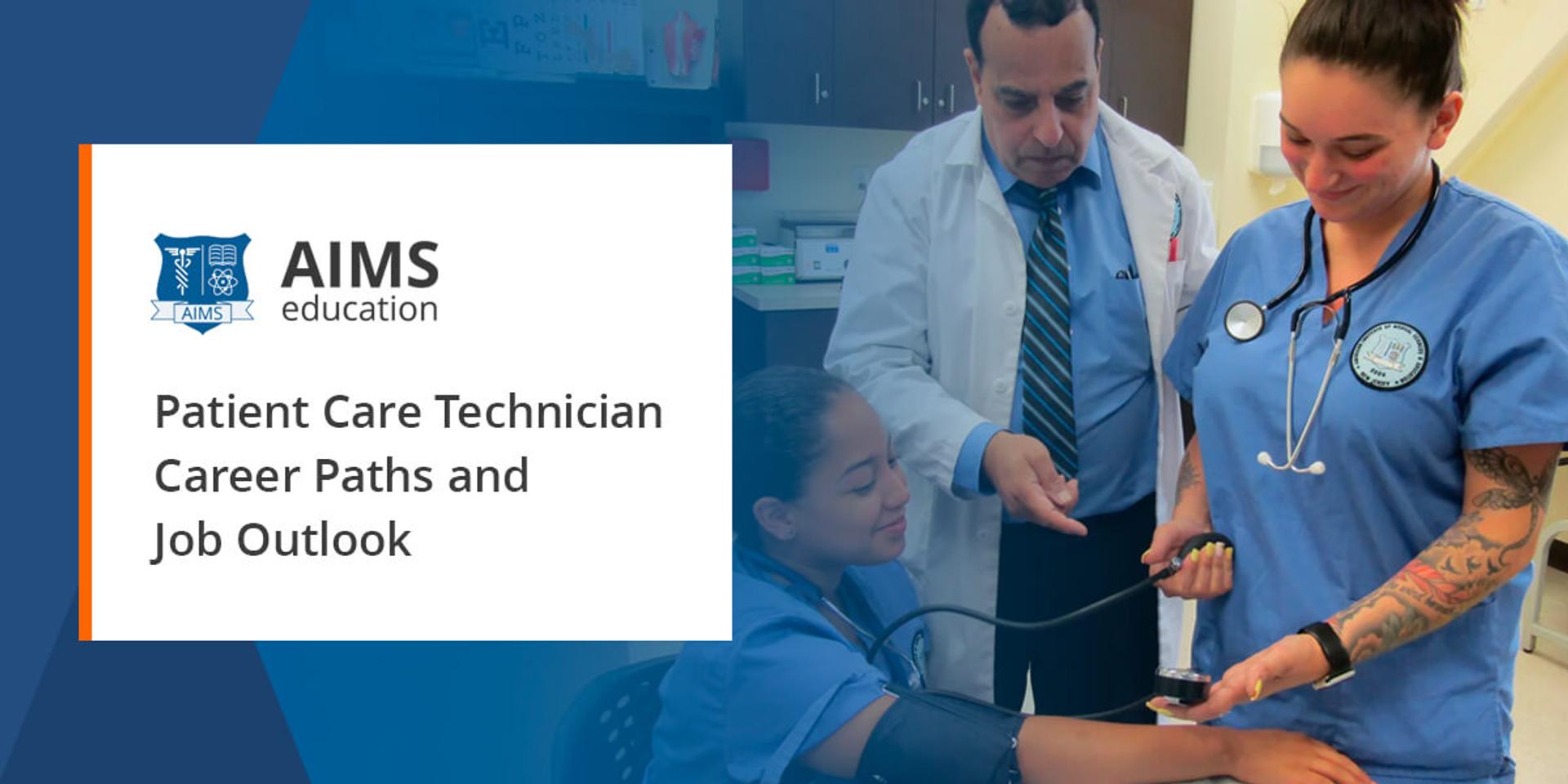 Becoming a patient care technician (PCT) can be highly rewarding and satisfying. People who pursue this career get to interact with many people daily, and directly impact patients' lives. Patient care technicians can choose among different career paths to find a rewarding job that aligns with their professional and personal goals.
With a wide range of skills to obtain, and unique responsibilities, becoming a PCT can take you down numerous paths. Learn more about patient care technician career paths and how you can start your career training with AIMS Education.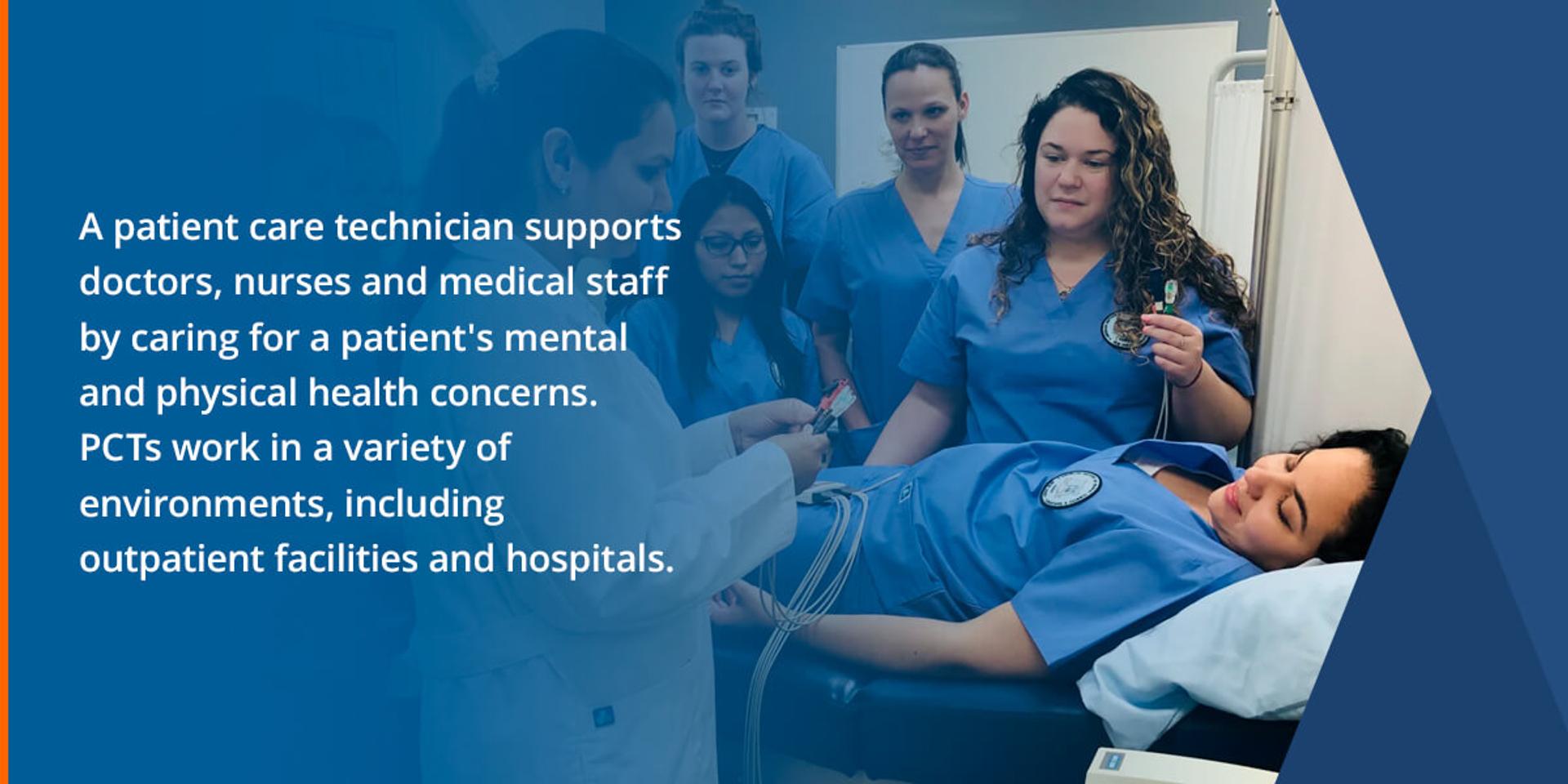 What Is a Patient Care Technician?
A patient care technician supports doctors, nurses, and medical staff by caring for a patient's mental and physical health concerns. PCTs work in a variety of environments, including outpatient facilities and hospitals.
PCTs work under the supervision of a large care team or nursing staff to complete an array of responsibilities, such as:
Escort patients to diagnostic imaging processes
Measure vital signs
Provide basic nursing care
Collect specimens
Assist in daily living activities
Monitor daily food intake
Check heart rate and blood pressure
PCTs positively impact lives daily and can build strong relationships with the patients they care for regularly. Patient care technicians also have many opportunities for professional growth. PCTs can continue their education and pursue a role that interests them and allows them to meet their career goals.
As a PCT, you can interact with multiple patients in a variety of ways and your responsibilities and duties can change to meet varying needs, so every day is different. Being a patient care technician is worth it if you want to make a positive impact on people's lives.


Skills You Need to Be a PCT
Patient care technicians possess a range of skills that are needed to perform their jobs. These positions require an attentive eye to ensure patients receive the care they need. As you complete your routine tasks and duties, you'll need to apply many skills at one time to ensure you work effectively and deliver the correct forms of assistance.
Some of the skills a PCT should possess include:
Problem-solving
Teamwork
Customer service
Technology
Documentation
Critical thinking
Patient communication
Time management


Patient Care Technician Career Paths
There are many areas that patient care technicians who work in New Jersey can specialize in. Some of these specialties include:
Phlebotomy: Learning how to draw blood from a patient is part of the standard training for a PCT. Patient care technicians might utilize this skill in a hospital, doctor's office, diagnostic lab, or blood donor center.
Dialysis technician: As a dialysis technician, you'll handle and sanitize equipment properly and pay close attention to patient behaviors during dialysis treatments.
Emergency room technician: This position is fast-paced and requires a calm demeanor. Emergency room technicians must be calm under pressure and able to respond quickly. They may collect samples, take medical histories, and perform exams.
Telemetry: PCTs performing this role note when a change of function occurs in electrocardiograms and waveforms. They must inform doctors and nurses if they witness a shift to ensure the patient gets the care they need.
Hospital patient care technician: In this position, you work regular hospital shifts and may be assigned to specific patients. You may help with catheters, IVs, gastric tubes, wound care, and monitoring vital signs.
Currently, the average patient care technician salary is just over $37,000 a year, with the top PCTs making nearly $55,000 or more. Depending on your specific position and where you're employed, you may see a difference in salary.


Patient Care Technician Job Outlook
As generations get older and need more medical help, PCTs can offer their experience and ensure every patient receives the care they need. Patient care technician positions will likely continue to grow, but knowing what to expect in the future is beneficial.
In general, healthcare positions are projected to grow 13% in employment by 2031. With the baby boomer generation aging, patients will continue to need medical assistance. Therefore, more medical field jobs will continue to open, and PCTs can expect to see more availability in the roles they're interested in pursuing.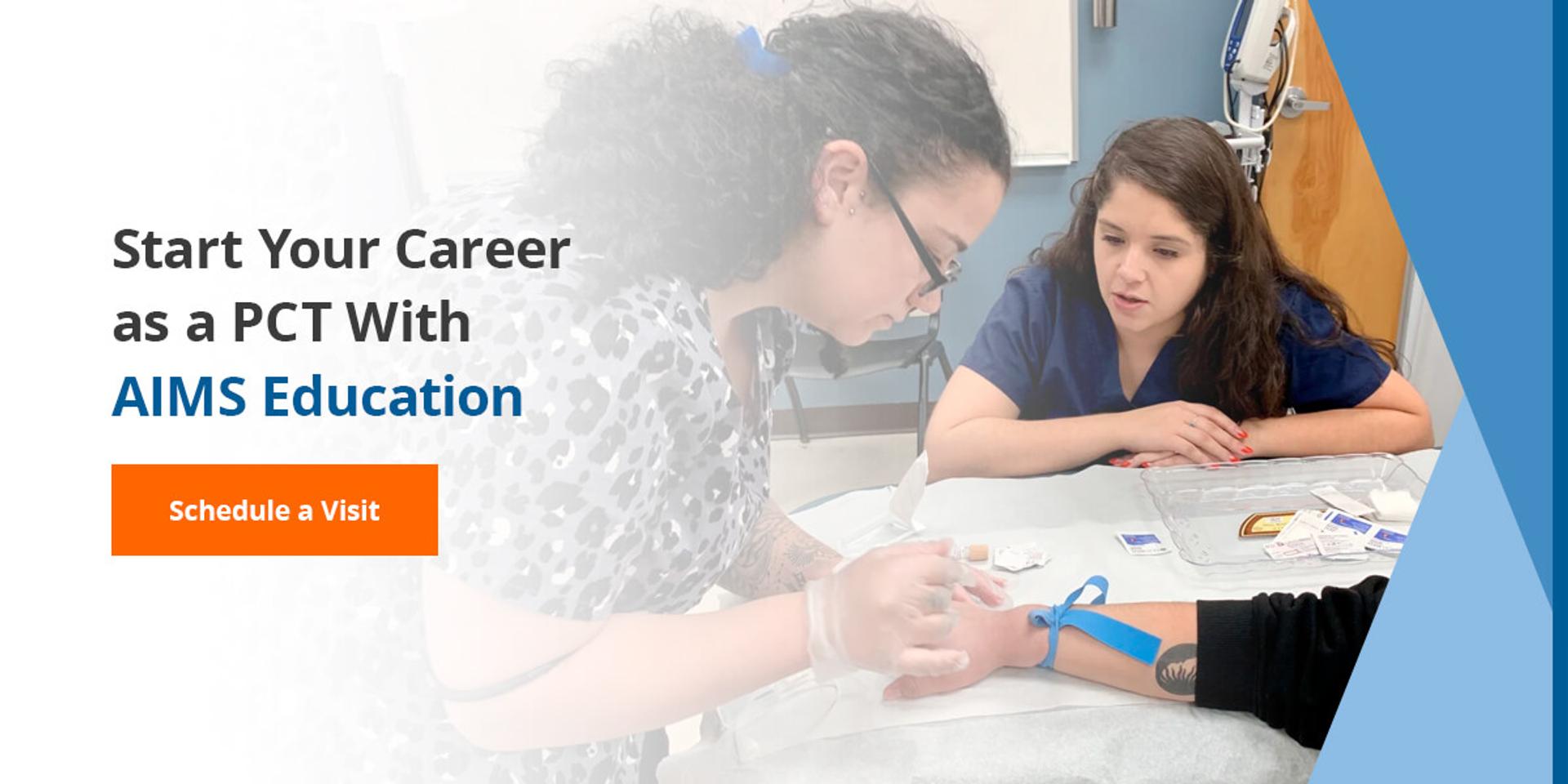 Start Your Career as a PCT With AIMS Education
AIMS Education is an accredited private career school located in New Jersey. From our start in 2004, we've been helping to train healthcare professionals and provide students with a foundation for a career in the medical field.
AIMS encourages professional growth and innovation, and our training programs thoroughly prepare students for their careers. We offer comprehensive training that helps students learn in effective and safe environments. We continuously monitor and evaluate our programs to ensure we stay on top of developments and fit every student's needs.
Our Patient Care Technician program utilizes lecture, lab, and clinical hours to create an all-encompassing picture for students. Throughout your learning experience, you'll develop a basic understanding of patient needs, such as oxygen, exercise, and nutritional requirements. You'll develop a vast array of skills which will allow you to collect specimens, measure vital signs, and provide patient care.
Students enrolled in the Patient Care Technician program at AIMS will gain practical experience that reflects modern workplaces and matches the demands of the current job market. We operate with small class sizes, modern laboratories, and up-to-date equipment, so you can gain real experience with the technology and people you'll be working with in your career.
You can achieve many things as a PCT, and we want to help you start your career on the right foot. AIMS graduates thrive in all facets of the healthcare industry. Request more information about our program today to start working toward your fulfilling career.