Occupational Guide: Surgical Technologist
February 27, 2013
A well-informed student is as crucial to the labor market as the well-informed electorate is to the prosperity of a nation. Before enrolling in higher education, one must consider several key issues that will determine whether a particular specialty and its accompanying career occupation are a good fit. Being aware of some essential issues will help avoid potential disappointments when making a crucial career decision.
Here, we will explore the surgical discipline and what it means to become a surgical technologist.
The Surgical Department
To fully understand a particular allied health care occupation, we must first place it within the context of contemporary medicine.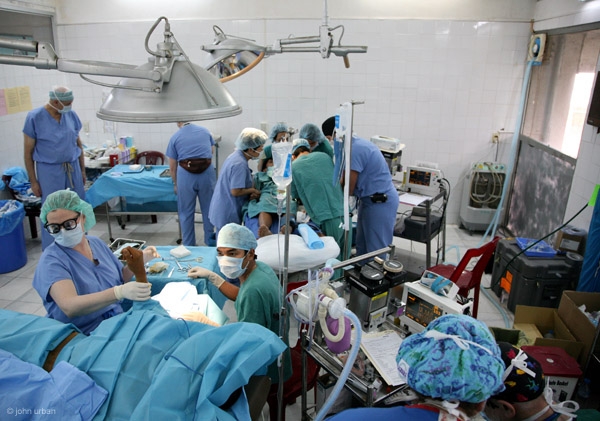 ReSurge International / Foter.com / CC BY-NC-ND

Surgical care is an essential component of health care worldwide. As incidences of traumatic injuries, cancer and cardiovascular disease continue to rise, the impact of surgical intervention on public health systems will also grow.
Surgery is a dramatic, high-stakes and intense field of medicine in which the importance of teamwork cannot be over-stated.
The Operating Room – Who's Who?
People rarely put any thought into who is actually present in the operating room during a surgical procedure. It may surprise most people but it takes a large staff to perform even the "simplest" of surgeries. The surgical team generally consists of the following professionals:
♦ Primary surgeon is the physician who performs your surgery and is responsible for your overall care.
♦ Second surgeon is the physician who "scrubs in" to assist your primary surgeon.
♦ Surgical assistant is a medical practitioner with surgical training, often employed by the surgeon.
♦ Surgical technologist is an allied health care professional who assists in the preparation & performance of the surgical procedure.
♦ Anesthesiologist is the physician who is responsible for the patient's medical care while under anesthesia.
♦ Nurse anesthetist is a nurse who assists in administering anesthesia.
♦ Scrub nurse is a nurse who scrubs in to assist surgeons with sterile procedures at the operating table.
♦ Circulating nurse is the nurse who is responsible for non-sterile tasks in the operating room.
♦ Holding room nurse is the nurse who receives patients and prepares them for surgery in the preoperative area.
♦ Recovery nurse is the nurse who cares for patients in the post-anesthesia care unit after surgery.
Surgical Technologist – Education & Career Overview
The surgical technologist plays a key role before and during surgery. Before an operation, surgical technologists prepare the operating room by setting up surgical instruments and equipment. They are also involved in preparing patients for surgery by disinfecting incision sites, positioning patients on the operating table and covering patients with sterile drapes. Surgical technologists prepare sterile solutions used in surgery and check that all surgical equipment is working properly. During the procedure, surgical technologists pass instruments and supplies to surgeons and first assistants.
Doctors and nurses rely heavily upon operating room technologists to ensure that the patient's surgery goes smoothly.
Education
Surgical technologists need to acquire a post-secondary education, like completing a training program in surgical technology. Programs range in length and grant a certificate or associate degree. Admission typically requires a high school diploma or equivalent.
The training curriculum for surgical technologists includes courses in anatomy, biology and medical terminology, among others. Students also work in supervised clinical settings to gain hands-on skills as technologists. In addition, technologists are trained in the care and safety of patients and sterilization techniques as well as preventing and controlling infections. Part of a surgical technologist's training includes hours of clinical rotation and gaining practical experience.
Licensing & Certification
There are two primary organizations that oversee certification in the surgical technology field. The National Board of Surgical Technology and Surgical Assisting (NBSTSA) administer the CST examination. Candidates who pass the exam are declared Certified Surgical Technologists.
Certification can also be achieved through the National Center for Competency Testing (NCCT). Those who pass the NCCT certification exam receive the Tech in Surgery - Certified TS-C credential.
Necessary Skills and Qualities
The standard for performance in the operating room is set high, and there is little to no tolerance for careless mistakes or inattentiveness. Surgical technologists, along with all other operating room personnel, learn to manage stress and thrive within these expectations. While much of this is gained from experience, solid organizational skills are required from day one. The surgical technologist must always remain focused and attentive to details. And above all, teamwork and professionalism are an absolute must.