Medical Assistants vs. CNAs: Who Has the Better Job?
December 6, 2019
Updated: February 18, 2022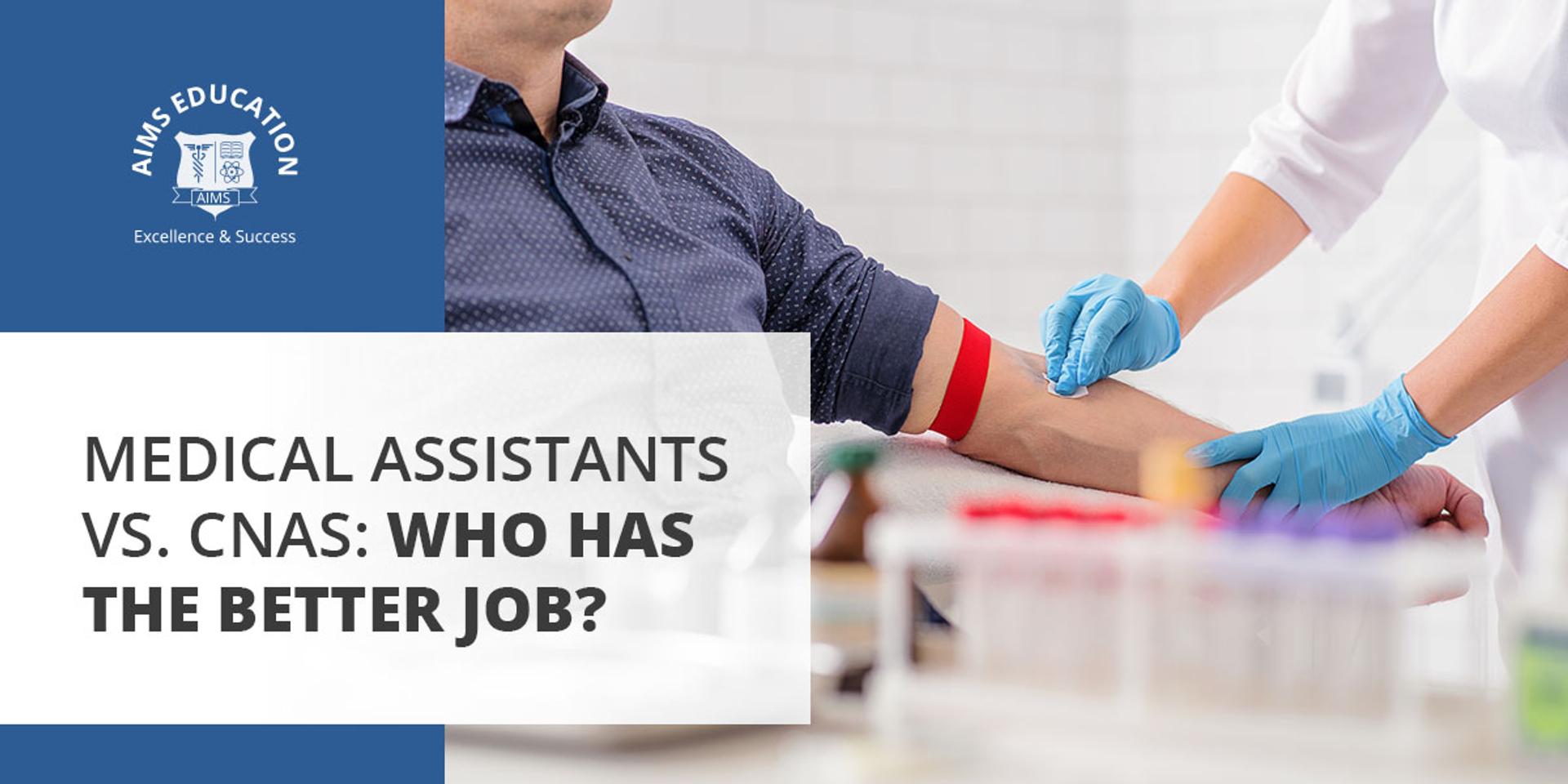 You've probably seen medical assistants (MAs) and certified nursing assistants (CNAs) at clinics, hospitals, or caring for family members at assisted living facilities. Though they may have similar job descriptions, when you get past the basics, they're incredibly different healthcare careers.
Whether you already have hands-on experience in healthcare – or are considering a career change – discover whether medical assistant training or CNA training is best for you!
Table of contents:
What Does a Medical Assistant Do?
It might be easier to ask what a medical assistant doesn't do! As an MA, you'll be in charge of preparing patients to see a doctor, including assembling a patient's medical chart, drawing blood, sanitizing exam rooms, and sterilizing/organizing medical equipment.
Other common MA duties might include checking vital signs and performing basic physical examinations. The major difference between an MA and CNA is their ability to handle desk duties and administration.
A clinical medical assistant may be asked to answer the phone, schedule appointments, fill out a patient's medical information, and document and compile charts for the doctor to work from. This tends to take MAs away from hands-on patient care, which comprises the majority of a CNA's daily routine.
CNA Job Description
Certified nursing assistants work less with doctors and more directly with nurses. This is why they're also referred to as "nursing aides". CNA duties relate directly to hands-on care and patient support, but they wear many hats throughout any regular working day.
What is a Certified Nursing Assistant?
Certified nursing assistants go by almost as many names as the roles they play within the medical industry. You may know them as a nursing assistant, nursing aide or patient care assistant (PCA). They practice under close supervision from registered nurses (RNs) and licensed practical nurses (LPNs).
When nurses become overwhelmed with their patient load, a CNA's job is to ensure patients have eyes on them as often as possible. Nursing assistants check vitals, perform examinations and talk to patients to make sure everything is going as planned. They report any changes in patient vitals to their RN or LPN, who can help determine whether the patient needs further treatment or to speak with a doctor.
You'll likely find most CNAs in rehabilitation programs, long-term residential facilities, adult day care centers and sometimes hospitals when someone is needed to serve as an in-between for nurses and patients. Outpatient clinics and smaller practices often don't have as much a need for CNAs as other facilities. However, the U.S. Bureau of Labor Statistics expects the demand for trained CNAs to increase by about 8% in the next decade.
What does a Certified Nursing Assistant do?
The exact duties of a CNA depend on the state they're practicing in, as each state has different requirements to qualify and various expectations for their CNAs. Furthermore, the responsibilities expected of CNAs will almost certainly change based on where they choose to practice and the demand for CNAs in that location.
Being a CNA requires a lot of patience and compassion, as they're often dealing with sick or injured people. Since much is expected of these professionals, organization, flexibility, good time management and attention to detail are major benefits as well. Having the physical strength to help patients move and adjust is also essential.
CNAs are typically on the lower levels of the "food chain" in the medical profession, primarily because their work requires far less training than most roles in medicine. Many people use their position as CNAs as a stepping stone. They'll start as a CNA to gain experience in their desired field, then climb the ladder towards becoming a nurse or another high-level healthcare professional.
A typical shift may involve responding to patient calls, providing direct care (e.g. toileting, bathing, feeding), changing linens, helping patients with physical activities, reviewing food consumption, and tracking inputs and outputs.
CNAs are responsible for patient safety, which means they must closely observe and monitor patients' pulse, temperature, blood pressure, and even behavioral changes.
These healthcare professionals should take preventative measures (like repositioning patients to avoid bedsores) but must report to their overseeing nurse if they encounter any medical changes like blood pressure and urine output.
Prospective MAs might be able to work without any formal education, and can even receive on-the-job training from their employer. Each state has its own medical assistant requirements, but a lack of formal training will likely result in lower salary offers.
Medical Assistant Certification
The most common medical assistant training is an MA certificate program. Accredited medical assistant training courses are held at thousands of community colleges throughout the country. Some colleges may offer online medical assistant programs and nursing assistant programs, but accredited courses are recommended as they require the completion of a guided internship.
Medical assistant training can take less than one year to complete, so if you're looking for a short certificate program that pays well – look no further!
Medical Assistants Specializations
Future MAs might not be sure if they should specialize in a particular field (like OB/GYN or cardiology). With real-world experience, allied health professionals typically discover the sectors that appeal to them.
Medical Assistant Associate Degrees
Though MA associate degrees take between 18-24 months to complete (and cost significantly more than medical assistant certification programs), graduates have more training and a much more competitive resume.
How to Become a Certified Nursing Assistant
Every state has its own CNA training requirements, so check local regulations before enrolling in a program. Technical schools, community colleges, local health providers, and the American Red Cross courses typically last from 1-4 months.
After training, you're required to take your state examination (which includes practical and clinical questions). Because you'll be working with controlled substances and at-risk patients, your state may require a background check and annual education credits.
For the most competitive resume, CNA classes should require a real-world internship. This will provide the necessary skills that show prospective employers you can hit the ground running.
No Matter the Healthcare Sector, One Thing Is Certain...
Whichever healthcare career you choose, understanding what training programs offer will help you discover what your strongest skill sets are. Investing time in your education should result in greater job satisfaction, too.
CNA vs. MA Salaries
In 2020, the Bureau of Labor Statistics determined that the average medical assistant pay was $35,850 per year (just over $17 per hour). Conversely, the average certified nursing assistant pulled in around $30,830 annually (over $14 per hour).
The difference in these incomes is credited to more involved medical assistant training, as well as the high demand for allied health careers. In fact, from 2018 to 2028, employment projections state the medical assistant field is expected to grow by a whopping 23%, compared to a healthy (but considerably smaller) growth rate of 9% for CNAs.
Where Can MAs and CNAs Work?
If you prefer to work more directly with patients, a CNA role might be a great fit for you. CNAs generally work in hospitals, nursing homes, and rehabilitation and hospice centers. Medical assistants have an even greater selection of job opportunities in a wider variety of work environments (especially private practices, clinics, and care facilities).
Private clinics might suit an MA better than fast-paced hospitals, and a smaller team also provides an ability to work in both the clinical and administrative fields. For people who prefer a slightly more unpredictable list of tasks each day, becoming a medical assistant might be a great idea.
MA vs. CNA: Weighing the Pros and Cons
Both MA and certified nursing jobs are crucial to supporting patients who need care and attention. Whether you're checking their temperature, fixing their chart, helping them take their first steps after surgery, or navigating the insurance process for them, it's endlessly rewarding work.
Take the First Step Toward Becoming a Medical Assistant!
If you've set your sights on a medical assistant career – and are currently living in the New Jersey area – jumpstart your education. Check out the AIMS Education medical assistant certification program to get started!
Check out the AIMS Education medical assistant certificate program to get started