Medical jobs have always been in demand. According to the Bureau of Labor Statistics occupational outlook handbook, jobs within the field of healthcare will expand even more over the next 10 years. This growth is projected to add 1.9 million new vacancies and thus increase employment by 14 % in the upcoming decade. Among the medical specialists expected to be in high demand, are surgeons, physicians, and physical therapists.
Medical careers, however, do not refer only to M.D.'s. Allied healthcare practitioners are another group of medical specialists that are in high demand.
The field of allied healthcare is rapidly expanding. It includes a wide range of career options that don't require a medical degree. We've put together a list of the sectors and relevant careers offering the best opportunities in terms of job outlook and salary.
Cardiology Careers
Cardiology includes many medical specialties, among which a number of allied health occupations. Cardiovascular technologists, diagnostic cardiac sonography and cardiac monitor technician are some of the professions with the best career prospect within the field. Cardiovascular techs are allied health professionals who support physicians in diagnosing heart and vascular disease. They use imaging technology to help physicians diagnose cardiac (heart) and peripheral vascular (blood vessel) ailments in patients. They also help physicians treat problems with cardiac and vascular systems, such as blood clots.
The overall sector growth is estimated at 14% which is much faster than average and resulted in adding about 130,700 new jobs in 2018.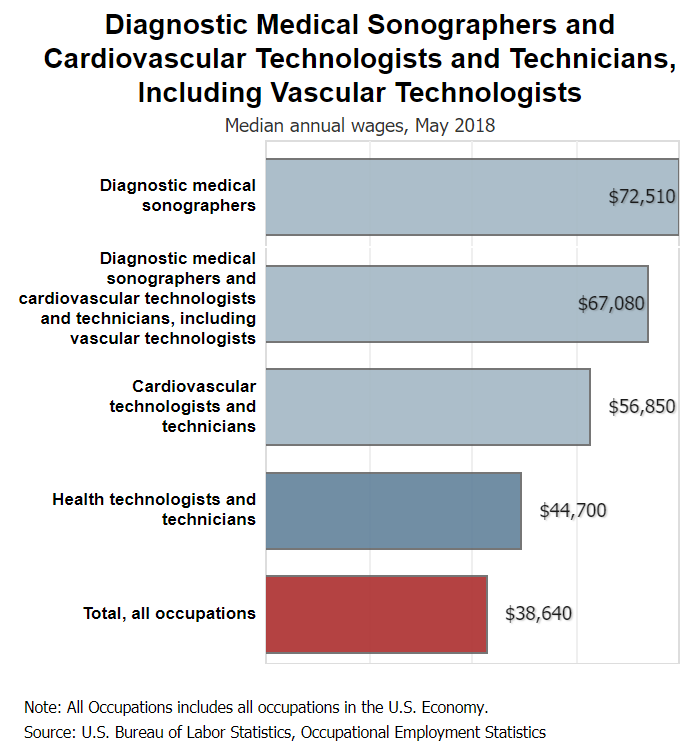 Cardiovascular Technologists
There are several ways to become a cardiovascular technologist. Although some technologists and technicians are trained on the job, the most common path is formal education, leading to a certificate or an associate's degree. Many employers also require professional certification.
Programs include coursework in either invasive or noninvasive cardiovascular or vascular technology. Most programs also include a clinical component in which students earn credit while working under a more experienced technologist in a hospital, physician's office or imaging center.
As imaging technology evolves, medical facilities will use it to replace more invasive, costly procedures. This will lead to major job openings in the field. According to the Bureau of Labor Statistics, the employment of cardiovascular technologists is expected to grow by 7% from 2018 to 2028 with a projected median salary of $56,850 for the same period.

Diagnostic Cardiac Sonographers
These highly skilled professionals use specialized ultrasound equipment to record visual images of the heart. This training program includes doppler echocardiography, EKG techniques, stress tests, and Holter monitoring. You would need less than 2 years to complete this course as 700 clinical hours are required prior to graduation.
Demand for qualified cardiac sonographers has been increasing rapidly and is expected to grow by BLS with an impressive 19% by 2028. The median salary of those specialists is estimated at $72,510 as of May 2018. This is much higher than the average salary across all occupations in the US.

Cardiac Monitor Technicians
Monitor Technicians, also referred to as EKG or ECG Technicians, use non-invasive technologies like Holter monitoring, EKG, and stress tests to accurately diagnose cardiovascular conditions, irregularities, and diseases. The Bureau of Labor Statistics estimates 14% of growth until 2028, which suggests strong employment opportunities within the field.
The educational program offers an advanced form of EKG training and takes between 3 and 6 months to complete. On successful fulfillment of classroom and lab hours, you would be required to complete a mandatory 80-hour clinical internship. You will learn how to perform 12-Lead and 15-Lead EKGs, monitor EKG machines, and interpret EKG/ECG readouts and look after the equipment.

Allied Healthcare Careers in Neuroscience
Neuroscience is a multidisciplinary branch of biology combining various disciplines to study the nervous system and the human brain. The field offers some great opportunities for allied healthcare professionals who can work as neurodiagnostic technologists and secure an overwhelming salary and career.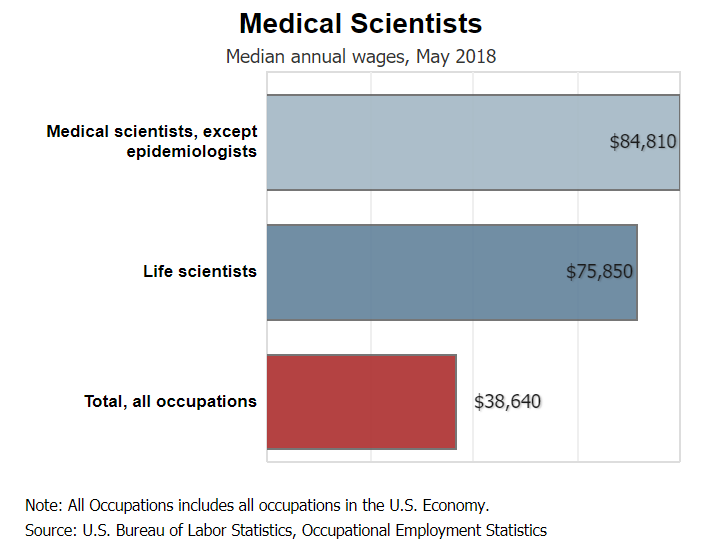 Neurodiagnostic Technologists
Neurodiagnostic technologists, also known as NDTs or electroneurodiagnostic technologists, use sophisticated equipment and technology to study electrical activity and impulses in the brain. Their work helps doctors diagnose conditions like traumatic brain injuries, Alzheimer's, and sleep disorders.
The Bureau of Labor Statistics reports a median annual wage of $84,810 for neurodiagnostic technologists but that is not the best advantage of this job. These allied healthcare specialists also enjoy amazing employment opportunities and can work in hospitals, outpatient clinics, neurologists' offices, sleep labs, research facilities, and even medical sales companies.
The employment within the field is expected to grow with 8% which, similarly to other allied healthcare jobs, is much faster than average.
The length of the neurodiagnostic technologists training program is usually between 14 and 17 months. It is a great option for students interested in becoming EEG Technologists. In addition to the intensive classroom instruction and practical experience in a lab setting, candidates are required to complete a clinical internship.

Pharmacology Careers
Pharmacology is the branch of pharmaceutical sciences that studies drugs and medications. It offers great opportunities for both medical and allied health workers. If you are interested to work in a number of different settings, develop new medicines and provide advice about them, this field is perfect for you. The relevant allied healthcare professionals enjoy successful careers achieved just after 9 months of studying.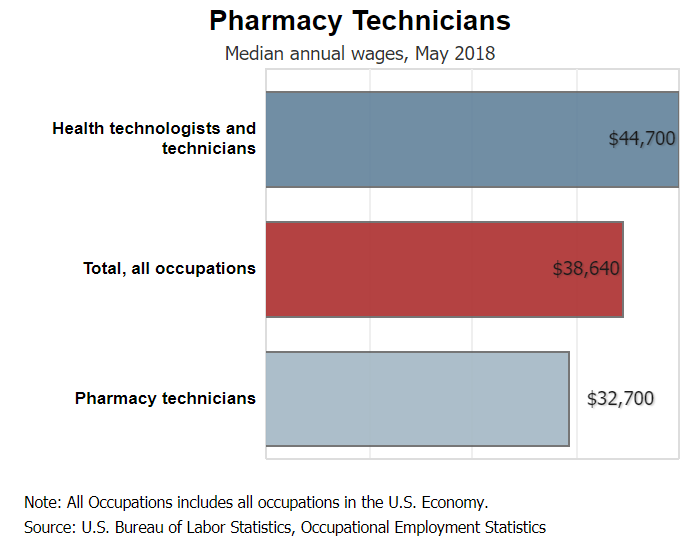 Pharmacy Technicians
Pharmacy Techs help licensed pharmacists dispense prescription medication. They also work in retail pharmacies and hospitals. Pharmacy technicians work under the supervision of pharmacists who must review all prescriptions before they are given to patients.
Becoming a pharmacy technician usually requires a high school diploma or the equivalent. Requirements usually vary by state. Most require candidates to have passed an exam or completed a formal training program.
The Pharmacy Technician training typically lasts one year or less and covers a variety of subjects, such as arithmetic used in pharmacies, recordkeeping, ways of dispensing medications and pharmacy law and ethics. Technicians also learn the names, actions, uses, and doses of medications. Many training programs include internships or externships in which students get hands-on experience in a pharmacy.
The job outlook suggests that the employment of pharmacy technicians is expected to grow by 7% from 2018 to 2028 as a result of advancement in pharmaceutical research and the growing number of senior citizens.

Radiology Medical Careers
Radiology is another medical discipline that uses imaging instruments to diagnose and treat diseases. Diagnostic medical sonographers and MRI technologists are the most common allied health professions within this field. Similarly to diagnostic cardiac sonographers, they use specialized equipment to perform imaging scans of internal body structures and help accurately diagnose patients. In addition to outstanding job outlook, they enjoy high salaries and fast job growth.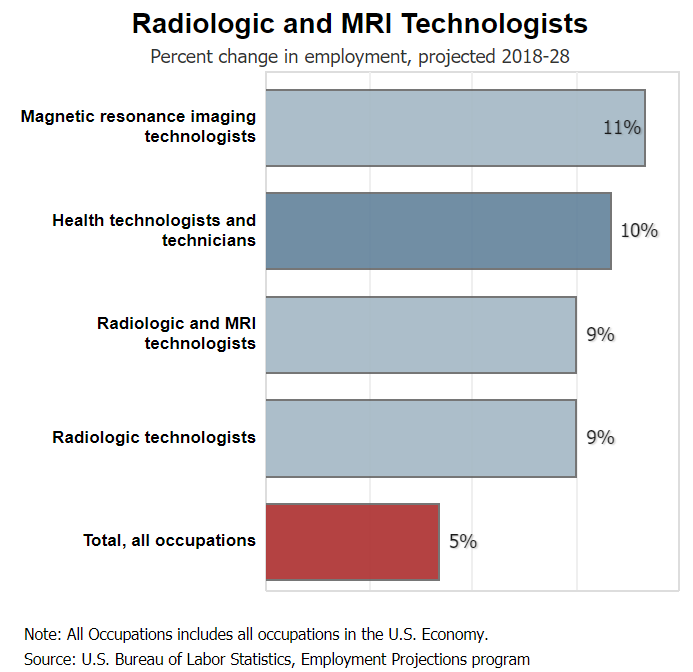 Diagnostic Medical Sonographers
Ultrasound Technologists, or Diagnostic Medical Sonographers, use diagnostic imaging technology to provide the most detailed images of what's really going on inside of patients, from blood flow to soft tissue structures (like the liver, bladder, or appendix).
The DMS training programs prepare students to use ultrasound equipment to create images of internal body structures used for diagnoses. Once the required classroom instruction, hands-on training, and a clinical internship are completed, all graduates should be eligible to sit for the ARDMS examinations.
Unlike other allied health programs that can be completed within 2 years, this one takes about 29 to 36 months. You will, however, leave prepared for a high demand job market which is expected to continue to grow well into the future. The Bureau of Labor Statistics estimated a median annual wage of $72,510. They predict a 14% growth in the following decade and thousands of new job openings.

MRI Technologist
MRI Techs prepare and position patients for MRI procedures and gather images of their patients' internal structures by using computerized magnetic resonance imaging scanners. The job outlook for MRI Technologists is excellent. According to BLS their average salary for 2018 was $61,240 and 9% growth is projected for the following 10 years.
Approximately 26 months are required to complete the MRI Technologist program. Graduates are eligible to sit for the ARMRIT national certification exam for magnetic resonance imaging.

Working in Surgery
Allied health professionals in the field of surgery are usually surgical technologists who prepare operating rooms, arrange equipment, and help doctors during surgeries. Employment opportunities for these professionals are growing alongside their salaries.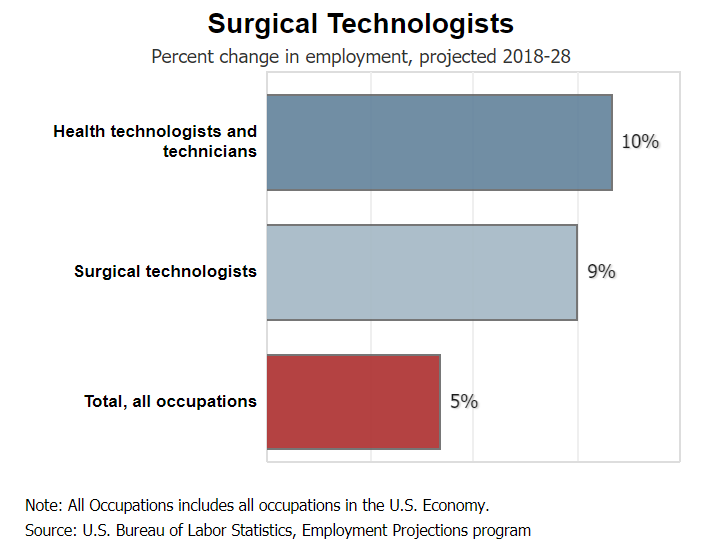 Surgical Technologists
These medical professionals work alongside physicians and surgeons, registered nurses and other healthcare workers. Also known as operating room technicians, surgical technologists assist in surgical operations by preparing the operating rooms and arranging equipment as well as helping doctors and nurses during surgeries. Surgical technologists typically need a postsecondary certificate or associate's degree.
Certification is also required for finding a position. Surgical technology education includes courses in Anatomy & Physiology, Medical Terminology, and other related topics. Students work in supervised clinical settings to gain hands-on skills as technologists. Surgical technologists are trained in the care and safety of patients and sterilization techniques as well as preventing and controlling infections.
According to the Bureau of Labor Statistics, employment of surgical technologists is expected to increase 9% from 2018 to 2028. This is largely due to advances in medical technology that have made surgery safer and more cost-efficient.

Sterile Processing Technicians
A program will provide you with the knowledge and skills required to work as an entry-level sterile processing technician. Your primary responsibility of a sterile processing tech is to help maintain a clean and sterile healthcare environment. This is primarily achieved through the process of decontaminating and sterilizing all surgical instrumentation and equipment.

650 clock hours are necessary to complete the program. The day program can be completed in approximately 9 months while the evening one can be completed in approximately 11 months. You will graduate prepared to work in various settings and work environments offering a secure career and salary.

Endoscopy Technicians
Endoscopy Technicians are another group of allied health workers who can get certified for less than 1 year. Students enrolled in this program will learn how to assist in a variety of endoscopic procedures. The program will provide them with the knowledge and skills required to work as an entry-level endoscopy technician.
Upon completion, 300 hours of clinical internship are required. This course is definitely worth the effort having in mind that you will then be able to build a career in many different fields. Endoscopy technician, flexible endoscope reprocessor, endoscopy specialty technician, gastrointestinal technician (GI technician) are some of the job titles you can apply for.

Clinical Jobs
Clinical jobs in hospitals and healthcare facilities are often performed by allied healthcare professionals. They include medical assistants, EKG and phlebotomy technicians.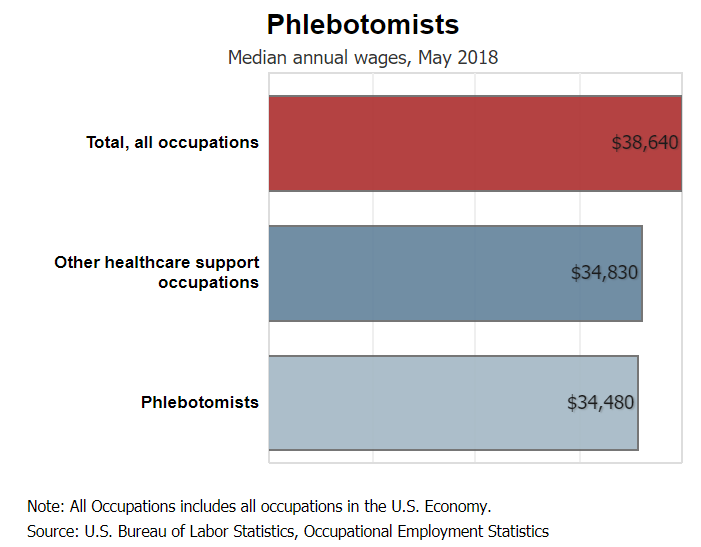 Medical Assistants
They complete administrative and clinical tasks in the offices of physicians, podiatrists, chiropractors, and other health practitioners. Their responsibilities often include detailing the patient's history and measuring vital signs, helping the physician with patient examinations, scheduling patient appointments and preparing blood for laboratory tests.
Although there are no specific educational requirements for becoming a medical assistant, the majority of employers require formal training. In most states, medical assistants graduate from formal education programs that lead to a certificate or diploma.
According to the Bureau of Labor Statistics, employment of medical assistants is expected to grow by 23% from 2018 to 2028 due to the growth of the aging baby-boomer population. The aging population will spur demand for preventive medical services and in turn, physicians will hire more assistants to perform routine administrative and clinical duties, as their practices expand.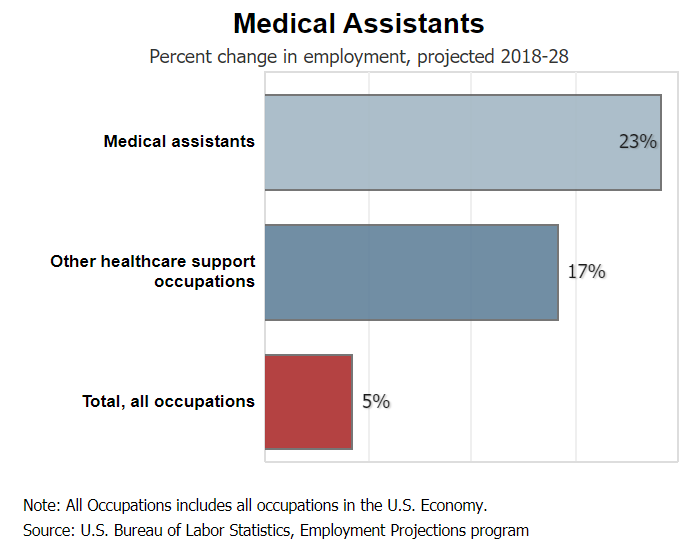 EKG/Phlebotomy Technicians
This is another group of clinical allied healthcare workers who can enter the medical field after short term training. The primary responsibilities of Phlebotomy professionals will involve drawing blood and/or performing EKG tests, taking vital signs, monitoring EKG machines, and preparing EKG study reports.
There are various programs designed to prepare you to become a skilled entry-level healthcare technician. You can choose between some combined EKG and phlebotomy training taking between 2 and 6 months to complete, and phlebotomy technician programs which can only take a month. Both are teaching students the practical skills necessary to start a career in healthcare.
Upon successful completion, graduates will be able to seek employment as electrocardiography and phlebotomy technicians. They will have fantastic career opportunities since the projected sector growth during the next decade is 23%. This is a number much higher than usual for both healthcare and other occupations. What's more, phlebotomists were paid $38,640 per annum in 2018 which is also a very good figure having that the training takes just a few months and won't be a challenge for your income.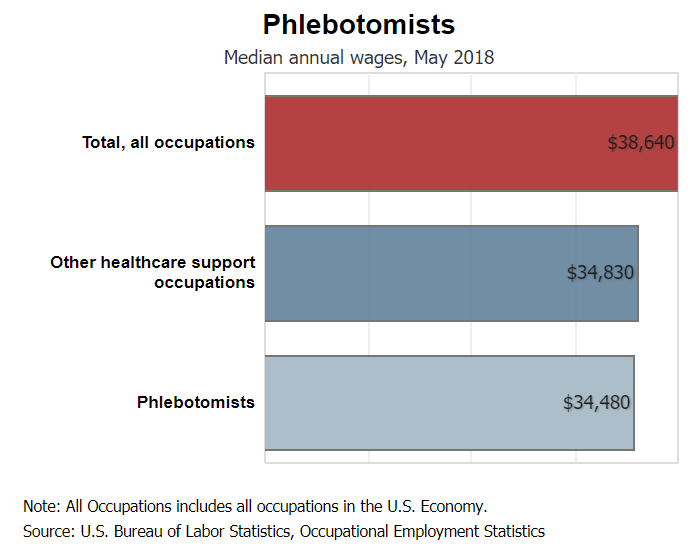 Administrative Jobs in Healthcare
Similarly to clinical jobs, the administrative positions are frequently fulfilled by trained allied healthcare professionals. They perform various tasks, among which keeping medical records up to date, entering patient information in the system, organizing and managing health information data, and taking phone calls.
You can undertake a Medical Billing and Coding training that will prepare you for the relevant job responsibilities. It usually lasts less than 1 year to graduate from such a program. Upon completion, you will be able to work in a number of different settings among which doctor's offices, pharmacies, hospitals, and emergency departments.
Based on existing research, the salary of administrative medical staff is over $40,000 as the 2018 figure reported by BLS is $41,800. The projected growth of 11% is another good reason to consider a career in this field.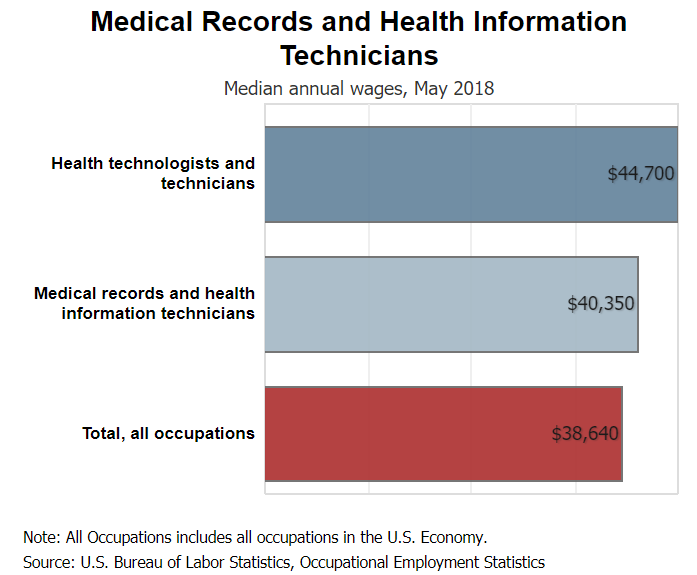 If you are interested in a career in allied healthcare and want to shortlist the best opportunities based on salary and job outlook, make sure to consider these 14 top-paying allied health careers.