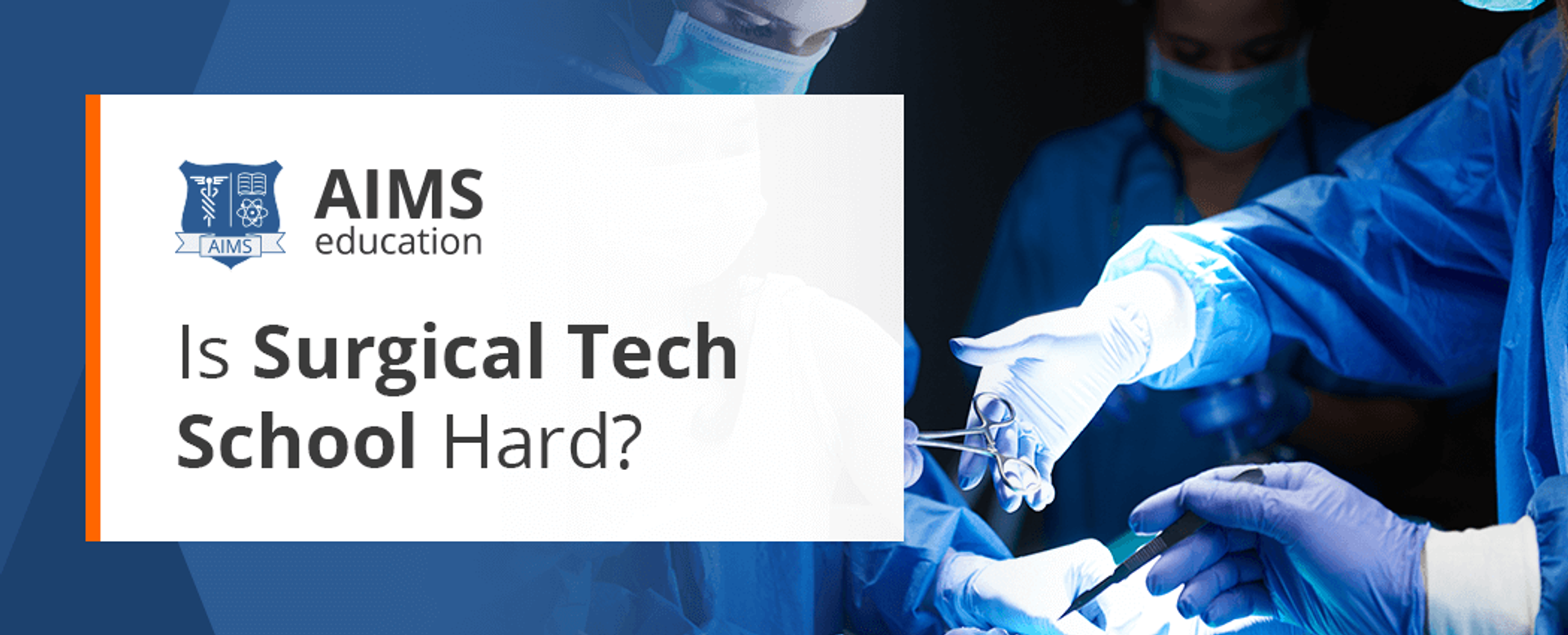 Surgical technologists play an essential role in the allied health field. While they aren't doctors, they keep patients safe by maintaining a sterile field and giving surgeons the tools they need to do their job.
Becoming a surgical tech isn't as difficult as becoming a doctor, but you can expect to invest time and effort in higher education. As of 2021, around 95% of surgical techs had at least some college experience. So exactly how long does it take to become a surgical tech? And is surgical tech school hard?
We'll answer these questions and outline what it takes to be a good surgical tech below.

What Is Surgical Tech School Like?
The right surgical tech school will teach you the necessary skills to make you a capable allied health worker and give you a leg up on your competition. Before you start your academic journey, there are a few factors that school may consider regarding your surgical tech application, including:
Your highest level of completed education
Your overall GPA
Whether you have healthcare experience
Letters of reference
Entrance exam scores
Results of your entrance interview
So, how long does it take to become a surgical tech? The answer to this question depends. It can take as little as 12 months for a certificate or two years for an associate degree.
After getting accepted to a school, the surgical tech requirements will involve the following:
First-rate instruction on surgical tech duties: These duties might include preparing operating rooms for surgery, maintaining sterile environments, distributing surgical instruments to the surgical team and more. You'll also study preoperative and postoperative patient care at this stage of schooling.
Complete your surgical tech education requirements: Students will get experience through a mandatory clinical internship after completing lab and classroom hours. You'll get paired with a field expert and receive hands-on experience with actual surgical team members. Some internships can even result in students getting hired at the same hospital.
Pass your surgical tech certification: Students will be eligible to take a certification exam after completing their classroom and internship hours. The two most recognized certifications for surgical techs are the Certified Surgical Technologist exam offered by NBSTSA and the certified TS-C exam provided by the National Center for Competency Testing (NCCT)
It's also essential that you consult with your school and certifying bodies to help you understand the eligibility requirements.

How Hard Is Surgical Tech School?
Students often wonder how hard surgical tech school is, and the answer to this question depends on the person. For instance, if you have prior experience in the healthcare field, the difficulty level outside of class might be pretty low. On the other hand, if you're not so great with manual dexterity, the job could be challenging at first since you'll be handling surgical instruments in environments that are sometimes very stressful.
It's also essential to consider in-class surgical tech requirements, which can be challenging for some students. Expect courses like medical terminology, anatomy and physiology, patient care, microbiology, surgical pharmacology, as well as your major surgical technology courses. Essentially, you'll gain in-class knowledge needed for the real-world profession.
What Skills Are Needed to Be a Good Surgical Tech?
Surgical techs will need specific skills to make it through training and certification, though you can certainly cultivate them in school as well.
Surgical tech requirements include:
Manual dexterity: Manual dexterity is essential as a surgical tech since you'll need to quickly pick up small tools and instruments and give them to doctors without dropping them. You can get practice through hobbies like model-building or even jewelry-making.
Physical stamina and endurance: You'll also need to develop your physical stamina and endurance. Surgical techs spend long hours on their feet, staying alert in ever-changing situations. This skill is vital so that you can also act quickly and accurately. You might be exposed to communicable diseases, unpleasant sights, and odors. You might also have to assist in moving, lifting, or positioning unconscious patients.
Stress management: You'll also have to know how to work well under stressful situations and emergencies. Meditation and deep-breathing exercises are great tools to help you stay calm under pressure.
Work well with others: You'll work in close proximity to other team members for long periods of time. For this reason, you'll want to know how to work well with others, communicate well, and stay calm under pressure. It's also important to show empathy and professionalism for patients and team members as an allied health professional.
Short- and long-term memory: You must possess short- and long-term memory to sufficiently perform tasks like mentally tracking surgical supplies, among others.
Is the Surgical Tech Exam Hard?
So how hard is surgical tech school to pass? The difficulty of the surgical tech exam will vary depending on the student. Students will have an easier time completing it by studying the topics covered on the exam and attending certification exam review classes.
The test consists of questions in the following areas of focus:
Perioperative care: Including preoperative, intraoperative, and postoperative procedures.
Ancillary duties: Including administrative, personnel, and equipment items.
Basic science: Including anatomy and physiology, microbiology, and surgical pharmacology.
Studying can help give you the best chance of passing the exam. You might prepare by:
Is It Stressful Being a Surgical Tech?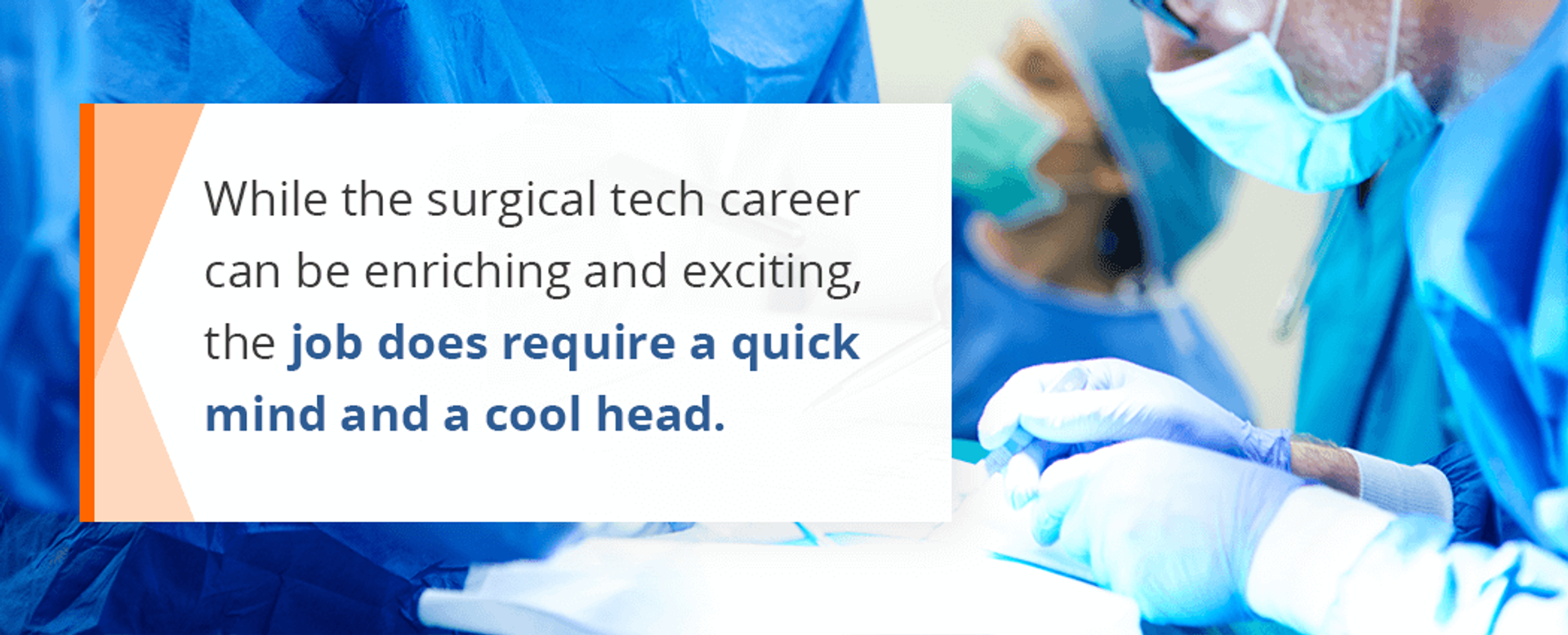 While the surgical tech career can be enriching and exciting, the job does require a quick mind and a cool head.
A surgical technologist will need to perform a series of tasks for every surgery, including:
Preoperative: Surgical techs must maintain a sterile environment in the operating room. This requires preventing contamination by keeping surfaces sanitary and arranging drapes around the operating table.
Intraoperative: Surgical techs must be thorough and diligent. You will become a "third hand" to the surgeon's assistant and surgeon during the intraoperative phase of surgery.
Postoperative: Surgical techs must maintain a sterile operating room until the patient gets to the recovery ward. This means disposing of gauze, needles, and other items, securing dressing after an incision is closed, and ensuring no tools are left behind.
Emergencies: Surgical technologists should be prepared for emergencies, such as operating room injuries and immediate procedures.
Succeed in Surgical Tech School With AIMS Education
When you're ready to begin your journey as a surgical tech, succeed with AIMS Education. Our Surgical Technologist certificate program is programmatically accredited by the Accrediting Bureau of Health Education Schools (ABHES).
Our program will prepare you to become a skilled operating room technician and gain a leg up on the competition. You'll work closely with surgeons, anesthesiologists, registered nurses, and other surgical personnel delivering patient care to prepare yourself for this rewarding position.
To learn more about our surgical technologist program, schedule a virtual appointment with an admissions specialist today.