Introduction to Allied Health Care
March 5, 2013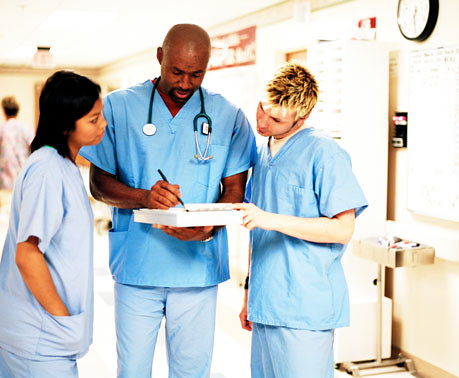 Within the healthcare industry numerous professionals work closely with physicians and nurses to provide safe, efficient, patient-centered, and timely care. Many of these professionals are representatives of the allied health disciplines – a term that identifies these health practitioners as being distinct from medicine, dentistry and nursing. Each allied health professional is ethically accountable for bringing a theoretically-sound and evidence-based approach to problem-solving in healthcare delivery.

History of Allied Health
Significant improvements in medicine after World War II led to the development of sophisticated and complex medical diagnostic and treatment procedures. The increasing public demand for medical services provoked a trend that lead to an expansion of service delivery methods. Various medical services which had previously only been available in hospitals became more accessible through private physicians' offices, smaller clinics, and a number of other local or community-based health care facilities. This in turn lead to the necessity for additional health care personnel to assist physicians and nurses.
The first attempt to define the allied health professions as a part of the health care system came during President Truman's administration when the Commission on Health Needs defined the allied health practitioners as:



Personnel, other than physicians, dentists and nurses, who are engaged in investigation, treatment and prevention of disease and disability, and in the promotion of health by virtue of some special skill.



Historically, the allied health professions have been theoretically-based, attempting to translate the experiences of clinicians and the science of other fields (medicine, basic science, education) into practice without discipline-specific evaluation. Today, their active role within the overall health delivery system is far more sophisticated and practice-oriented.
The Importance of Allied Health Professionals
The professions under the umbrella of allied health vary from country to country, but estimates suggest that as much as 60% of the healthcare workforce in the United States may be classified as allied health.
According to the Association of Schools of Allied Health Professions (ASAHP), allied health professionals are, among others, "involved with the delivery of health or related services pertaining to the identification, evaluation and prevention of diseases and disorders; dietary and nutrition services; and rehabilitation and health systems management."
The allied health professions can be classified under several categories. Here are examples of some of the more popular careers in allied health:
Diagnostic: Cardiovascular Technologist, Diagnostic Medical Sonographer, Radiologic Technologist
Direct patient care: Medical Assistant, Respiratory Therapy Technician, Surgical Technologist
Non-direct care: Pharmacy Technician, Medical Biller and Coder
Rehabilitation: Occupational Therapist, Speech Therapist
There are numerous important allied health organizations in the United States. Some of these include the Association of Schools of Allied Health Professions (ASAHP), the Commission on Accreditation of Allied Health Education Programs (CAAHEP), the Health Professions Network (HPN), the National Network of Health Career Programs in Two-Year Colleges, and the National Society of Allied Health.