How to Become a Patient Care Technician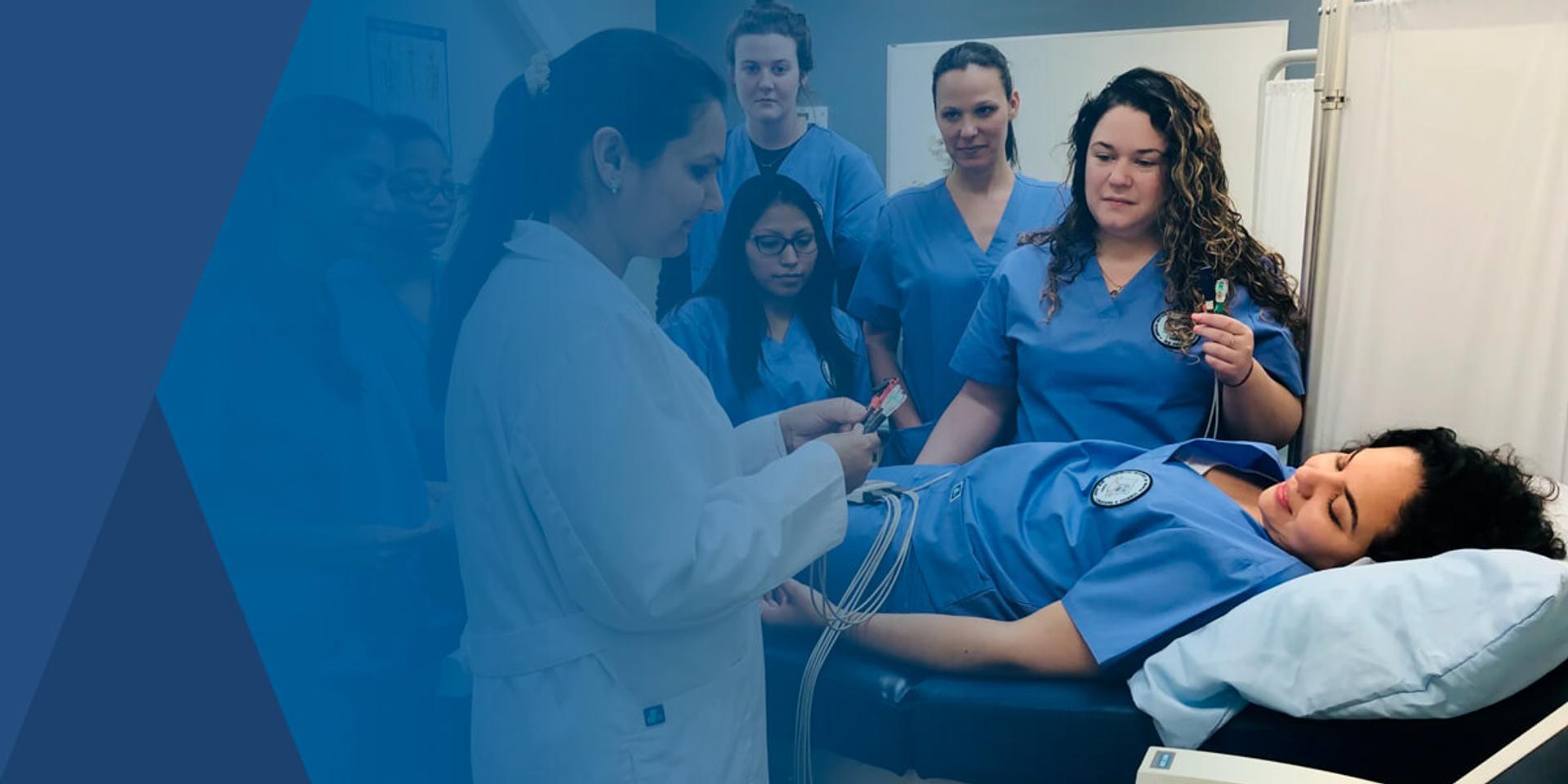 Do you love the idea of caring for others in need? Are you compassionate, patient and empathetic? If so, working as a patient care technician may be the career you've been looking for. This rewarding role involves working face-to-face with patients to support and comfort them and help them heal.
With our patient care technician program, you can enter the medical field in as little as seven months. From there, you have the flexibility to work in various healthcare settings, and the opportunities for advancement are endless.
Learn everything you need to know about becoming a patient care technician, including job responsibilities, different specialties, and what you can expect from training. Professional certification is also available to graduates who pass the PCT certification exam. And for those just starting out in the field, a patient care technician job is a great a stepping stone to other careers in the healthcare industry.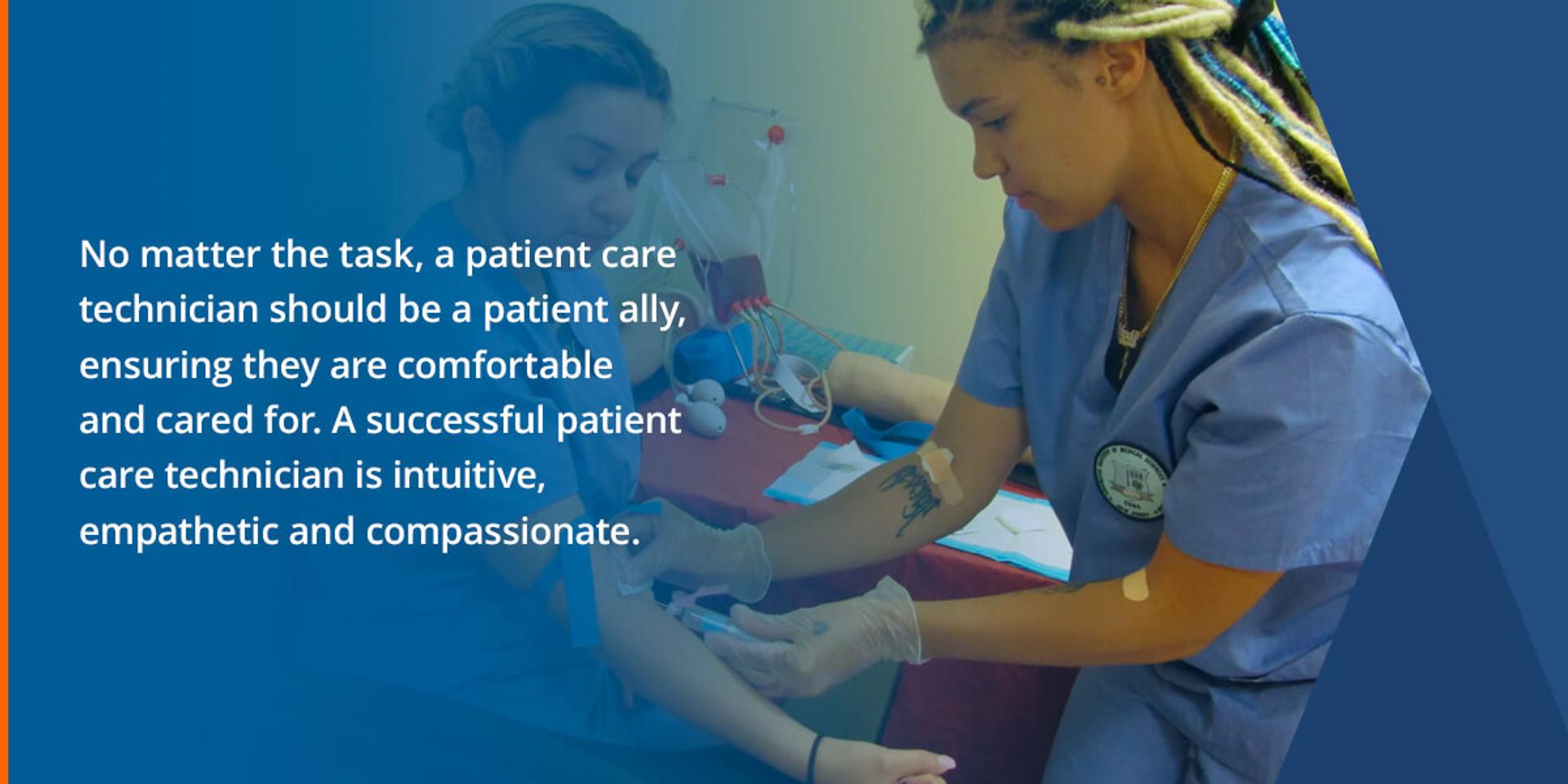 What Is a Patient Care Technician?
Patient care technicians play an important role in healthcare. They are medical professionals who work under the supervision of registered nurses and other team members to provide basic, hands-on care to patients. These individuals work in various medical settings.
Patient care technicians, also known as patient care assistants, can be responsible for many different care measures. Common duties include:
Serving meals
Taking vital signs
Changing bed linens
Helping patients move around
Helping patients visit the restroom
Transporting patients within the facility
Communicating any changes in patients' medical conditions to a nurse
No matter the task, a patient care technician should be a patient ally, ensuring they are comfortable and cared for.
A successful patient care technician is intuitive, empathetic, and compassionate. Because people from all walks of life need medical care, patient care technicians work with a diverse patient population. They build attentive, trusting relationships with people in their care and proactively anticipate their patients' needs.
Patient care technicians are a vital part of the healthcare team. Doctors and nurses depend on them to help patients with activities of daily living. The nurturing care they provide contributes to a positive overall healthcare experience for patients.

What Does a Patient Care Technician Do?
Under the guidance of registered nurses, patient care technicians provide basic medical care and support to patients during hospital stays and doctor visits. Responsibilities can include:
Performing safety checks
Assisting with daily hygiene
Acquiring and distributing patient care supplies
Providing emotional support for patients and their loved ones
Serving meals and recording patient food and beverage intake
Obtaining blood, urine, and stool samples and delivering them to the lab
Conducting certain medical tests and recording results, such as finger-stick blood sugars
Assisting patients with exercise and mobility, such as getting out of bed and visiting the restroom
Communicating changes in patients' health status to the nurse or another member of the medical team
Checking and recording vital signs, like temperature, pulse, blood pressure, respirations and oxygen saturation
Transporting patients to other departments within the facility for tests and procedures or when getting discharged from the facility
Patient care technicians work directly with those in their care. In doing so, they have a unique opportunity to positively impact their patients' lives.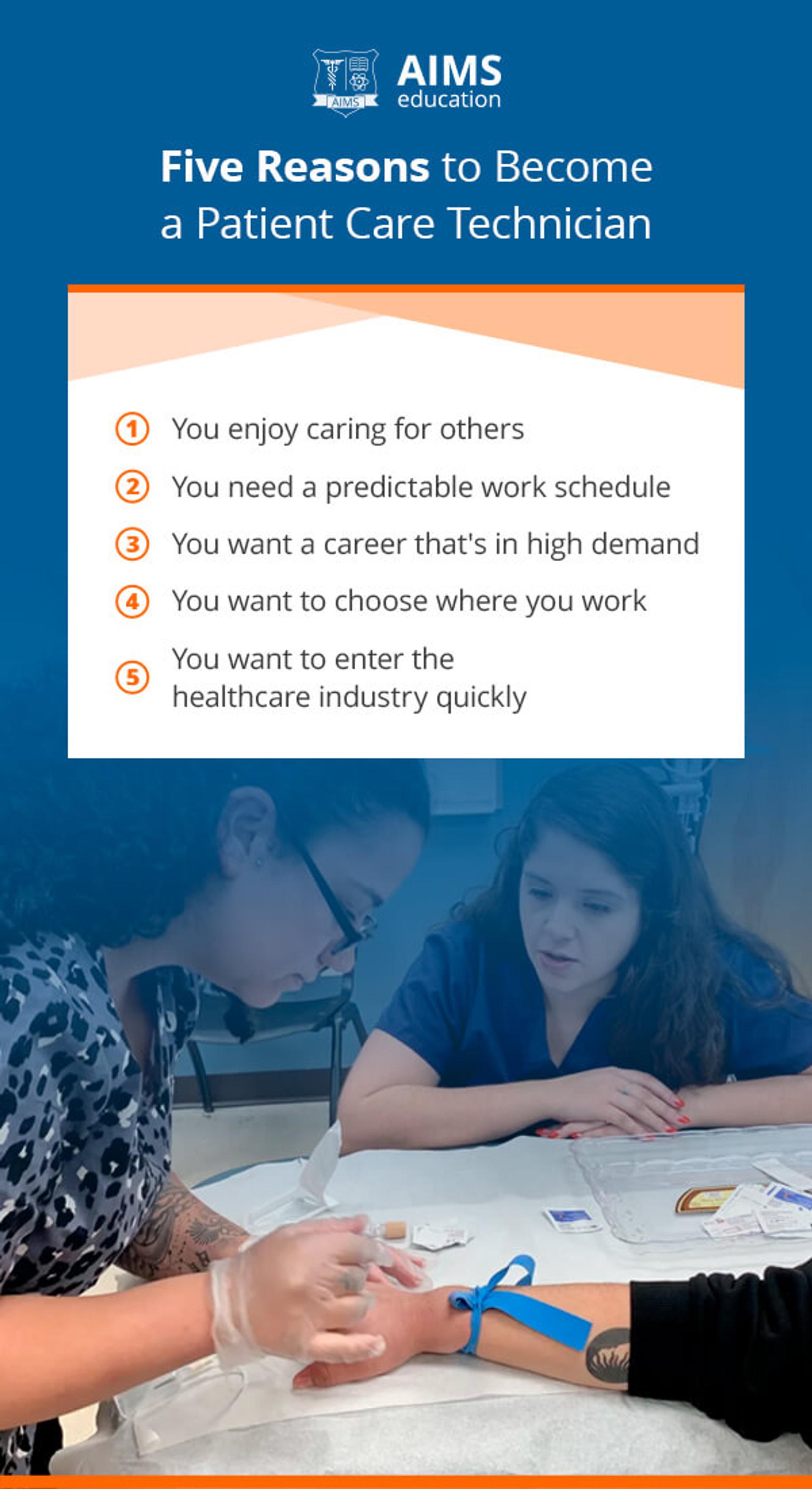 Five Reasons to Become a Patient Care Technician
You might want to be a patient care tech for many reasons. Here are five of the best reasons to pursue this career:
You enjoy caring for others: Patient care technicians help care for a diverse group of people with equally diverse medical needs. If you love nurturing and supporting others, a job as a patient care technician could be perfect for you. You provide emotional support as patients cope with health concerns and help administer the care they need to become healthy.
You need a predictable work schedule: Depending on their place of employment, many patient care technicians work specific, consistent hours. For example, in hospital settings, you can typically expect to work three 12-hour shifts per week. Flexibility is another benefit. In many healthcare facilities, patient care technicians are needed 24 hours a day, giving you the flexibility to choose which shifts work best for your lifestyle.
You want a career that's in high demand: According to Zippia.com, the patient care technician career is expected to see job growth of 12% between 2018 and 2028. Based on current job postings across the country, there are approximately 167,520 job openings for patient care techs.
You want to choose where you work: As a patient care technician, you can choose to work in a wide range of healthcare settings. For example, you could care for children in a pediatric hospital, patients with substance use disorders in a rehab facility, or cancer patients in a treatment center. The opportunities are endless, and you can try out as many different settings as you wish to find what you love the most.
You want to enter the healthcare industry quickly: Most patient care technician programs can be completed in less than a year, putting you on the fast track to a new career.
Types of Patient Care Technicians
Patient care technicians can work in many healthcare settings, including hospitals, doctor's offices, and clinics. While many provide basic care, others opt for specialization. Some of these roles may require extra training or education. The following is a breakdown of some common specialties for patient care technicians.
Telemetry
Patient care techs can work in a telemetry unit, or even be hired as a telemetry technician. In this role, they will perform electrocardiograms (EKGs) and monitor other telemetry equipment. An EKG is a test that measures the electrical signals in the heart to check for different heart conditions. With this specialty, patient care technicians can monitor a patient's heartbeat and notify the medical team of any changes.
Dialysis Patient Care Technician
Dialysis is the process of purifying the blood of toxins, waste products, and excess fluid. It is a complex treatment used for patients with kidney failure. Dialysis technicians monitor patients as they receive treatment, stopping and starting it as needed, and keeping the equipment sterile. They may work in hospitals or dialysis centers. Some states and/or employers may have additional education and/o certification requirements for this specialty.
Hospital Patient Care Technician
Hospitals are the most common employers for patient care technicians. These general technicians work in hospitals providing basic care. They often take vital signs, assist patients during meals, help with patient mobility, maintain hospital rooms as needed, and assist patients with many other tasks.
Emergency Room Technician
Emergency room technicians work alongside doctors and nurses in a hospital's emergency department. In this fast-paced environment, technicians provide basic medical care, like fitting patients for crutches and casts and managing supplies during medical procedures.
Rehabilitation
Rehabilitation may be needed for physical or mental health conditions.
Patient care technicians in a rehabilitation facility work with therapists to support patients during physical therapy sessions. They may assist with patient mobility and transportation and maintaining equipment.
Phlebotomy
In this role, patient care technicians draw blood samples and deliver them to the lab for testing. They may also assist with blood transfusions.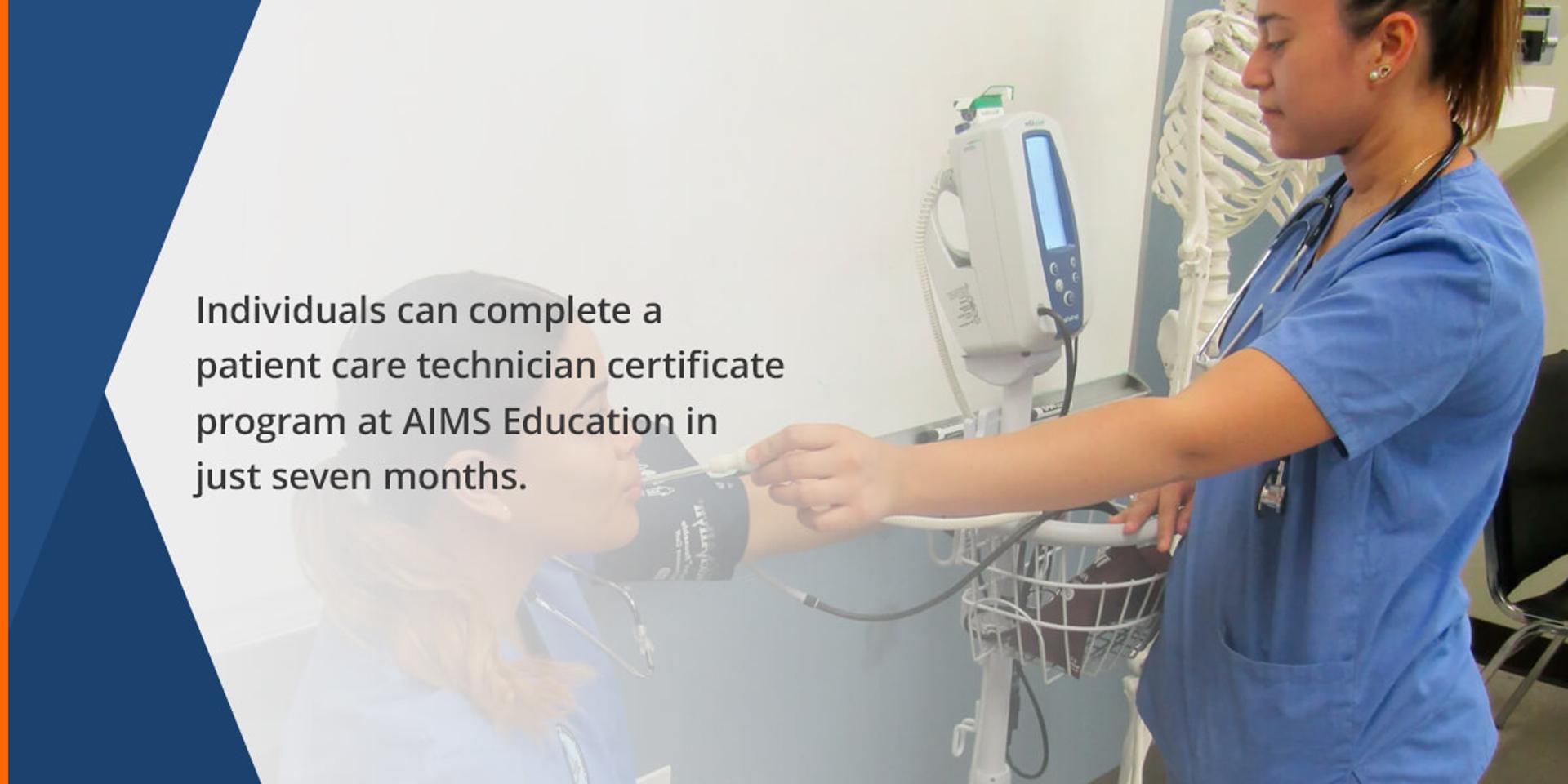 How Long Does It Take to Become a Patient Care Technician?
Becoming a patient care technician is an excellent way to break into the healthcare industry without years of schooling. Individuals can complete a patient care technician certificate program at AIMS Education in just seven months. AIMS also offers an evening program that can be completed in nine months.
This program prepares students to work as entry-level patient care technicians in hospitals or outpatient settings.
Students complete 650 hours of education and training. They attend online and in-person lectures and labs for 450 hours, and then they complete a clinical internship for the remaining 200 hours.
Steps to Become a Patient Care Technician
If you've decided to become a patient care tech, follow these steps:
1. Enroll in a Patient Care Technician Certificate Program
The first step to becoming a patient care technician is to enroll in a training program at an accredited school. To be eligible to enroll, most schools require a minimum of a high school diploma and a passing score on an entrance exam.
2. Earn a Patient Care Technician Certificate
During the training program, students build foundational knowledge in medical terminology and anatomy and physiology. They also learn specifics about a patient care technician's role, patient care techniques, and specialized skills in phlebotomy and EKG. Students learn the basics of patient nutritional, oxygen, and exercise needs, as well as the importance of proper communication with patients and other healthcare team members.
Students will bolster their class and lab learning with time in a live medical setting. Clinical hours provide students with practical experience and help prepare them for the job.
3. Become a Certified Patient Care Technician
Becoming a certified patient care technician affords better career opportunities and earning potential. More than 75% of employers require or prefer certification for patient care technicians.
Graduates of AIMS Education's patient care technician certificate program are eligible to take the certification exam offered by the National Healthcareer Association (NHA). Passing this exam will earn graduates a Certified Patient Care Technician/Assistant (CPCT/A) credential from NHA.
The Patient Care Technician Certification Exam
Here are the steps to take the certification exam:
Apply: Create an NHA account and fill out and submit an application for the CPCT/A exam.
Choose a date: Pick when and where you want to take your exam and pay the test fee.
Study: The NHA offers study materials and practice tests to help you prepare to ace your exam.
Take the test: The exam has 100 questions. You will take it online, at your school or at a testing center.
Receive your results: You can expect to receive your results two days after the NHA scores your test.
*AIMS Education students must call the AIMS Testing Center prior to scheduling a date to confirm availability.
What Is Patient Care Technician Training Like?
The patient care technician program at AIMS Education is taught through a combination of lecture, lab, and clinical hours. To enjoy success in the program, you will need to dedicate yourself to learning and studying.
Hybrid Learning
Lectures are given both in the classroom and online.
Labs consist of hands-on training in our on-campus medical labs. These experiences help students develop essential skills that they will later practice during the clinical internship.
The major courses of the program teach students:
Wound Care
Venipuncture
Medical terminology
Measuring vital signs
Patient care techniques
Emergency care
Anatomy and physiology
Infection control and safety
Dermal and capillary puncture
Performing resting EKG / ECG
Interpreting EKG / ECG results
Specimen collection and processing
OSHA regulations, CLIA regulations, and CLSI standards
Clinical Internship
Students in the AIMS patient care technician program complete a 200-hour clinical internship. This internship starts only when students have completed all required classroom and lab hours. Instructors place students at a clinical site. The purpose of this practicum is to provide students with training in a live healthcare environment. Students have a clinical instructor on site to guide and support them.
AIMS Education is affiliated with many healthcare facilities in New Jersey and the surrounding areas. Students are assigned to one or more of these facilities and fulfill their clinical hours according to a schedule from the school. These schedules coordinate with the availability of clinical sites. All students should be prepared to complete their clinical requirements during normal business hours.
Employment for Patient Care Technicians
Most patient care technicians work in hospitals, but they can also find employment in doctors' offices and clinics, outpatient facilities, and rehabilitation centers. AIMS graduates can work as general patient care technicians, or they can leverage other skills they've learned to seek employment as phlebotomy or EKG technicians.
What Is a Patient Care Technician's Salary?
The average patient care technician salary in the New Jersey is $37,619, with the top earners making $55,000 or more.
However, your individual salary will depend on a host of factors, such as years of experience, level of education, certifications, and other skill sets you possess. Your salary also depends on the type of facility you work in and the cost of living in your specific location.
Using a PCT Certification as a Stepping Stone
Many patient care technicians choose to further their education and become nurses. They can pursue a 1-year licensed practical nurse (LPN) program, or keep going to become a registered nurse (RN).
Patient care technicians work closely with nurses, giving them a firsthand view of what the job entails. This can help them decide if they want to pursue the profession.
Working as a patient care technician allows aspiring nurses to get familiar with many aspects of the healthcare industry, including medical terminology, equipment, disease processes, treatments, and electronic medical records. This experience acts as a strong foundation for nursing school students to build on.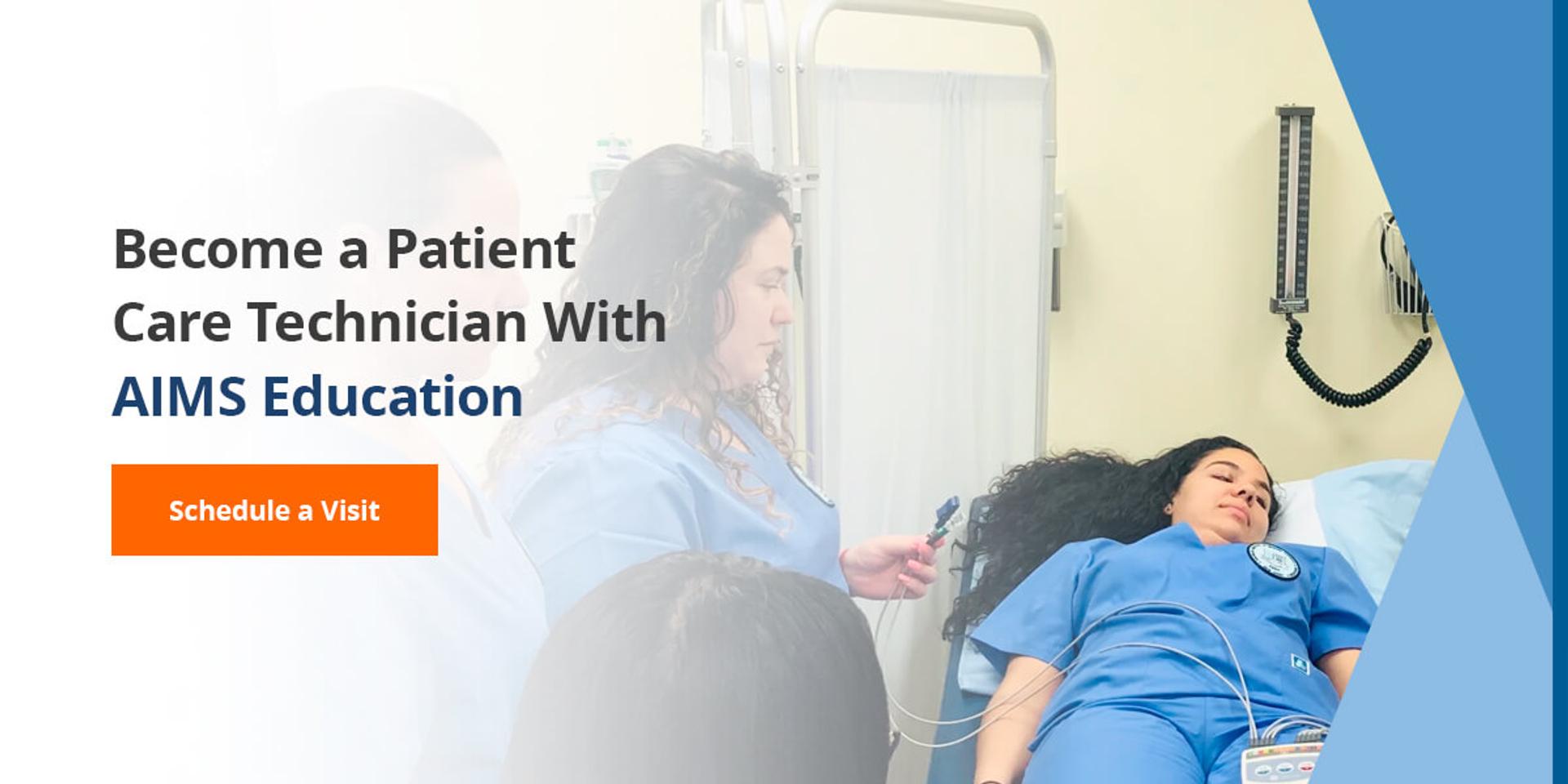 Become a Patient Care Technician With AIMS Education
Become a certified patient care technician at AIMS Education and embark on a fulfilling career in the healthcare industry. Our experienced instructors and state-of-the-art training facilities equip you with the knowledge and skills you need to succeed wherever you work. From there, enjoy countless opportunities to expand your career horizons as you see fit. Request more information or schedule a visit to tour the campus and meet with the admissions team.