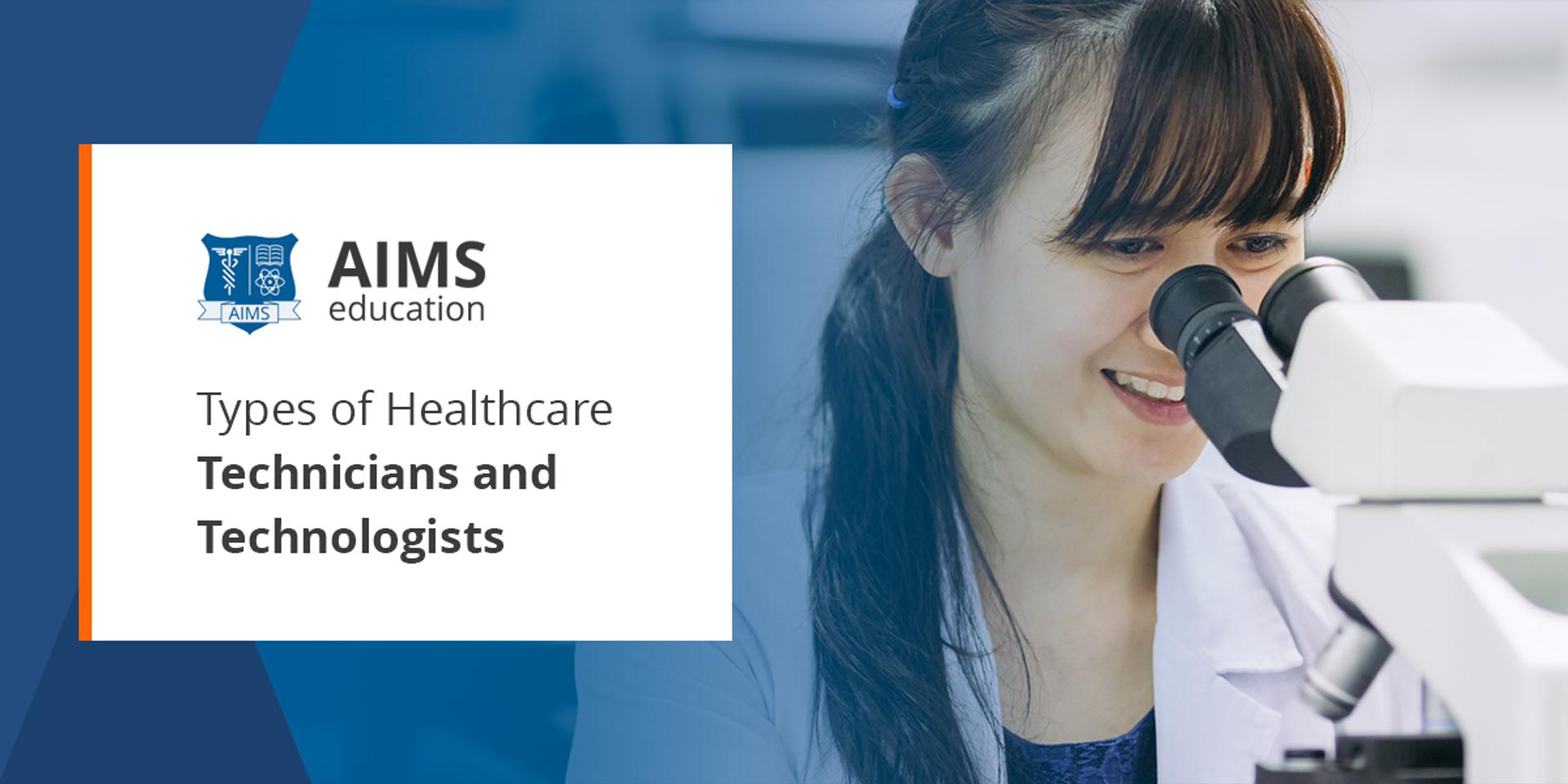 If you're looking for a meaningful medical career that enables you to help others, challenge yourself and provide for yourself and your family, a job as a technologist or a technician might be just the right choice. Before you get started on your new career path, you'll need to know the difference between a technologist vs. a technician in terms of each position's responsibilities and requirements.
What Is the Difference Between a Technologist and a Technician?
The difference between a technologist and a technician can be pretty confusing. In some cases, a technologist may be a more advanced role because they hold degrees and certifications, while a technician is more of an entry-level position. However, each position can vary widely throughout the medical field.
The distinction between a technologist and technician often varies by field. In some medical specialties, the two terms are distinct and indicate varying levels of responsibility and education. In others, they can mean the same thing and are used interchangeably. Very few professions use both terms to define distinct jobs. Typically, only professional societies, accrediting agencies or certifying agencies have strict guidelines for the use of these terms.
In many careers, the position may have begun as "technician," and over time the name transitioned to "technologist." Most often, these terms refer to the same position. For example, a surgical technician and surgical technologist would be considered the same job in most medical facilities.
Types of Healthcare Technicians and Technologists
Below are a few examples of different types of technologists and technicians and what they do:
1. Healthcare Technicians
Healthcare technicians or technologists provide direct patient care, conduct diagnostic tests, perform administrative tasks, or work in the lab assisting with lab specimens and samples. In general, the term healthcare technician refers to a wide variety of healthcare professionals. However, a healthcare technician should not be confused with a medical technologist or a medical laboratory technician.
The Bureau of Labor Statistics (BLS) lists the median salary for a healthcare technician or technologist as $46,910 per year, but the salaries vary greatly based on the specific career field.
2. Medical Technologists and Technicians
A medical technologist, also known as a medical laboratory scientist, is a distinct career field. Medical technologists typically have a Bachelor of Science in Medical Technology and are certified through American Medical Technologists (AMT) or the AAB Board of Registry.
Medical laboratory technicians work in the same field as medical technologists, but they hold different credentials and do not have the same advanced training. In addition, the minimum educational requirement for medical laboratory technicians is an associate degree.
Medical technologists earn a median salary of $57,800 per year, or $27.79 per hour.
3. Surgical Technologists
A surgical technologist assists with surgical prep during surgeries, postoperative patient care, and record-keeping. A surgical technologist might prepare the operating room, prep and transport the patient, and hand instruments to the surgeon during a surgical procedure. These technologists work under the supervision of surgeons or registered nurses (RNs).
A surgical technologist should generally complete an associate degree or postsecondary certificate from an accredited institution. Some states have licensing or certification requirements for surgical technologists as well.
According to the BLS, the median pay for surgical technologists is about $48,530 per year, or $23.33 per hour.
4. Phlebotomy Technicians
The phlebotomy field tends to use the word "technician" or just "phlebotomist." These technicians often work in hospitals, clinics, laboratories or blood donation facilities. They perform blood draws and prepare the blood samples for various uses, including analysis, donation, transfusion, and research.
A phlebotomist technician must typically complete a certificate program with an institution such as a vocational school or community college. The training generally requires both classroom instruction and hands-on experience and can usually be completed in a few months or less. Some states require phlebotomy technicians to obtain a license or formal certification, as well.
According to the BLS, the median pay for phlebotomy technicians is about $37,380 per year, or $17.97 per hour.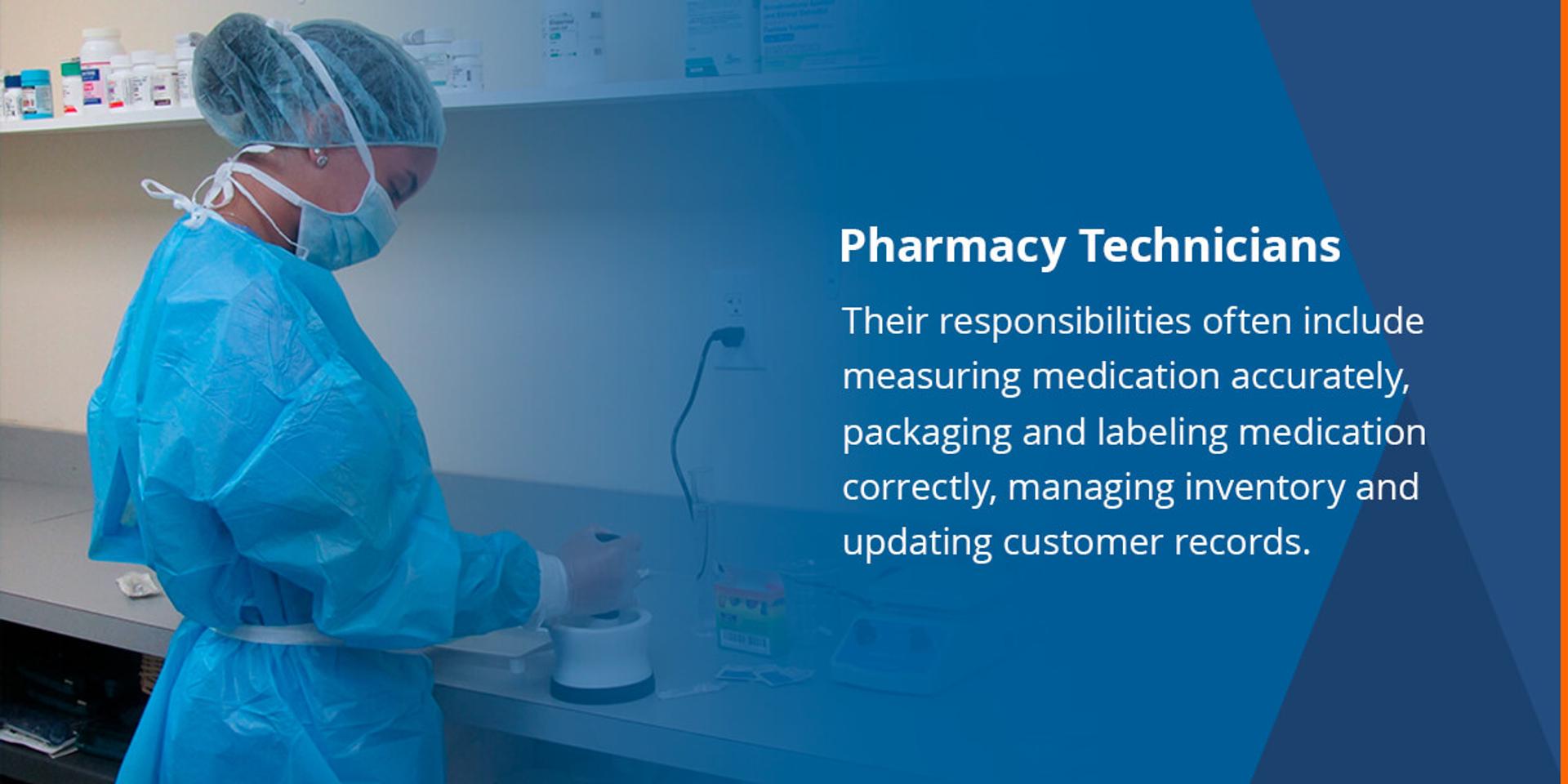 5. Pharmacy Technicians
Most tech-level pharmacy employees are known as technicians. These technicians work in pharmacies, hospitals, or clinics to get medication ready for customers. Their responsibilities often include measuring medication accurately, packaging and labeling medication correctly, managing inventory, and updating customer records. They work under the supervision of a pharmacist.
Some states require no formal training or certification at all, while others may have minimum educational requirements and require certification and licensing. Regardless of state laws, many pharmacies and other healthcare facilities require pharmacy technicians to be certified.
According to the BLS, the median pay for pharmacy technicians is about $36,740 per year, or $17.66 per hour.
6. Radiologic Technologists
A radiologic technologist performs imaging tests such as X-rays, MRIs, and CT scans. The images they produce help doctors diagnose illnesses and develop effective treatment protocols. These technologists often have more advanced responsibilities in terms of the diagnostic process.
Radiologic technologists generally need an associate degree from an accredited institution, if not a bachelor's degree. In most states, and for many healthcare employers regardless of state, radiologic technologists must obtain licensure and certification, as well.
You'll likely want to talk to specific healthcare facilities to learn how they use these two important terms.
7. MRI Technologists
MRI technologists are specialized radiologic technologists. They've received special training on running MRI tests and focus on this area in their work.
There are two main pathways to becoming an MRI technologist. Students can enroll in specialized certificate or degree programs that focus solely on MRI technology. Graduates of ARMRIT accredited or ARRT approved programs can then seek certification as MRI technologists. The other path is for graduates of radiologic technology degree programs. Radiologic technology graduates become licensed as X-ray techs, but also have the option to specialize in other imaging modalities like MRI or Nuclear Medicine.
According to the BLS, the median pay for radiologic and MRI technologists is about $61,980 per year, or $29.80 per hour.
8. Medical Sonographers or Ultrasound Technicians
Ultrasound technicians, also known as medical sonographers, operate equipment that uses high-frequency sound waves to create images of the interior of the body.
These healthcare professionals sometimes work in OB-GYN offices and operate ultrasound machines to help physicians monitor a patient's pregnancy and detect potential issues. They may also work in a general hospital setting and use ultrasound imaging to assess a person's internal organs for signs of disease.
The field of sonography sometimes uses the terms "technologist" and "technician" interchangeably, so at many healthcare facilities, there's no meaningful distinction between an ultrasound technologist vs. technician. Most professional societies and certifying bodies use the term "sonographer" for certified ultrasound technicians.
According to the BLS, the median pay for ultrasound technologists or technicians is about $75,780 per year, or $36.44 per hour.
9. Cardiovascular Technologists
A cardiovascular technologist uses sonography exams to help doctors diagnose and treat issues relating to the heart and circulatory system.
An entry-level cardiac sonographer will typically specialize in adult echocardiography. Those who also specialize in vascular technology are known as cardiovascular technologists. In addition to imaging the heart and vascular system, cardiovascular techs are also trained to conduct EKGs, stress tests, and Holter monitoring.
The cardiovascular field often uses the terms "technician" and technologist" synonymously. It's also common to refer to cardiac sonographers as echo techs. You may want to check with the healthcare facility you'd like to work at to learn how it defines the responsibilities and requirements for these positions.
According to the BLS, the median pay for cardiovascular technologists is about $60,570 per year.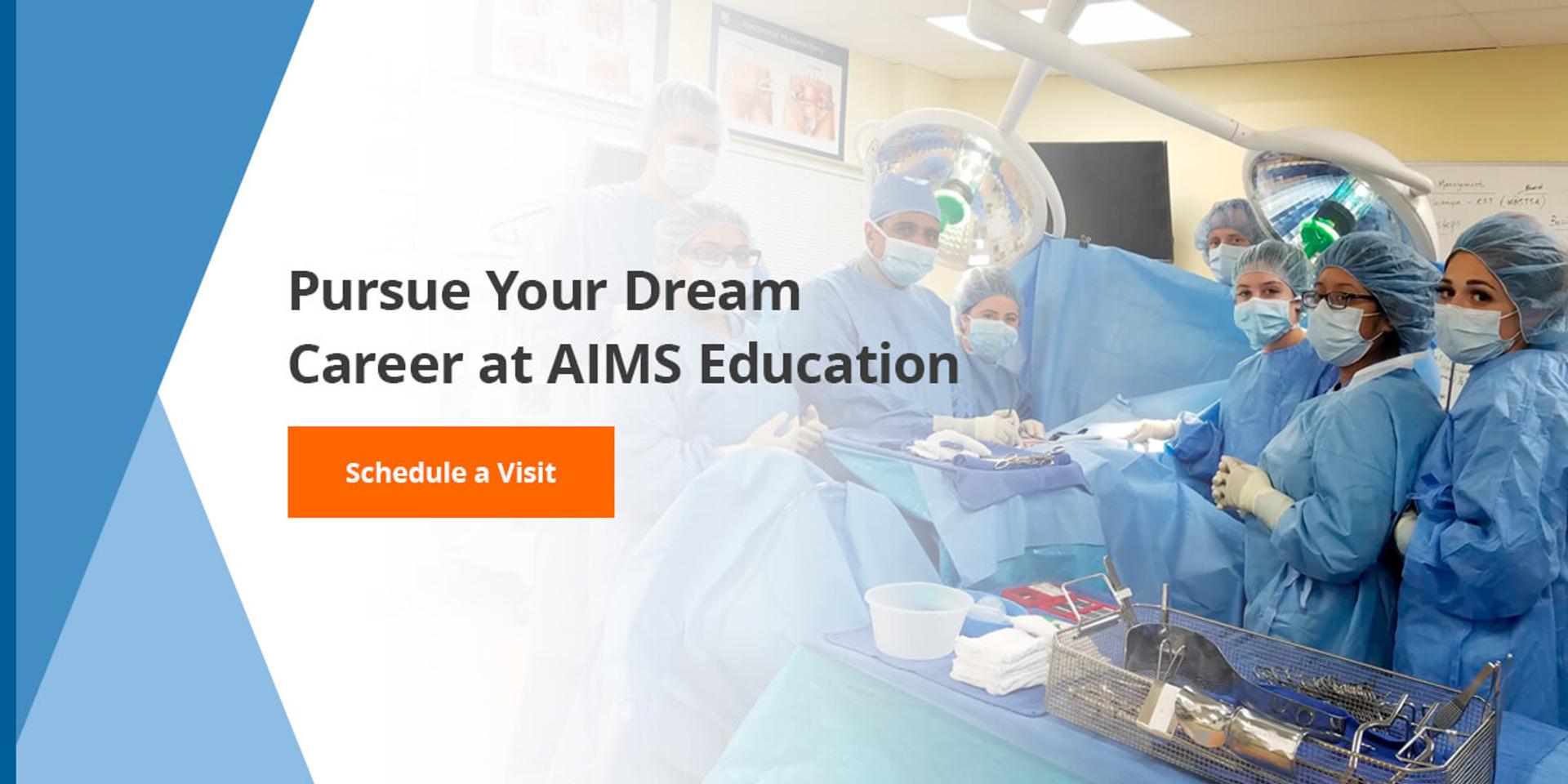 Pursue Your Dream Career at AIMS Education
When you're ready to pursue a stable and exciting future as a healthcare professional, AIMS Education can help you get started down the right path. Our hands-on training programs can give you the skills you need for success in a dynamic and rewarding career.
Schedule a campus visit today, or request information to learn more about our healthcare professional programs.