Everything You Should Know Before Becoming an Anesthesia Technician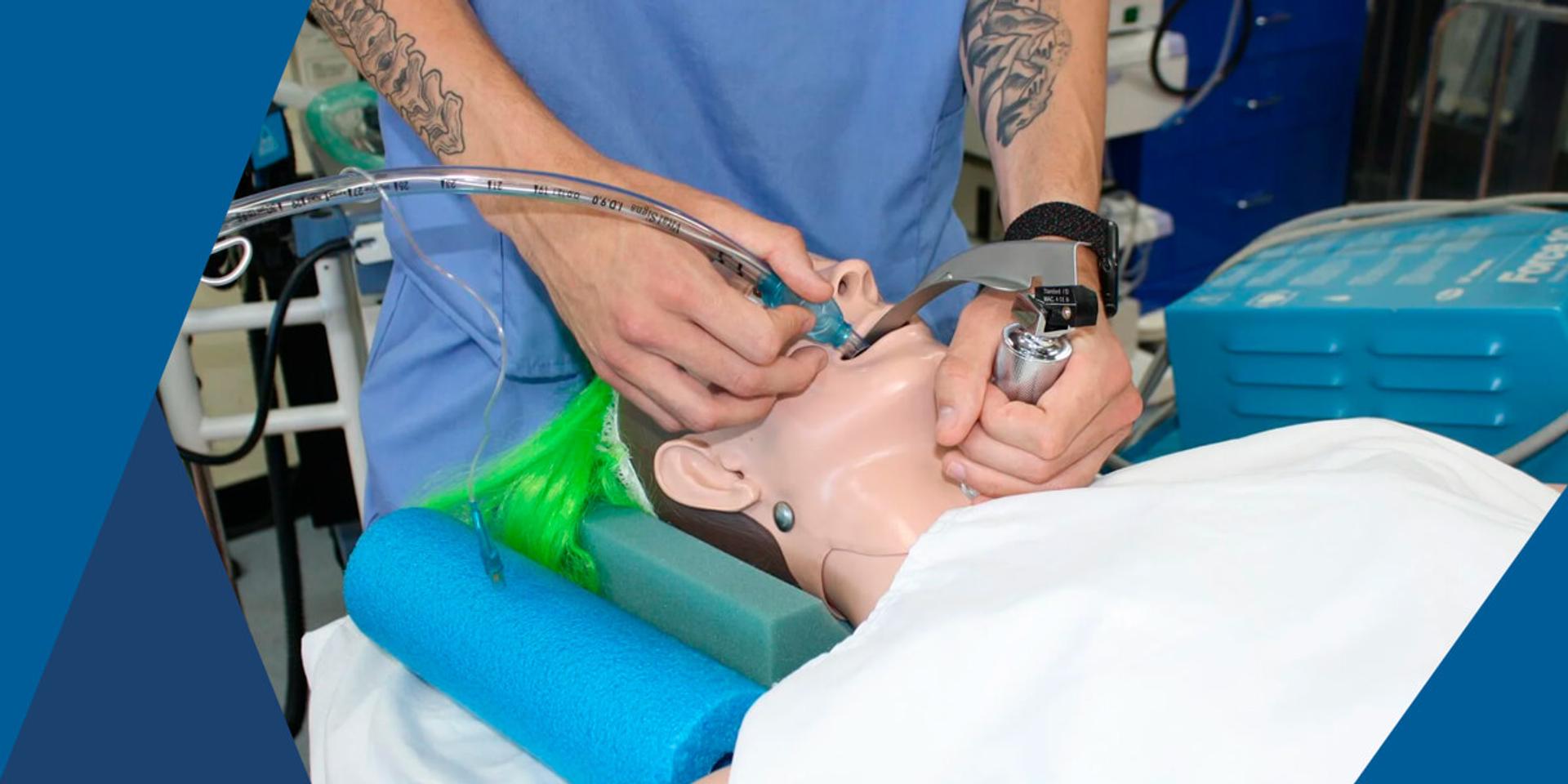 Choosing a career as an anesthesia technician is an important decision. When you become an anesthesia technician, you'll support and assist the anesthesia team, surgical staff, doctors, and nurses. You'll also be responsible for maintaining the essential supplies and equipment used in anesthesia and have the reward of caring for patients in need.
Below, we break down what skills you need to be an anesthesia technician, what your daily routine might look like and what you need to do to become qualified. Knowing the requirements will help you make the best decision for yourself and your career.


What Is an Anesthesia Technician?
An anesthesia technician works with the anesthesiologist, surgeons, nurses, and hospital staff in a healthcare setting. Under the guidance and supervision of an anesthesiologist, your main role is to assist the anesthesia team in preparing equipment before a patient's surgery.
You'll be responsible for preparing, sterilizing and maintaining the anesthesia equipment in the operating room. In preparation for a patient's surgery, you'll assist with applying the necessary equipment to monitor the patient. At the same time, you'll continuously check the equipment to ensure it's working properly and provide troubleshooting measures as needed.
Anesthesia technicians need to have a wide range of knowledge about anesthesia procedures and the relevant equipment. Most anesthesia technicians work in hospitals and ambulatory surgery units. There's also the opportunity for you to work in operating rooms, emergency and trauma units, labor and delivery units, and intensive care units.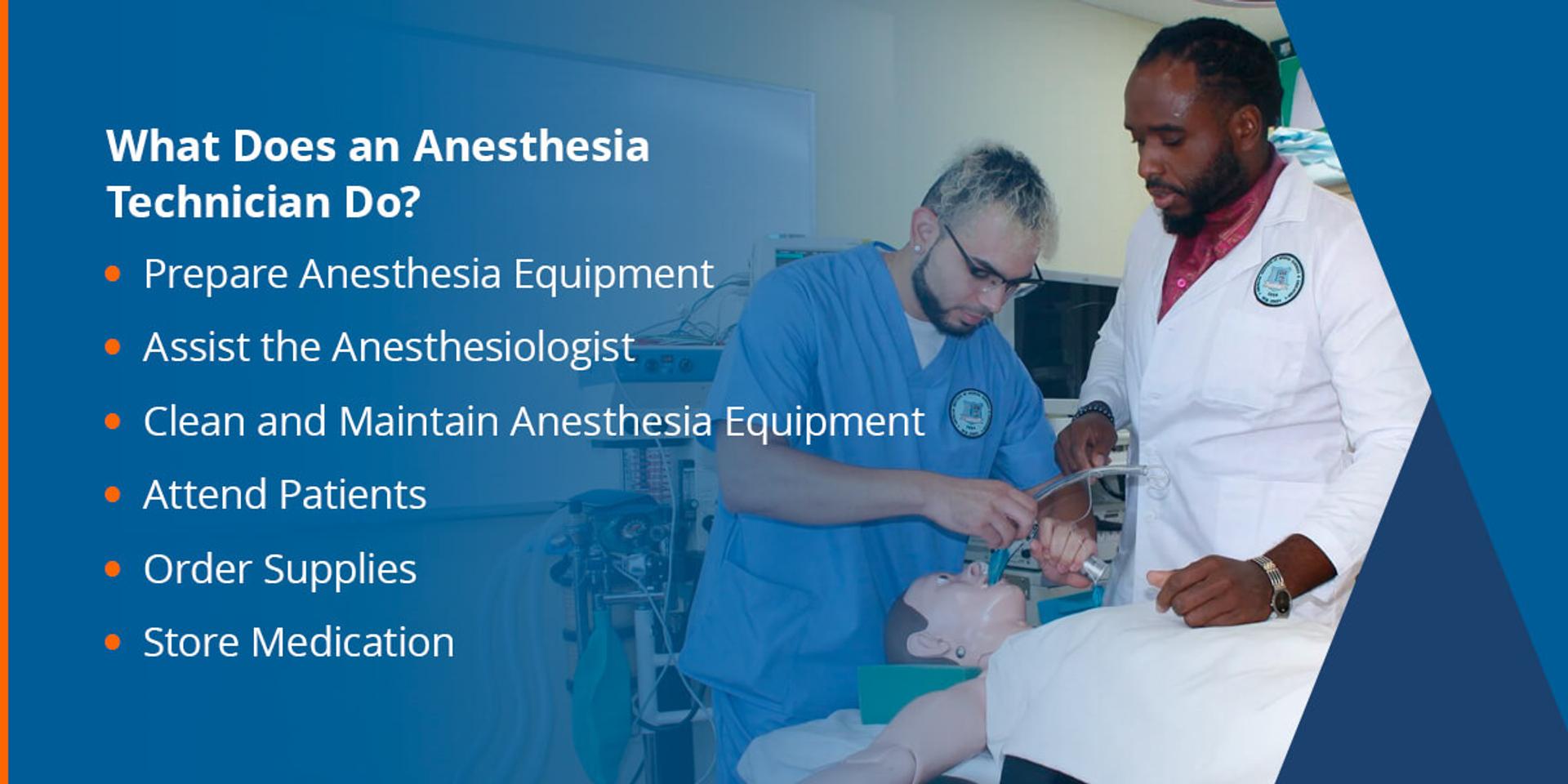 What Does an Anesthesia Technician Do?
As part of the anesthesia team, your role is to manage the necessary supplies and equipment in your respective unit. The following are some of the duties you'll carry out daily in your role:


1. Preparing Anesthesia Equipment
Before surgery, you'll clean, sterilize, prepare and set up the anesthesiologist's equipment and instruments needed to administer anesthesia to the patient. You'll also set up devices to monitor the patient during their procedure.
Some of the equipment you'll need to prepare may include vaporizers, blood gas equipment, venous and arterial pressure lines, EKG monitors, nasopharyngeal tubes, endotracheal tubes, ventilators, blood warmers, anesthesia machines, and infusion pumps, amongst others.
Once the surgery is over, you'll need to clean, sterilize, and return the equipment to where it belongs. You then might prepare the operating room with the necessary supplies for the following surgical procedure, depending on your place of work and your specific job duties.
2. Assisting the Anesthesiologist
During surgical procedures, the anesthesiologist will administer the anesthetic to the patient. Under their supervision, you will help monitor the patient's vital signs and watch for any unexpected effects the anesthetic may have, reporting any issues to the anesthesiologist. At this time, your primary focus will be ensuring the equipment is functioning correctly for the anesthesiologist.
3. Cleaning and Maintaining Anesthesia Equipment
Sanitizing and checking the anesthesia equipment will be part of your daily routine. Regularly testing equipment will help you discover any problems with the machines or parts. The team will rely on you to request the necessary repairs and inform the anesthesiologist if new machinery is needed.
During this daily maintenance, some of your responsibilities may include adding anesthetic agents to refill the vaporizers, inspecting the nitrous, oxygen, and air cylinders for leaks, and changing faulty components when necessary.


4. Attending to Patients
Before a patient goes in for their procedure, you'll help prepare them for surgery and answer any questions they may have. Being kind, compassionate, and clearly explaining practices to patients will help reassure them before going into surgery.
Once the surgery is complete, helping to wake up the patient and transport them to post-op care will be part of your responsibilities. You'll be there to monitor and help the patient feel comfortable as the anesthetic wears off.
Outside of the surgery, you may also need to run tests for the anesthesiologist and record the results in the patient's chart.
5. Ordering Supplies
Necessary surgical and anesthesia supplies must be fully stocked in the operating rooms. When your department needs new inventory, you'll place the orders for essential equipment and follow up on the deliveries. Keeping a detailed list of equipment and supplies will help you stay updated on orders and scheduled machine maintenance.
6. Storing of Medication
The correct storage and refrigeration of medication and anesthetics are crucial. You'll monitor these supplies regularly, correctly dispose of supplies that are no longer usable or expired, and reorder new supplies for procedures. The anesthesia team will rely on you to ensure everything needed to complete procedures is adequately stocked.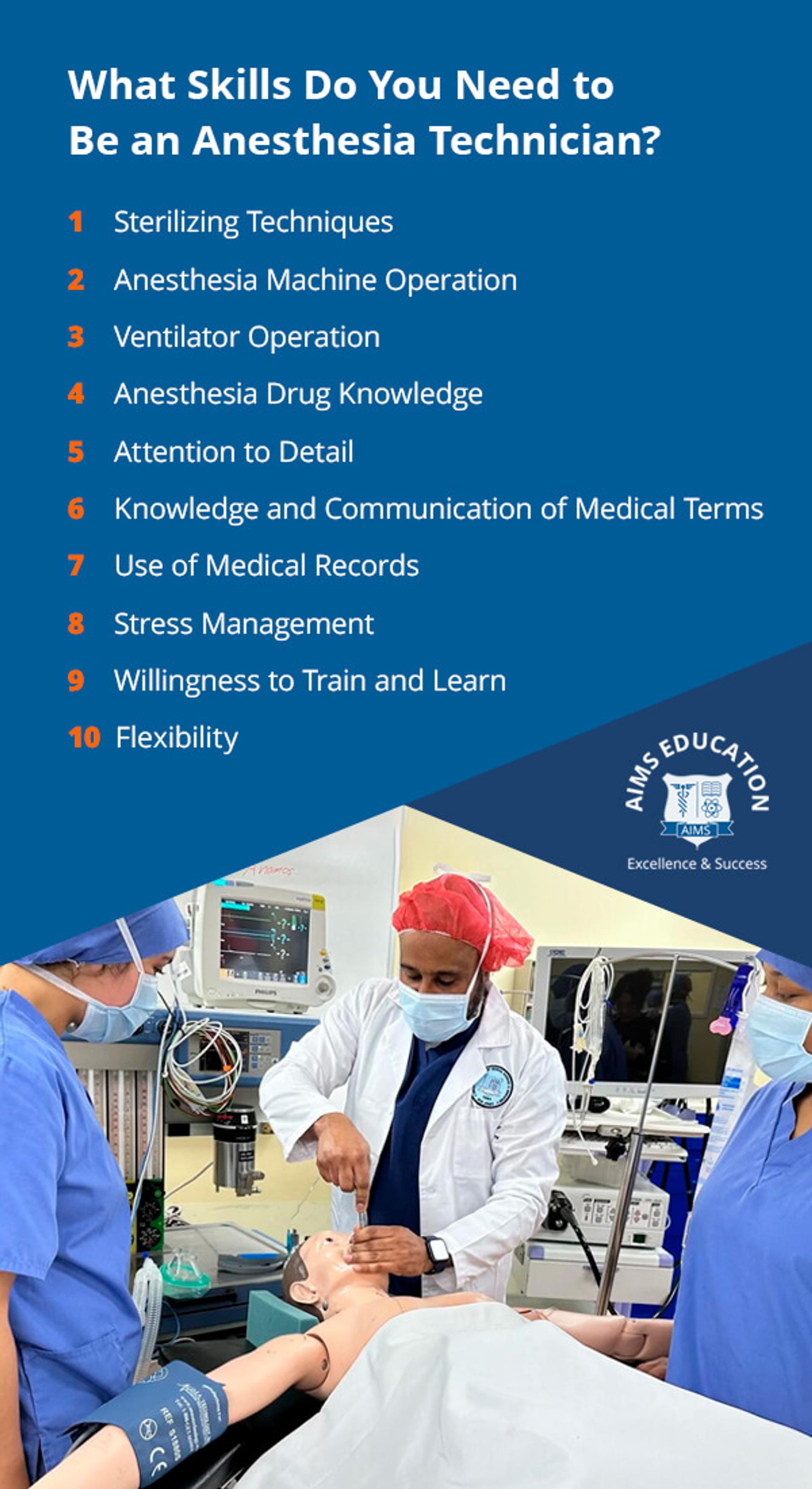 What Skills Do You Need to Be an Anesthesia Technician?
While you'll be working as a healthcare professional, there's a wide range of anesthesiology skills you'll need for this role that goes beyond medical knowledge. Working in a team and directly communicating with patients means you must have interpersonal skills. Beyond initial training, to achieve success in your career, you'll need to adopt a continuous growth mindset and learn about new technology, medication, and other innovative advances.


1. Sterilizing Techniques
Clean hands and correctly stored and sterilized equipment are essential for your safety and the safety of your patients. You'll have to use the correct sterilizing procedures to handle tools to ensure they're safe to use.
2. Anesthesia Machine Operation
Beyond knowing how to operate these machines, you must also understand their mechanical parts and how they function. When there's a need to repair or troubleshoot the machinery, you'll need the skills to restore or replace the machinery.
3. Ventilator Operation
One of your duties is ensuring the patient can breathe during their surgery. Anesthetists use ventilators during surgery to provide patients with oxygen. Having the skills to operate a ventilator will equip you to monitor and maintain adequate oxygen levels for your patient throughout their surgery.
4. Anesthesia Drug Knowledge
There are a variety of anesthesia drugs. Knowing how to prepare, store, and administer them correctly is essential. Understanding the different side effects and their impact on patients will also help you respond effectively to complications that may arise during surgery.
5. Attention to Detail
When monitoring patients during surgery, every detail counts. As an anesthesia technician, you must precisely follow instructions and closely monitor the patient's vital signs. Having an eye for details and avoiding errors will keep your patient safe during their procedure.
6. Knowledge and Communication of Medical Terms
The anesthesiologist and surgical team will rely on you to prepare the operating room with the necessary equipment and support them throughout the procedure. You must know the medical terminology they use to communicate with you.
Clear and concise communication is critical to ensure the best outcomes for patients. The ability to explain medical terms and procedures to help patients know what to expect is a skill you'll also require.
7. Use of Medical Records
Occasionally, doctors may request that you record patient information in the healthcare facility's systems and databases. The ability to use computer software and electronic medical records will enable you to maintain these records for the team efficiently.
8. Stress Management
Anesthesia technicians work in fast-paced environments. Caring for patients' lives is a big responsibility. Patients will often look to you for guidance and reassurance, so it's important to be able to stay calm and work well under pressure. It's wise to also seek stress management assistance and techniques whenever you need them.
9. Willingness to Train and Learn
You'll work alongside doctors and surgical staff who have trained for years and have significant experience. These doctors will request you take action based on the best interest of the patients. Following their guidance and instructions will help you to learn and grow your skills as an anesthesia technician.
10. Flexibility
Healthcare facilities are ever-changing environments. The anesthesiologist's and doctor's requests may change depending on patient needs. During surgery, complications may arise, and you must act quickly to support the team in these cases.
What Is an Anesthesia Technician's Average Salary?
According to Salary.com (March 2023), the overall average yearly salary for an anesthesia technician is $45,364. Your salary will vary depending on your years of experience, where you work, and your geographical location.
If you're starting your career at an entry level of one to two years, the earning average is $44,066. In the middle of your career, after about five to nine years of experience, the average yearly salary range can be $47,334 to $47,827. The top earning anesthesia technicians in the United States earn as much as $57,976 per year.
Growing your skills and gaining further training in anesthesiology, such as expanding your knowledge in trauma and emergency or pediatrics, can also help to increase your average salary and advance your career.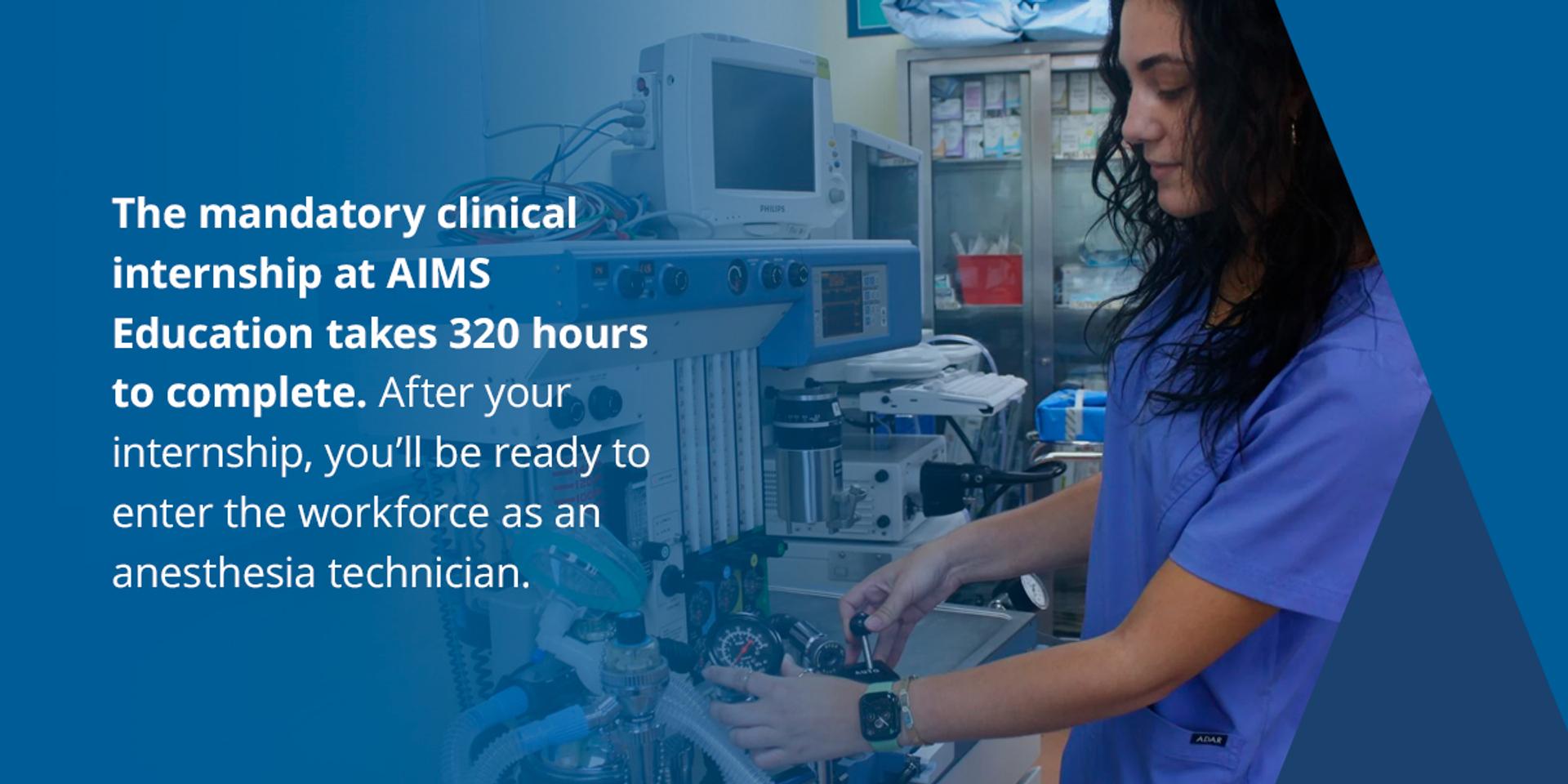 How Long Does It Take to Become an Anesthesia Technician?
You can complete your training and become an anesthesia technician in as little as 12 months. The first step is to enroll in an anesthesia technician training program.
At AIMS Education, the hybrid training program includes classroom sessions, practical training in a surgical lab, and a compulsory clinical internship. Through a combination of online and in-person training, you'll learn the basics you need to successfully start your career. The classroom hours and in-person lab practicals require 465 hours of work.
Once you've completed your classroom hours, you'll be assigned to a designated clinical site to gain real work experience. Under the supervision and guidance of an anesthesia technician, you'll receive daily practical experience and learn how to successfully carry out your role, support your team, and care for patients.
The mandatory clinical internship courses at AIMS takes 500 hours to complete. After your internship, you'll be ready to enter the workforce as an anesthesia technician.
How to Become an Anesthesia Technician
To land your dream job and succeed as an anesthesia technician, you must know the minimum job requirements you need to meet. Researching and understanding career expectations will increase your likelihood of success.
1. Do Your Research
Becoming an anesthesia technician is a great career option, but it's wise to make sure it's the right career choice for you. Research the job's duties and learn more about the role requirements, potential career paths, and related careers. Knowing what the role requires of you will give you the information you need to make a wise and educated decision.
Job shadowing an anesthesia technician is a valuable way to learn more about the role. Through shadowing, you can follow a professional throughout the day and ask questions to know what to expect.
2. Complete High School or Your GED
Earning your high school diploma or the equivalent is a minimum requirement for most training programs. Efficiency in math, science, and biology will give you an excellent foundation to prepare for training. You may also include chemistry or computer science in your subject choices to complement your career.
3. Enroll in an Anesthesia Technician Program
After researching the career and training options, you need to select the right program for you. Some factors to consider include the institution's accreditation, the program content, and the practical training provided in the program.
The Anesthesia Technician program at AIMS includes training in a variety of areas including patient positioning, IV therapy, sterilization practices, blood transfusion, emergent perioperative medications, and the functioning of anesthesia machines.
4. Complete Your Clinical Internship
Enrolling in an anesthesia technician program that includes a clinical internship is essential. Students at AIMS Education are able to complete a 500 clinical hours before starting their careers. Under the supervision of an anesthesia technician, you'll experience the day-to-day work schedule and duties for this career. Students are placed at an affiliated clinical site to get real-world experience and complete their clinical hours.
After completing the program over 12 months and meeting the graduation requirements, you'll be prepared for a new career as an anesthesia technician.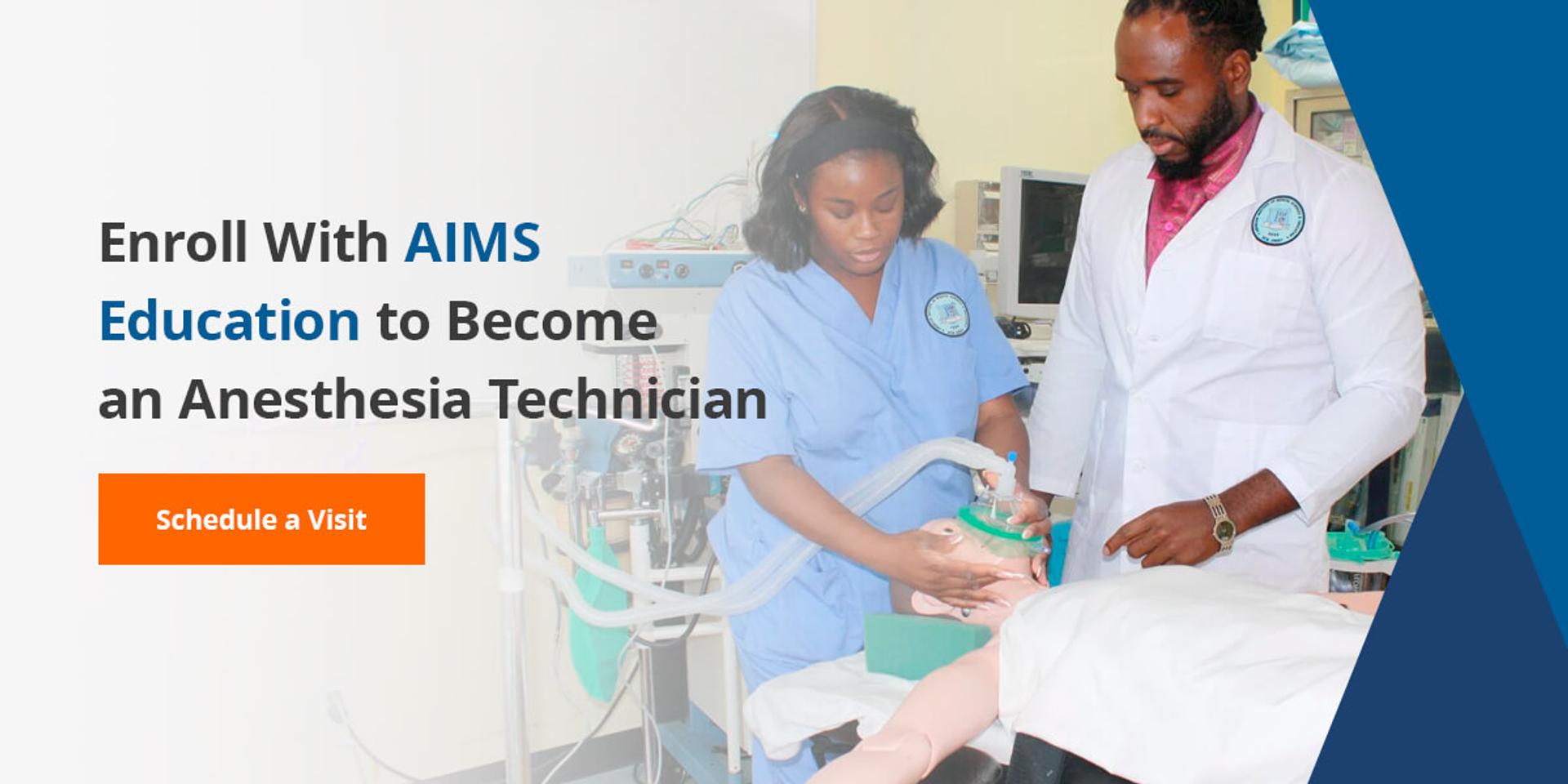 Enroll With AIMS Education to Become an Anesthesia Technician
Becoming an anesthesia technician is a rewarding career path where you can impact patients' lives and add value to the healthcare system. We want to equip you with the training you need for a successful career. If you're interested in enrolling in our Anesthesia Technician program, fill out our form to learn more about the program or schedule an appointment with an admissions specialist who will answer your questions.