Essential Computer Skills for Medical Billing and Coding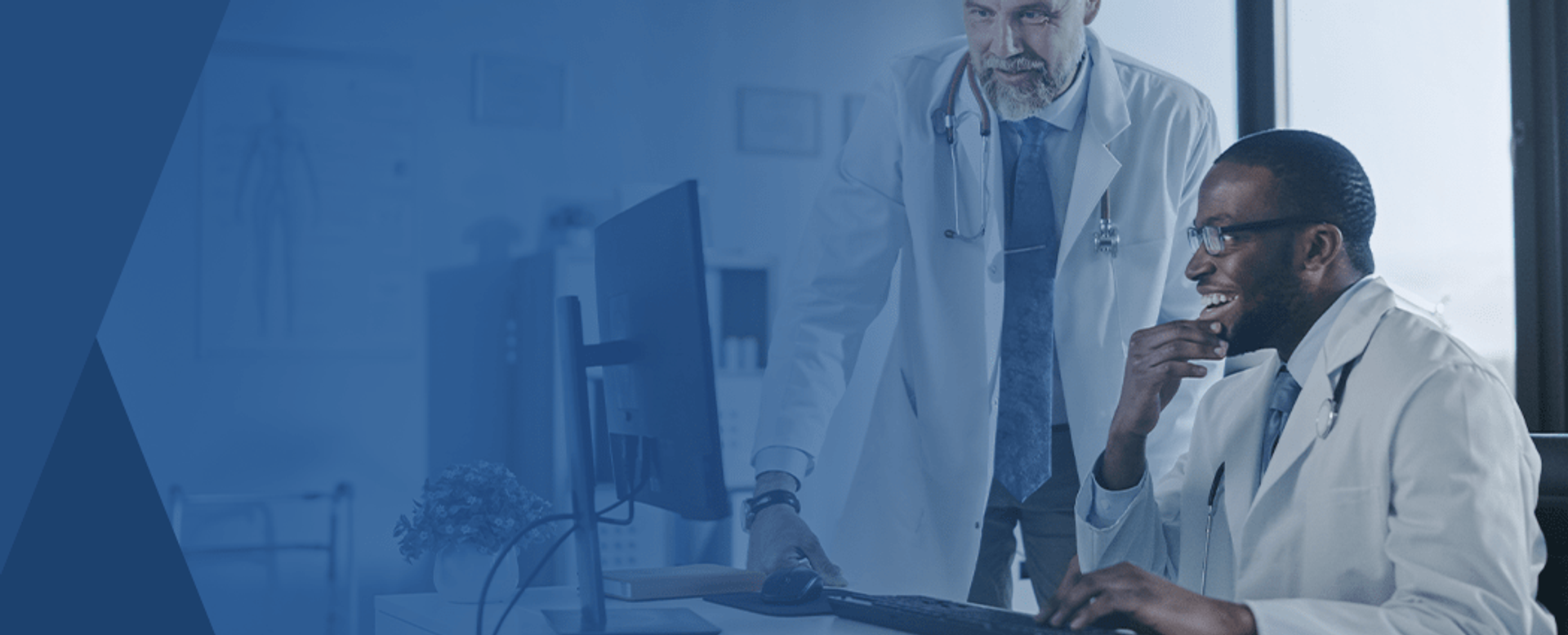 A medical coder or biller acts as a liaison between medical practices and insurance providers. These professionals help healthcare facilities manage insurance claims, payments, and invoices. They're responsible for updating patient information needed for billing purposes.
Numerous skills are required for this job, including interpersonal and computer expertise. Learn more about the essential skills medical billers should have and how medical coder training can help you excel in the field.
Personal Skills Needed for Medical Billing and Coding
Developing personal skills is essential for medical billers since they work with numerous individuals daily. Different personal skills needed for the job include:
Communication skills: As a medical billing specialist, you'll work with customers, other professionals, insurance providers, and more. High-quality communication skills ensure you can convey necessary and correct information to the right people. You must be able to answer questions, explain charges on patient bills, guide patients along the billing process, and clarify insurance policies.
Listening skills: While communication is essential, being an active listener is also critical working in medical billing and coding. It will be easier to navigate the billing process when you can listen to multiple parties and understand what they're saying. The better you can listen, the more effectively you can communicate.
Problem-solving skills: As you work, you may run into some snags that require critical thinking to solve. A medical biller should have problem-solving skills that help all parties reach a solution, especially since you'll work with a spectrum of people. Part of problem-solving includes being resourceful when things go wrong.
Conflict management: Some situations can become heated when working in medical billing and coding, especially when negotiating patient payments. People in this industry should have conflict management skills to handle tense situations. Some of these skills you'll develop from experience, but they can also come naturally. When you're working with customers, practice listening and empathy to understand their unique circumstances.
Attention to detail: Numerous steps are involved in medical procedures, and they must be paired with an appropriate billing code. People working in the field must pay attention to the minute details to ensure everything is accurate for healthcare professionals and patients.
Organizational skills: Medical billers handle plenty of information daily for each case. Medical billers must be able to keep track of this information to ensure they can locate it when others require it. Medical billers should have quality organizational skills to access information about specific claims quickly.
Time management: When you work as a medical biller, you'll likely work independently, giving you more control over your time. Since your workday will be less structured, you'll need time management skills to ensure you promptly complete tasks. Understanding how long tasks take to complete and the necessary steps help reduce the chance of things piling up.
Multitasking: In many cases, you'll need to bounce between tasks or manage multiple tasks simultaneously. A medical biller should have multitasking skills to keep up with their workload.
Collaboration and teamwork: You may be the only medical biller for a small medical practice and work independently, but you'll still need collaboration and teamwork skills to work with others. You'll work with patients and medical professionals and need to have the ability to work with others to ensure you have their cooperation.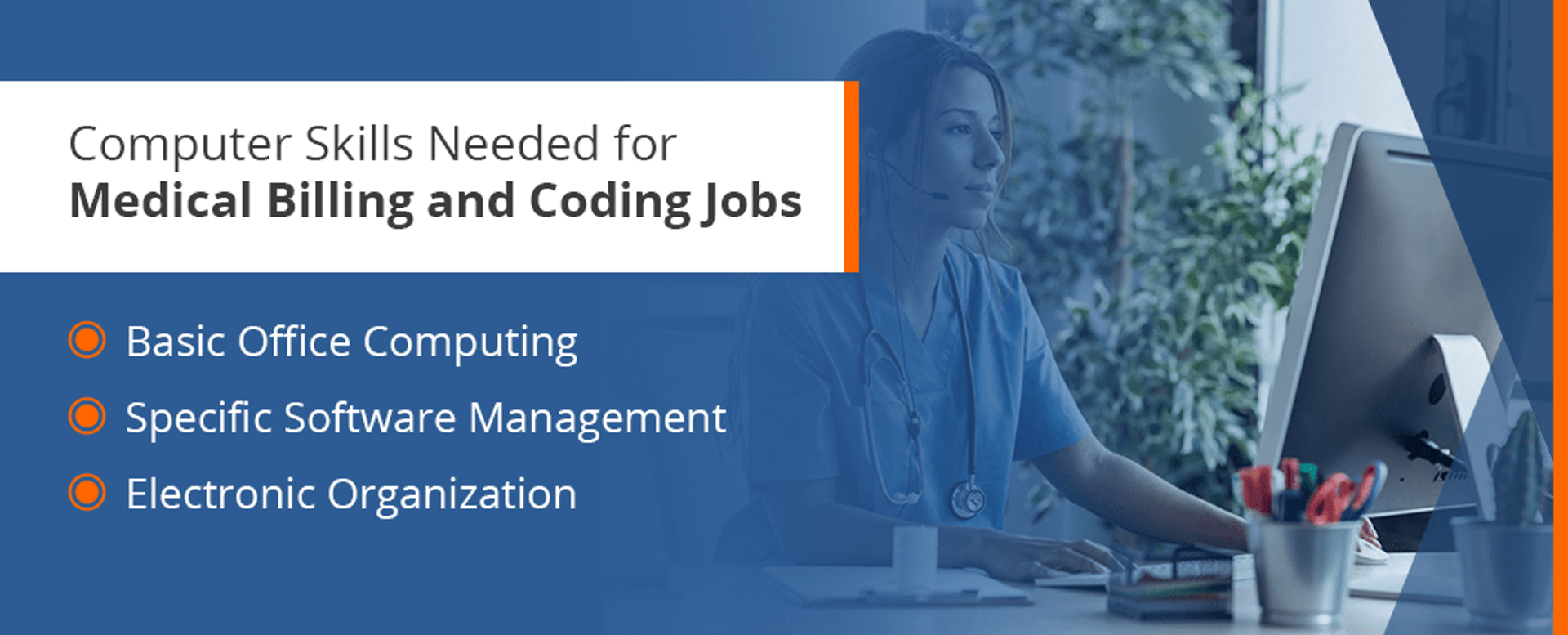 Computer Skills Needed for Medical Billing and Coding Jobs
On top of interpersonal skills, a medical biller will need various computer skills to complete their work. The computer skills needed for medical billing and coding include:
Basic Office Computing
Medical billers should have basic computer skills that any person in an office setting would have. These skills include quick and accurate typing. Medical billers should also be familiar with standard word processing and spreadsheet software, such as Microsoft Word and Microsoft Excel.
On top of basic medical coding computer requirements, medical billers should utilize their organizational skills to manage billing software and electronic health records to ensure they maintain accurate billing information for healthcare providers and patients.
Specific Software Management
Besides basic computer skills, medical billers should also be familiar with the software used for their job. There will be specific document management and medical and coding software. These skills are usually developed on the job, though you may become familiar with this software during training and certification.
Each software helps streamline processes and lets medical billers access accurate and up-to-date information. Becoming familiar with each type of software as quickly as possible lets you stay on top of your daily tasks.
Electronic Health Records (EHR)
Medical billers should know how to navigate computers and technology to track patient payments, billing, and insurance claims. In many cases, an integrated billing and EHR system will help you manage these tasks and access this information in one place.
You'll also need to be familiar with some of the codes used in billing. While it's impossible to memorize thousands of codes, it's important to have a general understanding of how medical coding works.
What Software Does a Medical Biller Use?
Medical billers use either electronic or paper coding methods but often use billing software and EHR systems to streamline processes and ensure accuracy for patients and healthcare providers.
The specific software a medical biller uses depends on the practice they work with but can include Medisoft, Flash Code, Eclipse, AdvancedMD, Epic, and other electronic billing and coding software. These programs help medical billers fill in the procedure and codes for the corresponding patient. You may even be able to look up codes using built-in tools to help you find the correct code for the procedure. However, medical billers can also reference their coding manuals to ensure they use the correct code.
Working with billing and coding software has many benefits, including:
Tracking claims
Calling up old reports to check for errors
Tracking data over long periods
Evaluating performances
Improving organization and turnaround regarding reimbursement
The billing software you use as a medical biller will depend on your practice, but most software helps improve the efficiency, accuracy, and speed of the billing process. Medical billers can access information more efficiently to provide patients with quality customer service and communicate efficiently with healthcare professionals and insurance providers.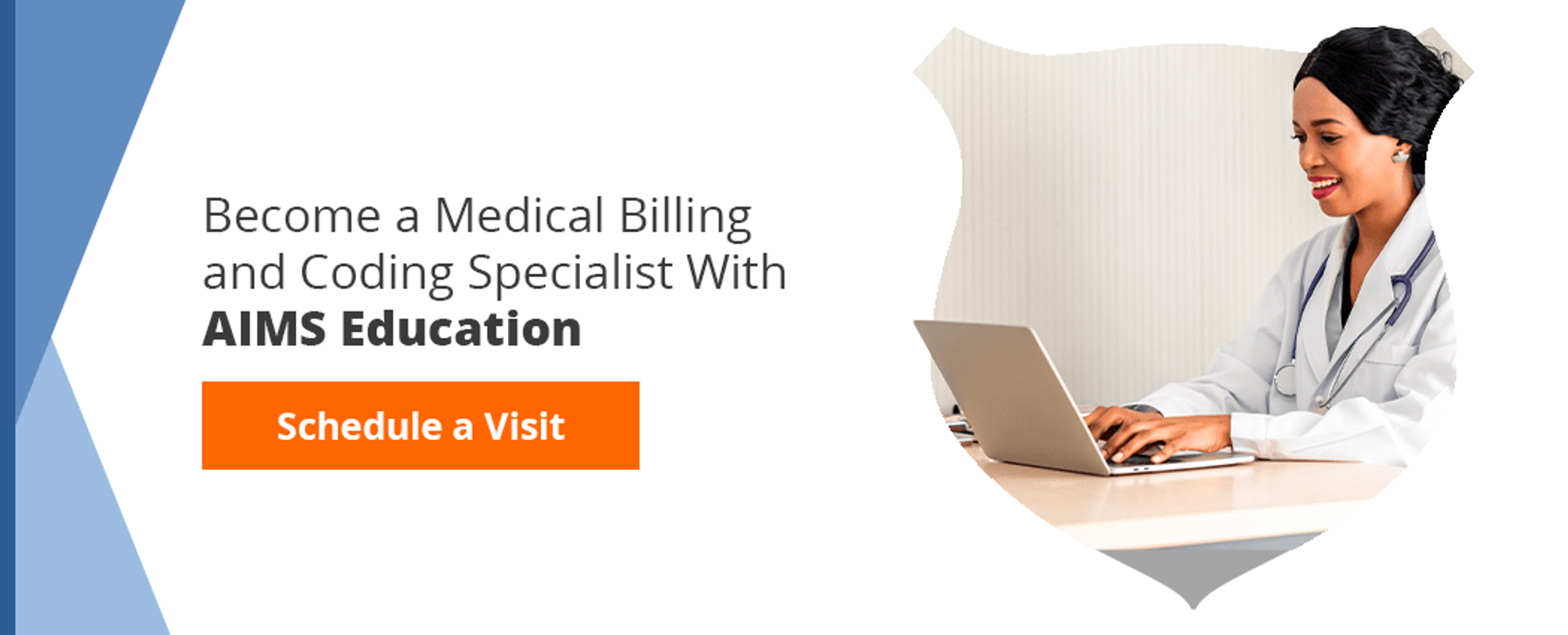 Become a Medical Billing and Coding Specialist With AIMS Education
AIMS Education offers a medical billing and coding certificate program. This program is designed to help individuals prepare for work as a medical biller, teaching necessary skills, including filing claims, solving billing issues, appealing claims, completing insurance forms, and more. Individuals will leave with plenty of knowledge regarding medical coding, ensuring they're adequately prepared to enter the field.
You can complete the program in as little as 4 months, allowing you to enter a new career in less than 6 months. You'll have plenty of job opportunities, from doctor's offices and clinics to ambulatory centers and medical billing companies. Contact us to learn more about our program today by scheduling a virtual appointment.