A Career in Medicine: Dr. Shekhar and the END (EEG) Technologist Program
March 14, 2014
Neurodiagnostic Technology is a fascinating medical field with tremendous career potential. For those interested in this career path, however, it can be difficult to find formal training programs. AIMS Education is one of the few schools in New Jersey that offers comprehensive training for future electroneurodiagnostic (END) technologists.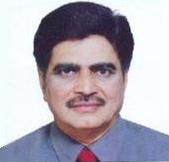 Today I had the opportunity to sit down with Dr. Chandrashekhar Narechania, the program director for the Electroneurodiagnostic Technologist program at AIMS. Dr. Shekhar, as he is known to his students, has been running the END program at AIMS since its inception in 2011.
In addition to his extensive medical background he also holds the R. EEG T. and R. EP T. credentials from the American Board of Registration of Electroencephalographic and Evoked Potential Technologists (ABRET).
Barry: Hi Dr. Shekhar. Can you tell us a little about your background?
Dr. Shekhar: Well, I have more than 35 years of experience in the medical field. I've worked as a professor in surgery, a medical director, and a chief surgeon at various hospitals in India. And for the past 5 years I've been an instructor and program director at AIMS Education. I'm also certified by ECFMG and registered as an EEG and Evoked Potential Technologist through ABRET.
Barry: Have you always been interested in medicine?
Dr. Shekhar: I have, yes. For as long as I can remember I've always had a passion for medicine. It fascinates me. That's one of the reasons I've had such a long career in the field.
Barry: Why did you decide to become a teacher?
Dr. Shekhar: I love working with people who are eager to learn and improve themselves. It doesn't matter if they are colleagues or students, as long as they have a passion for the healthcare field. I truly believe that the knowledge I'm helping them attain can make a difference not only in their lives but also society as a whole. Knowing that the instruction I provide can truly impact the future is a great feeling.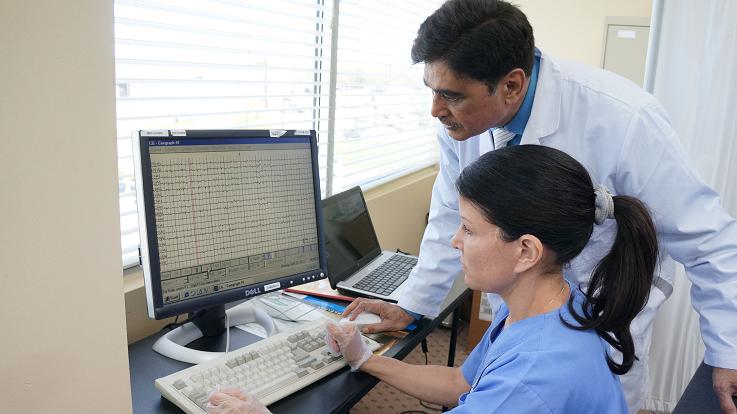 Barry: In your opinion, what makes a great teacher?
Dr. Shekhar: That is a very good question. Being a great teacher or even a good teacher is not easy. Great teachers will not only educate, but also inspire and motivate their students. Teaching at its core demands a broad knowledge of the subject matter and educational standards, but it also requires enthusiasm and compassion as well as discipline and classroom management skills. I feel that I have all of these qualities and a desire to make a difference in the lives of young people.
Barry: What is the teaching methodology used at AIMS?
Dr. Shekhar: One of the key components of any successful teaching methodology is that the lessons hold the interest of students. The training programs at AIMS include intensive classroom and practical education. Therefore it's essential for the lessons to have a high level of intrinsic interest in order to keep the students engaged. Creative learning is an innovative way to make learning more enjoyable, and projects and assignments are tools used to put classroom learning into practice.
Barry: How important is practical training in the healthcare field?
Dr. Shekhar: In my opinion, practical training is the most important aspect of any healthcare education. Today's healthcare professionals must continuously reconstruct their expertise and be able to apply their theoretical knowledge to the workplace. The best way for students to reinforce their theoretical knowledge is through practical, hands-on training. It also allows students to gain exposure to real world environments.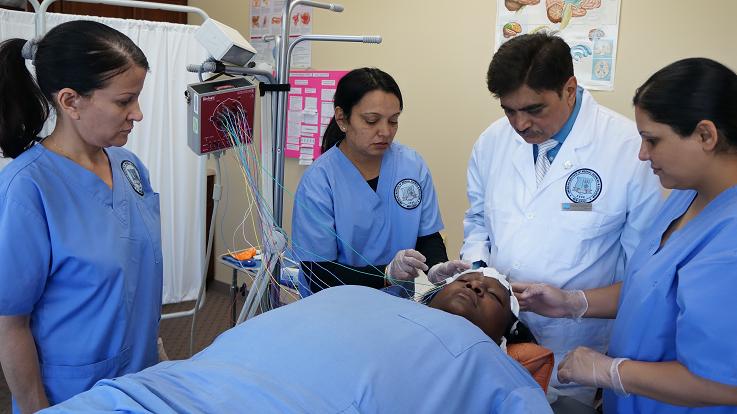 Barry: What is your current role in the Electroneurodiagnostic Technologist program?
Dr. Shekhar: I'm currently the program director for the END program and I'm also the primary instructor for all of the core END classes.
Barry: Can you tell us a little about the END program and what type of training is involved?
Dr. Shekhar: Our program covers Electroencephalography (EEG), Electromyography (EMG), and Intraoperative neuromonitoring (IONM). Similar to our other programs, END includes both classroom education and clinical instruction. The clinical training takes place in area hospitals and includes portable recordings in intensive care units as well as monitoring of surgical procedures. Unlike many EEG techs, our graduates are qualified to perform a lot more than a standard EEG recording. Their scope of expertise allows them to perform nerve conduction studies, evoked potentials, long-term epilepsy monitoring, surgical monitoring, ambulatory monitoring, brain mapping, and electromyography.
Barry: Why is Neurodiagnostic Technology such an exciting field to go into?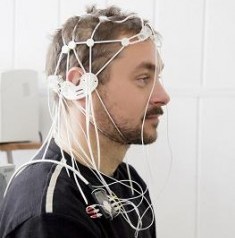 Dr. Shekhar: From strictly an academic standpoint, neurology is a fascinating and intricate field to study. There is so much to learn about the brain and nervous system. And there is even more that we have yet to discover. For those looking to be challenged, this is the perfect field of study.
This is also a field with great potential for the future. EEGs and evoked potential techniques are starting to be used more often in surgeries nowadays. This has created a higher demand for END Techs.
Barry: It sounds like the career prospects are very good for this field.
Dr. Shekhar: Definitely. Neurodiagnostic Technology is a field that has seen a lot of growth in recent years. Hospitals in particular have been expanding into this area by developing neurodiagnostic labs and specialty units. And right now the demand for qualified techs outweighs the supply. Most healthcare facilities prefer to hire END techs that have formal training, but there are very few training programs available. That means less competition for those who go into this field. The program that I run at AIMS is actually one of the only electroneurodiagnostic programs in the New York/New Jersey area.
Barry: What have you found most rewarding about your time at AIMS?
Dr. Shekhar: Teaching at AIMS has been very rewarding for me. In addition to the health training I've provided, teaching has also given me the opportunity to instill a sense of morality and professionalism in my students. Knowing that these lessons can benefit my students throughout their lives means a great deal to me. Working and collaborating with the other instructors has also been a wonderful experience. It helps that everyone is working toward the same goal – to educate and prepare the next generation of health care professionals.