Understanding the Different Types of Sonographers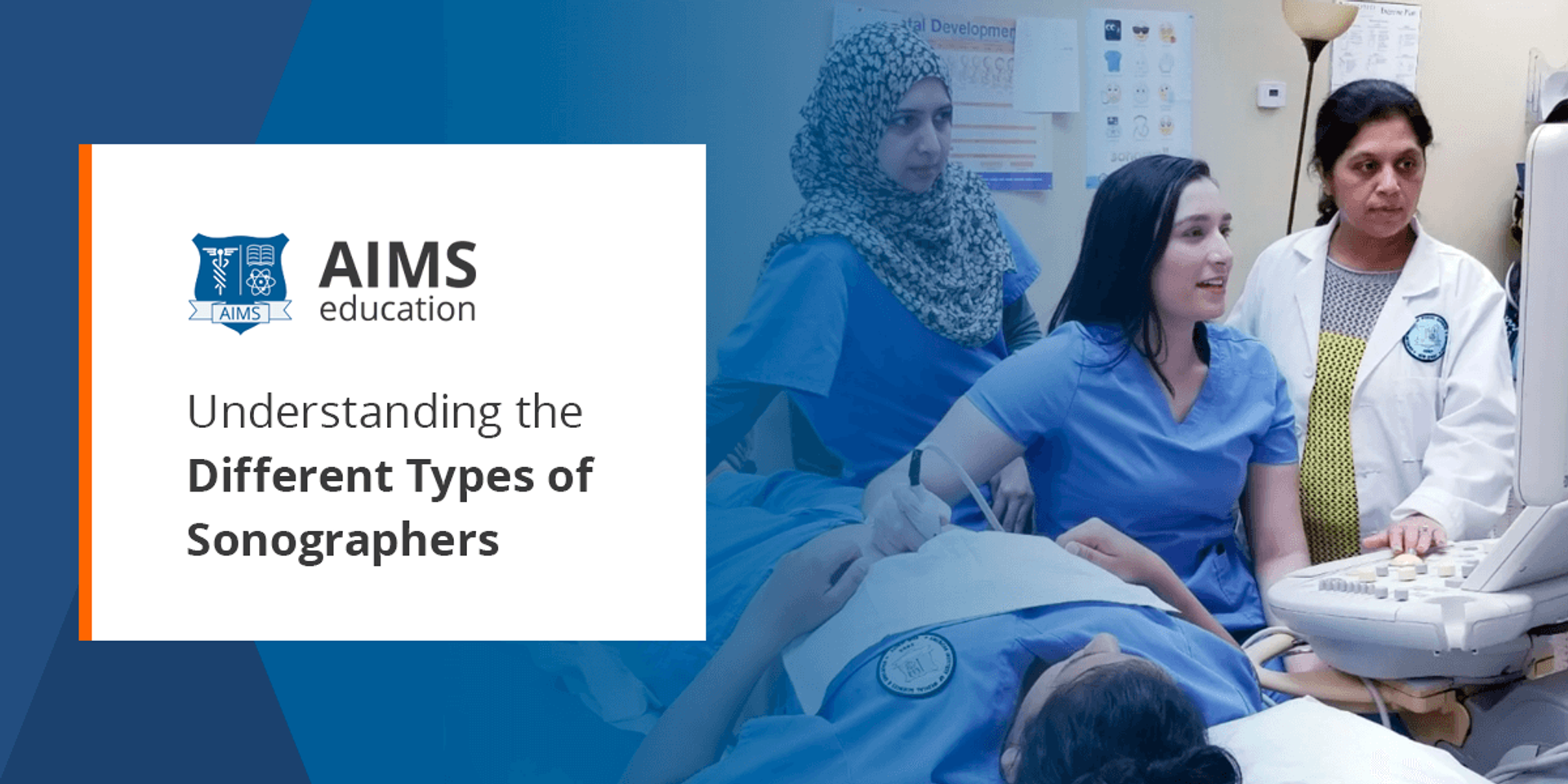 Sonography is a method of capturing images of the human body for diagnostic purposes. Sonograms help doctors and physicians monitor and evaluate health conditions in people of all ages ranging from newborns to elders. The sonographer primarily takes the images and works alongside the doctor in identifying abnormalities and diagnosing the patient.
The career of a sonographer is fulfilling and rewarding, as you get to better yourself and help patients on their healthcare journeys. There is much to know about the field, especially if you're interested in a sonography specialty. Continue reading to learn more about sonography and the different types of sonographers.
What Is Sonography?
Sonography uses ultrasound as a non-invasive way to help diagnose a variety of health conditions inside the body. Ultrasound uses high-frequency sound waves that echo off the internal tissue and are displayed on a screen to give the physician a clear image of what's happening inside the body in real time. The sonographer, also known as a technologist or technician, guides a handheld device over the skin's surface to view different angles of tissues, blood vessels, organs or a fetus. The technician and physician will then analyze the sonogram to come to a diagnosis.
Sonography machines are mobile, which enables the sonographer to transport the machine to sick or immobile patients rather than transporting individuals around and risking further harm. Additionally, sonography is considered a safer form of medical imaging, as it avoids using harmful radiation like X-rays use. This enables physicians to obtain images of nearly any patient, regardless of their ability or willingness to be X-rayed.
Ultrasound waves were first used medically around 70 years ago. Before that, ultrasound was used to help ships navigate by bouncing sound waves off the bottom of the ocean. Now, this is called sonar and is still used for exploring the oceans. Today, advanced sonography technology is integrated with modern computers to help doctors diagnose issues associated with various parts of the body.
What's the Difference Between Sonography and Ultrasound?
You may hear the terms sonography and ultrasound used interchangeably. While they're closely related, there is a slight difference between the two. An ultrasound is a type of test that uses sound waves to create an image of the internal body. A sonogram is the image generated by the ultrasound. In other words, an ultrasound takes sonograms. So, sonography involves using ultrasound to diagnose patients.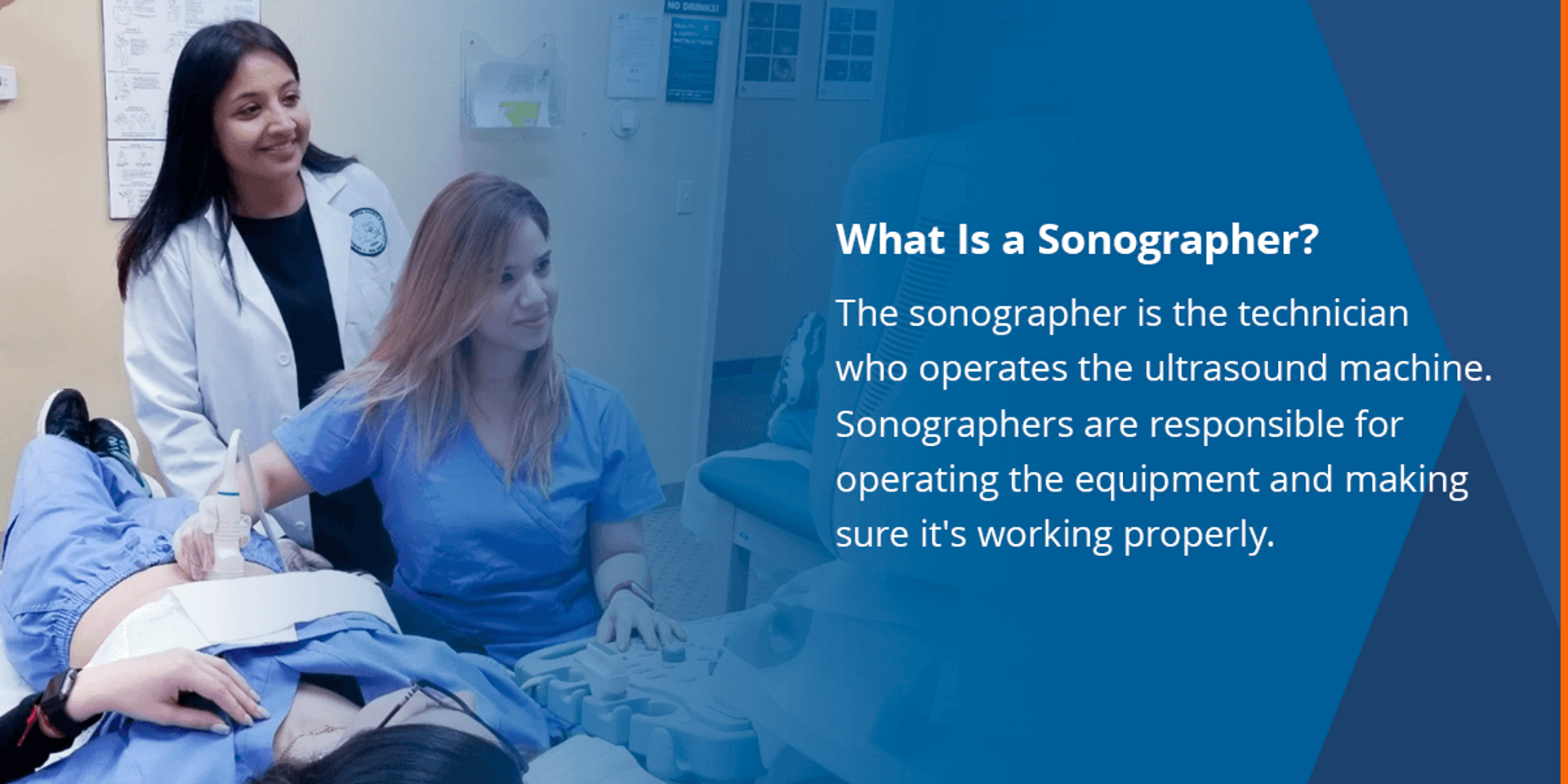 What Is a Sonographer?
A sonographer is a healthcare worker who operates an ultrasound machine. Sonographers are responsible for operating the equipment and making sure it's working properly. They report to doctors and physicians and review the patients' history and condition.
Sonographers are also responsible for preparing their patients for the imaging process, including explaining what to expect. Building rapport with patients while remaining confident and professional will go a long way in improving each patient's experience.
To perform the ultrasound, the sonographer will apply conductive gel to the skin where the ultrasound will be taken. The sonographer then uses a probe called the transducer to send sound waves through the intended area of the body, which are then sent back to the ultrasound machine display.
The sonographer will view the image, record their findings and submit the patients' images and files to the doctor. They may discuss the images with the doctor and offer input toward the diagnosis.
Sonographers typically get specialized certifications that allow them to work specifically with an area of the body. Some body parts and systems are more complex than others, so specializing in imaging those systems is often necessary for finding a proper diagnosis.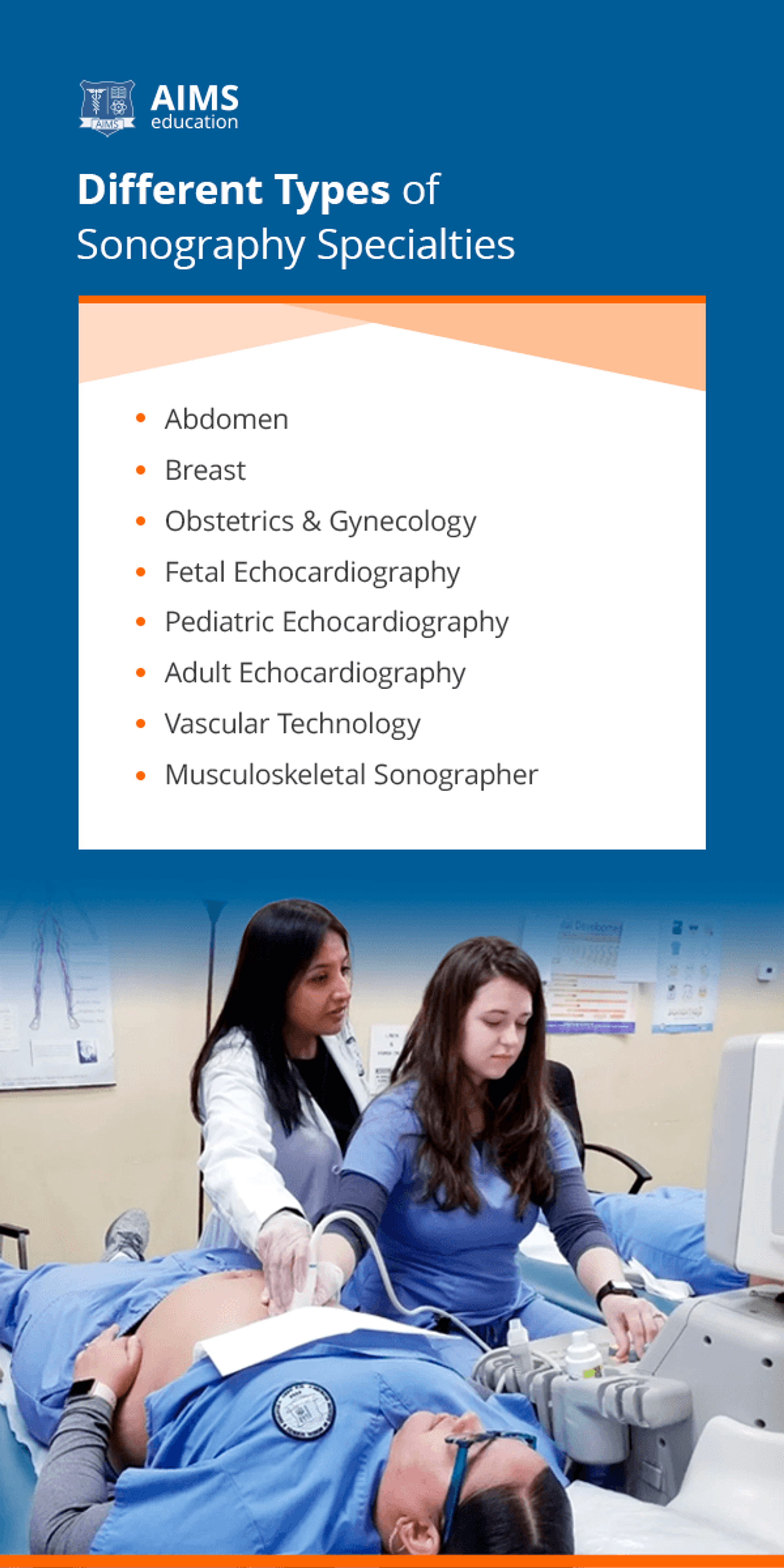 4 Different Types of Sonographers
Since sonography can be used to view several parts of the body, there are numerous different types of sonography specialties. What do different types of sonographers do? In general, different types of sonographers are highly trained in a specific body area. For example, a sonographer can be specially trained to look for issues in the heart, abdomen, brain or other organs. Sonographers can also have training in multiple areas of the body, which allows them to work in various settings.
Consider the different roles, skills and duties of these different sonographers.
1. Diagnostic Medical Sonographer
Medical sonographers need to understand medical language and basic human anatomy, as well as know how to write reports, use sonography equipment and present the sonography images to the physician or doctor. Diagnostic medical sonographers learn the general ins and outs of the sonography field, then can further specialize in one of six areas:
Abdomen
Abdominal sonographers specialize in imaging the abdominal organs. This requires the technician to have fairly advanced knowledge of the abdomen and the organ systems within it.
The sonographer looks for abnormalities like tumors, kidney stones, gallbladder stones, tissue damage, weak spots and other concerns.
Abdominal sonographers go through extensive training to fully understand the abdominal systems so they can successfully help doctors make diagnoses in medical facilities like clinics and hospitals.
Obstetrics and Gynecology (OB/GYN)
OB/GYN sonographers specialize in one of the most common diagnostic medical sonography specialties. These sonographers specialize in taking diagnostic images of female reproductive systems and the fetus during pregnancy.
During an ultrasound, obstetric sonographers need to ensure both the mother and fetus are healthy while looking for normal development and growth, pregnancy complications, and abnormalities. The sonography technician will also verify the pregnancy, check the fetus's position, and determine a due date.
Breast
After a patient receives an abnormal mammogram result, a breast ultrasound is often used as a follow-up exam. A breast sonographer will take ultrasound images of the breast, lymph nodes, and surrounding breast tissue. Breast ultrasounds are also commonly used for women with dense breast tissue.
Breast sonographers look for irregularities like cysts, tumors, and lumps that could indicate a developing issue. While the ultrasound can't detect cancer, abnormalities will appear as dark spots, which can then be biopsied to determine a treatment plan. The ultrasound equipment can also be used to guide a needle to remove fluid from a cyst or during a biopsy.
Sonography is especially important for imaging breasts without radiation, specifically for pregnant women, lactating women, and women under the age of thirty who have a palpable lump. Breast sonographers undergo specialized education and training to earn positions in women's health centers, oncology centers, and hospitals.
Fetal Echocardiography
Fetal echocardiographers may work closely with OB/GYN sonographers to determine the health of the fetus's heart. Fetal echocardiographers will assess the heart's anatomy, pathology, physiology, and hemodynamics prior to delivery. This enables doctors and surgeons to identify any heart defects early so they can make adjustments to their treatment plan as necessary.
To help make proper diagnoses, these specialized sonographers need to have strong abilities and extensive knowledge regarding the difference between normal and abnormal fetal cardiac functions.
Pediatric Sonography
Pediatric sonographers specialize in taking sonogram images of pediatric patients. Specific parts of the body these sonographers will focus on include the chest, spine, head, joints, hips, and genitourinary systems. Since pediatric patients are still growing and their bodies continue to change, a specialized sonographer in this area can help identify causes for concern.
While explanations are helpful to any patient, it's extremely important for pediatric sonographers to explain the process to their patients and family members, as they may be scared or nervous. Explaining the steps in the imaging process helps the patient understand what the technician and doctor are doing and looking for, which helps the patient feel more comfortable throughout the procedure, especially if they are children.
Neurosonology
Also known as neuroimaging, neurosonography is an extremely specialized area of sonography. Neurosonographers use a transcranial doppler ultrasound that has special beams and frequencies to monitor and measure blood flow in the brain.
Since the brain is so closely connected to the spine and nervous system, neurosonographers can also image these areas to look for a range of disorders, including brain tumors, cysts, Alzheimer's, stroke, aneurysm, paralysis, and epilepsy and its causes.
The specialized equipment and highly technical training require special certification to practice neurosonography.
2. Diagnostic Cardiac Sonographer
Cardiac sonographers, also known as echocardiographers or echo techs, work specifically with cardiologists to help diagnose heart problems. These sonographers take 2D and 3D images of the entire heart and of individual chambers to look for heart muscle deterioration and blockages. They'll look at the heart's structure and check for strong blood flow. The sonogram images help the doctor diagnose conditions and prescribe treatment, surgery, or lifestyle changes for the patient.
Diagnostic cardiac sonographers can work in medical settings where there are cardiac specialists on staff. Most often, positions are in hospitals, though cardiac sonographers can also work in clinics and doctor's offices. These sonographers can also further specialize in adult, pediatric, or fetal echocardiography.
3. Musculoskeletal Sonographer
A musculoskeletal sonographer takes images of the skeletal system and muscles, including nerves, ligaments, tendons, and joints throughout the body. These ultrasound images can help diagnose medical conditions that may affect mobility in a patient, many of which occur from accidents or injuries. For example, the sonographer will look for conditions like sprains, tears, arthritis, hernias, cysts, soft tissue damage, herniated discs, and more.
Many musculoskeletal sonographers find jobs in hospital emergency rooms, urgent care clinics, and other facilities that specialize in treating traumatic injuries.
4. Vascular Technologist
Vascular sonographers, also known as vascular technologists, are highly specialized, working closely with cardiologists and surgeons to diagnose various vascular system disorders and diseases. A vascular sonographer examines patients' veins and arteries for clots or blockages. They may also be required to collect patient histories, perform scans, and compile a preliminary impression report for the physician.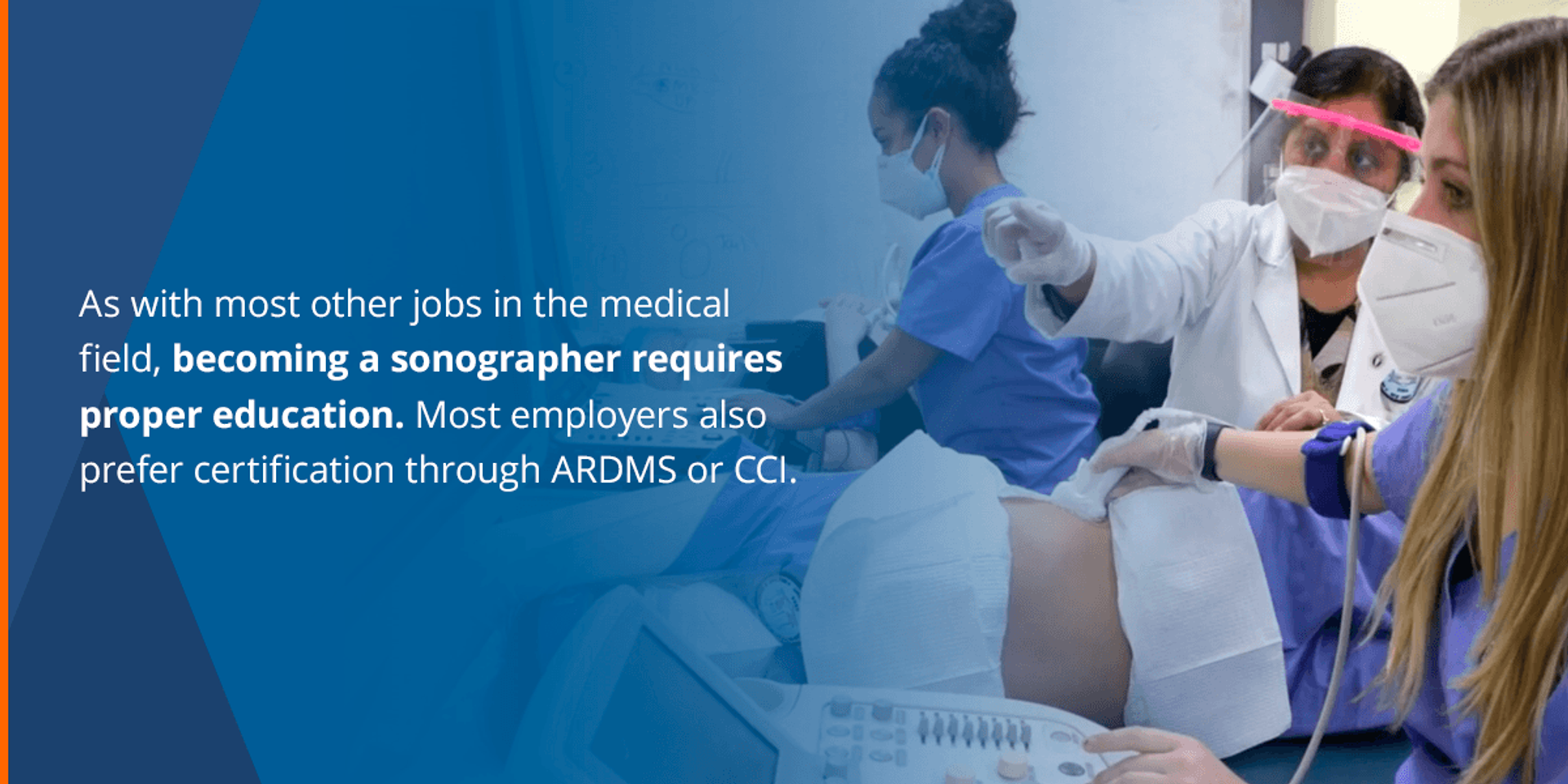 How to Become a Sonographer
As with most other jobs in the medical field, becoming a sonographer requires proper education. The majority of sonographers graduate from a sonography certificate or associate degree program. However, there are some bachelor's degree programs as well. The most successful sonographers typically graduate from CAAHEP accredited programs and obtain certification through the American Registry for Diagnostic Medical Sonography (ARDMS) or Cardiovascular Credentialing International (CCI). Most accredited programs can be completed in 2 to 3 years. Once you become a certified sonographer and gain some on-the-job experience, you can earn additional specialty certifications.
Certifications are considered valuable to organizations and employers, so having multiple certifications can allow you to find better jobs and more opportunities. Some states have licensure or certification requirements, while others may not. If your state doesn't have a certification mandate, you may still find that employers require candidates to be certified. In many cases, certifications can give you a competitive advantage.
Sonographer Salary and Job Outlook
Salaries can vary significantly depending on numerous factors, including education, experience level, specialty, location, and industry. A sonographer working in an outpatient care center may earn more annually than a sonographer working in a diagnostic lab. In 2021, diagnostic medical sonographers earned a median annual wage of $77,740.
There will be some variation when looking at different types of sonographers and salaries. A cardiac sonographer may earn upward of $99,000 per year in the United States, while a breast sonographer could earn over $67,000 annually.
However, it's important to keep in mind that many factors can affect your salary. To get a better idea of what sonographers are being paid in your area, do some research so you know what to expect.
Which Sonographers Are in Demand?
If you're considering entering the sonography field, you may be concerned about which sonographers are in demand and what job opportunities will be available. Abdomen and OB/GYN sonographers are often in demand because some of the most common ultrasound procedures fall under these specialties. For example, obstetric sonographers regularly take sonogram images of the mother's uterus and the fetus to ensure both are healthy.
In terms of job outlook, it's looking good for current and future sonographers. The U.S. Bureau of Labor Statistics expects the sonography profession to grow 14% by 2030. This means there are 12,000 projected job openings each year until then.
With so many potential job openings, it's clear that there is significant demand for sonographers. Prospective sonographers looking to enter the workforce have a promising outlook for the foreseeable future.
Sonography Programs Available Through AIMS Education
AIMS Education is proud to offer three sonography programs. Our sonography programs prepare students to enter the workforce with the necessary skills and experience to work as skilled sonographers. Here's a closer look at what our programs can do for you.
Diagnostic Medical Sonography Program (DMS)
The AIMS Education DMS program is accredited by CAAHEP in the Abdominal-Extended and Obstetrics and Gynecology concentrations. The program also includes training in the Vascular Technology specialty. Through a combination of hybrid learning, hands-on experiences, and clinical hours, our students learn the essential skills necessary for DMS scanning.
Our sonography students meet the qualifying requirements to take the Abdomen and OB/GYN certification exams offered by ARDMS.
The goal of our diagnostic medical sonography program is to prepare competent, entry-level diagnostic medical sonographers for the Abdominal - Extended and Obstetrics & Gynecology specialties.
Diagnostic Cardiac Sonography Program (DCS)
Our DCS program is accredited by CAAHEP for the Adult Echocardiography concentration. AIMS Education allows students to train on state-of-the-art cardiac sonography equipment while learning proper techniques, including doppler echocardiography, stress tests, EKG techniques, and Holter monitoring.
Like the DMS program, students in the Diagnostic Cardiac Sonography program will benefit from hybrid learning, hands-on training, and a mandatory clinical internship. Our goal is to prepare competent, entry-level cardiac sonographers who specialize in adult echocardiography. Graduates are eligible to take certification exams through ARDMS or CCI.
Cardiovascular Technologist Program (CVT)
Our CVT program prepares students to image, analyze, and measure the circulatory and heart systems. Students are trained in cardiac sonography and peripheral vascular sonography.
Courses for the CVT program are also hybrid, and students will complete a clinical internship to gain field experience. Upon completion of the program, students will have the cognitive, psychomotor, and affective competencies needed to succeed as entry-level cardiovascular sonographers.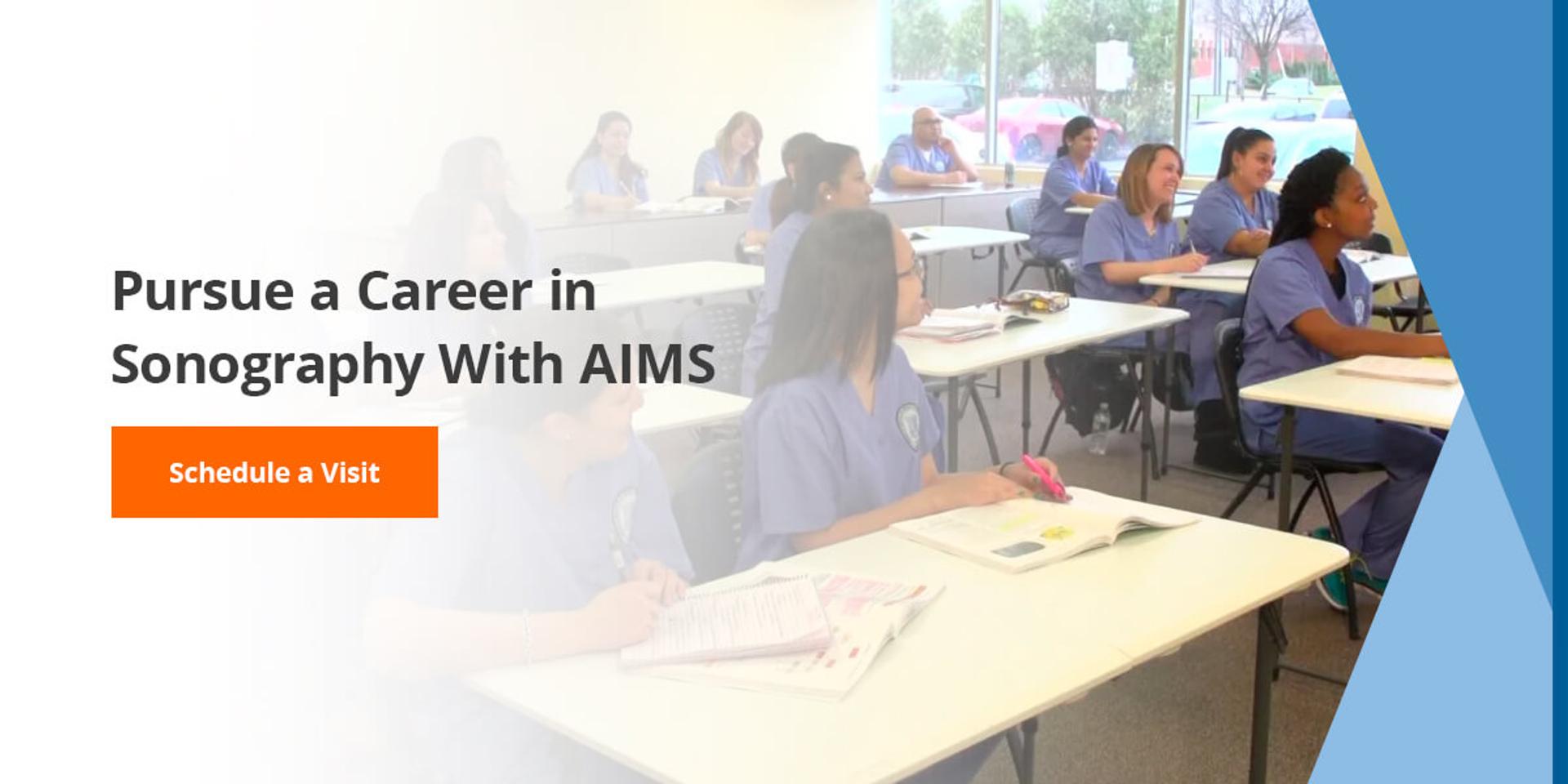 Pursue a Career in Sonography With AIMS
All of our sonography programs have job placement rates above 80% (based on the 2020-21 reporting year), demonstrating the capabilities of these programs. If you're looking for a career in the medical field and want to help improve others' lives, consider enrolling in one of the AIMS Education sonography programs.
Schedule a visit to our campus today, or request more information to learn about our programs.