Comparing EEG Technicians to Other Neurology Careers
December 20, 2019
Neuroscience has a multitude of branches, and for those who want to work in a brain-related field, it can feel overwhelming to choose one to pursue.
To help you select an allied health career path, we've broken down various careers in neurology, starting with EEG technology. So what does an EEG technologist do, how does this role compare to other similar fields, and how do you become one?
What Is an EEG Technologist?
EEG – which stands for electroencephalogram – is a mouthful, but you've probably seen this procedure before when someone has small metal discs attached to their head. These small discs are used to detect electrical activity in the brain (when your neurons communicate with each other).
As an EEG technologist, your primary role involves running diagnostic tests to assist doctors with their diagnoses (that range from epilepsy to sleep disorders). You'll also be responsible for obtaining patient medical records, positioning patients, analyzing test results, and maintaining the EEG equipment.
Beyond just EEGs, neurodiagnostic technologists may also perform EPs (Evoked Potential tests), NCSs (Nerve Conduction Studies), and IONMs (Intraoperative Neurophysiologic Monitoring).
How to Become an EEG Tech
Nowadays, many EEG techs receive their education via NDT training programs that introduce students to a broad range of neurodiagnostic procedures. Remember: An EEG technologist falls under the neurodiagnostic technology (NDT) umbrella. So once you've completed a training program, you may have the option of obtaining certification as an EEG technologist or possibly another specialty.
Studies in this field usually require 12-18 months, and a great program will include a balance of theory and practicum. It's important to find an EEG training program that includes a clinical internship. Once you've completed your training, graduates of ABRET-approved programs are eligible to receive their certification.
Note: In order to apply to an EEG program, you'll need a high school diploma. However, prior coursework in Anatomy & Physiology or Medical Terminology can certainly be beneficial.
EEG Tech Job Opportunities
While the Bureau of Labor Statistics doesn't have specific employment data for EEG technologists, the data for health technologists and technicians shows strong salaries and job growth.
What Is the Average EEG Tech Salary?
For example, the national mean annual wage in this category is greater than $52,000, though that number can vary from around $40,000 to over $58,000 (depending on the location and sector that technologists work in). Suffice it to say, incomes range from $29,000 to $80,000.
Whether you'd like to work in a laboratory, a hospital, clinic, specialty clinic, or research center, you can look for potential job openings suited to your interests.
EEG Techs Vs. Other Neurology Careers
As we mentioned above, EEG is only one career in the neuroscience field.
What Does a Neurologist Do?
A neurologist is a medical doctor who typically works in a clinical setting. They generally work to diagnose medical conditions related to the brain, spine, and nervous system (like stroke, multiple sclerosis, migraines, Alzheimer's disease, Parkinson's disease, or epilepsy).
While an EEG Tech certification can be obtained in a relatively short period of time, becoming a neurologist can take around 12 years between undergraduate studies, medical school, residency, and specialist training. Understandably, the average neurologist salary can be more than four times more than the average EEG tech.
Comparing EEG technicians and neurologists is like comparing apples and oranges. But there are plenty of other career opportunities related to the brain.
Neuroscientists
Though neuroscientists and EEG techs may end up working with much of the same equipment, neuroscientists will often use MRI machines, too.
The medical side of neurology is concerned with diagnosing and treating illness, but neuroscience attempts to address how the brain observes and analyzes information. The questions are a bit more theoretical and research is connected to how we perceive reality.
This is a fairly new field, so the technology required for this kind of cutting-edge research is in its infancy.
How Long Does It Take to Become a Neuroscientist?
Entering the neuroscience field is by no means quick or easy. You'll be expected to hold at least a PhD.
When compared to the 12-18 months of training it takes to get your EEG tech certification, there's a significant difference. Obviously, a neuroscientist career is less realistic for someone changing their career.
How do other allied healthcare professions stack up?
MRI Technologists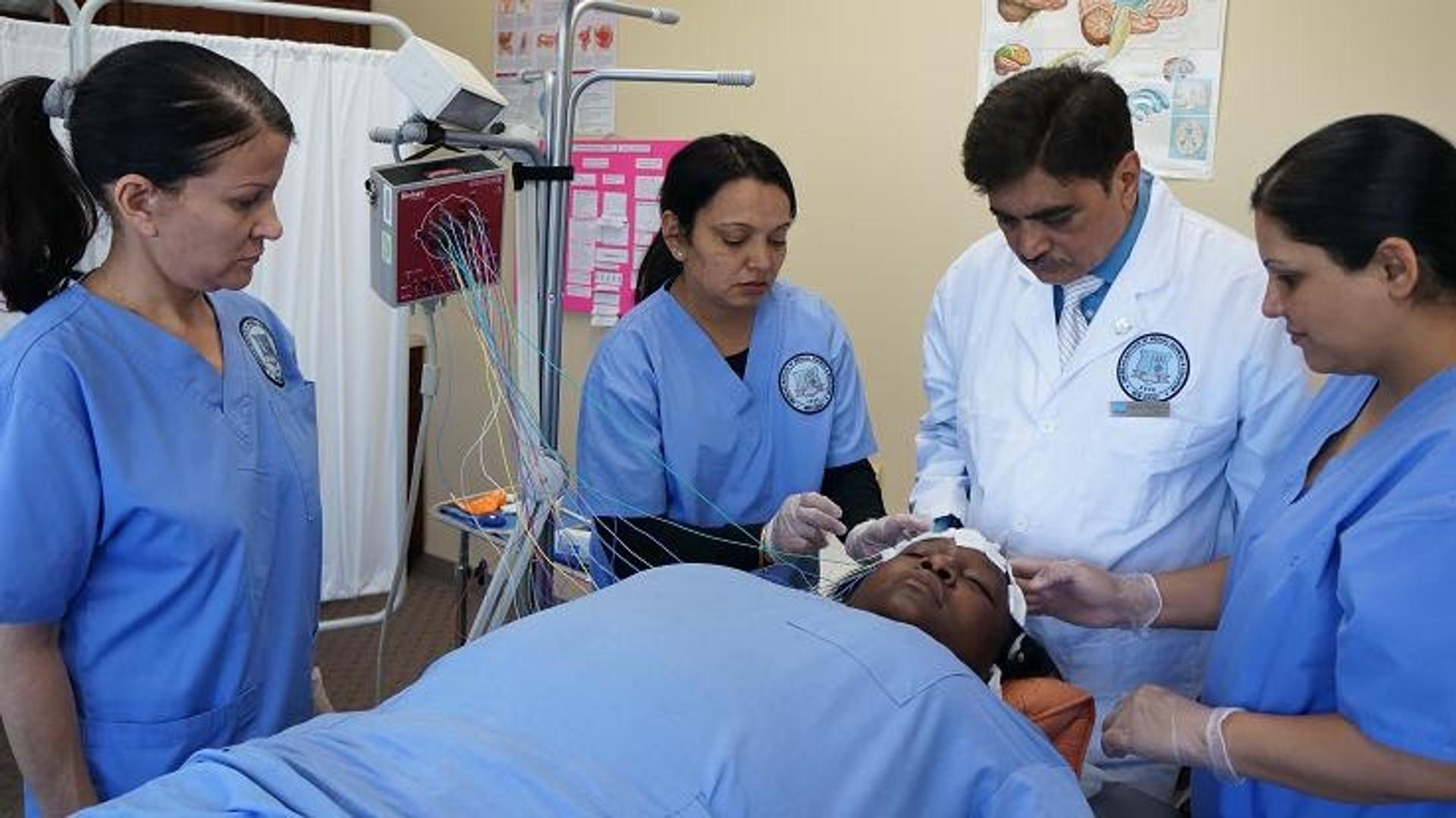 While it doesn't fall entirely within the neurology field, MRI technologists use MRI equipment to perform diagnostic tests on the brain. While EEG machines monitor the electrical synapses firing in the brain, an MRI scan creates a detailed image of the brain. These two diagnostic tools can be used to diagnose a wide variety of neurological conditions.
Both EEG and MRI techs are in charge of maintaining equipment, working with patients, performing tests, analyzing results, and collaborating with nurses, neurologists, and other doctors. As such, their training programs are also more similar than the medical positions mentioned above.
MRI Technologist Training and Education Requirements
Becoming an MRI technologist takes approximately 2 years. Depending on the program, a high school diploma or an associate degree may be required for admission.
The average MRI technologist salary is greater than $62,000 and the estimated job growth over the next decade should be around 9%. Both of these neurology careers have solid salary and career prospects.
There Are Great Opportunities for Everyone
While careers in neurology and neuroscience offer six-figure salaries, they require over a decade of advanced training. Most people simply don't have the time or finances to dedicate to these fields.
Allied health positions, however, tend to require between one and two years of training. While these allied health positions' salaries are much lower, you can obtain quick certifications that pay well.
No matter what you choose, there are plenty of excellent opportunities in neurology.
Start Your Neurology Career Today
On the fence about a career in these fields? Discover all the reasons to become an EEG tech – what you find might surprise you!