Where Do Sonographers Make the Most Money in the US?
January 19, 2020
Looking for a challenging and rewarding allied healthcare career that satisfies your passion for patient care, allows you to assist with diagnoses, and offers a competitive salary? Diagnostic medical sonography could be a great choice.
We've researched the facts and figures from the Bureau of Labor Statistics to find the best sonography opportunities in the United States. Which state offers the best opportunities and salaries? Read on to learn more!
What Does a Sonographer Do?
Diagnostic medical sonographers examine a patient's internal body structures using ultrasound equipment.
Some of their regular job responsibilities also include:
Prepping patients for procedures by taking a patient's history and answering any questions about the procedure
Maintaining scanning and imaging equipment
Taking accurate diagnostic images
Analyzing the images
Recognizing and reporting abnormalities
Providing preliminary findings to physicians
Recording findings and keeping track of patients' records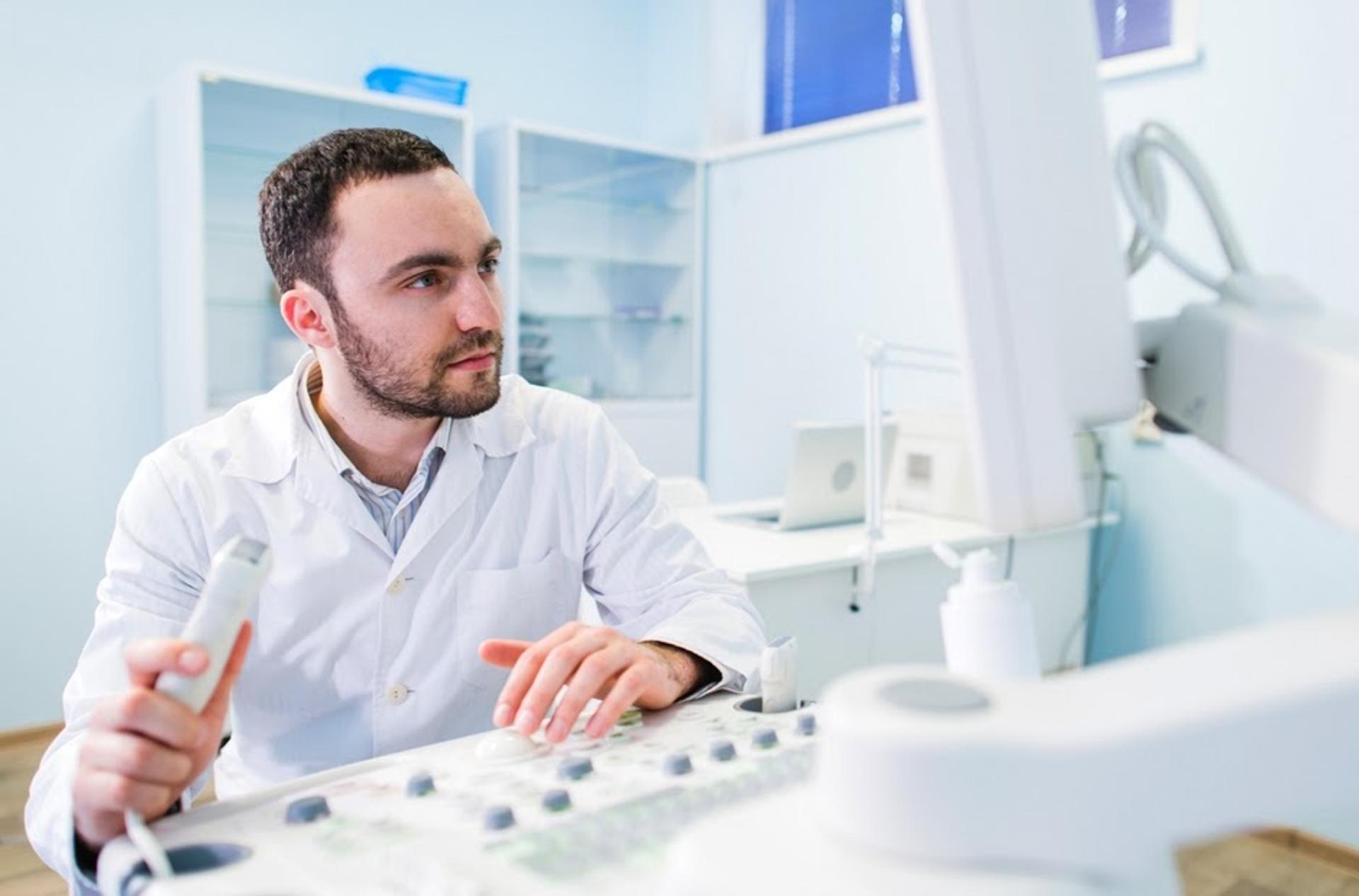 Where Do Sonographers Work?
This allied healthcare sector is expected to grow by 19% between 2018 and 2028, thanks to an aging baby-boomer population and the reliance on safe, non-invasive technology.
That means there are a number of environments for professional sonographers to find work, including hospitals, physicians offices, outpatient centers, and medical and diagnostic laboratories.
How Much Does a Diagnostic Medical Sonographer Make?
As of 2018, the average annual sonographer salary was $72,500. While the lowest 10% of earners commanded more than $51,000, the top 10% made upwards of $100,000. This makes DMS sonography one of the best-paying allied healthcare careers.
Like most professions, salaries depend on education level, experience, and – perhaps most importantly – location. So once they've finished their DMS training program and gained their certification, where do sonographers make the most money?
Sonography Job Opportunities in the Northeast
The Northeast is a fairly great place for sonographer opportunities and salaries. Rhode Island, for instance, has one of the fastest estimated growth rates in the entire country (21%), meaning that prospective techs will have an easier time finding employment. Vermont is expected to be the second-best in the region, clocking in at 14%.
For sonographers in NJ, the metropolitan New York area has the highest rate of employment anywhere. The Camden-Philly metro area shouldn't be discounted either: It clocks in at 8th best.
DMS Tech Salary Prospects in the Northeast
Not only does Rhode Island have the best estimated growth rate, but the nation's smallest state provides the highest average salary for ultrasound techs (approximately $85,000), followed by Massachusetts ($83,800), and Connecticut ($82,300). While other states in the region don't surpass the $80,000 mark, they all fall above $75,000.
Of course, it's important to remember that high salaries in the area are necessary, as the cost of living in northeastern cities are among the highest in the country.
Salary Prospects in the South Atlantic States
Heading down the coast, South Atlantic states provide lower salaries (but a lower average cost of living, too). DMS technologists in Maryland average approximately $75,200 per year, closely followed by Virginia ($74,300) and Delaware ($72,700). If you're looking to move to North or South Carolina, expect a robust annual salary of around $66,000.
Sonography Jobs in the South
The South covers an expansive area, and the opportunities are as vast and diverse as the region itself. Whether you're a sun seeker, future homeowner, or food lover, the American South has something to please everyone with any budget.
Perhaps surprisingly, the states with the best job growth rates are Kentucky and West Virginia (10% respectively), with Mississippi coming up in third place (9%). Northern Tennessee, however, boasts the highest concentration for jobs in a non-metropolitan area (and also has one of the lowest unemployment rates in the nation).
Salary Prospects in Appalachia
Expect salary offers between $64,000 and $66,000 in Kentucky, Tennessee, and Pennsylvania. The one regional outlier lies in West Virginia, where registered diagnostic medical sonographers can stand to earn approximately $61,700. That said, as of 2020, it was the cheapest state to purchase a home.
Salary Prospects in the Deep South
What Salary Can a Sonographer Command in The South?
Out of the nation's five lowest-paying states, three are located in the Deep South: Alabama ($56,450), Louisiana ($60,300), and Mississippi ($61,000). Aside from Texas ($71,500), no other state in this region clears the $66,000 mark.
Typically, these areas are a bit more rural, providing a lower cost of living and ample opportunities for home ownership. In fact, Louisiana has more affordable towns than any other state.
Sonography Jobs in the Midwest
Great Lakes job seekers will be pleased to learn that – for sonographer job opportunities in non-metropolitan areas – the northeastern part of the Badger State is second only to northeastern Ohio. Minnesota is currently ranked 3rd for the best standard of living in the US, too. While the job growth rate for DMS techs only averages 6%, registered techs shouldn't have problems finding great allied career opportunities.
The Great Plains region fares far better for job development, where South Dakota, Kansas, Nebraska, and North Dakota all fall in double digits.
What Salary Can I Expect in the Midwest?
For the first time, Wisconsin offers the highest average salary for DMS techs ($83,600), followed by Minnesota ($80,300), Illinois ($76,700), and Missouri ($74,000). No other state comes close to the rest of these sums. In fact – aside from Alabama – South Dakota techs are the lowest earners in the country ($60,500). Nebraska ($64,200) and Ohio ($65,800) don't fare much better.
Sonography Jobs in the West
California and Washington are your top two destinations in the Pacific region. California has the highest employment level for diagnostic medical sonographers, while Oregon has one of the best employment rates outside of its major cities.
If you're in the "Mountain States", Idaho's job development rate of 24% is the highest in the nation, and New Mexico's 20% is no less than impressive.
Salaries in the Pacific States
If you're looking for the best salary for sonographers, you'll need to look westward, where four out of the top five-paying states are located: Hawaii ($94,300), Alaska ($93,700), California ($92,600), and Washington ($87,900).
Aside from Honolulu, all of the top-paying metropolitan areas in the country land in California. Of course, it's crucial to remember that the Aloha and Golden States are the most expensive states.
Salaries in the Mountain States
It's great knowing that Arizona and Colorado are neck and neck ($83,300), and salaries are fairly healthy throughout this region. Unsurprisingly, the award for the lowest incomes fall to New Mexico ($63,800) and Wyoming ($66,000).
How To Become a Diagnostic Medical Sonographer
There are a number of paths to becoming a diagnostic medical sonographer: bachelor degree, associate degree, or a certificate-based program. Really, the main differences between degree programs and certificate programs come down to time and cost.
Choosing the best ultrasound school can be a daunting process, but whichever you opt for, make sure it's an accredited diagnostic medical sonography program that helps students prepare for certification.
DMS Technologist Certification
With so many uses for ultrasounds, sonographers often specialize in more than one area, such as cardiac, breast, or OB/GYN.
Depending on their certification and specialization(s), an ultrasound technologist may investigate abdominal and pelvic organs, assist with prenatal care, or determine musculoskeletal and vascular system issues.
There are a number of reasons for choosing a diagnostic ultrasound career, but the multiple specialties available to you is incredibly enticing. Not only does certification in multiple areas offer greater job flexibility, but it also increases your employability.
Start Your Career in Sonography Today
In the New Jersey area? Take the first step towards a rewarding ultrasound career by checking out the AIMS Diagnostic Medical Sonography Program: You'll discover everything you need to get started.
Diagnostic Medical Sonography Program