"Becoming a teacher – the easiest choice I've made"
June 4, 2013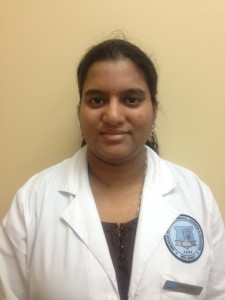 The American Institute of Medical Sciences & Education is a New Jersey-based institute that brings together a variety of members of the medical community to deliver high-quality training within the allied healthcare fields. Dr. Swetha Sama is a Program Director at AIMS for the Cardiovascular and Echocardiography programs.
In the following interview she will give us some insight into the workflow, teaching methods and environment at AIMS Education.
Q: What is your current position at AIMS?
Dr. Sama: I hold multiple positions within the institute. The first one is as program director for both the Cardiovascular and Echocardiography programs. I am also the instructor coordinator at AIMS.
Q: Could you share with us your educational/professional background? How did you get involved with allied healthcare sciences in the first place? Why did you pursue this career path?
Dr. Sama: Actually I have a medical degree. I graduated from medical school in India and practiced medicine there. After coming to the USA, I was interested in teaching and I got certified in ARDMS and became a Registered Diagnostic Cardiac Sonographer (RDCS) and a Registered Vascular Technologist (RVT). I feel very satisfied teaching students and helping them achieve their goals and dreams.
Q: How did you decide to teach?
Dr. Sama: Well, I think I've always wanted to teach. It was something I tended to lean towards throughout my life. I believe my parents also influenced me greatly because they are both teachers. Growing up, I saw their dedication towards teaching and allowing students to learn and attain new skills. So when the time came to choose a career path, it was the easiest choice I have ever made. I am fully dedicated to it now and I have never regretted my choice. Teaching gives me immense pleasure and I think the old adage that when you do something you love it's no longer considered work, truly applies to me.
Q: Which are the academic programs you teach at AIMS?
Dr. Sama: Currently, I am doing the main scanning modules for ECHO and CVT. I teach students physics (Ultrasound Physics), Echo (scanning of the heart) and Vascular (scanning of blood vessels). I teach both theory as well as practical scanning for these modules.
Q: What is the teaching approach used at AIMS? Is it mostly theoretical or more practical?
Dr. Sama: The curriculum at AIMS is designed as a combination of both theory and practice. The hours are divided into two sessions. One session will be theory in class where students are taught about the anatomy, physiology and diseases of organs. The second session is scanning in the lab where students practice the scanning, using a strict protocol, on each other. Once a week, we also have a scanning day where students spend the entire day practicing scanning on each other. At the end, they have exams both in theory and scanning to check their competency.
Q: What outcome can potential students expect after completing an academic program at AIMS?
Dr. Sama: Once students finish the program at AIMS, they will have accumulated an extensive theoretical knowledge and also good scanning experience. During their externship, students have the opportunity to see the pathologies firsthand. Externship sites are happy to take students from AIMS as they come prepared and ready to answer the questions in theory and scanning. Many of the students who have graduated from AIMS have done well on their registry exams and have begun working in their respective fields.