A Day in the Life as a Patient Care Technician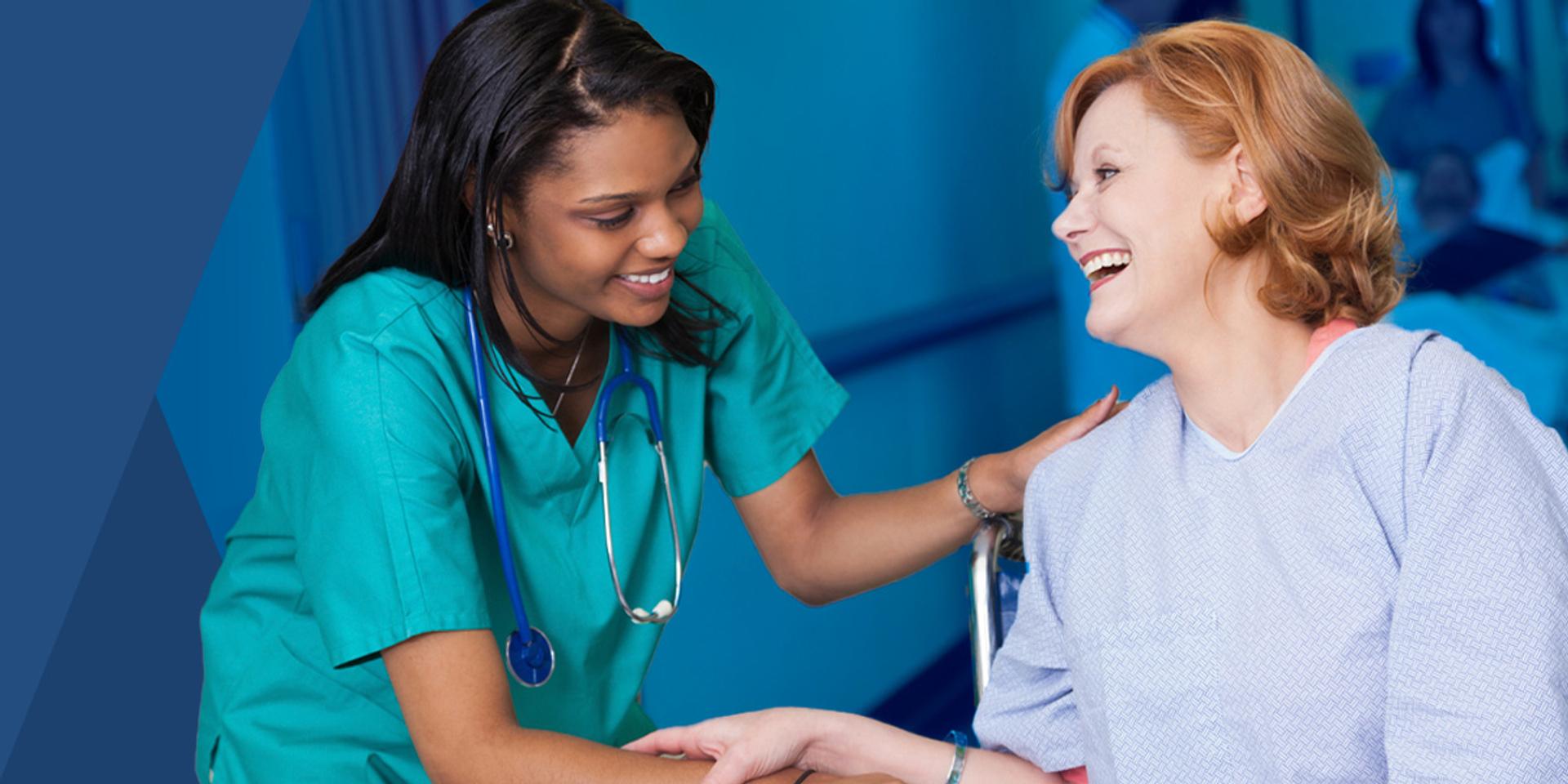 Are you considering a career in the healthcare industry? Becoming a patient care technician can help you break into the field quickly. If you love caring for others, you may be perfect for the role of a patient care technician.
To help you better understand what it's like to work as a patient care technician, we've gathered everything you need to know in one helpful place. Discover what patient care technicians do, where they work, and what it's like working in various settings.

The Role of a Patient Care Technician
Patient care technicians are a vital part of the healthcare team. These medical professionals work under the supervision of registered nurses and other team members to provide basic, hands-on care and support to patients during hospital stays and doctor visits. Doctors and nurses depend on patient care technicians to assist patients with activities of daily living. The nurturing care they provide contributes to a positive overall experience for patients.
What Does a Patient Care Technician Do?
Patient care technicians, also known as patient care assistants, can be responsible for various care measures or interventions. Common patient care technician duties include:
Serving meals
Changing bed linens
Performing safety checks
Assisting with daily hygiene
Helping patients visit the restroom
Helping patients move around their rooms
Assisting patients with exercise and mobility
Acquiring and distributing patient care supplies
Providing emotional support for patients and their loved ones
Obtaining blood, urine, and stool samples and delivering them to the lab
Conducting certain medical tests, such as finger-stick blood sugar, and recording the results
Communicating changes in a patient's health status to the nurse or another member of the medical team
Checking and recording vital signs, like temperature, pulse, blood pressure, respirations, and oxygen saturation
Transporting patients to other departments within the facility for tests and procedures or when getting discharged from the facility
In addition to performing basic patient care, many patient care technicians are responsible for maintaining a safe, clean, and efficient workplace. An organized environment helps ensure patients are comfortable and well taken care of while undergoing medical treatment.
Patient care technicians work directly with those in their care. In doing so, they have a unique opportunity to impact their patients' lives positively.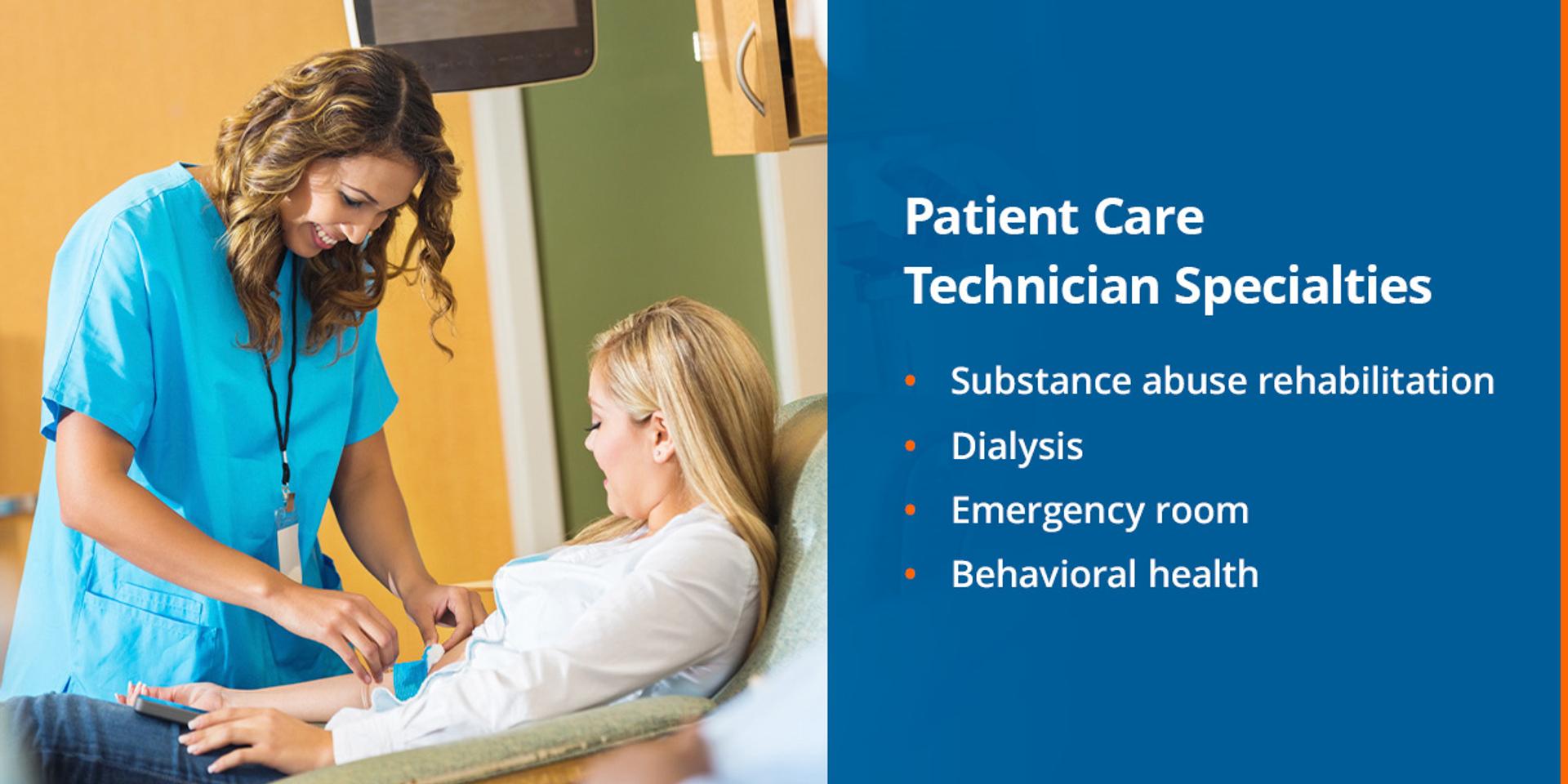 Patient Care Technician Specialties
As a patient care technician, you can opt for extra training that allows you to specialize in certain areas. The following are common types of patient care technician specialties.
Substance abuse rehabilitation: Patient care technicians who specialize in rehabilitation care for patients as they get treatment for substance use disorders.
Dialysis: Dialysis is the process of filtering blood by removing toxins, waste products, and excess fluid. It is a complex treatment used for patients with kidney failure. Dialysis patient care technicians monitor patients as they receive treatment, stopping and starting it as needed, and keeping the equipment sterile. They may work in hospitals or dialysis centers.
Emergency room: Emergency room technicians work alongside doctors and nurses in a hospital's emergency department. In this fast-paced environment, technicians provide basic medical care, like fitting patients for crutches and casts and managing supplies during medical procedures.
Behavioral health: Patient care technicians who specialize in behavioral health work in behavioral health units to support patients as they get treatment for various mental health conditions.
Where Do Patient Care Technicians Work?
One of the benefits of working as a patient care technician is that you can choose to work in various settings. Patient care technicians can be employed in:
Clinics
Hospitals
Rehab facilities
Doctor's offices
Outpatient facilities
What Is it Like Working as a Patient Care Technician?
Because patient care technician duties vary slightly with each place of employment, a typical day will depend on the setting in which you work.

Working in a Hospital
Patient care technicians employed in hospitals typically work 12-hour shifts. Once you arrive for your shift, you may:
Attend a pre-shift meeting with your supervisor.
Get briefed on the current status of your unit.
Get assigned to a specific block of patient rooms.
Receive a report about your patients from the previous technician.
Introduce yourself to your patients.
Attend to any pressing needs or priorities.
Receive orders from your supervising nurse.
Administer care to your patients.
Working in a Doctor's Office or Clinic
Patient care technicians who work in doctor's offices may:
Keep supplies stocked.
Greet patients upon their arrival.
Escort them to their exam room and help them get undressed and into a gown if needed.
Measure and record vital signs.
Assist the nurse or doctor with procedures.
Perform office tasks like answering the phone, filing paperwork, and managing patient charts.
Working in an Outpatient Facility
Outpatient facilities can be within or separate from a hospital. Consultations, procedures, treatments and other services that don't require an overnight hospital stay are typically done in outpatient facilities. Common outpatient services may include:
Mammograms
Colonoscopies
Physical therapy
Cancer treatments
Diagnostic imaging
Blood and urine tests
Examples of outpatient facilities are:
Urgent care clinics
Primary care clinics
Community health centers
Ambulatory surgery centers
Patient care technicians who work in outpatient care will have job duties similar to those in hospitals and doctor's offices.
Working in a Rehab Facility
Like outpatient facilities, rehab facilities can be part of or separate from a hospital. These facilities offer therapy and training to patients living with or healing from injuries, illnesses, surgeries, and chronic conditions. Therapy can be physical, occupational, or speech-related. Patient care technicians who work in rehab facilities assist therapists in providing physical rehabilitation to patients. In addition to basic care duties, patient care technicians in rehab units may:
Manage patient transportation.
Set up and maintain physical therapy equipment.
Accompany patients in their physical therapy sessions.
Assist the therapist during physical therapy sessions.
Some states have laws regarding what type of personnel is permitted to work in rehabilitation facilities or hospital-based units. For example, state regulations in New Jersey require hospital-based sub-acute units to be staffed with certified nurse aides.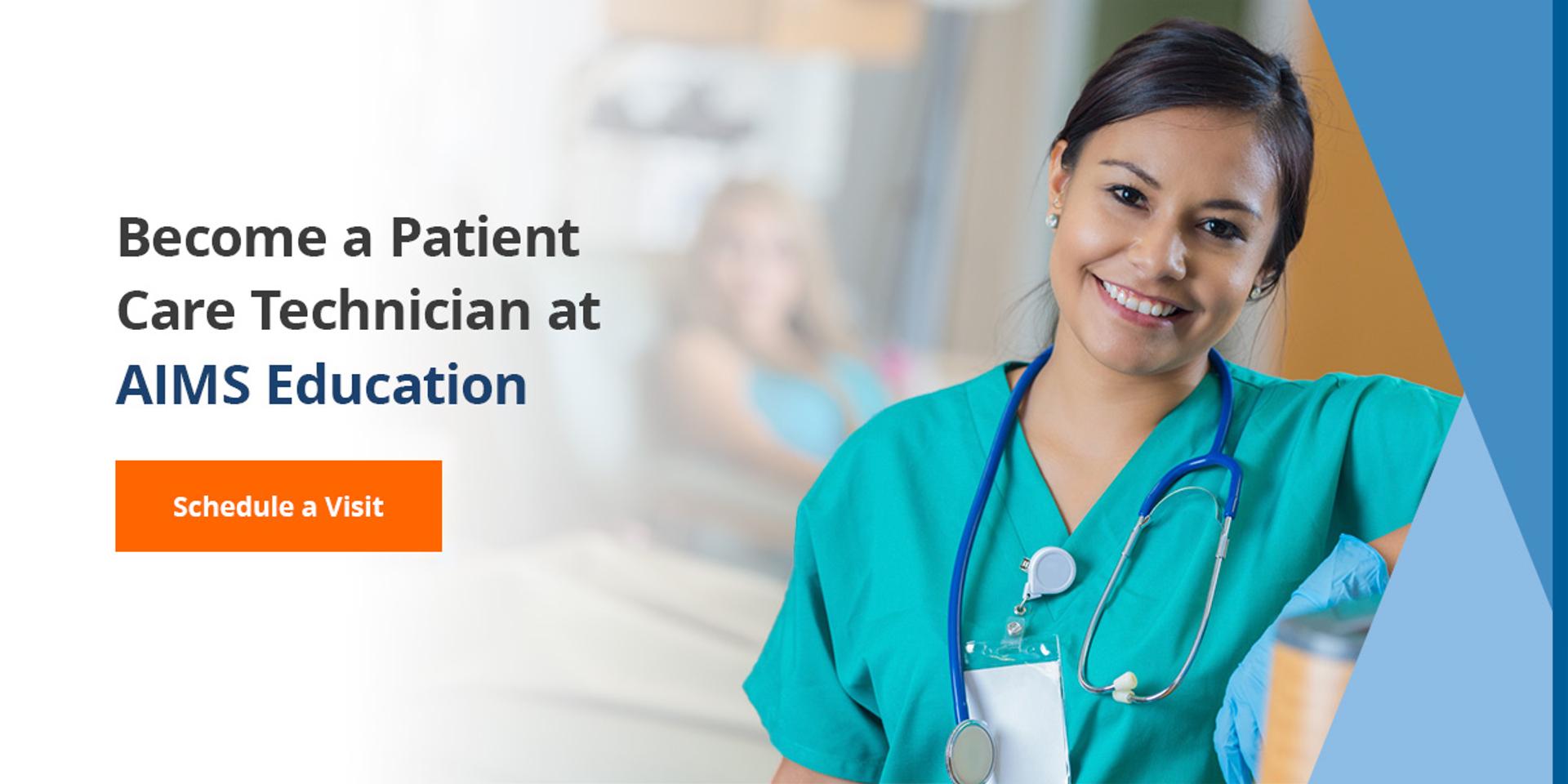 Become a Patient Care Technician at AIMS Education
Are you a compassionate, empathetic person looking for a rewarding career? Working as a patient care technician may be the perfect fit! In this role, you will enjoy job security, flexible hours, the ability to choose where you want to work and to specialize if you wish.
When you enroll in the Patient Care Technician certificate program at AIMS Education, you can expect state-of-the-art training facilities and experienced instructors to help you succeed. You can complete our program in as little as seven months, putting you on the fast track to a new career in healthcare.
Contact AIMS Education today to request more information or schedule a campus visit.