8 Interesting Facts about Phlebotomists 
May 30, 2016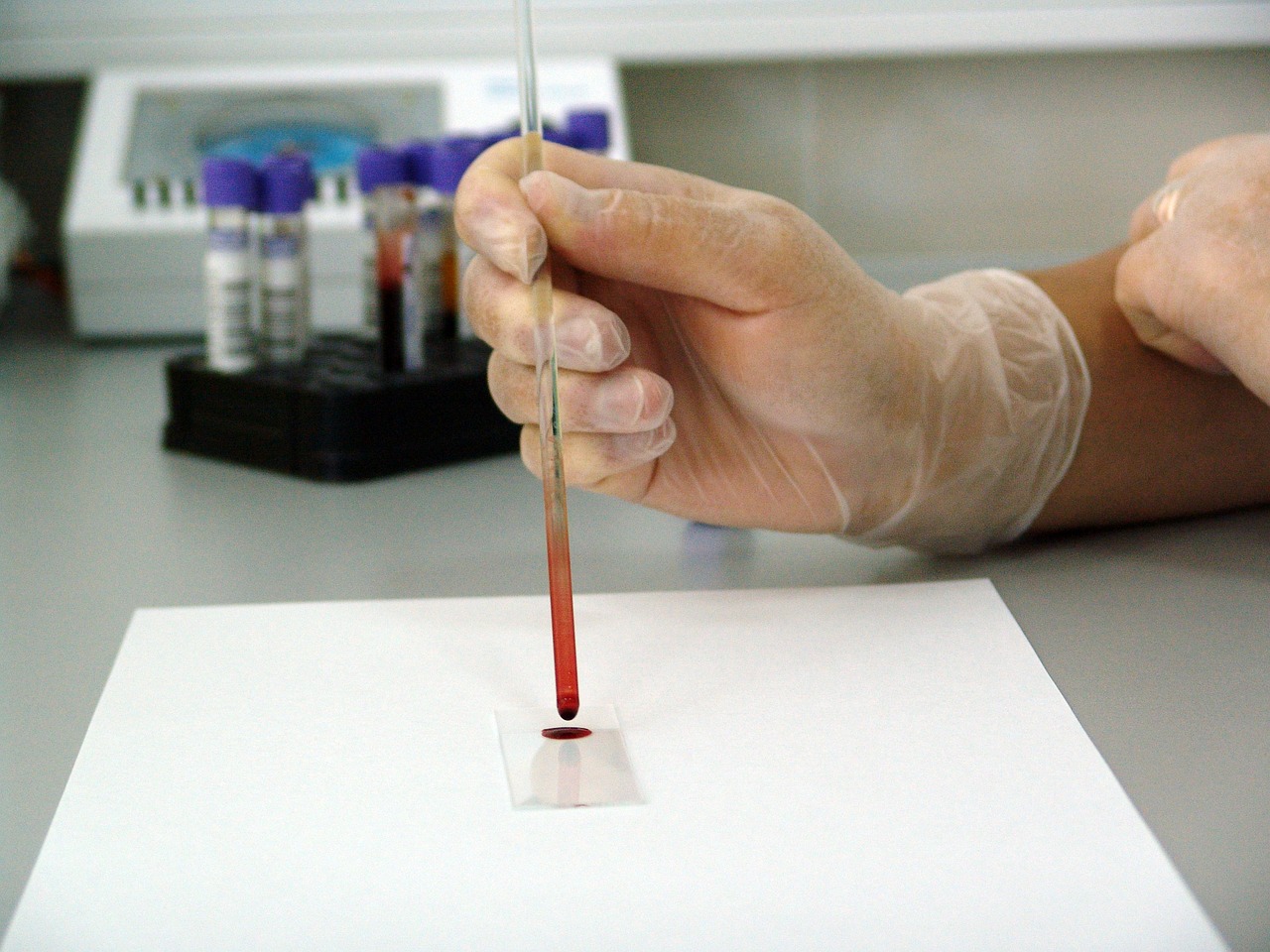 Are you fascinated by the red fluid that keeps us all alive? Phlebotomist education and training is a bloody affair. Students start by practicing on dummy arms and then learn how to draw blood from live "patients", but it takes a certain kind of person to make a career out of phlebotomy.
In this article we find out how strong a certified phlebotomy technician's stomach really is, put their people skills to the test, and discover that their opportunity for doing good goes way beyond everything they're first taught in school. Here are eight facts you might not know about phlebotomists:

#1 Pain is Avoided
Although puncturing skin becomes second nature to phlebotomists, they understand that patients may be new to the experience or have a fear of needles. Their people skills are second to none and certified
phlebotomists are trained
to select equipment wisely from their toolkit.
Butterfly needles, for example, are smaller and therefore less painful than regular needles. This is a more expensive option, but could do wonders for an individual with narrow veins or a serious case of anxiety.

#2 Keep Calm and Carry On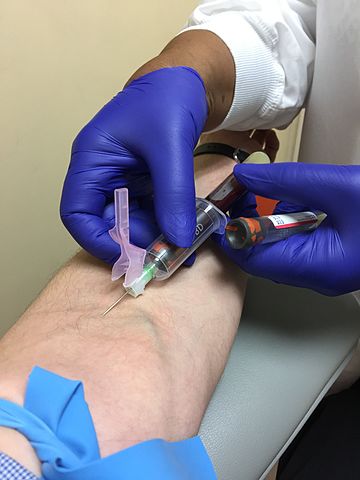 MatthewLammers /
Wikipedia
/
CC BY-SA
Presenting someone with a large needle is usually a surefire way to raise their blood pressure. Patients can become stressed out about having their blood taken, be difficult to handle, or they may even faint.
As well as keeping patients calm, phlebotomists are trained to deal with awkward situations like rolling veins, which move around when they try to take blood.
When issues like this arise, a phlebotomist's calm nature and considered approach is essential to getting the job done.

#3 Phlebotomy Education Offers Variety
For those who wants flexible hours or freedom to base themselves in any medical establishment, phlebotomy is a fantastic choice.
You'll be free to move between departments - perhaps in surgery or, alternatively, a laboratory. It's a busy role, so phlebotomists are generally on their feet all day. Phlebotomy technicians quickly discover that theirs is not a role for those who want to sit or stand still.

#4 Safety First
Phlebotomists work with blood all day long. They often work with patients who are very sick and test blood for a variety of serious conditions and infectious diseases. It's therefore important that they protect themselves and their patients by adhering to Health & Safety procedure at all times.
These guys aren't rule-breakers; phlebotomists take no risks. They are meticulous in their approach and follow protocol at all times.

#5 Phlebotomists Hit Their Targets
Let's face it, patients want a clumsy phlebotomist as much as they want one who plays it loose with health and safety procedures. There are some things phlebotomists simply do well; having good coordination and a steady hand are just two examples.
This may be a born or learned skill - the jock who always caught the ball at school, or someone who trained to improve coordination. Either way, it's something that all good phlebotomists possess.

#6 Far from Ordinary
Most people come into contact with a phlebotomy technician at their local clinic or hospital, so the process can feel pretty ordinary. But a phlebotomist never knows who they might encounter.
Famous people, for example, are just as susceptible to health scares as the rest of us and phlebotomists take blood for all sorts of reasons (e.g. DNA tests when celebrities wrangle over paternity). Working as a phlebotomist can lead to some pretty interesting encounters when the person or situation is extraordinary.

#7 Takes Donations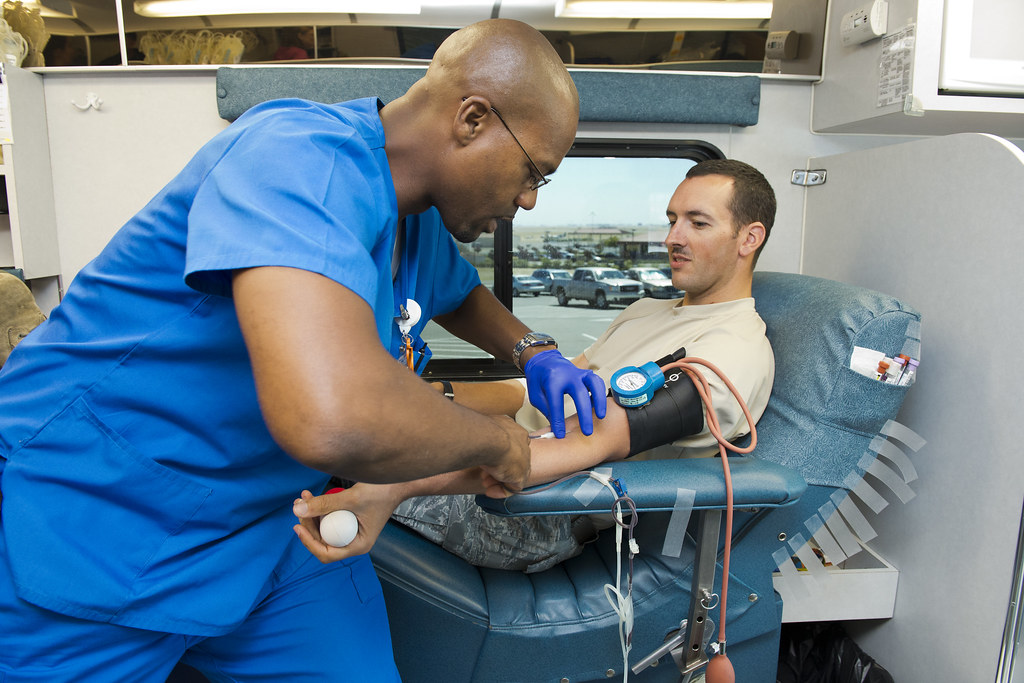 Official Travis AFB, Calif. /
Flickr
/
CC BY-NC
When supermodel, Niki Taylor, was involved in a near-fatal car crash she received a blood donation in the emergency room. She now uses her celebrity status to campaign for more of this vital resource.
Statistics from the American Red Cross illustrate just how crucial it is: "36,000 units of red blood cells are needed every day in the U.S."  All of these units of donated blood are taken by a phlebotomist, which makes this an integral role in healthcare.

#8 Certified Phlebotomy Technician: Life Saver
When all is said and done, most healthcare staff do the job they do because they want to help others.
Being a phlebotomist
is no different. Taking blood can save lives.
Taking blood to check for a disorder can help to prevent heart disease, cancer, diabetes, and even death. It's fair to say that phlebotomists can feel pretty good about the job they do when it's time to clock off. Do you think you have what it takes to be a life saver?

How Long is Phlebotomy Training?
If you're intrigued by this role, you'll be pleased to know you can train quickly with the right phlebotomy course. In fact, some phlebotomy training courses can be completed in as little as 1 month.
This low-cost option to break into allied health can also be used as a stepping stone to move up the career ladder. Professional training will open doors to the best opportunities available right now in this field.
Find out how to become a phlebotomist.